One may live in a bungalow, farmhouse, or skyscraper but the gratification of living in a tiny house is unmatchable. The tiny house movement is spreading like wildfire and gaining popularity worldwide. A lot of tiny house builders are seen advocating the tiny house movement but very few of them actually live in one.
D'Arcy McNaughton is someone who not only builds tiny houses for clients but also lives in a three-loft tiny house that he built for his family in Toronto, Canada. We were fortunate to have a quick chat with D'Arcy owner of Acorn Tiny Homes to learn more about the journey and struggle of the Canadian tiny house maker, and his philosophy behind building tiny houses on wheels.
Homecrux (HC): Thank you for finding time to talk to us. Please tell us a little about Acorn Tiny Homes?
D'Arcy McNaughton (DM): Acorn is one of Canada's newest Tiny Home builders, but with a team that has collectively lived off-grid for over a decade, and spent several years working for other tiny home and modular builders, we're ready to take the world by storm. We believe that tiny home living shouldn't result in you compromising your lifestyle and hobbies, but instead make them more accessible. That's why we do a deep dive into your lifestyle and why our homes are 100% custom-built. We strive for a perfect fit so that you only have to downsize and not downgrade your life.
One of our other main focuses is creating beautiful homes that blend into their environment and actually look like homes. We don't build boxes with shed roofs, but instead, build homes with curves and shape, and character. Our vision is to bring the beauty of modern architecture into tiny home living.
HC: What brought you into the business of building tiny houses? How did it all start?
DM: For years my wife and I had been talking about downsizing and going tiny ourselves. We were inspired by the YouTube channel "Living Big in a Tiny House', and would religiously watch Bryce's tours. As both of us are entrepreneurs, we knew a standard mortgage would never be available to us and the only way we would ever own a home was if we adopted the tiny lifestyle. We both knew that not only would this give us the freedom to live the lifestyle we wanted, but would also allow us to teach our future children important lessons on environmental stewardship and doing more with less.
At the time I had been working as the builder for another Ontario-based Tiny House company when I approached them with my design for a tiny house. I was laughed out of the office and told that the design wasn't practical, it was too complicated and it wasn't worth the effort. This builder had unfortunately gotten lost in the capitalist dream and bragged that he would be delivering a tiny house a day within the next 3-5 years. His dreams of mass production and soulless homes did not align with the values I had come to associate with tiny living and so I decided to branch out on my own and create a tiny house company that itself lives by tiny living values.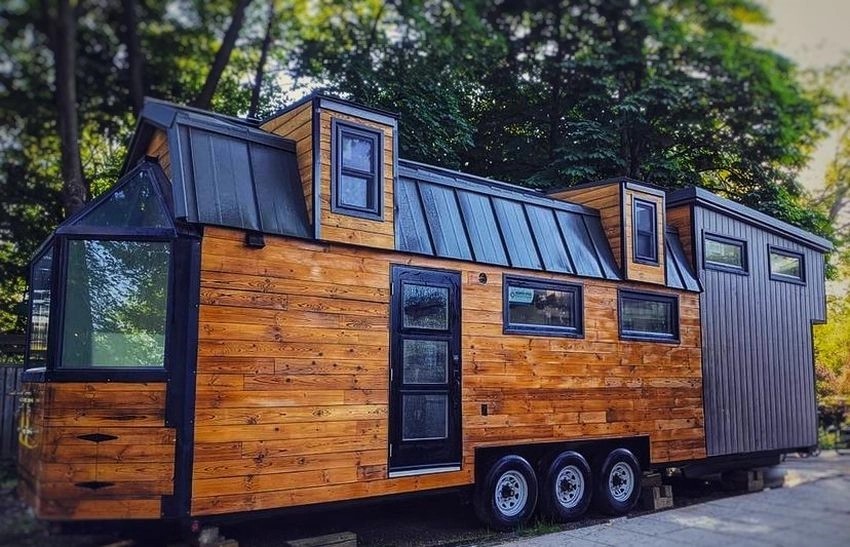 HC: That must have been a bold move. Presumably, when you are not building for clients, you are building for your loved ones. Domek is a great example! How did the journey of building 'Domek' tiny house being? What's the total time and budget to bring Domek to life?
DM: The Journey of Domek is the story of Acorn Tiny Homes; Our flagship build is what launched the business! We started on the path of building Domek when we were expecting our son. We knew that with the added pressures and time constraints of being a parent and business owner, that if we didn't start building our home now then it wasn't going to happen at all. So during my wife's pregnancy, we designed and built Acorn's first Tiny House.
All in all, it took us nine months to complete the build at an estimated build price of $180,000. This is a slower-than-usual pace as this build was completed between other clients and projects.
HC: Domek is genuinely special then, what challenges did you face while building this tiny house?
DM: Building when we did was interesting as it was when global lumber prices were fluctuating and prices started flying through the roof. We had to make some interesting build choices at the time to keep costs in check. Our biggest challenge was that we experienced so many delays on some of our materials that it delayed parts of the build. This was especially frustrating as our atrium shower required weld on site work, and with our windows arriving months late, we had to do that work during very non-ideal weather.
Also Read: Meet the Dyslexic Designer who Rattled Architectural World With his Expandable Cabin
HC: Prior to building tiny houses, you were involved in home renovation projects which didn't turn out too well. How did you pick yourself up from there and step foot in the construction industry?
DM: I've been a hobby woodworker since I was a child, as my dad had a woodshop in our basement. I spent a lot of time making small projects growing up, but my introduction to large-scale projects and to the construction industry happened around a decade ago. I was managing some home renovation work and the contractors were abysmal and overpriced. I figured I could do a better job and for a better price. From there I worked as a cabinet maker, a carpenter, a contractor, and then made my way into building modular space from shipping containers, and then as a tiny house builder before I launched my own company.
HC: Your motto has been – Acorn Tiny Homes doesn't just build your houses, they build your dream. How do you perceive the tiny house movement in Canada? Are people garnering interest in living tiny?
DM: I think the tiny house industry in Canada is still in its infancy. There currently are still a lot of rules and regulations in place that make tiny house living difficult. Our building codes are often too rigid and apply to a different standard of living. For example, while the International Building Code has investigated tiny house living, and developed building standards for quality and safety, Canada's regional building codes have mostly chosen to ignore Tiny Homes, or misclassify them. This leaves people wanting to explore this lifestyle either living in the gray or compromising on the efficiencies that tiny home living is supposed to be able to provide. This is frustrating as I'm constantly inundated with people that want to live this lifestyle themselves, but just don't know how to navigate the red tape.
Also Read: Nine Best Luxury Motorhomes With Built-in Garages For Cars and More
HC: The pandemic left every business – big or small – in shambles. How did it impact yours?
DM: The early days of the Pandemic were a double-edged sword for my business, as it both helped and hurt it. I experienced a lot of material delays and price increases that really negatively hurt my bottom line, and there was a time that my work was considered non-essential and I was unable to work. This however gave me a lot of additional time, which I could be working on Domek. With all the mandated shut downs Olivia and I had a lot of extra time where we could work on our home and therefore finish it faster. This was helpful as the finished model is what allowed me to grow Acorn Tiny Homes to where we are now!
HC: What are your future plans? When can we expect another tiny house from you?
DM: You'll be pleased to know that I just finished and delivered my latest build last week. It's a beautiful home designed to be a more bachelor-style living for the owner that needed her own Covid Safe dorm room close to home. Photos of this build are on our website and our Instagram!
HC: Are you currently focusing only on the Canadian market or planning to go worldwide?
DM: Currently we've only delivered homes within Canada, but there is nothing stopping us from designing and delivering a home to any USA customers!
HC: Any message to people planning to downsize?
DM: It's important to note that downsizing should only mean getting rid of the stuff you don't use, not eliminating hobbies. If it's important to you, then you should include space for it in your home, but just be efficient with it. For example; instead of a whole library, maybe only keep your favorite books and invest in an e-reader and a library card. Or if you're an avid chef, instead of keeping the rice cooker and slow cooker and pressure cooker, etc, get a simple all-in-one Instapot. Comfort in small spaces comes from keeping only what brings you joy and leaving the baggage behind.
HC: On a lighter note, we saw a picture of your baby stepping into your shoes. Does he like the tiny house his father built for him?
DM: Osiris loves the house his dad built for him! You'll often see him playing in his bedroom just staring at the star light fiber optic ceiling I did for him. He also has his own tool set now too so you'll see him pretending he's like daddy helping to nail or screws things in! I think big things are in store for my little guy and I'm excited to get him on the team helping to design and build homes with me.