I am an artist and a writer, working on the two crafts is one of the greatest joys of my life. I believe in the power of colors, compositions, and messages we can deliver through a work of art. Every artist has their own style and mediums of depicting different themes and subject matters; many are apt in the expression of the female body, a much-celebrated theme I've come across in both art and literature.
I have numerous beloved artists, I mean how'd you even pick one; many of which are celebrating female sexuality through amazingly detailed paintings with different themes immortalized on canvas. Some I have come across on social media platforms, while I read about the others. Today, I am bringing you five of my favorite female artists who are perfect if you want to add powerful feminine artwork to your home to celebrate womanhood.
Jenny Saville
Exceeding boundaries of classical figures and modern abstraction
Born in Cambridge in 1970, Jenny Saville is a renowned artist known for her large-scale oil painting of obese women subjects. Her artworks invoke a profound fascination with the reality of flesh, extremes of anatomy, and the surreal combination with a masterly instinct for use of paint. She attended the Glasgow School of Art from 1988 to 1992. She had always been fascinated by the imperfections of flesh and her art education focused on this interest while encompassing all of its societal inferences and taboos.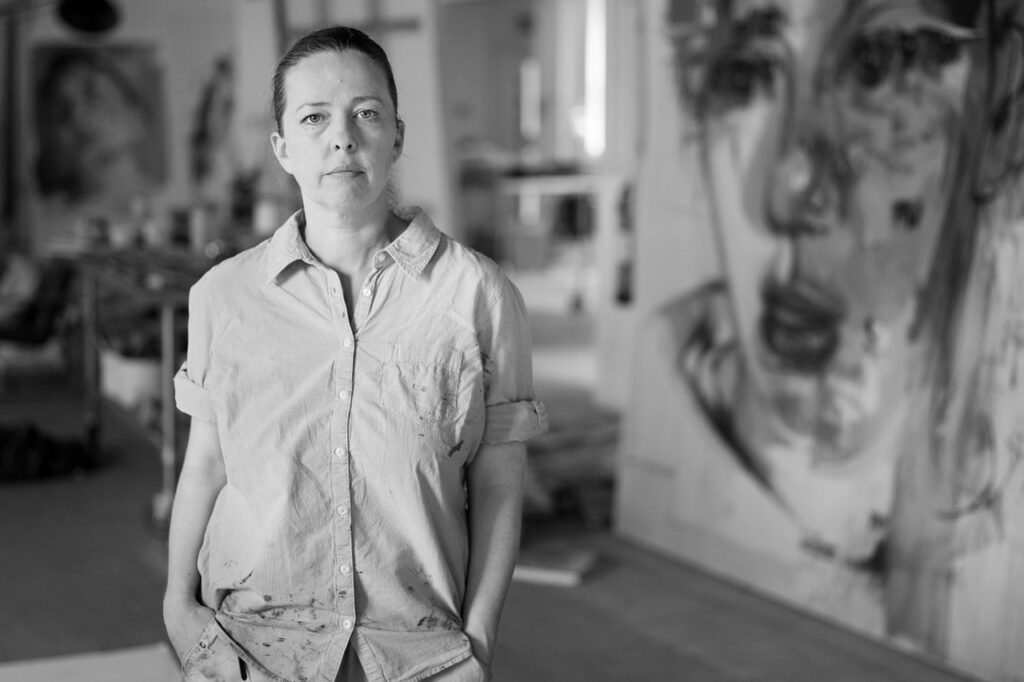 Her work can be distinguished by the heavy use of oil colors in multiple layers, which become as primitive as flesh itself where each painted mark maintains a supple, mobile life of its own. To understand the anatomy of the human body, she explored medical pathologies. She viewed cadavers in the morgue, studied animals and meat, and examined classical and Renaissance sculpture. Observing intertwined couples, mothers with their babes, and individuals whose bodies challenge gender dichotomies also helped her comprehension.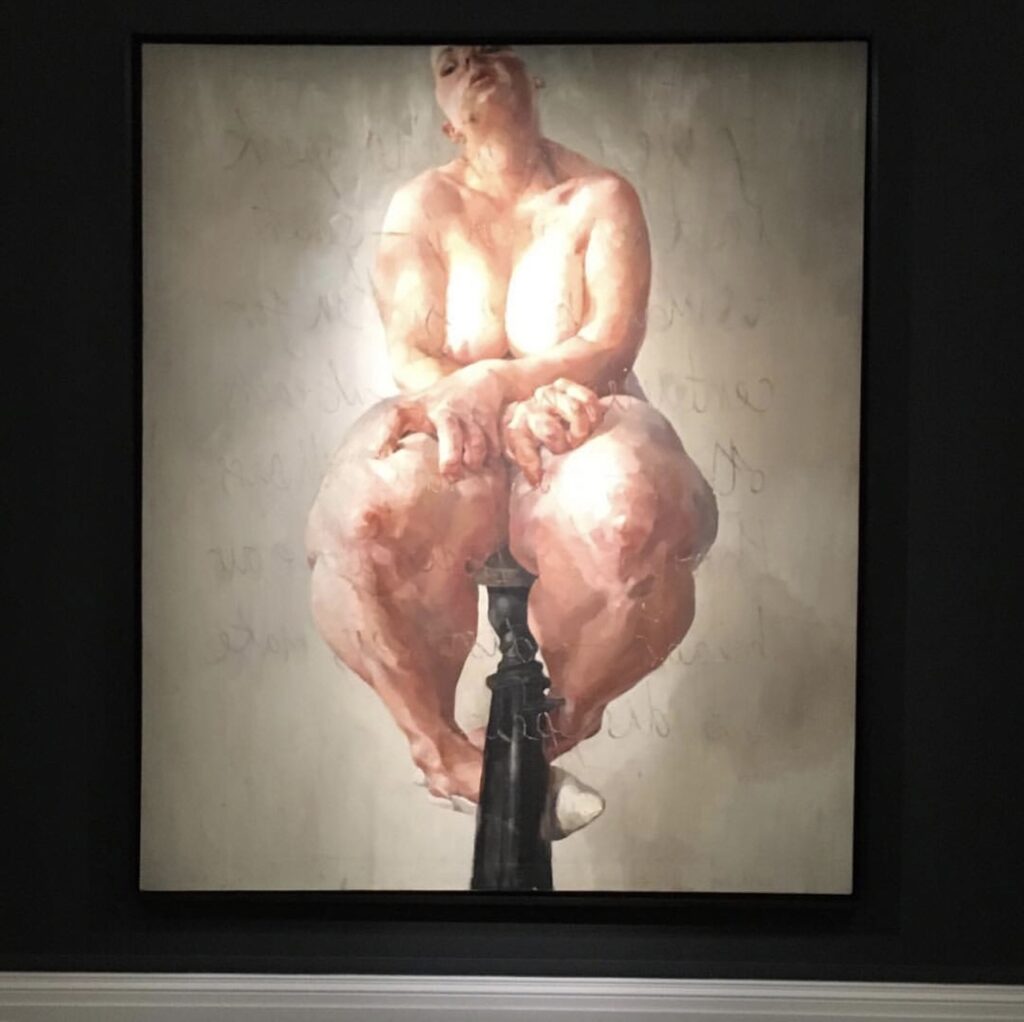 Her contemporary figurative work challenges the limits of the genre and raises questions about society's perception of the body and its potential. Saville's work evokes a deep awareness of both intellectual and sensory levels. It also makes you wonder about how the female body has been represented over the centuries, ranging from antique Hindu sculptures to Renaissance drawings and paintings. The striking faces, disorderly limbs, and realistic folds are the common subjects of her paintings, which celebrate the entirety of a woman's body and the changes it goes through in one lifetime.
Lindsay Rapp
Visualizing powerful women as Goddesses of the Sea
I saw one of her paintings on Instagram about four years ago and I instantly became obsessed with her color palette, compositions, and feminine theme. She is an incredibly charming person, with whom I have had the pleasure to exchange some delightful texts on the platform.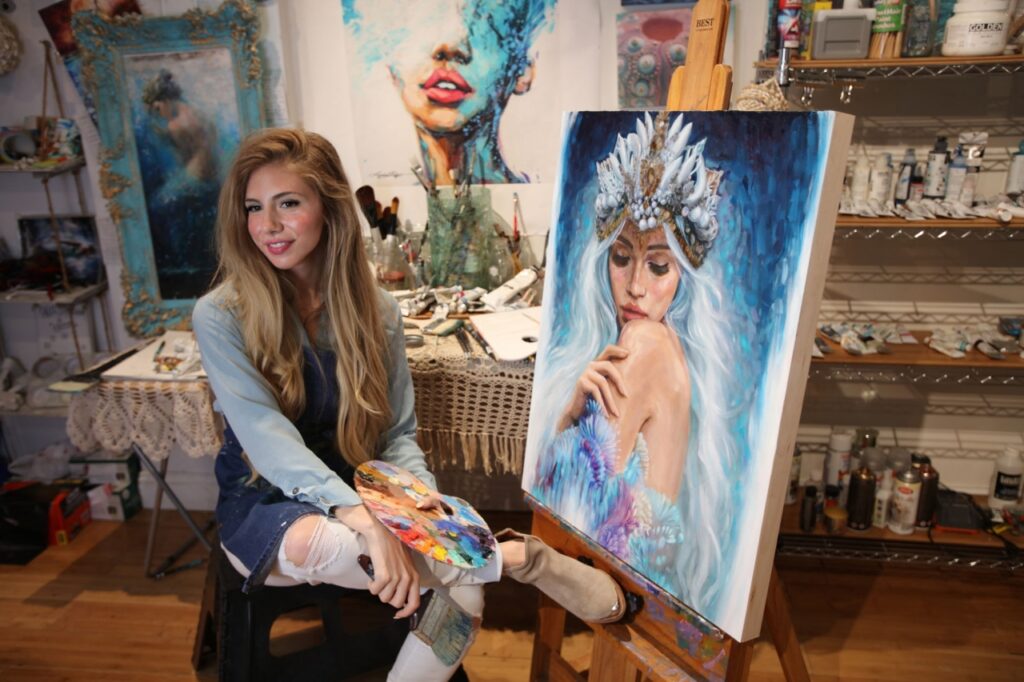 She owns an art gallery in Laguna Beach, California, which is brimming with mesmerizing artworks. Through the enchanting use of vibrant blue shades, she creates breathtaking mixed media art featuring mythical sea goddesses such as Calypso, Venus, and mermaids in different settings. Rapp's subjects are often depicted gracefully posing around oceanic environs as white powerful waves crash at their feet.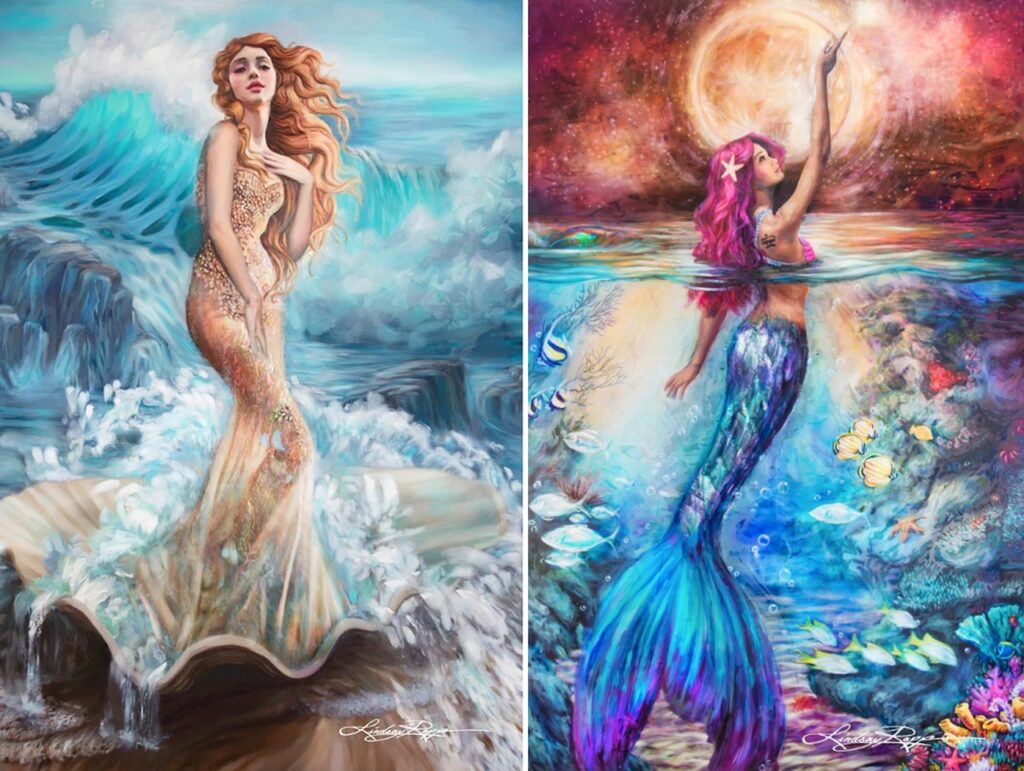 Rapp says that she always felt a connection with the sea, which she visualizes in her artworks with expressive brush strokes in vibrant and metallic colors. For her, the ocean is an entity that is life-giving, fertile, powerful, sensual, and mysterious, traits similar to women. Her artworks can only be described as demonstrations of female empowerment. Her technique includes imitating the effects of reflective water through the rare use of materials such as genuine metallic seashells, dichroic, 24-karat gold, silver, and layers of translucent and reflective plexiglass as the base.
Also Read: Monochrome or Abstract Art, Which is Right for Your Wall Décor?
Sophie Tea
Celebrating female body diversity with 'Send Nudes'
There are a handful of words that instantly remind me of the amazing British-born artist Sophie Tea; and they are pink, Carnaby Street, boujie, and 'Send Nudes.' Promoting positive body image and celebrating the diversity of the female body, Sophie can easily be recognized as a viral Instagram artist. She is only getting bigger and better with the constant evolution of her work. She began selling thousands of her paintings through Instagram, providing people with an alternative to the traditional methods of an art gallery. She opened her first art shop, clad in a bright pink hue, on London's Carnaby Street.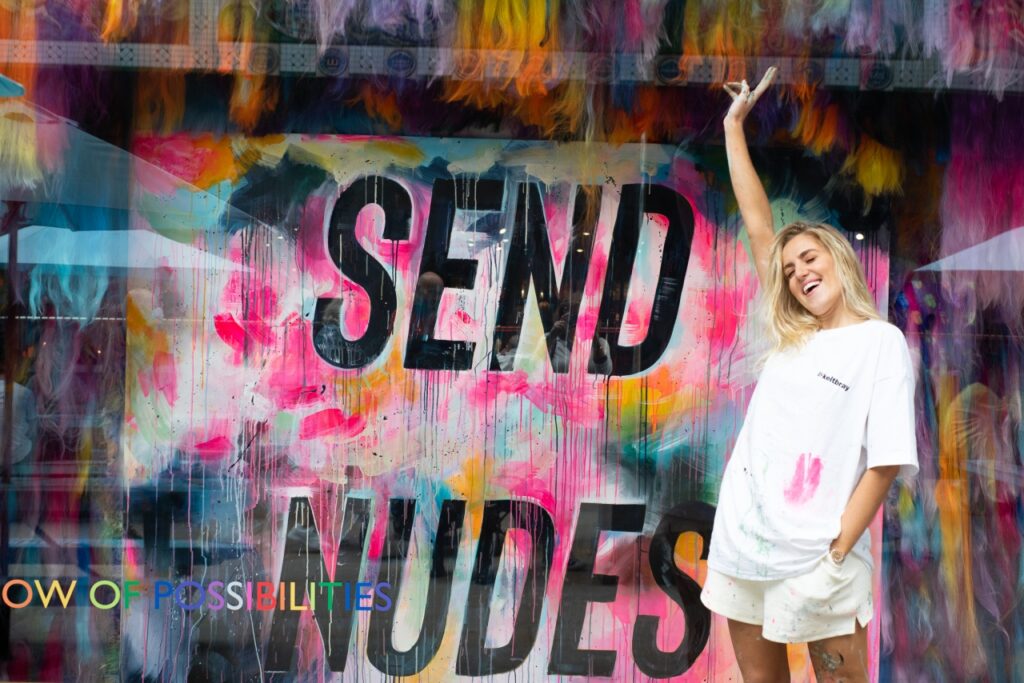 Although she started with animals and vibrant abstract works, she shot to popularity with her nude paintings that celebrate and empower body diversity. Her "Send Nudes" collection complies with portraits of beautiful women who let Sophie paint them completely naked. The paintings comprise gorgeous brush strokes, exquisite color combinations, and a message to love your body. You can find prints from the collection on her website; trust me, if you are reading this, you want one.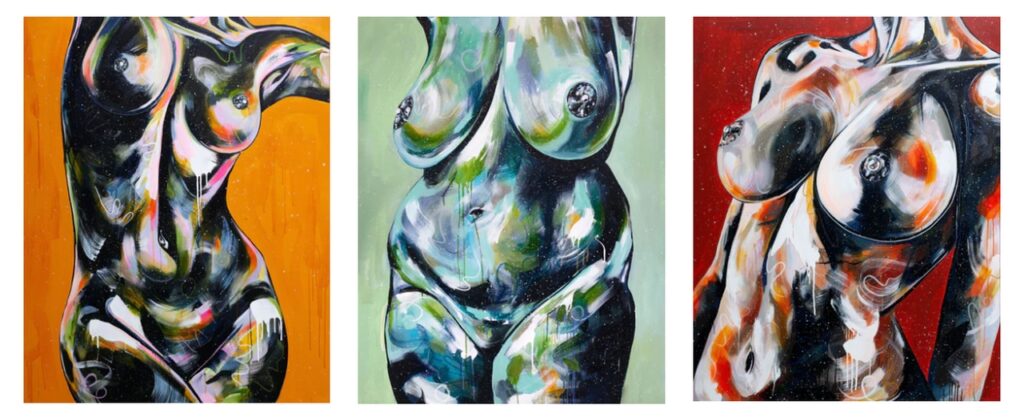 She is currently living in Sydney, where she has another art shop. She continues to share her journey, her thoughts, her painting process, and times of complete vulnerability and stress with her 294,000 Instagram followers. Sophie can often be seen splattered with paint with smudges all over her face and hair. She simply loves to interact with her followers, and I am proud to be a part of the TEA tribe.
Wangechi Mutu
Combining gender, race, and personal identity in art
The Kenyan-born American artist, Wangechi Mutu has created numerous artworks depicting the female body as a subject through collage painting and immersive installation while exploring questions of self-image, gender construct, cultural trauma, and notions of beauty and power. She observes that "females carry the marks, language, and nuances of their culture more than the male. Anything that is desired or despised is always placed on the female body."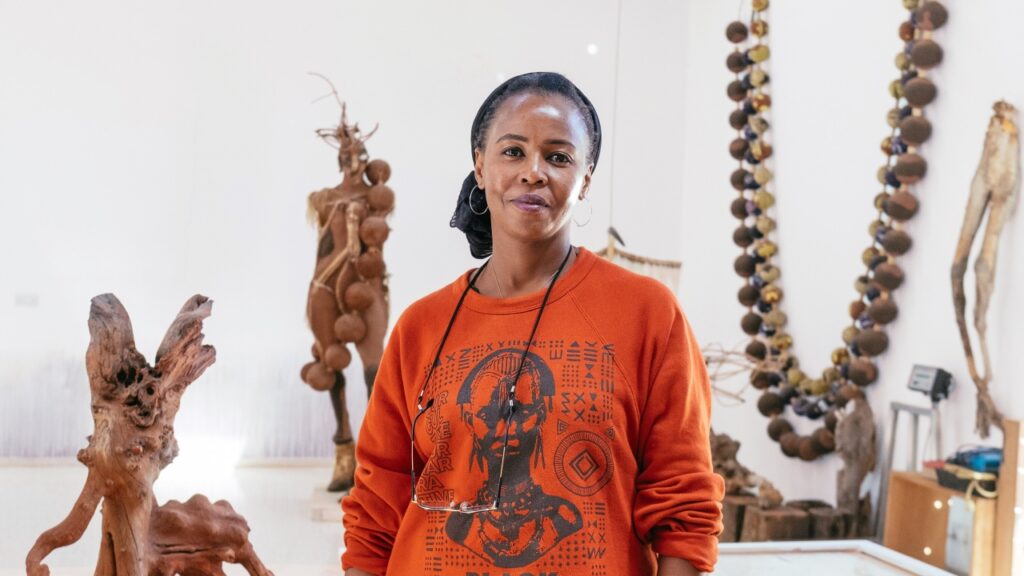 Her 2005 artwork collection called 'Adult Female Sexual Organs' uses a Victorian medical diagram as a base, which becomes an archetype of biased anthropology and sexual repression. Her collages are created with pieced magazine imagery with painted surfaces and found materials. Mutu's works pay homage to the split nature of cultural identity, referencing colonial history, fashion, and contemporary African politics.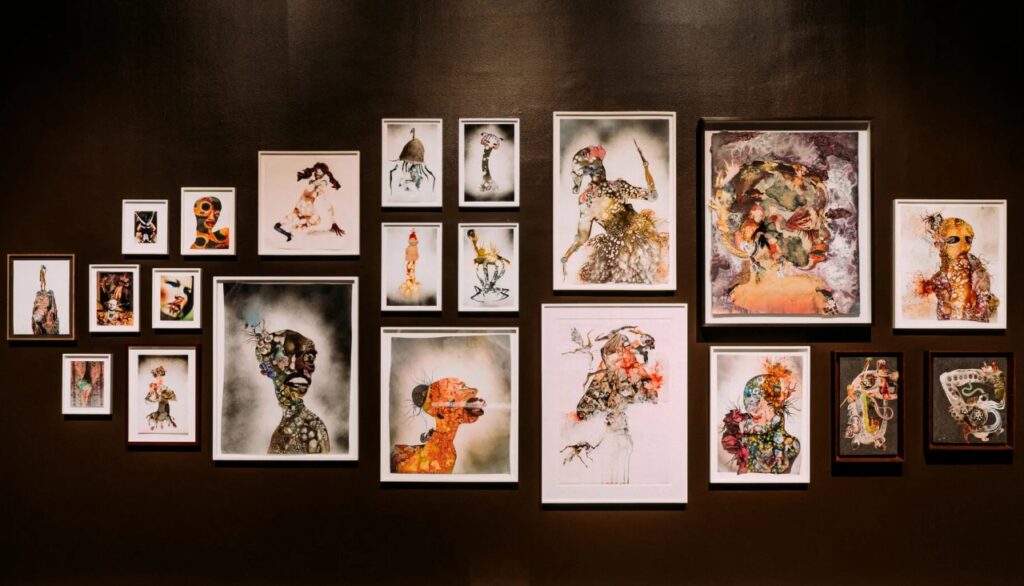 Partly, her artworks focus on the violence and distortion experienced by Black women in modern society. Femininity is the recurring theme of her works, with many times shown in a seemingly sexual pose, bringing forth a discussion on the objectification of women. If you like abstract, mixed media, and artworks with strong messages, a Mutu artwork is definitely your cup of tea.
Sahara Longe
Portraying bold Black women through paintings
Born in 1994, the British artist Sahara Longe is known for her vibrantly colored and large portraits depicting the mysteries of human psychology and social interactions. She is cementing the presence of Black women in the historical art canon through her bold paintings. While growing up she was surprised by the lack of Black people, especially Black women, in art.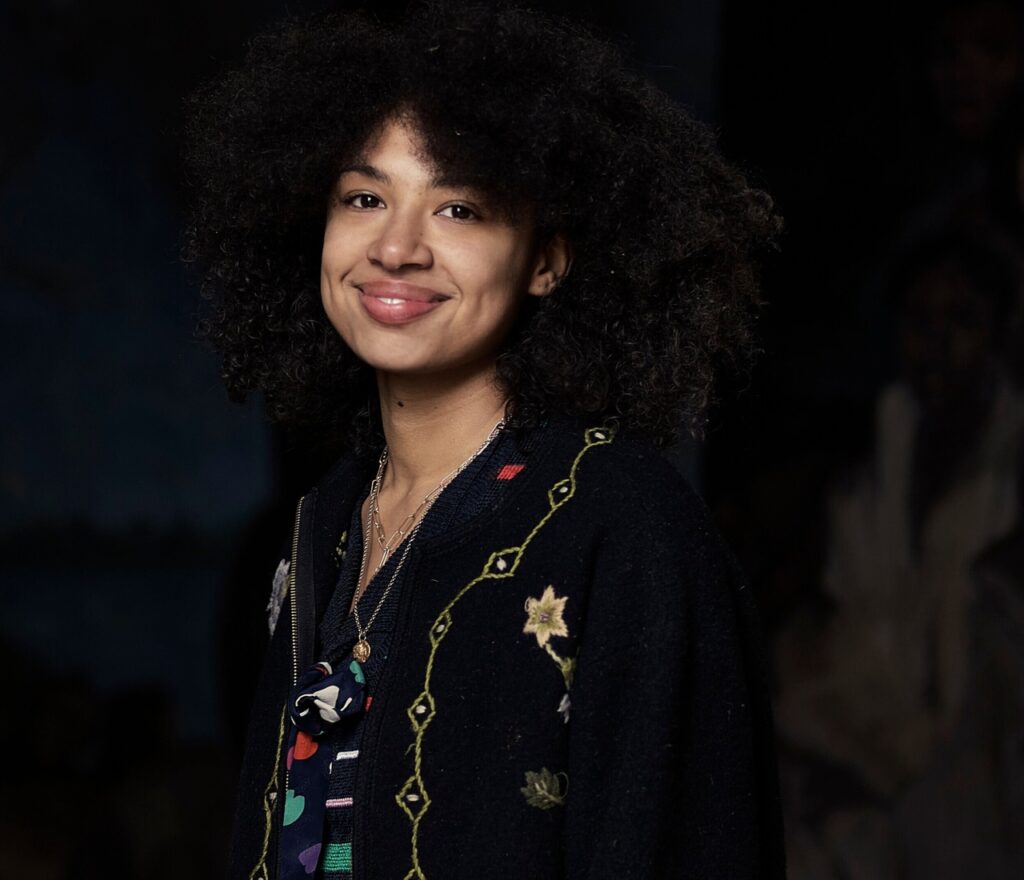 She says, "Representation is extremely important and growing up I never saw representations of myself in museums and galleries and it had a very profound effect on me. That want of being able to see Black people depicted in paintings (and not holding a bowl of fruit in the background) really propelled me to choose the path I did."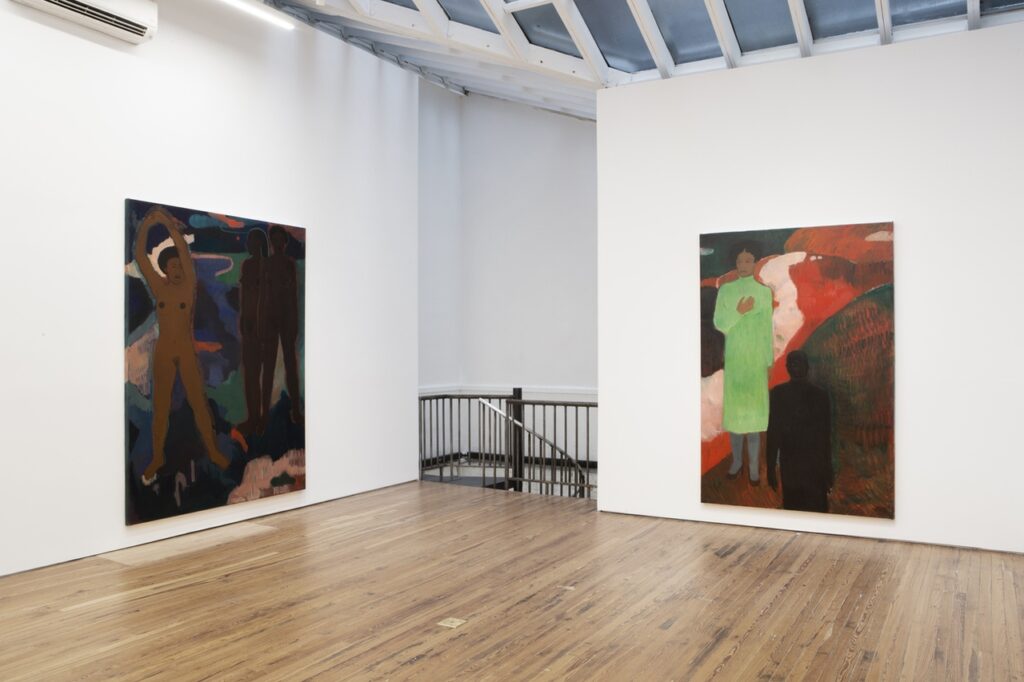 Many of Longe's oil paintings are dotted with a background of water, animals, and nature that create a Renaissance-like atmosphere. The insertion of Black figures into classical atmospheres points out the omission of race from the history of European art more broadly. The expressive brushwork, careful compositions, and sumptuous palettes are the key characteristics of her paintings besides the subject. Longe's work is often portrayed in a realistic manner with layers of thinly applied, luminous paint highlighting and reflecting spots of light.