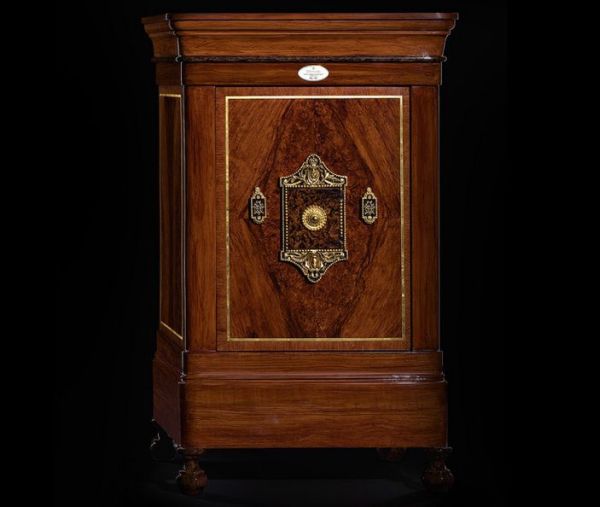 Döttling already boasts of the world's 'safest' luxury safe in the form of the robust Fortress. However, this time around, the company has taken the antique route with their renowned Legends series. Comprising of 'highly exclusive antique safes', the gorgeous items of the collection are refurbished and redesigned from famous historical pieces. All of the chosen historical items aptly exhibit the fascinatingly advanced nature of yesteryear craftsmanship; whether it be a 20th century Wilhelminian security cabinet, a mid-19th century Napoleonic coffre-fort, or even an antediluvian design commissioned by the last Medici of Milan in 1740. These exquisite safes are given a second life of opulence and luxury with the painstaking renovation carried on by the Döttling workshop.
This detailed renovation process is actually borne out of the collaborative effort between the customer and the company. Both the external facades and the internal spaces of the Legends safes are worked out in consultation with the user, which endows unique characteristics to each of the luxury safes.
In terms of changes, Döttling tries to infuse as many number of innovative features as possible inside the Legends safes, to give them their fair share of novelty. In this regard, the fittings include humidors, cocktail bars, jewelry compartments, watch winders, collector cabinets and also lockable drawers. All of these are complemented by classic details of the original safe and the intricate level of craftsmanship provided the company.
So, at the end of the day, the scope is not only about owning a luxury, antique safe; but its also entails a grandiose allusion to upscale lifestyle with its own ritzy benefits.
All images are courtesy of Döttling.
Via: Döttling