I am not going to lie, when I first saw a picture of the Eames Lounge Chair, my first thought was to someday own this comfortable furniture. This chair is the epitome of luxury and ergonomic seating. If you are lucky to own an Eames Lounge Chair, you know what I am talking about. But if not, by the end of this article you will know why it is the world's most famous chair; and my dream chair!
There are a few timeless objects in the design industry that span across lifetimes, stylishly sitting in any interior layout. While certain materials, textures, and patterns can bridge two different time periods, only a handful offer proven longevity. One example of this is the Eames Lounge Chair and Ottoman that first debuted in 1956. It has a certain je ne sais quoi that will make you fawn over this icon of a chair.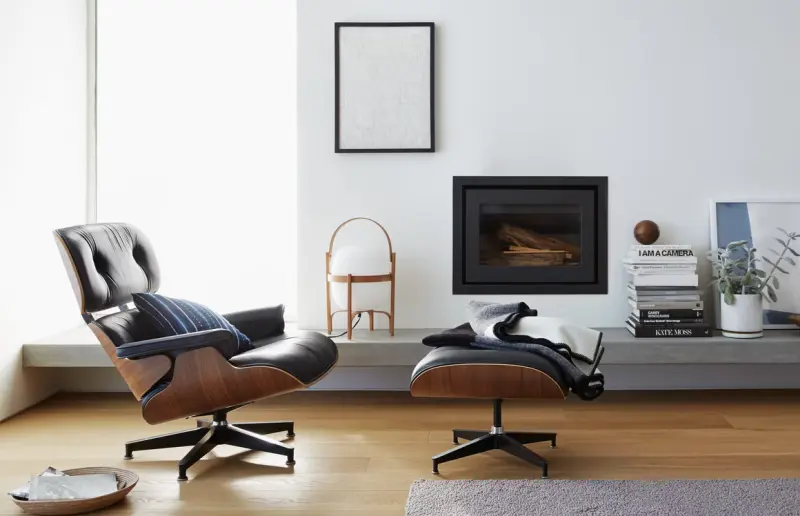 Made of molded plywood bases and a black leather finish with button tufting, this 20th-century interpretation of the 19th-century English club chair became an instant classic and a symbol of comfort. Designed by husband-wife designer duo Charles and Ray Eames, the smooth curves of the molded plywood of the chair and the ottoman are reason enough to fall in love with this furniture set instantly.
History of Eames Lounge Chair
In 1956, Ray and Charles Eames set a new standard for a cozy lounge chair. Due to its comfortable design and versatility, the chair has become an iconic piece in the history of modern furniture.
A break from the designer duo's earlier works, the concept of the Eames Chair was taken on by the design team that wanted to create a high-end, luxury chair. It was "quite a departure" from previous designs when it was unveiled at the Arlene Francis Home Show.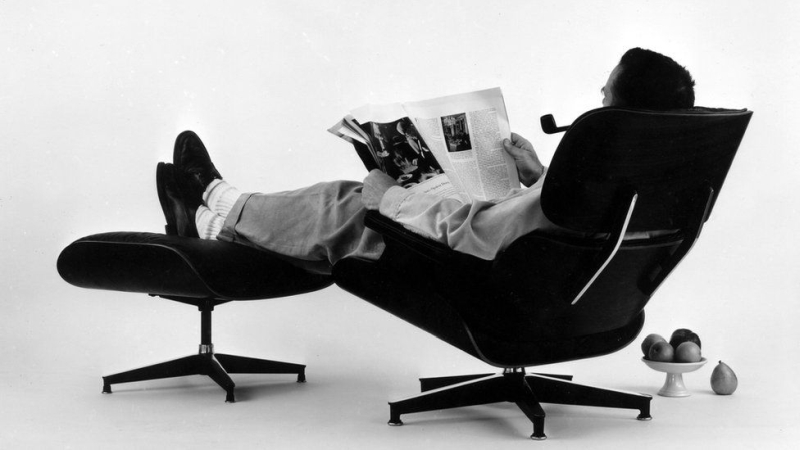 The iconic furniture was made with three pieces of molded plywood – a base, a separate headrest, and a backrest. All of these parts were then covered in a rosewood veneer, while later versions used walnut, cherry, and other finishes. The wooden fragments were complemented by black or brown leather cushions, along with a matching ottoman.
Timeless Design With Proven Lastability
This high-end, luxury set features a stylish, chic, modern, and comfortable chair and ottoman. The idea behind the design of the Eames Lounge Chair was to make the user feel as snug as a baseball in a worn leather mitt. Ah, that sounds cozy!
Charles and Ray Eames wanted to create an amply proportionate chair that merged ultimate comfort with the highest quality materials and artistry. Its proven lastability can be a part of your living room, office, reading nook, or basically anywhere you fancy a touch of tranquility and elegance.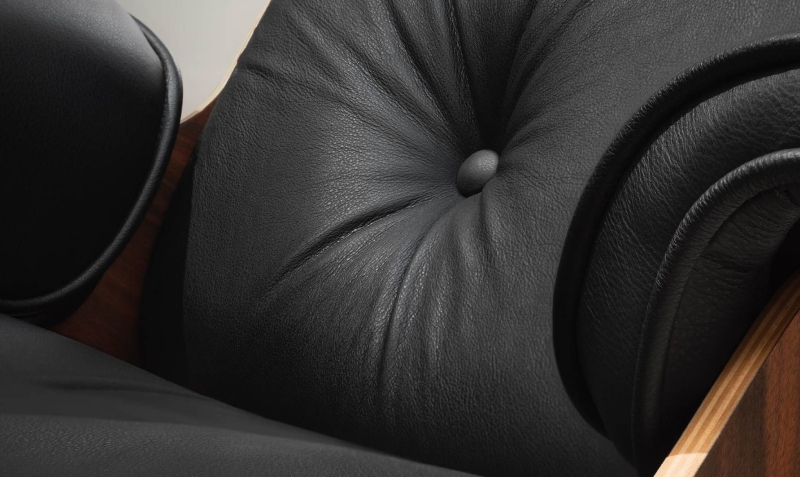 When the furniture set was introduced in 1956 on NBC's television show "Home," hosted by Arlene Francis, no product could hold a candle to it. Almost instantly, both the design and designers rose to stardom.
In spite of its humble origin, this beautiful chair has stood distinctive in the furniture industry for over half a century, and has become one of the most significant designs of the modern era. The armchair is lighter, more elegant, and modern than the traditional bulky designs, making it a timeless favorite.
Inspiration and Popularity
Charles and Ray Eames often paid visits to their friend, Hollywood director Billy Wilder on his movie sets. The famous director would make a makeshift lounge chair between takes to rest his back and take small naps. Something about this seat appealed to the duo and inspired them to create a furniture set that would offer maximum comfort for ages to come. The real inspiration came from the good old English club chair, which served as a base design.
Through an approach of creating interesting and beguiling designs, the Eameses wanted to make things better and more fun. The set came out during a period of very spare and minimal furniture, and Charles wanted to craft something that would provide a breather from the "strains of modern living."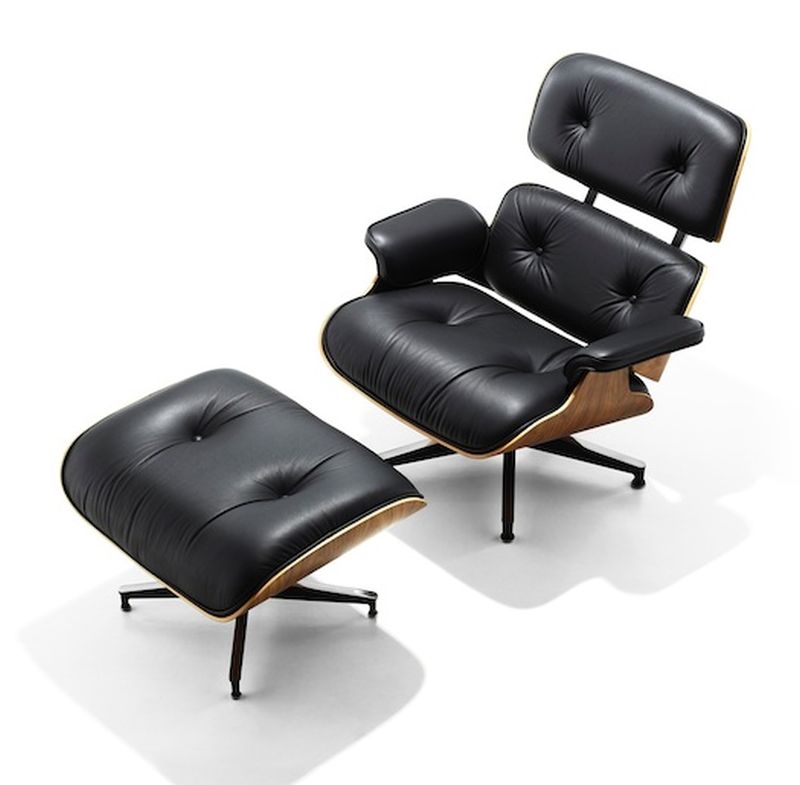 With significant experience working with plywood, the couple began experimenting with the material. It resulted in smooth curves of molded plywood on the popular chair which was quite unexpected at the time. The first completed set was gifted to Billy Wilder, and produced by Herman Miller.
The chair and the ottoman have become special members in modern homes and offices, offering snug seating. The low-hung back and supple leather of the chair make it one of the best reading chairs you can ever find.
Meet the Makers – Ray and Charles Eames
Now that we know how the chair came to be, let's take a look at its parents. Charles and Ray Eames were an American power couple in the design world. The duo has made significant historical contributions to the growth of contemporary architecture and furniture through the work of the Eames Office. Their design office functioned for over four decades from 1943 to 1988.
Charles and Ray Eames transformed their curiosity and boundless enthusiasm into crafting furniture with playful and functional aspects while being simultaneously sleek, sophisticated, and beautifully simple. These traits were and still are the signature "Eames look."
The couple usually approached each project with the same idea behind it: "Does it interest and intrigue us? Can we make it better? Will we have 'serious fun' doing it?" Their work was a combination of art and science; design and architecture; and style and function, which gave them monumental success while making their creations an ageless part of the industry.
According to a design critic, this astonishing couple "just wanted to make the world a better place." They did that and made the world a lot more interesting through their phenomenal work.
Manufacturing and Price
Herman Miller launched the Eames Lounge Chair in the mid-'60s. Its modern, stylish, and functional design was an instant hit and is still in production. It quickly rose in popularity and is one of the first chairs to be mass-produced at a luxury price point.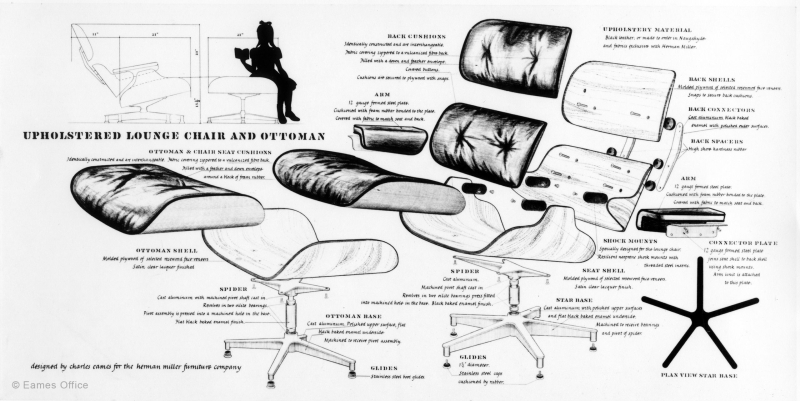 After becoming an icon of American design almost immediately, the Eames Lounge Chair and Ottoman continue to offer comfort and style to modern interiors. Made of high-quality materials like supple leather, wood veneer, and cast aluminum, the chair's universally recognized form comes in a variety of veneers and multiple upholstery options.
The vintage and new production of the Eames Lounge set often sells in the price range between $6,000 and $9,000, depending on the material chosen. There are many cheap versions and knockoffs of this classic product available in the market that range between $1,000 and 2,000.
Original vs. Knockoff: How to Tell the Difference?
Herman Miller and Vitra, a Swiss maker of modern-style furniture, are the only distributors with the authority to produce the Eames Lounge set using the original specifications to distribute overseas. There are plenty of replicas on the market; some are detailed reproductions and some are close copies, which makes it difficult to spot the difference between the original and the knockoff.
Check out these telling details that will help you differentiate.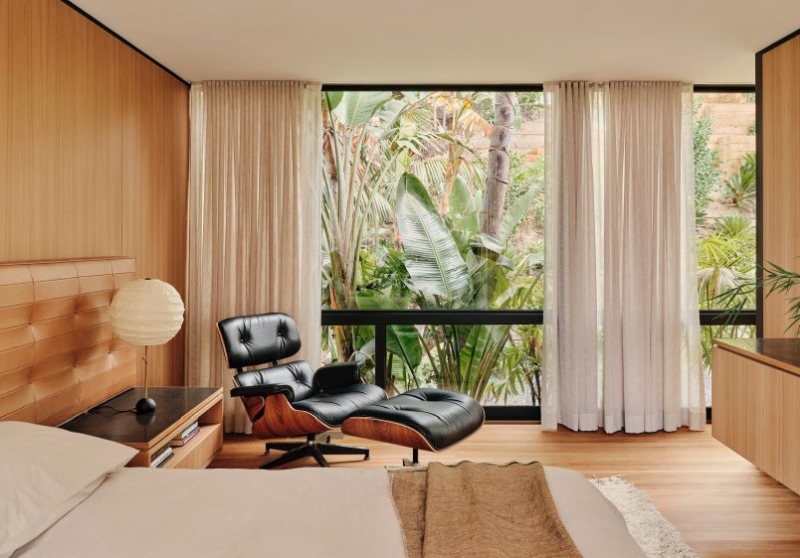 The Permanently Tilted Seat: Designed to take the weight off the lower back and spine, the permanently tilted seat is made to rest in a lounging position without any adjustments. If your chair requires a reclining mechanism to adjust the tilt, it is not an authentic Eames chair.
Specific Measurements: An original Eames lounger measures 32-inches from the floor to the top of the headrest, while the front seat edge is only 15-inches above the ground. Meanwhile, the knockoff designs are usually larger and somewhat clumsier, measuring several inches to 10 or more inches taller than an authentic piece. You can also measure the distance across the arms and from front to back, each of which will be 32.75 inches in an original.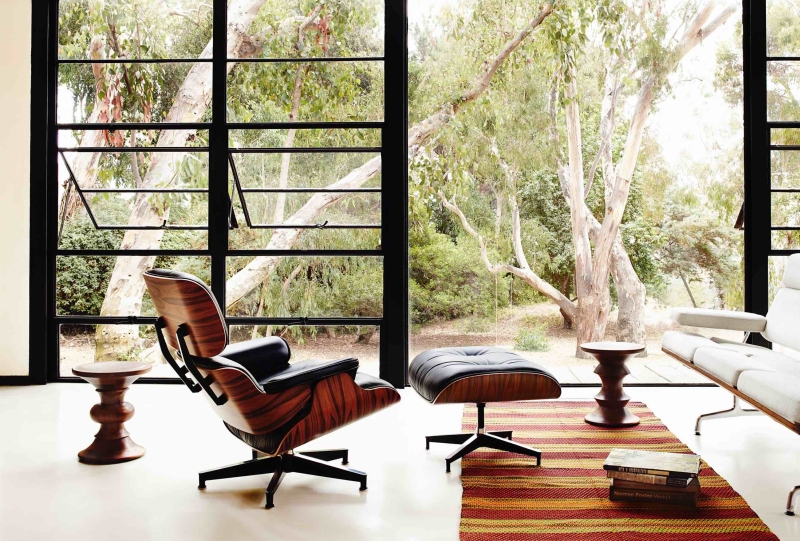 Look at the Legs: The genuine Eames lounger legs have a bit of an angle without being steep or flat. However, the copies of the chair come with a base constructed with square feet or feet of steep incline. Moreover, the original ottoman will have four legs instead of five as seen in copies.
Compare the Pricing: The vintage and new production Eames loungers cost somewhere between $6,000 and $9,000, depending on the variety of the material. In comparison, copies of this classic design sell between $1,000 and $2,000.
Legacy and use in Pop Culture
Amy Anscherman, Herman Miller's head of archives and brand heritage, said, "The Eameses really changed the way that people considered what a chair is supposed to look like." The iconic chair has been a part of the mid-century modern design.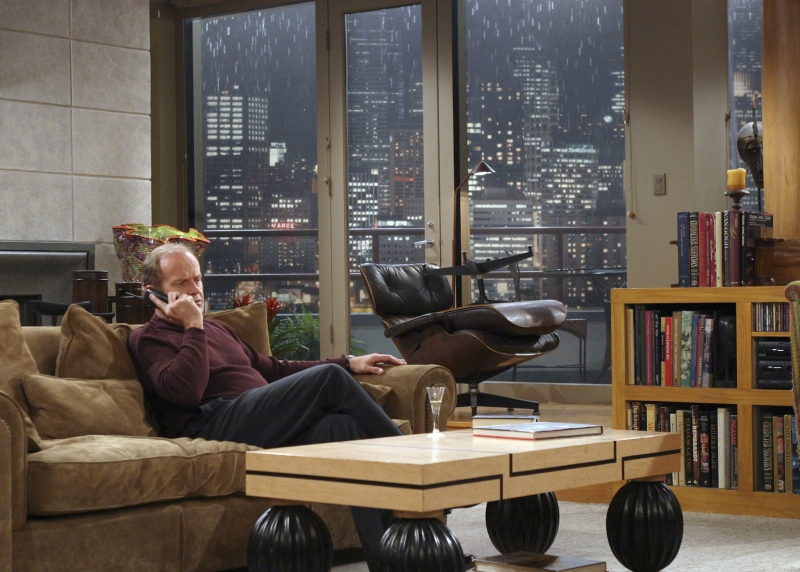 The Eames lounger has been a fan favorite since its unveiling and has been a favorite chair in popular culture in many ways throughout the years. It remained a part of the TV shows Frasier where it was referred to as "the best-engineered chair in the world." Another TV show, Shark Tank replaced all the chairs on set with Eames Lounge Chairs after eight seasons for a more modern-esque setting.
A 1956 rosewood Eames Lounge Chair and Ottoman are in the permanent exhibit in the Museum of Modern Art in New York City; another classic version is in the Henry Ford Museum in Dearborn, Michigan, and the Museum of Fine Arts Boston.