We live in an era where cinema has galloped into our lifestyle so much that the plot, characters, and sets from our favorite movies, shows, and music videos et al command a special place in our hearts. In many cases, including other things, mind-blowing furniture incorporated in these iconic cinematic pieces engrave themselves on our minds for their detail and uniqueness.
Over the years, various movies and TV shows have included really fascinating chair designs, embellished with extraordinary attention to detail. Who can forget the iconic orange couch at Central Perk in Friends; Ruby Armchair from The Matrix; or the Iron Throne from Game of Thrones?
Also Read: 100+ Chair Design Ideas for Modern Homes
Here we have compiled a list of the 10 most famous chairs in movies and pop culture that have played a significant role in the narrative of the stories.
Djinn Chair by Olivier Mourgue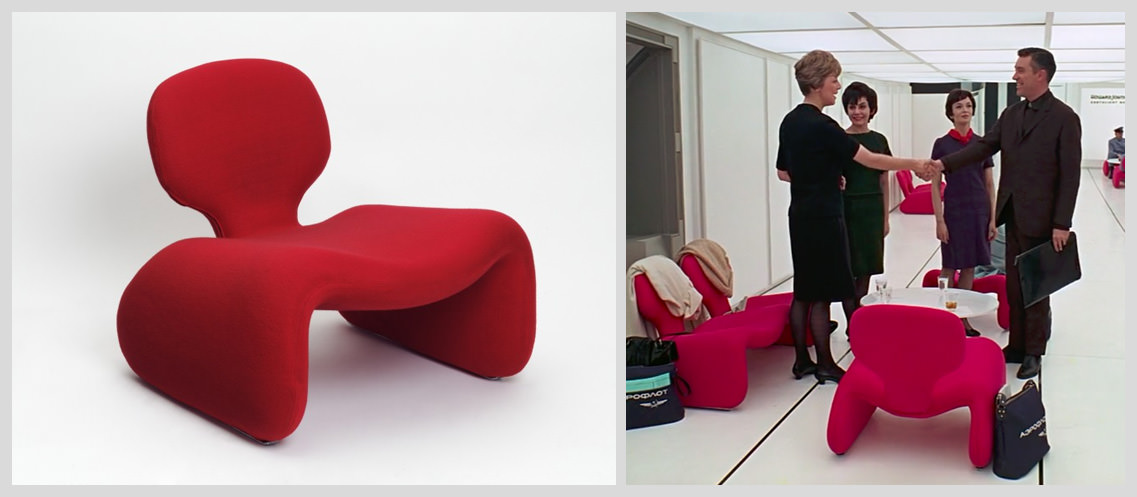 Featured in the 1968 sci-fi movie 2001: A Space Odyssey, Djinn Chair by Olivier Mourgue is a functional, glitzy, and revolutionary piece of furniture. Even after 50 years, replicas of the rare chair, which graced the lobby of Space Station Five in the movie, are still popular. The chair is no longer in production yet Djinn chairs have become valuable collectible items.
The Djinn series was designed by Olivier Mourgue in 1965 while working for French manufacturer Airborne International. The classic chair personifies the essence of the 60s ultramodern design and has gone on to determinedly take its place in the furniture industry.
These chairs are made from original Airborne shells and are recovered in fireproof foam and covered in stretch Jersey. Made from bent steel tubing, the Djinn chairs are covered in webbing and foam housed in zippered cover.
Barcelona Chair by Mies van der Rohe and Lilly Reich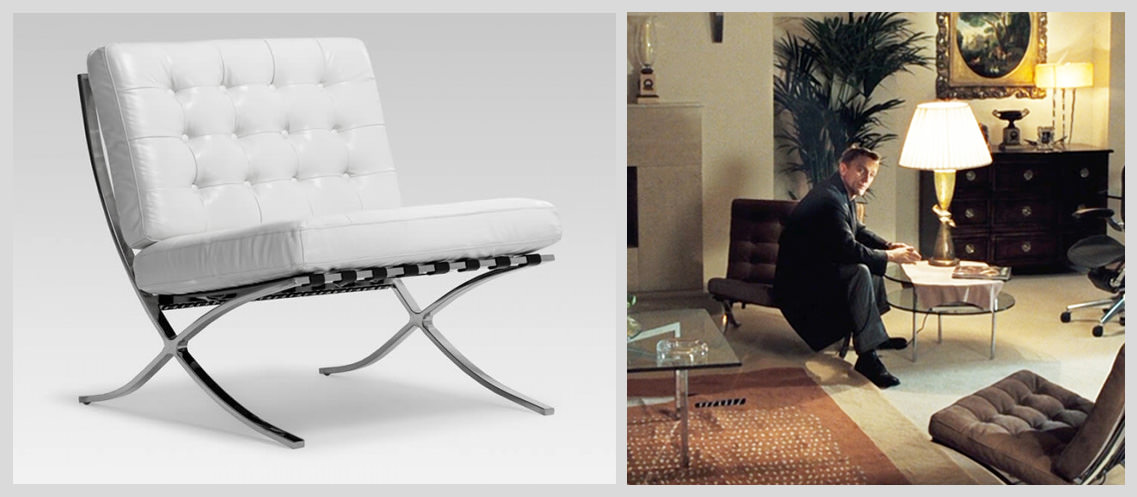 Invented in 1929 by Mies van der Rohe and Lilly Reich; Barcelona Chair was presented at Barcelona's Expo just one year later. This is one of the most iconic pieces of furniture featured in movies of the last century and an embodiment of modern design. Barcelona Chair has made its appearance in many movies, but Casino Royale gave it a significant recognition in the cinematic world.
Embalming the simple elegance and graceful profile, the Barcelona Chair is celebrated as a modern lounger that embodies the creator's philosophy of "less is more." The gorgeous chair is produced by Knoll and represents a seamless combination of modern minimalist design and brilliant craftsmanship.
Ovalia Egg Chair by Henrik Thor-Larsen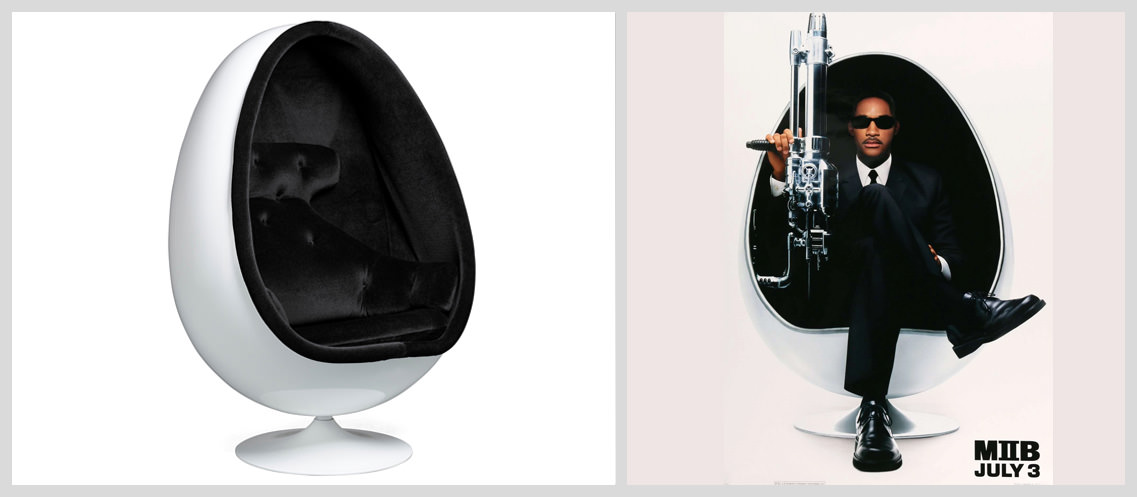 Remember Will Smith's sci-fi action-comedy series Men in Black? The MIB franchise features a number of unique and iconic design elements, but one furniture piece that was most notable was the agents' Ovalia Egg Chairs.
Designed by Henrik Thor-Larsen, the Ovalia Egg Chair is one of the single most iconic chairs of all time and elegantly demonstrates the curved enthusiasm of the 60s design. Ovalia was exhibited for the first time at the Scandinavian Furniture Fair in 1968 and was an immediate favorite.
It is made from a shell of glass fiber-reinforced polyester painted shiny white, while its cushions with polyester and synthetic padding are covered in wool or nylon fabric. This chair is available in over 20 different colors.
6250 Chair by G Plan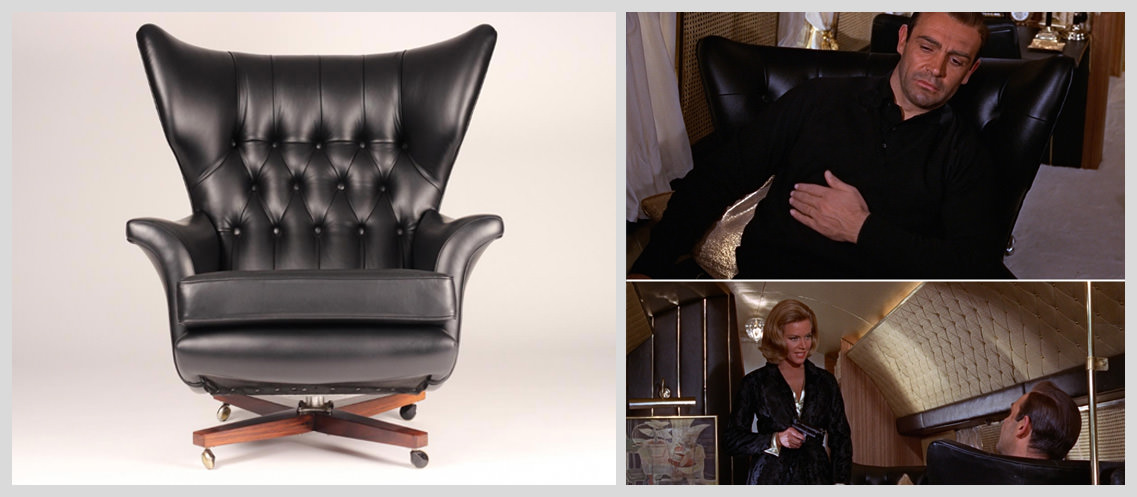 Bond movies have not only entertained us but have also presented us with a glimpse of iconic furniture. The 1967 Bond movie You Only Live Twice made the 6250 Chair the supervillain Ernst Starvro Blofeld's throne. The 6250 Chair was launched by the British company G Plan in 1962.
The black leather G Plan 6250 swivel armchair has been dubbed "The World's Most Comfortable Chair" or "The Blofeld Chair." The model has a unique winged design, soft foam cushioning, and deeply buttoned back. The chair has seen some modifications in the design and use of materials over the years.
Also Read: 21 Most Famous Chair Designs of All Time
Eames Lounge Chair by Charles and Ray Eames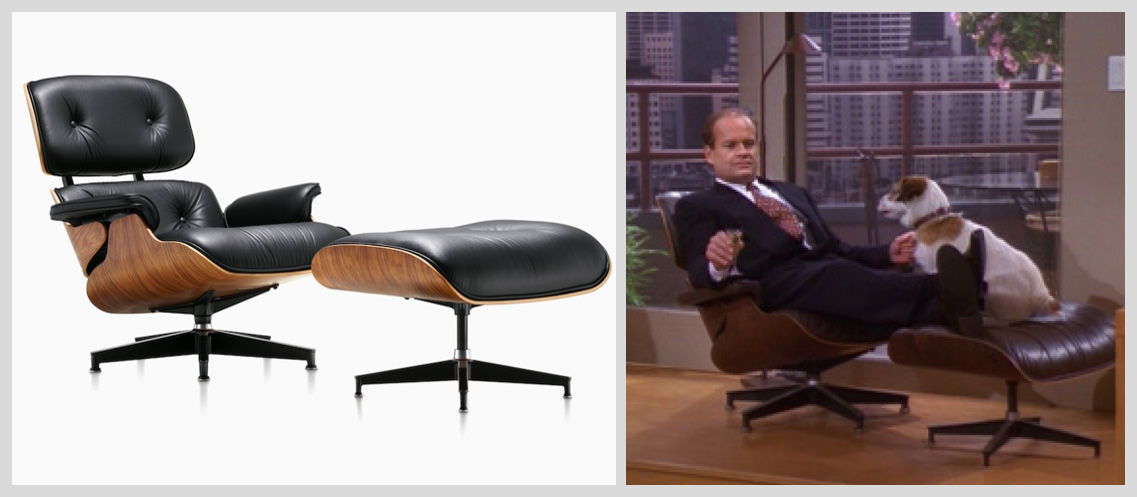 The Eames Lounge Chair was designed by Charles and Ray Eames in 1956. Over the years, this gorgeous chair has become a design statement and a true symbol of minimalist contemporary style. The beautiful chair was featured in TV series Frasier starring Kelsey Grammer, Jane Leeves, David Hyde Pierce, Peri Gilpin, and John Mahoney.
Through this lounge chair, the designer wanted to satisfy the desire for a balanced chair that could pleasantly combine ultimate comfort with the highest quality materials and craftsmanship. It comprises leather-bound upholstery and molded plywood.
Ball Chair by Eero Aarnio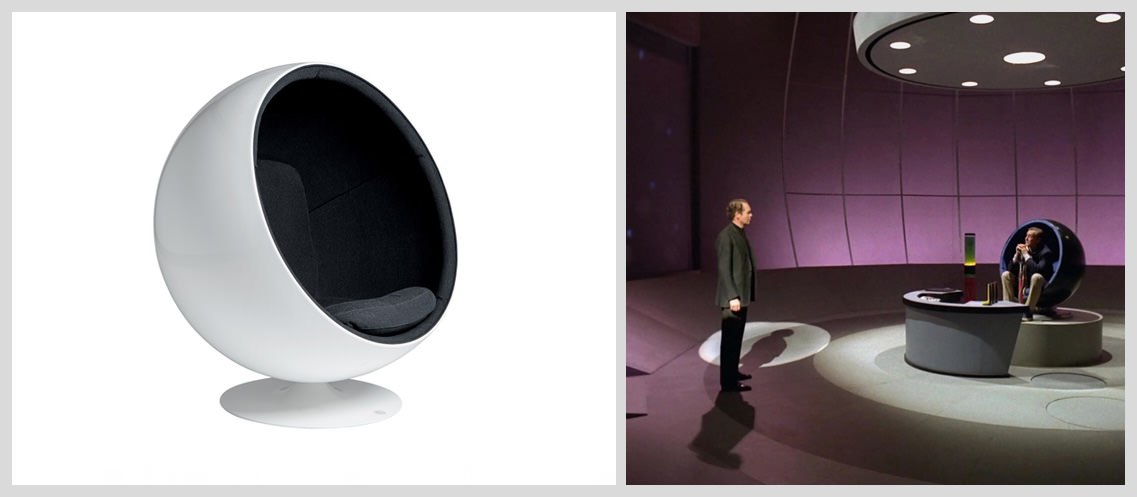 The rounded Ball Chair graced the sets of The Prisoner and Tim Burton's star-studded sci-fi comedy Mars Attacks. The Ball Chair was designed in 1963 and was unveiled at the Cologne Furniture Fair in 1966. The classic Finnish design was the international breakthrough of designer Eero Aarnio.
The Ball Chair can be found in the collections of design museums around the world and it has made appearances in several movies, music videos, and magazine covers. It is made from fiberglass and upholstered with Kvadrat-quality fabrics. The Ball Chair is available in 15 color options to choose from.
Womb Chair by Eero Saarinen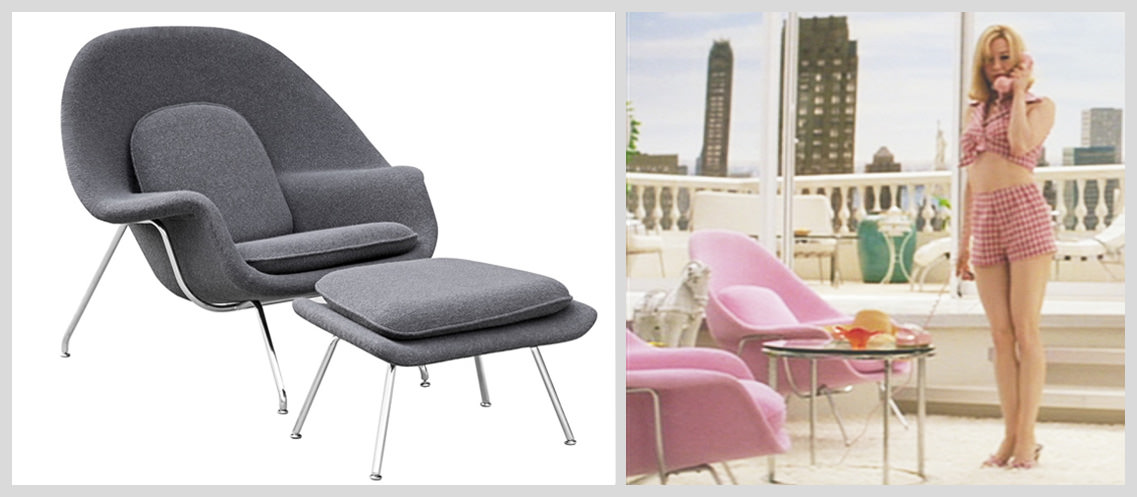 Eero Saarinen designed the iconic Womb Chair for Knoll to offer Florence Knoll with a place to "curl up in." The mid-century classic supports innumerable sitting positions and provides a comforting retreat after a long hard day of work. This gorgeous piece of furniture was featured on the sets of Down With Love, featuring Renée Zellweger and charming Ewan McGregor among a host of pinks and baby blues.
The organic shape of the Womb Chair offers a soothing sense of place. This authentic Knoll chair features a comprehensive structure, indented armrests, and removable cushions, which allow you to relax with your feet up, at an angle with one leg over an arm, or sideways with feet tucked under.
Wegner Ox Chair by Hans Wegner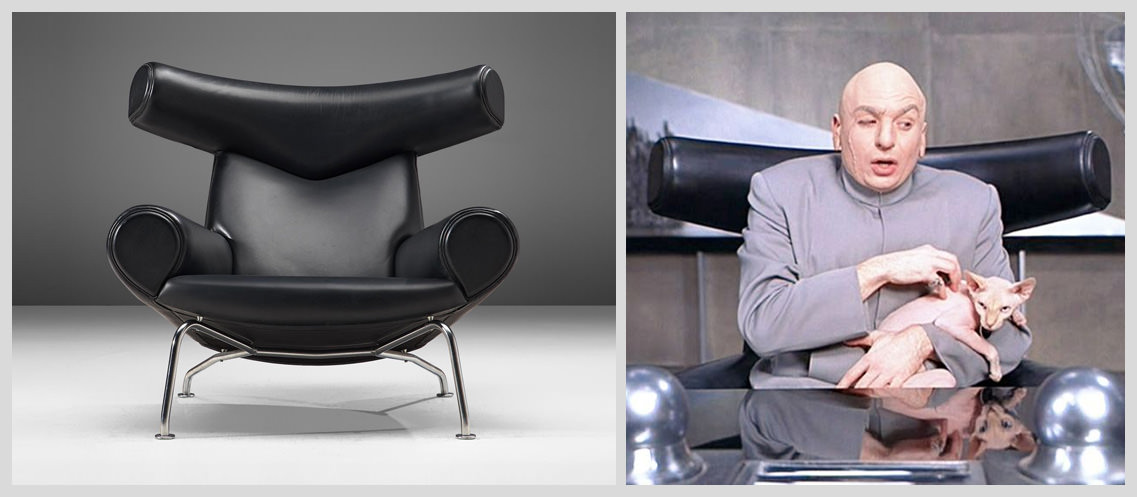 Wegner Ox Chair has become part of many movies over the past years. It was designed as a tribute to the Bond films and other spy movies of the 60s. Austin Powers chose the chair as the throne for the character of Dr. Evil.
The movie set displayed an incredible number of statement pieces; however, the Ox Chair was probably the most tasteful designer furniture. The chair captures the essence of masculinity owing to its minimalism and practicality. The sculptural and domineering chair was designed by Hans Wegner, who was inspired by the works of Picasso.
Eames Office Chair by Charles and Ray Eames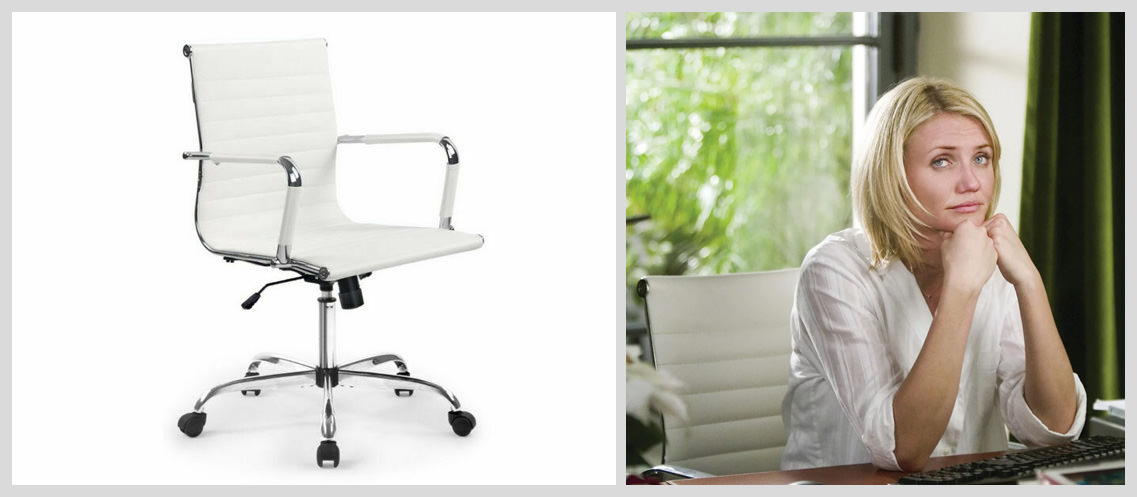 The 1958 Eames Office Chair was originally commissioned as outdoor seating. Charles Eames created this aluminum and leather-clad furniture for its functionality, which became one of the most spectacular chair designs of the 20th-century owing to its elegant modernist elements. The chair made its way onto the sets of 2006 star-studded The Holiday.
Eames Office Chair was constructed with cast aluminum and a seat frame that supports a stretched synthetic mesh. The back-seat suspension was a major technical breakthrough and epitomized a new concept of the chair aside from a solid structure.
These office chairs became part of the Eames Aluminum Group, a series line of furniture designed by Charles and Ray Eames, which Herman Miller has been producing since its inception in 1958. Although the chairs have undergone many changes and modifications over the years, they still remain high in demand.
Also Read: 20 Best Office Chairs to Work from Home
Ruby Leather Wingback by Chesterfield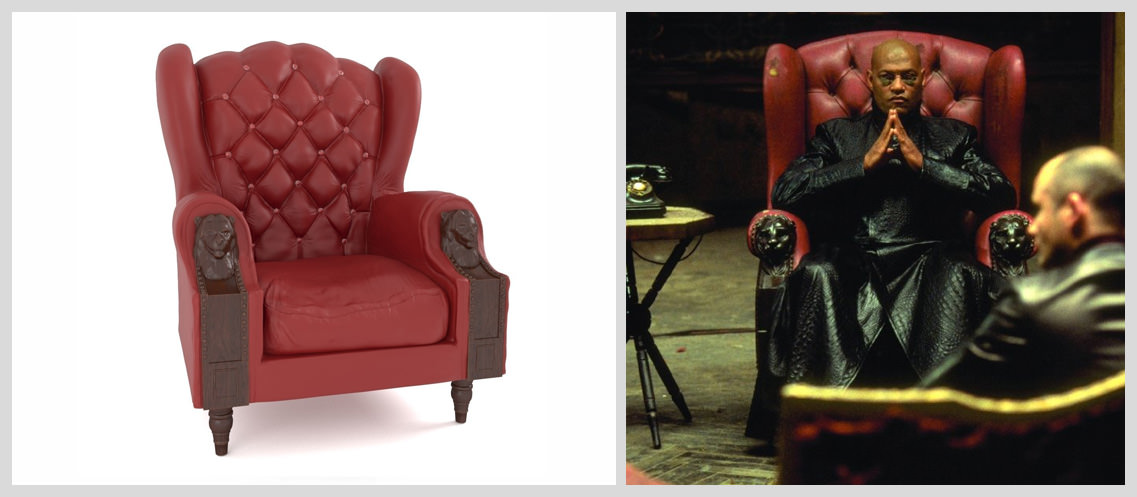 Furniture is generally not the central point in movies; the Ruby Leather high back however was an exception. It served a significant purpose in The Matrix. The first time Morpheus and Neo sit down on a pair of Ruby Leather high back armchairs; other furniture choices seemed irrelevant. The armchair became not just Morpheus' trademark but embodied the film's fiction more than any other single object or prop.
This Chesterfield high back chair has become an iconic piece of 20th-century furniture. It can make a wonderful statement piece in any room. Whether a traditional or modern home, the Ruby Leather high back is guaranteed to stand out. With the buttoned back, Queen Anne Legs, and scrolled wings, it will add elegance to your space.