If you are working from home, a comfortable workspace is essential for your body and mind especially in times when going out is not very safe. Setting up a home office that's highly functional and beautiful to look at has become more important than ever.
A chair is an integral part of the home office since it keeps your body in a comfortable position while you're busy working all day long.
Wondering what is the finest chair that best fits your space and budget? Here's a roundup of the 20 best office chairs (in no particular order) that are highly functional, comfortable, and great for setting up a perfect home office.
Furmax PC Chair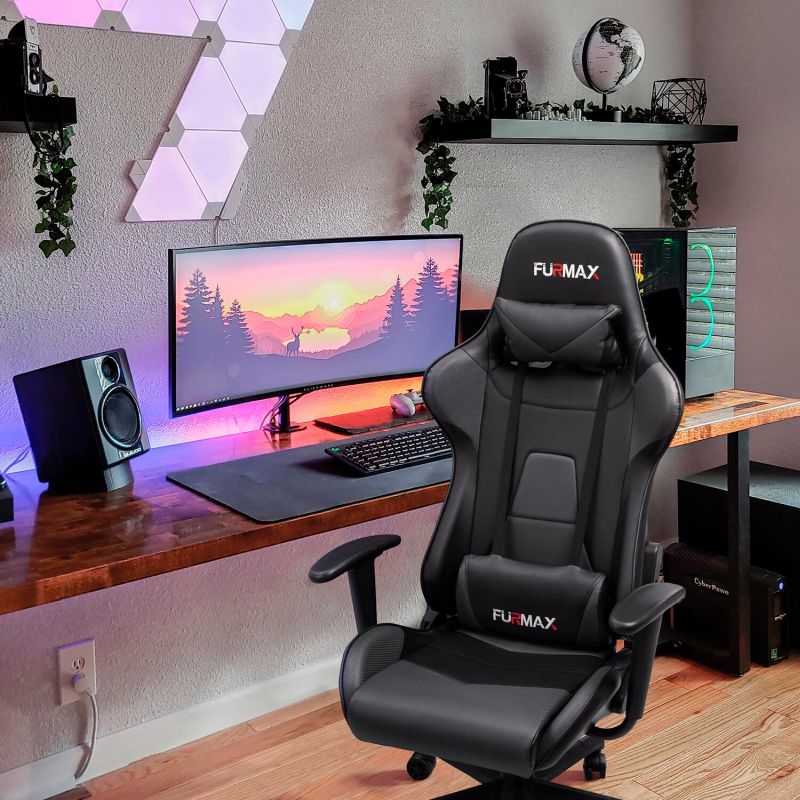 Furmax multi-functional chair offers 360-degree swivel and rocking function. It comes with a smooth armrest and seat-height adjustment, removable headrest pillow and lumbar cushion for better sitting. The chair comprises carbon fiber leather with a high-density thicker sponge as a filling and has a strong steel frame. Sturdy and reliable for daily working and gaming, it has up to 300-pound weight capacity. This chair would be a great addition to your home office, reception desk, conference room, etc.
Ergonomic Office Chair by BestOffice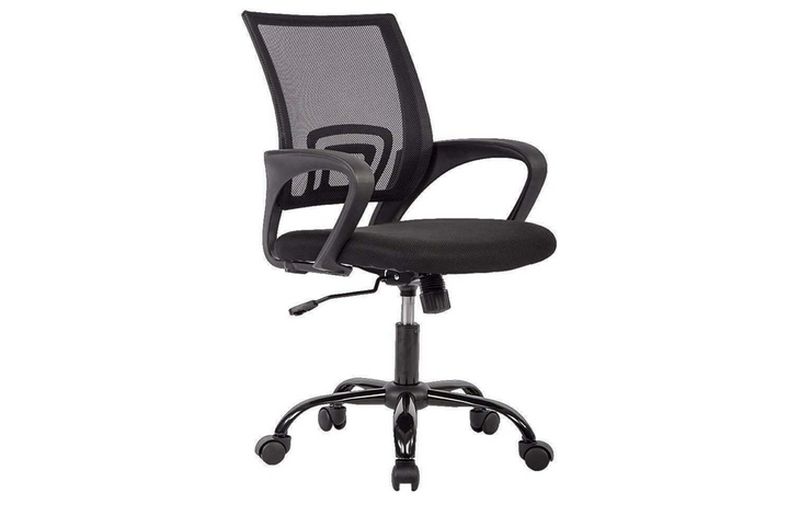 This is another amazing mesh chair to offer exceptional support to professionals in the office or home workspace. The chair has transparent mesh all over the backrest to allow adequate air circulation. It is also adjustable and can easily be raised and lowered using the adjustment lever, which is conveniently located under the seat.
The chair has padded armrests to ease off pressure from your neck and shoulder areas. Embedded with five hooded dual-caster wheels, the chair is easy to glide over carpeted flooring while naturally performing its task without exertion.
Ergonomic Executive Chair by Smugdesk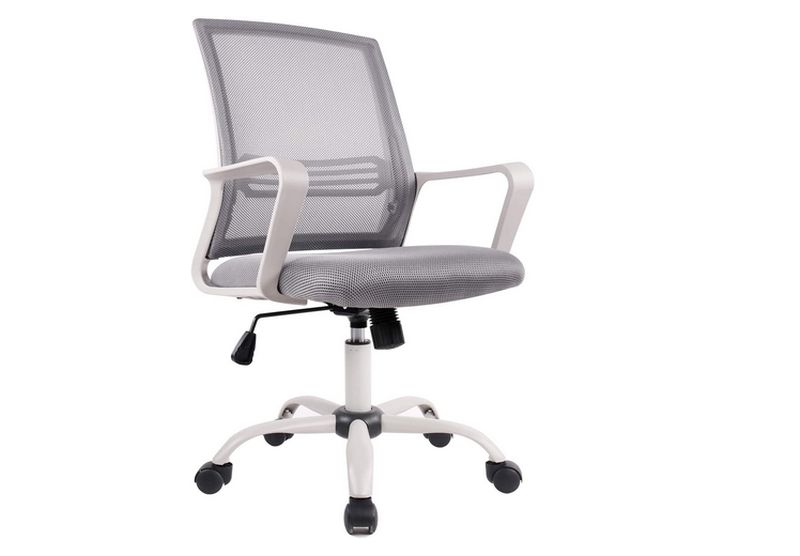 Smugdesk Ergonomic Executive Chair has a well-designed backrest that aligns to your spine's natural curve. It makes this three-degree curved chair very comfortable for long-term use. It even offers you fast, light, and accurate height adjustments as per your work requirements. With its flexible, reliable, and safe 5-claw chair legs, you may easily glide it for maintaining a dynamic routine.
Armless Office Chair by Flash Furniture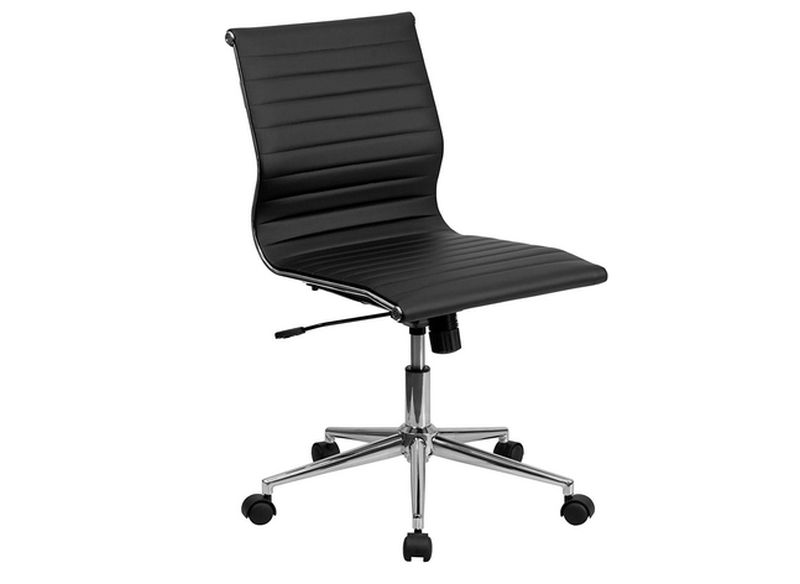 Flash Furniture's armless office chair gives your office, home, or conference room a minimalist yet upscale look. The chair comes upholstered in leather and features a polished aluminum frame with an embedded coat hanger bar. This mid-back chair also boasts a foam molded and ribbed back and seat with built-in lumbar support. The seat is further padded with cushy CA117 fire retardant foam.
You can increase or decrease the force needed to recline or rock the chair using its adjustment knob. You may even lower or raise the seat height using a pneumatic height adjustment lever under the seat.
Swivel Desk Chair with Flip-up Arms by Hbada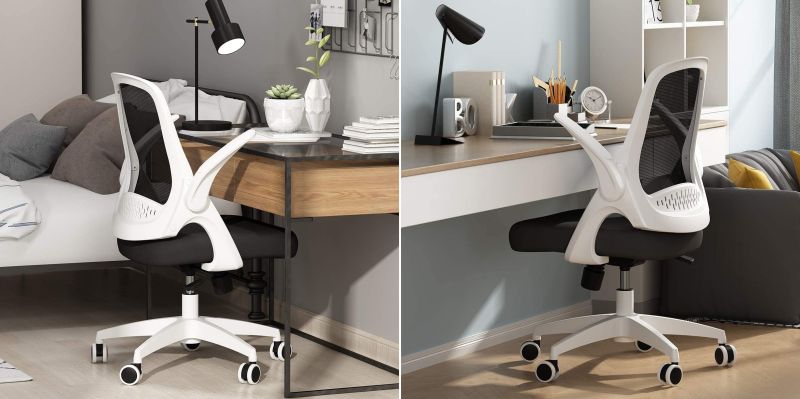 Hbada, a professional office furniture supplier, has come up with this minimalist, flip-up, and adjustable ergonomic chair for office use. Being an early pioneer in Ergonomic Office Chairs, Hbada is known for its advanced product quality, research & development, and perfect after-sale service. Due to the top production lines from Italy and Germany, Hbada only employs eco-friendly materials in this comfortable chair that can be adjusted as per your body's requirement while working.
Also Read: Best Chair Design Ideas for Modern Interiors
High Back Office Chair by Flash Furniture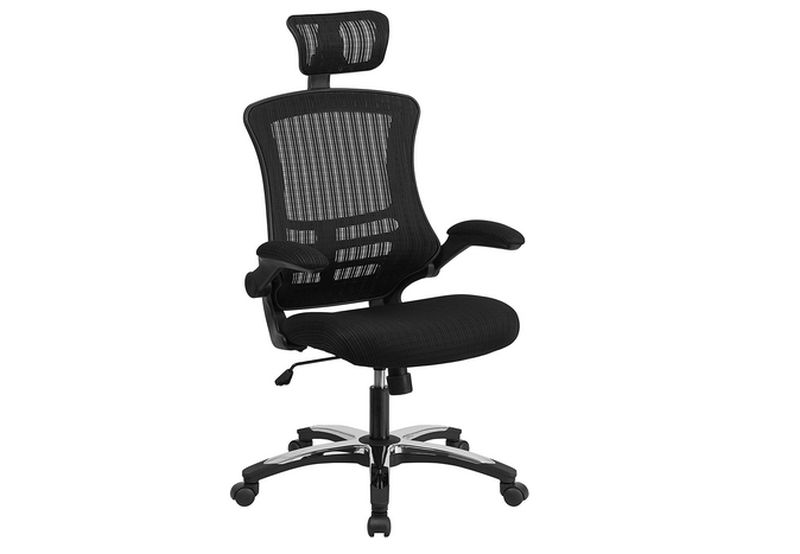 With the chrome and two-tone black nylon base, Flash Furniture High Back Office Chair with wheels provides a contemporary style to any given space. Its ventilated mesh and thick-padded seat offer proper air circulation and maximum comfort even while sitting for long durations.
The swivel chair can also easily rotate up to 360 degrees and allows you easy lowering and raising of the pneumatic seat with its height adjustment lever. It has convenient flip-up arms to offer a free range of motion. Meanwhile, the swivel chair's adjustable headrest is great for supporting your neck.
Berlman High Back Office Chair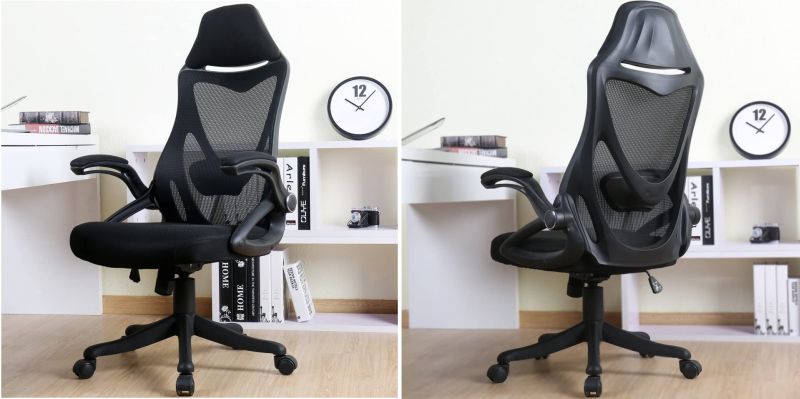 Berlman ergonomic high-back office chair has a professional and minimalist design that's perfect for different tasks, like regular office works, managerial tasks, and gaming all day long. The chair also offers comfort and support for your body while sitting for prolonged hours. You can even adjust its height and move it from one corner of the desk to another on its wheels.
Markus Office Chair by IKEA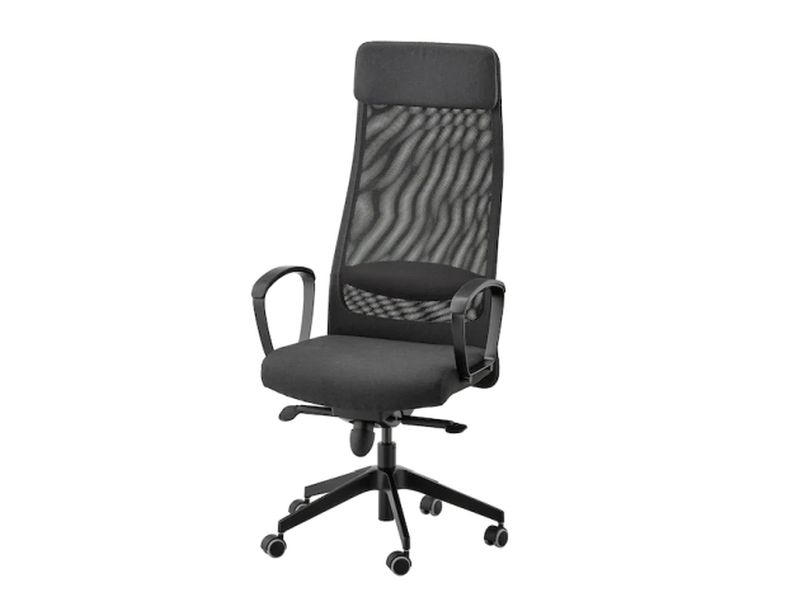 Markus office chair boasts an adjustable and lockable tilt function to increase control and stability in different sitting positions. Its safety casters have a pressure-sensitive brake mechanism for keeping the chair in its apt place whenever you stand up. It even releases automatically when you sit down. Once you're sitting comfortably, you can adjust the chair's height as per your requirement. Your back is also properly supported with extra relief due to its built-in lumbar support.
Elusion Mesh High Back Chair by Alera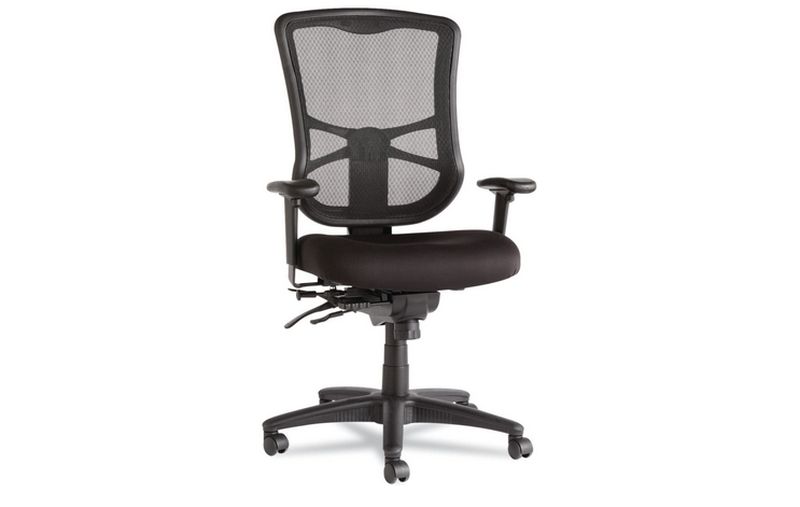 Alera Elusion High Back Chair has a multifunctional mechanism with a seat griddle to enable back angle adjustment that's relative to seat, adjustable tilt, and forward tilt. The contoured seat cushion has a waterfall edge to help relieve pressure on the legs. Meanwhile, height and width adjustable arms with soft PU pads are great for relieving pressure from your neck and shoulders. Plus, its five-star base with casters is great for easy mobility.
AmazonBasics Leather Executive Chair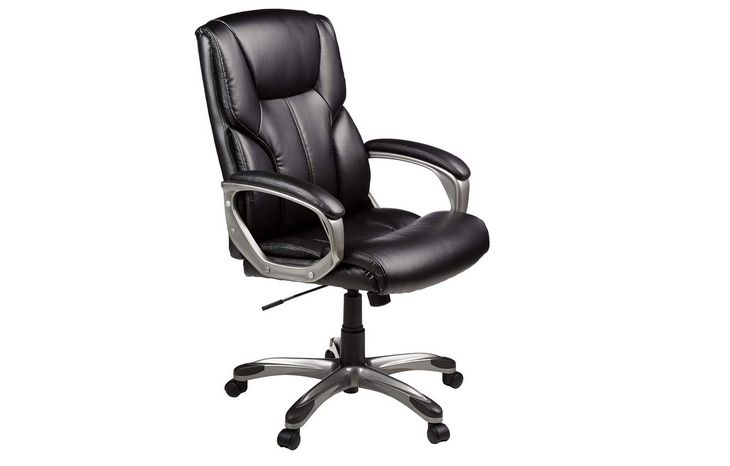 AmazonBasics High-Back Executive Chair is one of the best office chairs you need to work throughout the day while responding to emails, brainstorming with colleagues, or evaluating reports. This chair not only boasts a sleek and professional style but also provides support for all-day comfort.
The chair features a butterfly seat plate with adjustable settings and curved contours to keep your back supported and upper body aligned for prolonged periods. For raising the seat, you need to remove your weight from the chair and pull up the pneumatic control handle. For lowering the seat, remain seated on the chair and pull up its handle until you are at the desired height.
Ergonomics Office Chair with Adjustable Headrest by Sihoo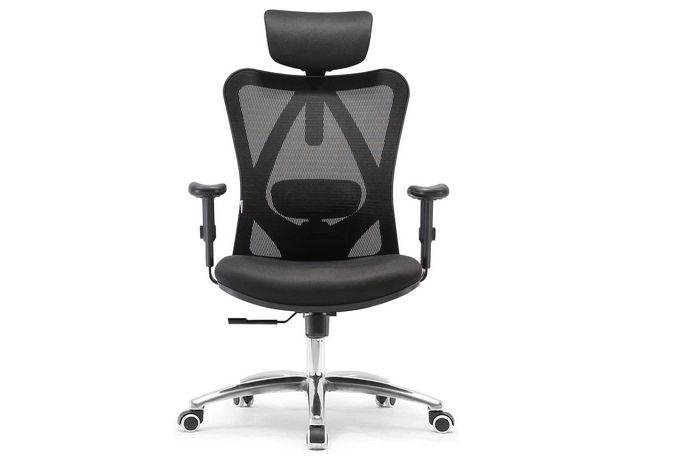 Sihoo office chair is dedicated to providing a full range of office space solutions to various consumers. With a reasonable, comfortable, and scientific healthy sitting posture experience, this ultra-modern office chair design aims to offer the utmost comfort to the user. Sihoo also has advanced independent R&D technology and after-sales service.
AirGrid Adjustable Chair by Space Seating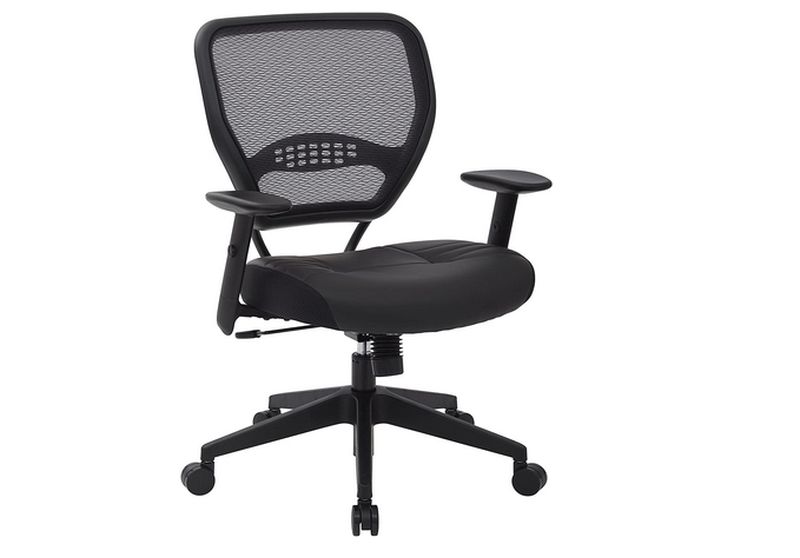 Boasting a simple yet comfortable design, Space Professional AirGrid Adjustable Chair has a functional design featuring multiple ergonomic adjustments including pneumatic seat height adjustment, 2-to-1 synchro tilt, and angled adjustable arms.
You will also enjoy the maximum comfort provided by the AirGrid back that offers built-in lumbar support and also conforms to your body for passive ergonomic support during long working hours. All thanks to the GreenGuard Certification, this chair is known for its low chemical emissions to promote good indoor air quality.
Alefjäll Office Chair by IKEA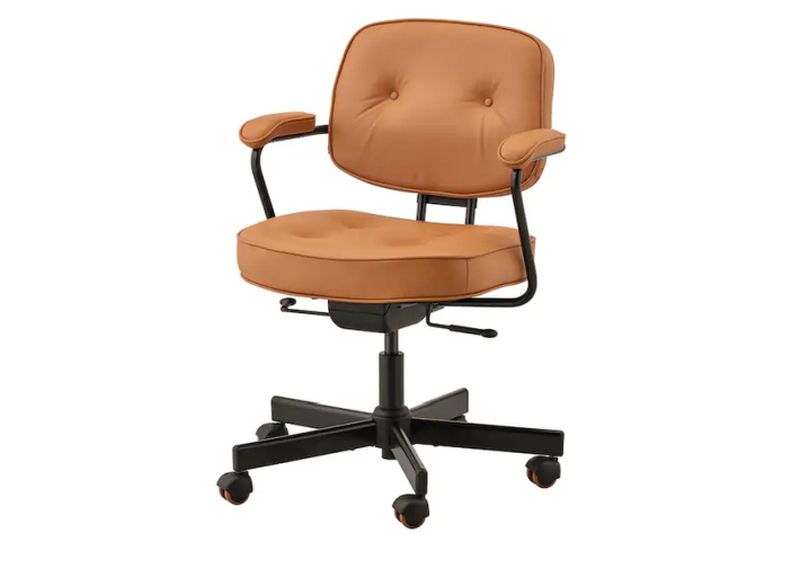 Alefjall Office Chair is a sophisticated grain leather chair that offers immense softness and comfort. The chair's both back and seats are tilt and height-adjustable to offer maximum support to outlast its years of ups and downs. The chair's safety casters include a pressure-sensitive brake mechanism to keep the chair in its place when you stand up. It even releases the pressure automatically when you comfortably sit down.
The chair's seat and backrest are adjustable to give you maximum support no matter your height. You even get better support to your thighs and back since its seat depth is adjustable. Also, lean back with the perfect balance due to the tilt tension mechanism that automatically adjusts the resistance to suit your movements and weight.
Ergo3D Ergonomic Office Chair by Nouhaus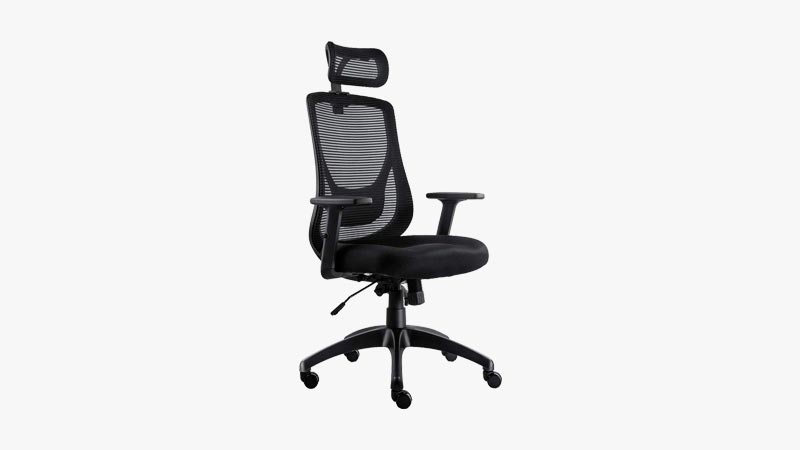 Nouhaus Ergo3D is a contemporary, home decor-friendly, and adjustable office chair with lumbar support. This ergonomic chair offers superficial basics that almost every modern chair has – adjustable armrests and a lumber system. Besides working, you can even use this comfy chair for gaming for long hours since it has breathable ElastoMesh construction. This allows optimal airflow to minimize seating in the back. The design of the Ergo3D chair with wheels is futuristic and modern for urban spaces.
Also Read: 20+ Most Famous Chair Designs of All Time
Ergonomic Adjustable Office Chair by Duramont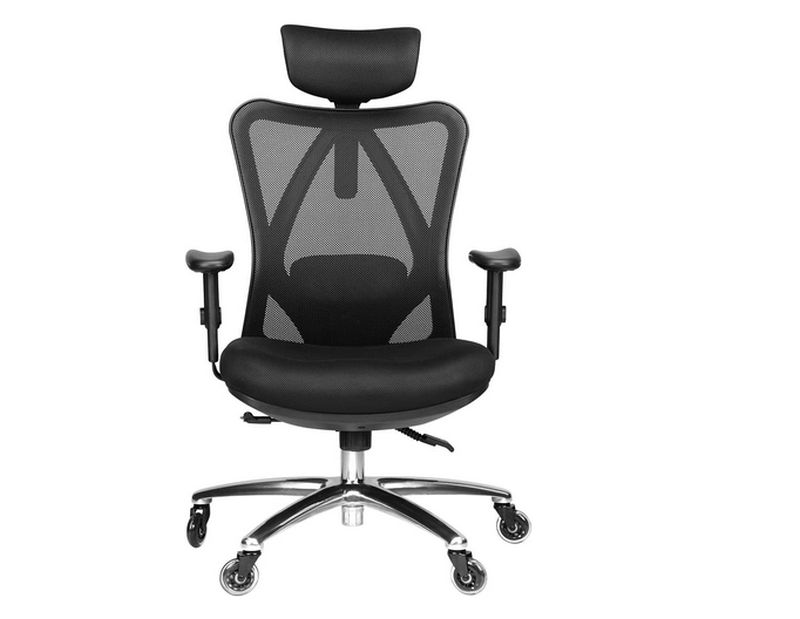 Duramont Ergonomic Adjustable Office Chair is a state-of-the-art piece of furniture. Its adjustable design provides a soft and comfortable seating position to the user. You can easily adjust its headrest angle and height; the armrest height and distance from the seat; the lumbar support height and depth; the seat height; the backrest tilt; and the tilt tension of breathable mesh.
The breathable mesh on the back of this ergonomic office chair is great for providing support while keeping the back cool and comfortable. This adjustable office chair is also very easy to install using simple instructions that enable anyone to put this executive chair together in eight simple steps.
About A Chair 53 Armchair by Hay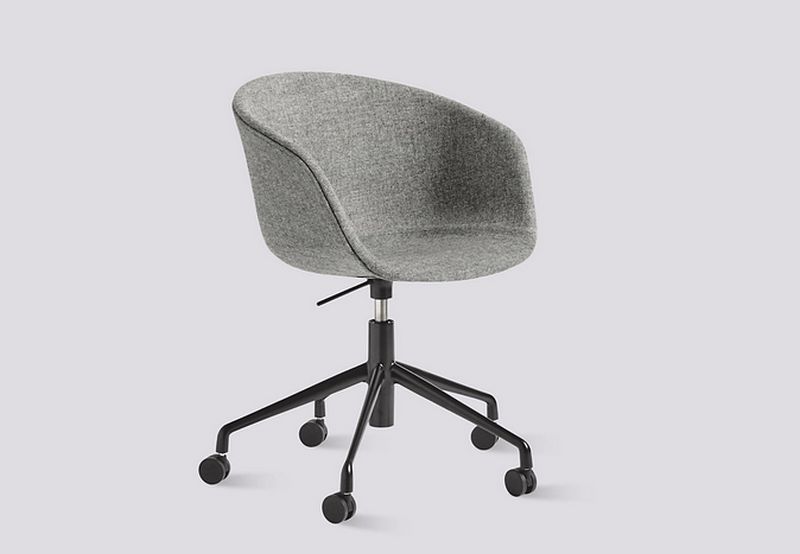 The very stylish About A Chair 53 features a swivel base with castors and a height-adjustable gas-lift mechanism. The base of the chair is made from polished or powder-coated cast aluminum. The rest of the chair comprises polypropylene shell, leather or fabric upholstery, and plastic casters. This elegant chair is perfect for any contemporary home interior – it looks less like an office chair and more of an accent seater that you can use in the workspace you have set up in the living room.
Mia 200W Techno Swivel Chair by Artemest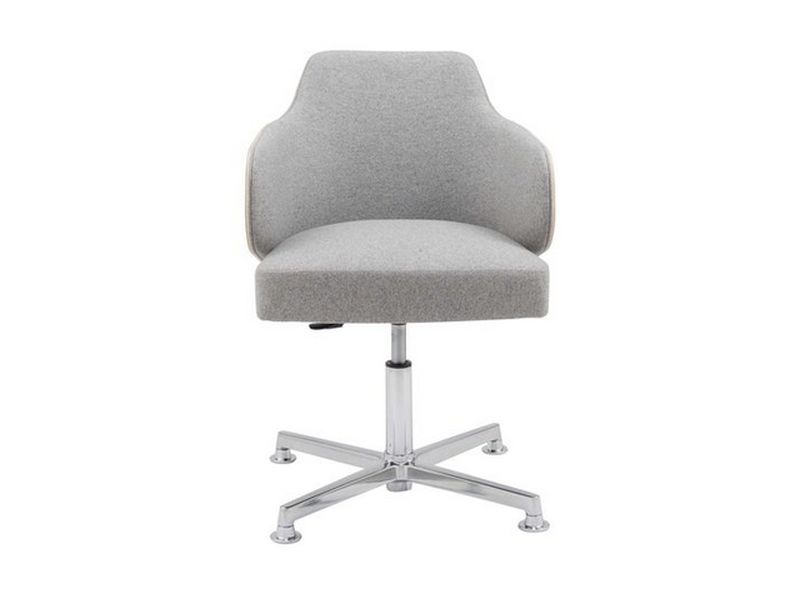 Handmade in Italy, Mia 200W Techno Swivel Chair can move around easily on its trendy swivel base with adjustable height. The chair's curved back has varnished oak wrapped around it to form the comfortable arms of the chair. Meanwhile, the seat and backrest cushion is upholstered in a grey fireproof fabric from the famous Nord collection. The chair's base is in polished aluminum for an overall modern look.
Gesture Chair by Steelcase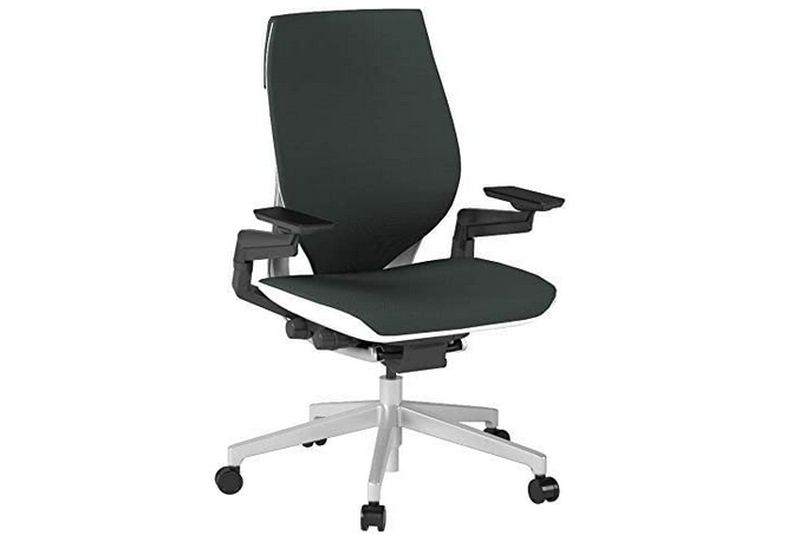 Steelcase Gesture Chair is inspired by the human body and considered suitable for home workspace or office. It is the first office chair that's designed to support a wide range of postures and user sizes. With its 3D LiveBack, the Gesture chair can automatically adjust to replicate the natural spine movement, contouring to the user's back in all postures.
This chair has been designed as a system of synchronized interfaces that support a great range of postures through the seat, the back, and the arms. Furthermore, the placement of the arms is toward the back of this chair and the cushy seat enables comfortable alternative postures.
Diffrient

World Chair by Humanscale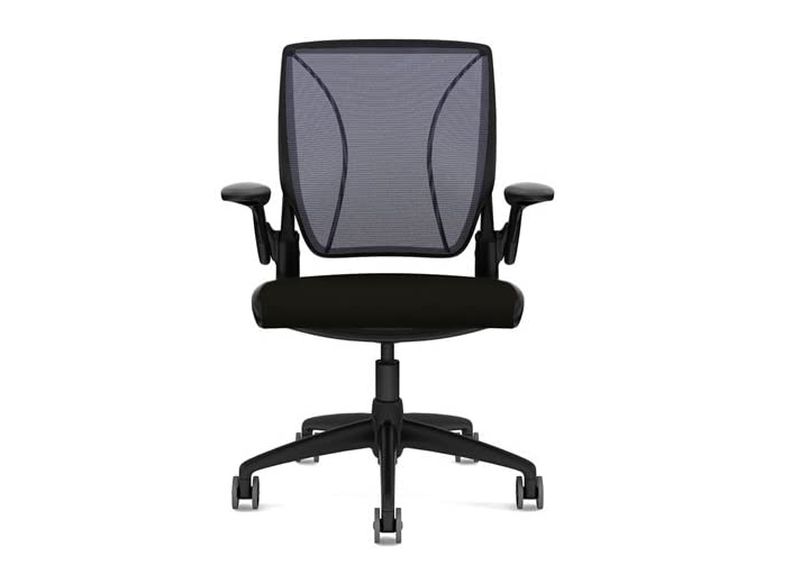 Diffrient World Office Chair is made from plastic and metal hardware and is a result of a vision to make the most minimal, full-function task chair ever. It features an innovative tri-panel mesh backrest that provides custom back, lumbar support, and lightweight design.
Diffrient World chair is like all of Humanscale's products, simple, beautiful, and functional. The design eliminates the need for traditional mechanisms, instead of using the laws of physics and the sitter's body weight to offer perfect recline position.
Embody Ergonomic Office Chair by Herman Miller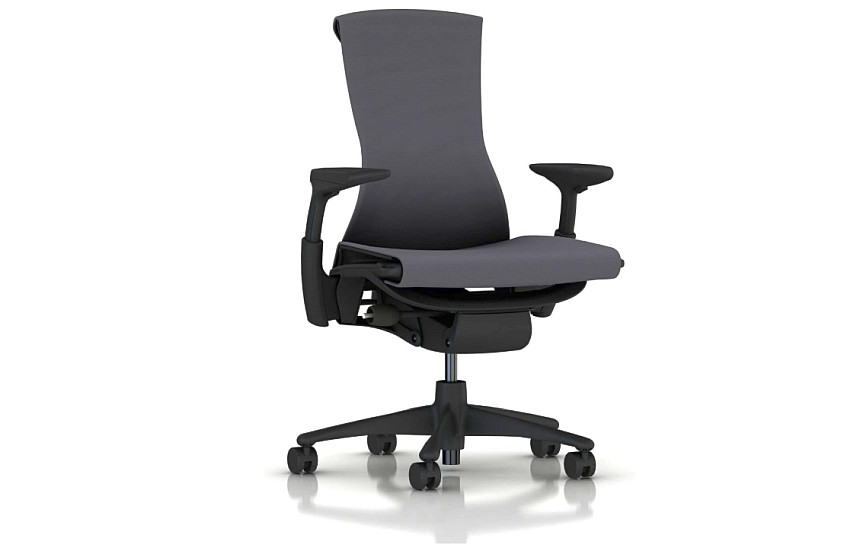 Specifically designed by Bill Stumpf and Jeff Weber for people who work for extended hours, the Embody Chair (2008) promotes good posture and makes you feel like you're floating. Its narrow back allows you to twist and reach out while its spine support automatically adjusts to your body's curve.
In forward or reclined positions, the lumbar support stays with you. Having the freedom to move makes your body feel better, improves your blood circulation, and sends more oxygen to the brain – all of which help you focus on your work.