Industrial waste is one of the growing hazards to the environment. Wooden pallets are one of those industrial waste materials that can be recycled and repurposed as various objects. Although, the pallet wood is not the highest quality wood you'll ever find, but why not give them a new life and create something useful out of it. Many eco-conscious designers have already implied the waste pallets to create various kinds of products and artwork for which they have won worldwide applaud. If you happen to be a person with a crafty bone in your body, then you can also fabricate entirely original household staples or practical lifestyle accessories with major wow factor by utilizing waste pallets. Here we have nine cool ways to reuse old wooden pallets and do your bit to save the environment.
1) Pallet Wood House
As we see a gradual rise in the cost of building materials, constructing a house on a limited budget is very difficult. Well, if you are planning to build a new house on a tight budget, then you can use wooden shipping pallets as the building material as has been done by the innovative creators of the Pallet House. The duo team of students from the University of Vienna designed the Pallet House for a competition held in 2008. Their house made of wooden pallets won them not only the first prize in the competition, but also a worldwide applause. Because of the green material utilized for its construction, the Pallet House is sustainable and also cost efficient.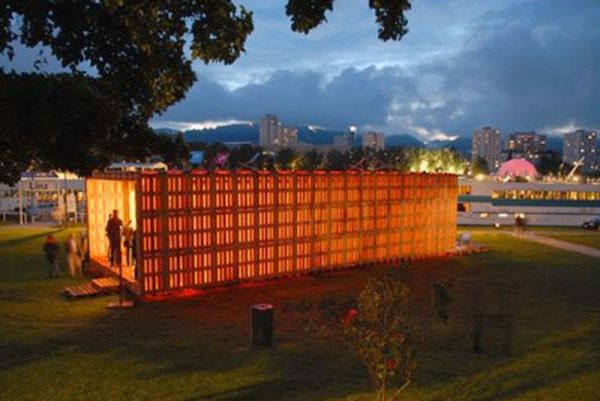 2) Pallet Wood Lamp Shade
Repurposing waste materials and creating a brand new object out of it gives a new life to the otherwise discarded materials and also gives you the chance to be creative, while showing your eco-friendliness. Therefore, reusing the wooden pallets as a gorgeous Lamp Shade as the one pictured above is obviously not a bad idea. These lamp shades require assembly of 8 neatly cut wooden pieces around an octagon made of the same pallet wood held together by two elastic bands, thus eliminating the need of gluing, screwing, or hammering. The material of construction makes these lampshades light on the pocket and on the environment as well.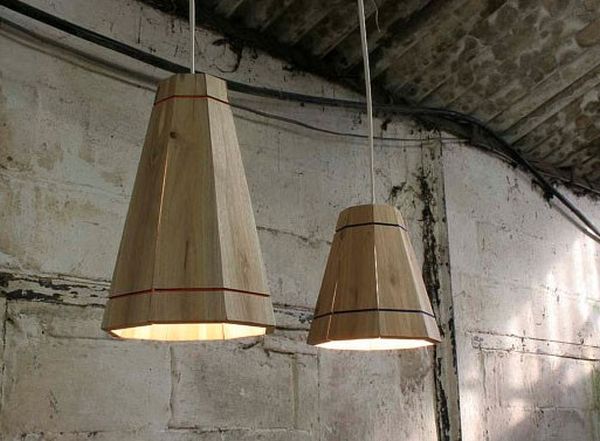 3) Pallet Wood Vertical Wall Garden
Some people just adore plants but do not have a wide garden or enough patio space to grow different plants. For those, vertical wall garden made of wooden pallets is a perfect thing to express your love for plants. A simple wooden pallet is required for making this mini vertical garden. All you need to do is get a wooden pallet, secure it against the wall and just make use of their original shape and size to house different plants and herbs. You can also line up a bunch of these in row to plant a variety of vegetables on each.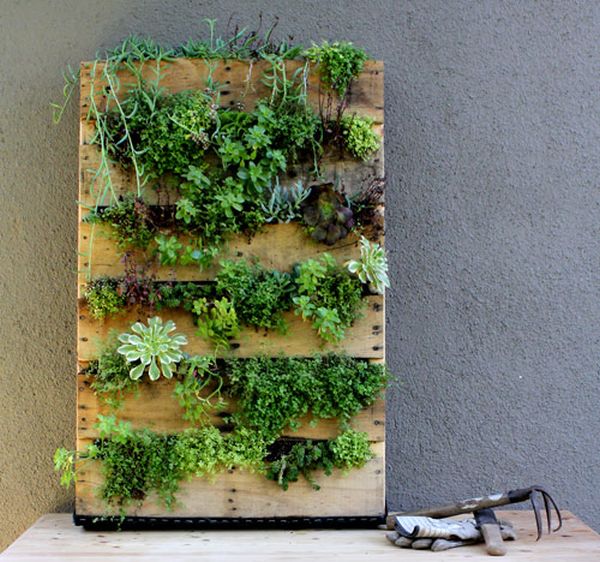 4) Pallet Wood Wall
If you are thinking to reconstruct your interior wall in a new style, then why not do it with wooden pallets. Firstly, they would not be costing you much, secondly they can give your wall or your room an entirely different appearance. Before you start covering the walls with pallets smoothen the surface and also give them a better shape if irregular. You can either screw wooden battens on the walls and then nail or screw the smooth pallet boards directly on the walls using long screws. You can also glue the boards to the walls to make sure they are held in position. After completion you can also apply a coating of varnish to the pallet wall to give it a smoother appearance.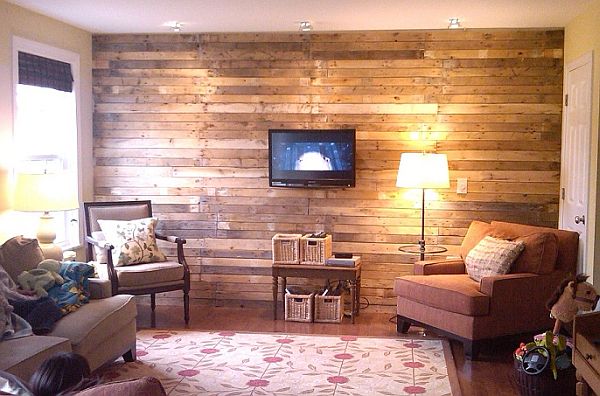 5) Pallet Wood Home Theater
Another great way of making use of wooden pallets is to construct a cool home theater like the one displayed in the picture above. Purchasing a modular home theater can be an expensive job. However, you can construct a gorgeous and a budget friendly home theater for yourself by making good use of wooden pallets. To create the seating like the ones that you see above, you would require around 24 pallets and some cushions and pillows to make them comfortable. Stack and fix them together to give a neat look. You can also paint over the pallets to match with décor of your home. You can complete the home theater by constructing a wooden pallet TV holder.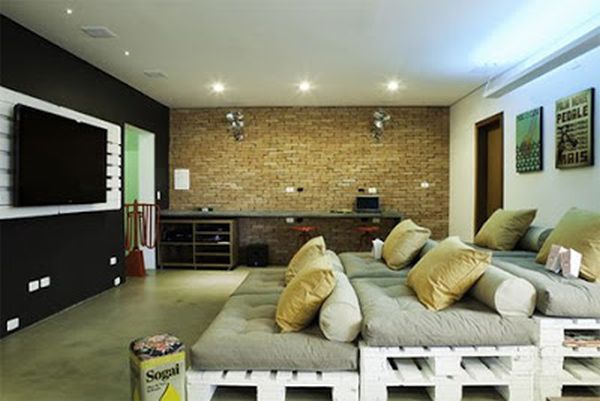 6) Pallet Wood Christmas Tree
You can also create a marvelous Christmas Tree out of the trashed shipping pallets. All you need to do is tear down a couple of wooden pallets. Cut an octagonal stump by sawing off each corner of a thick and rectangular wooden pallet. This will make up for a sturdy and stable base of the Christmas tree. Cut chunks out of each half of the stump about 2 inches deep from the top and join the pieces together to fasten with screws. For the branches cut the wooden boards at 30, 45 and 60 degree angles and attach them to the stump so that they are placed in sequence of 30 degree branch at bottom, 45 degrees in the middle and 60 degree branch on top. You can then decorate the tree with other accessories and lights. This tree will not only look gorgeous but will also give a new and beautiful life to discarded wooden pallets.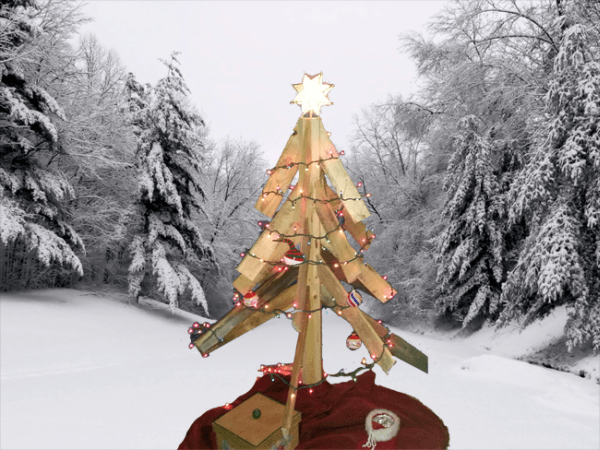 7) Pallet Wood Doghouse
If you are thinking to make a little room for furry friend, then why not reuse old wooden pallets for constructing it like the one shown above. Such Pallet Dog Crates are available in a variety of designs and styles to provide a cozy, comfortable, sophisticated as well as an eco friendly home for your loyal friend. While choosing a doghouse for your dog, make sure that it comprehends your home interior.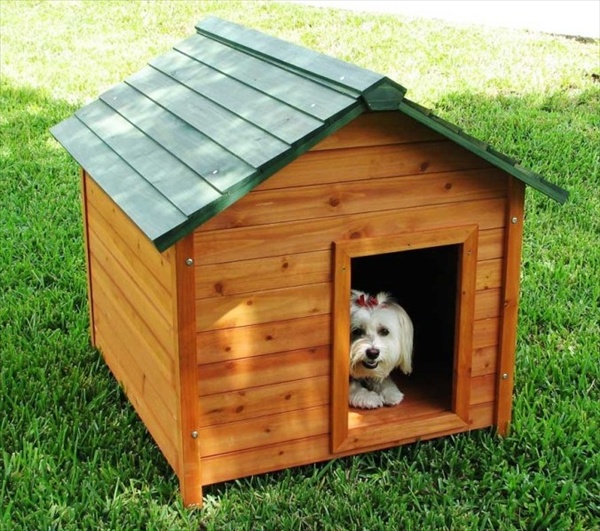 8) Pallet Wood Furniture
Sibylle Stoecki, who is a Swiss designer, has come up with an innovative green concept dubbed as Le Cageot. In her colection, she has redesigned standard wooden pallets into modular furniture pieces that can be combined together to form units like a stool, a coffee table, or a shelf. This way old and discarded pallets can be repurposed as gorgeous furniture units to complement any modern home décor.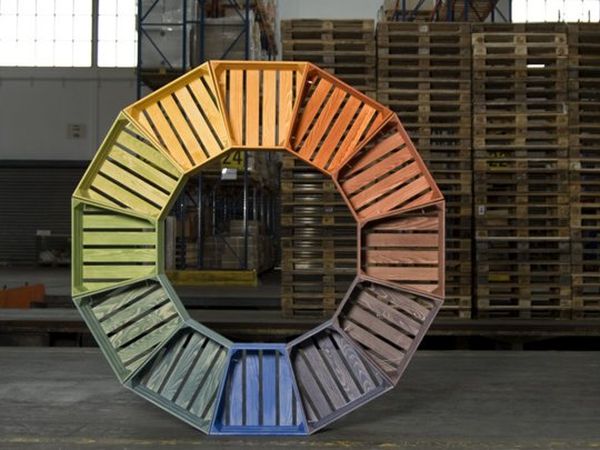 9) Pallet Wood Kitchen
You can also create a modular kitchen by recycling old wooden pallets just as is done by the Spanish designer duo Alessandra Samson and Paco Serinelli from Anatomica Design. They have created a rustic kitchen called Paletina Kitchen, for which they have made use of old and discarded shipping pallets. Although, they have also made use of a glass sheet, a stove top, an oven, a sink, some wiring, and plumbing in order to make their artwork functional, more ecological, and sustainable.