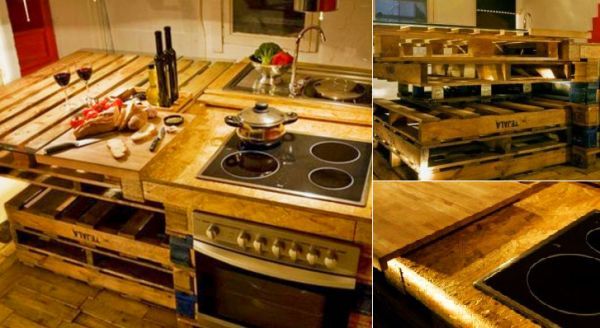 Since most of the designers are going green in their creations, therefore we can sense  eco-friendliness in almost every sort of art work or products they design. They make use of sustainable or recycled materials to design amazing objects.  A couple of days back I went through an article on Gizmag about a rustic eco-kitchen designed by making use of old wooden pallets. Christened as Paletina Kitchen, this cooking room is a fascinating artwork that is ecological, sustainable, and functional at the same time. Spanish designer duo Alessandra Samson and Paco Serinelli from Anatomica Design studio has created the Paletina Kitchen out of recyclable wooden pallets and found materials. Of course, they added a sheet of glass, a stove top, an oven, a sink, some wiring, and plumbing to make their artwork functional.
The workstation of this eco-kitchen consist of an oven, chopping board, and an electric stove top positioned back to back with a stainless steel sink. The reclaimed wooden pallets are used for framing this workstation. Next to it is the pallet bench covered with a glass sheet. This area comprises of stacked pallets and can be used as a preparation space or dining area.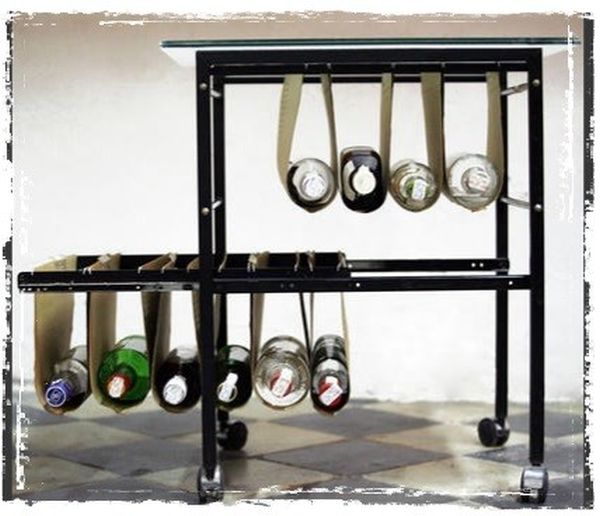 The different sections and layers of pallets can be used as shelving space for storing kitchen items like pots, cups, plates, food containers, and a lot more. Anatomica has further added a wine rack that is again made of the recycled filing cabinet to accompany the sustainable Paletina Kitchen.
You can also build your own pallet kitchen for which you would be needing:
6 pallets 120 x 80cm (47 x 31.5 inch)
3 pallets American type 100 x 120cm (39.5 x 47 inch)
1 pallet 60 x 80cm (23.6 x 31.5 inch)
1 pallet American type from 130 x 110 cm (51 x 43 inch)
1 pallet 100 x 80 cm (39.5 x 31.5 inch)
1 laminated glass sheet
1 stove top
1 oven
1 kitchen

sink
Well if you are not willing to use reclaimed wooden pallets because of the use of formaldehyde to prevent any decay and pest infestation, then you can purchase some cheap local wood that's similar to the wood used for pallets.