You might have discovered that fairy gardens are becoming increasingly popular, and even for Halloween people are decorating their homes and gardens pumpkin fairy gardens. If you are looking a cool new Halloween décor idea, this fun DIY project is for you. You can also involve your kids and let them bring out their creativity.
The little cute devils are going to love creating new stuff with hands. All you need to do is craft fully detailed dollhouses out of pumpkins, be it real or artificial. It would surely be fun imagining fairies spending in these tiny pumpkin houses. The pumpkin houses can be decked with purchased figures like mushrooms, gnomes, and fairies, as well as also use other things made available by nature like pinecone, grass, flowers, and leaves.
If you're thinking to turn your garden or living room into fairytale-inspired mystery land on Halloween, let's take a quick look at the DIY pumpkin fairy garden project by Adventure in a Box.
(We have listed 10+ design ideas for Halloween pumpkin fairy garden after the DIY. Click here to jump to the section.)
Materials Needed
* Pumpkins – Lots of pumpkins!
* Knife for carving
* Low-heat hot glue gun
* Gouge for carving
* Bamboo skewers
* Other nature findings like pine cones, dried moss, little rocks, acorns, colored corn, etc.
Tutorial
Single story pumpkin fairy house:
You can make any type of pumpkin house you like – single story, double story, or triple story. There's no need to stick to the ones that you see in this article. It's just to guide you how you can carve doll houses in different ways. Single doll houses are easy to carve on pumpkins with minimal cutting and carving required.
Two-story pumpkin fairy house:
Two-story pumpkin fairy house can be constructed out of three pumpkins – two small pumpkins and one big pumpkin. The top of all the pumpkins must be cut off so that inside guts can be hollowed out with ease. After that use gouge to carve different textures around the pumpkins to make doors and windows.
The layout
In this type of pumpkin house, the biggest pumpkin serves as the first story. The hole is made on its right side on top so that it can nestle nicely. Furthermore, the front of the big pumpkin also has a hole to act as the door and the third pumpkin attached to it acts as a porch.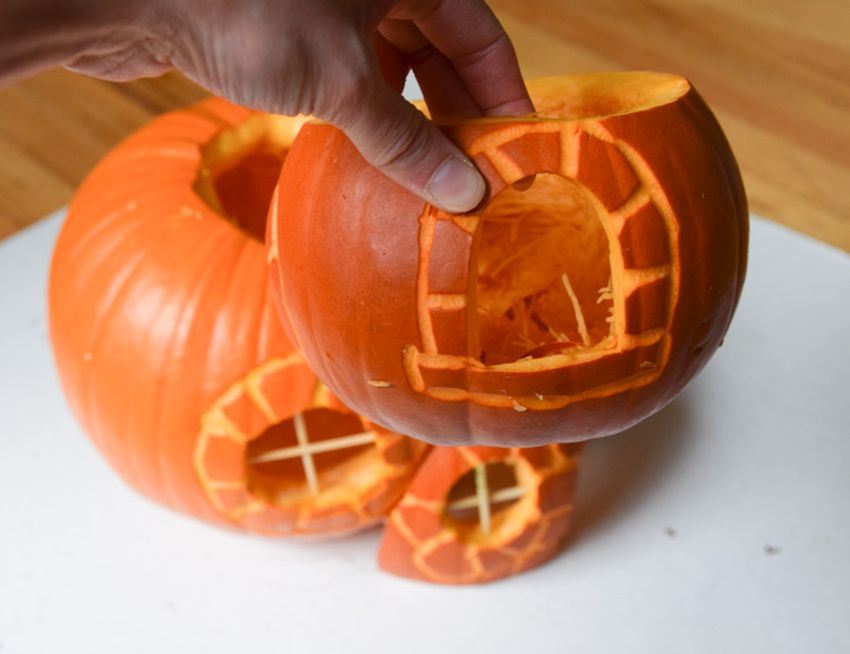 Image: Adventure in a Box
Keeping the pumpkins together
The pumpkins are connected together using bamboo skewers or you could also use toothpicks. It won't be a rock-solid connection, but quite easy for you to carry them around without them falling apart. On the sections, where the pumpkins were connected, they need to be covered with dry moss to make the dollhouses appear more seamless.
The roofing
For the roof, shingles of a big pine cone are used to give it natural wooden touch. The chimney itself is made out of a firewood stack to give rustic appeal to the tiny pumpkin house. It has been attached with a couple of skewers that were glued at first and then poked into the pumpkin for the stronger connection.
Carving the windows
Even the window frames are made using skewers, and colored corn kernels can be used on the window frames for decoration and more details.
Pumpkin Fairy Garden Display
You can create as many pumpkin houses as you want. The best part would be when you'll start arranging them in your garden area. You can also add flowers and natural leaves for more decoration on the pumpkin houses and make them look like actual fairy tale houses.
Also Read: Pumpkin House Spices up Your Backyard for Halloween
You can also make use of other miniature objects like dollhouse baskets, wheelbarrows, fences, or buckets to complete your build-a-house-from-a-pumpkin challenge.
Seek inspiration from pumpkin fairy gardens/ houses below: