It's been a couple of years since the start of construction of the award-winning Shimao Wonderland Intercontinental (a.k.a. Songjiang Quarry Hotel), the world's first luxury hotel built in a 90m deep, water-filled quarry next to the Tianma Mountain in Songjiang district of Shanghai. There have been a few delays, but finally, its owner has announced the official inauguration next year.
The hotel was designed by British architect Martin Jochman of Shanghai-based design studio JADE+QA when he was employed with Atkins, the British design and engineering consultancy responsible for the design of the Burj Al Arab in Dubai.
Currently, under construction, the Songjiang Quarry Hotel has 18 stories out of which 16 are below the ground level along with two lowest underwater floors. Only two floors are above the quarry covered partly with a green roof, making the hotel a one-of-its-kind architecture piece. Once complete, it will have around 337 rooms, including underwater suites, large conference rooms, a ballroom, restaurants, and a big swimming pool.
There are two underwater floors, offering water-sports facilities and a restaurant facing an aquarium with a depth of ten meters. Probably, there would be prominent use of renewable energy in the design to make it an eco-friendly building. Of course, it's an innovative concept in the world of underground architecture and design.
Also Read: Hawk's Nest in West Virginia – Tranquil retreat above a limestone quarry
Chinese developer Shanghai Shimao Group has invested to realize the structure while the hospitality group InterContinental will manage the completed property. Chinese architecture has always been extraordinary, case in point the giant crab-shaped building being constructed in China.
Since March 2013, National Geographic TV Channel is filming the onsite design and construction process for their popular Megastructures TV programme, which they will be releasing on the completion of the Songjiang Quarry Hotel.
Update: Following an extensive design development phase of over six years by JADE+QA, the construction of five-star Intercontinental resort is now completed and has been opened to the public on 15th November 2018. The pricing for underwater hotel room starts from  7,013 CNY about $1,037 per night.
After stabilizing the cliff faces next to the hotel in late 2015, the architecture firm completed foundations and substructure on the quarry floor level in 2016. The sturdy steel structure holding the building within the quarry commenced in February 2016, while internal fit out and landscaping completed in October 2018.
According to Jochman, there are four principal elements of the building form inspired by the character of the site and its location. The green hill stands for two stories above the ground level covered partly with a green roof, the hanging gardens are convex and concave S-shaped guest room wings, the glass waterfall housing the observation lifts and The Lagoon with Underwater guest rooms and public areas faced with large tropical aquarium tanks.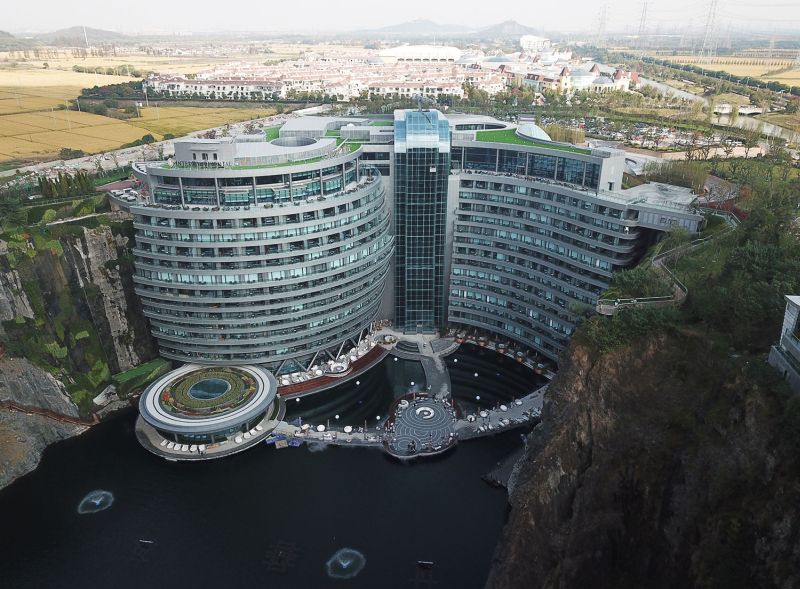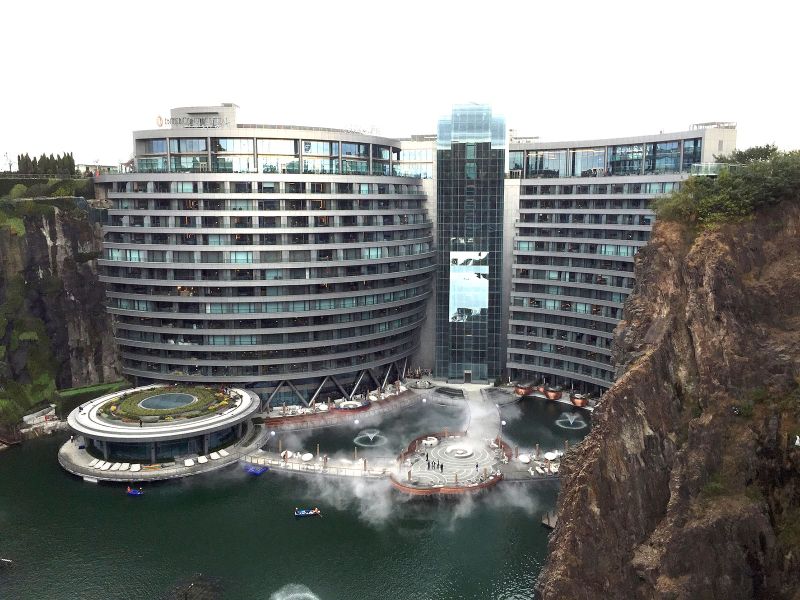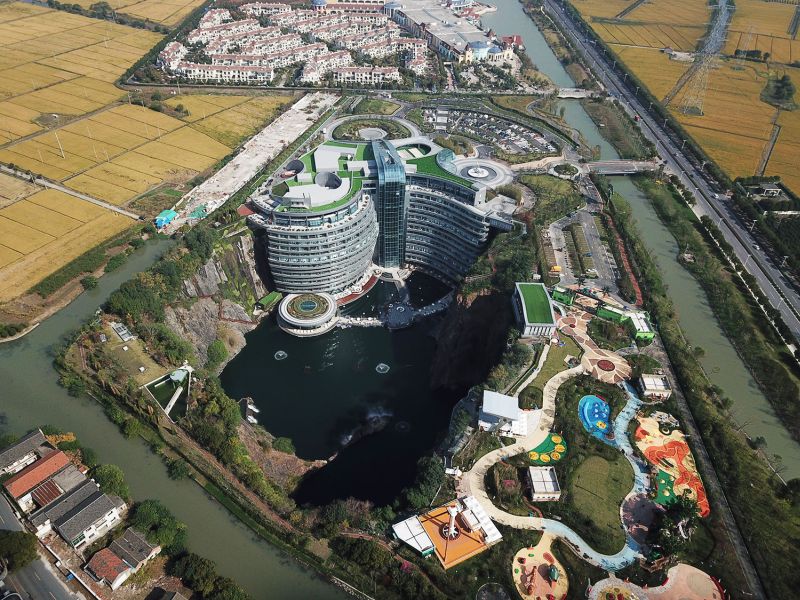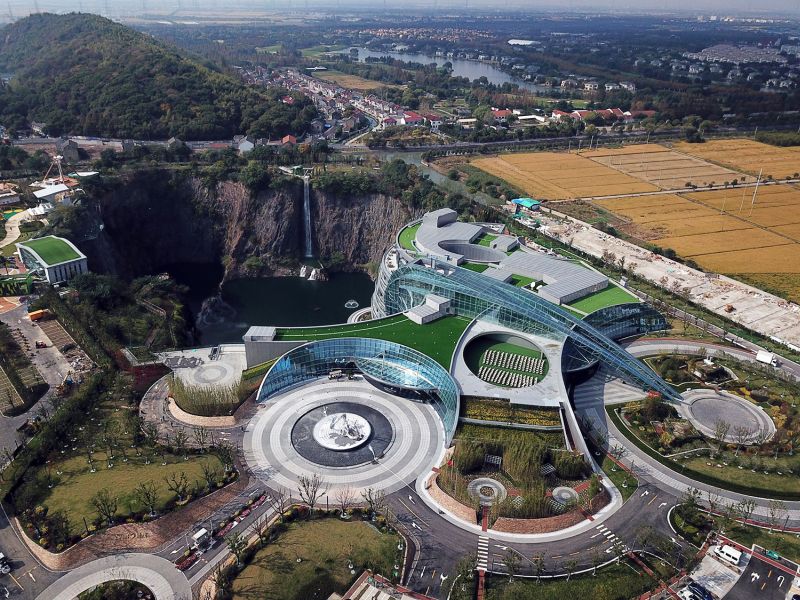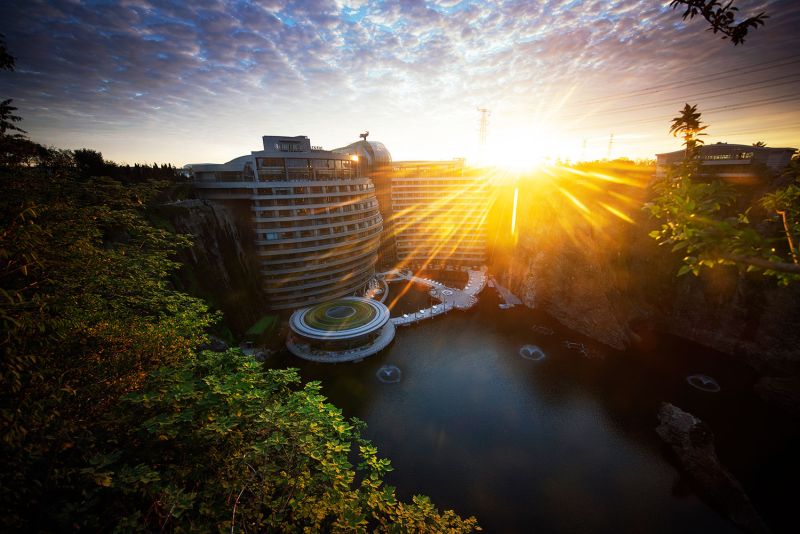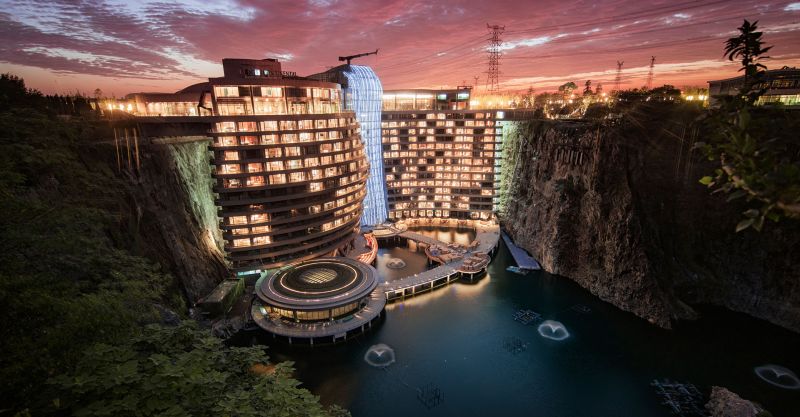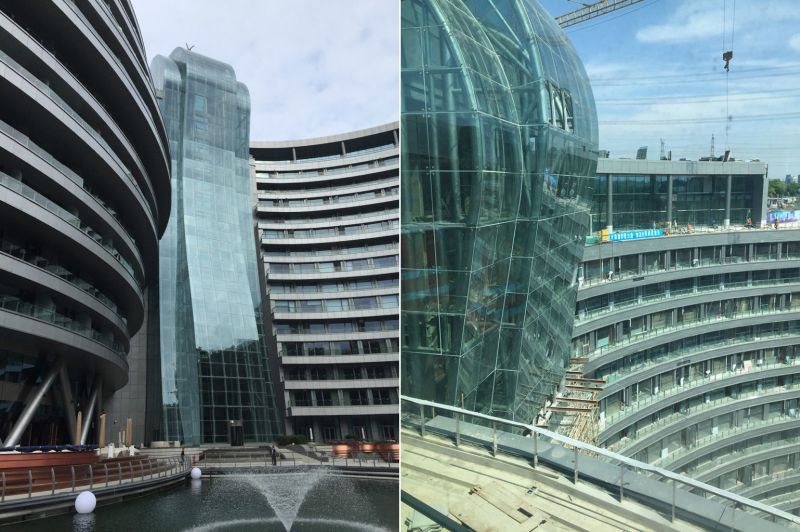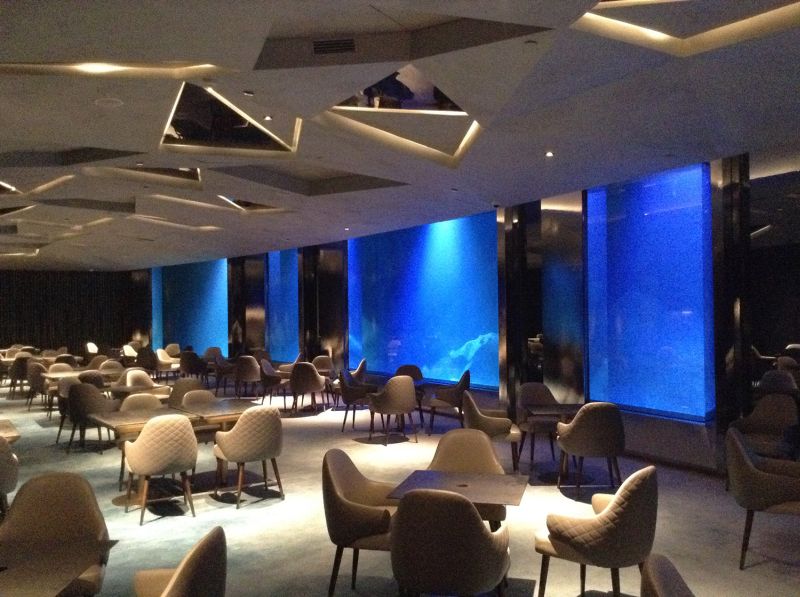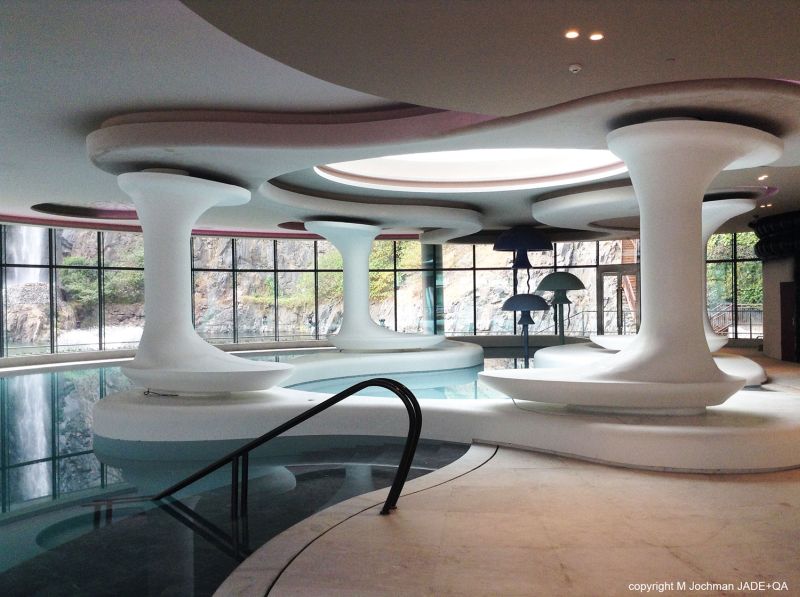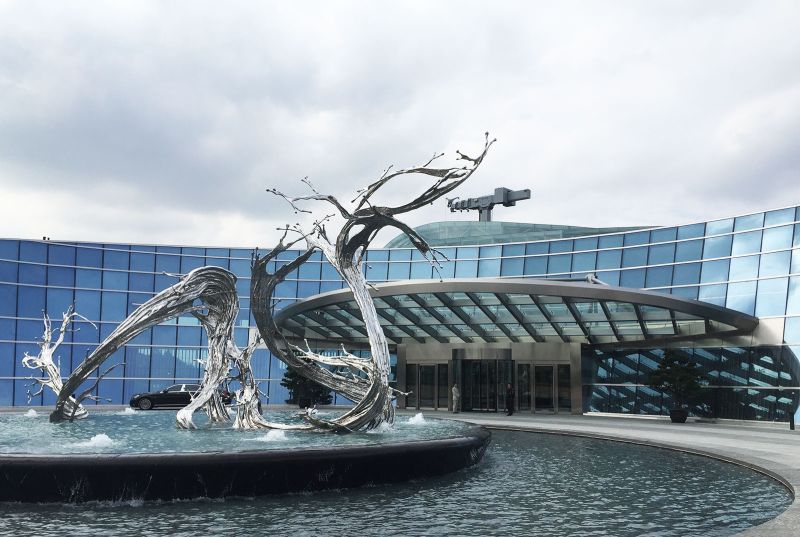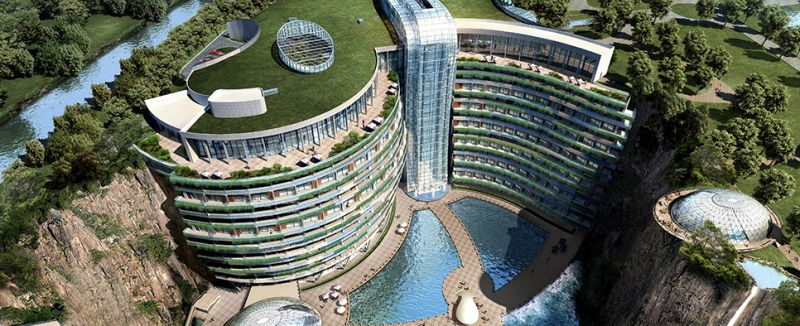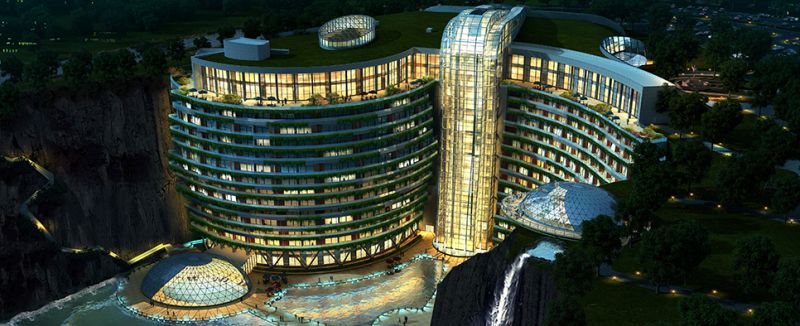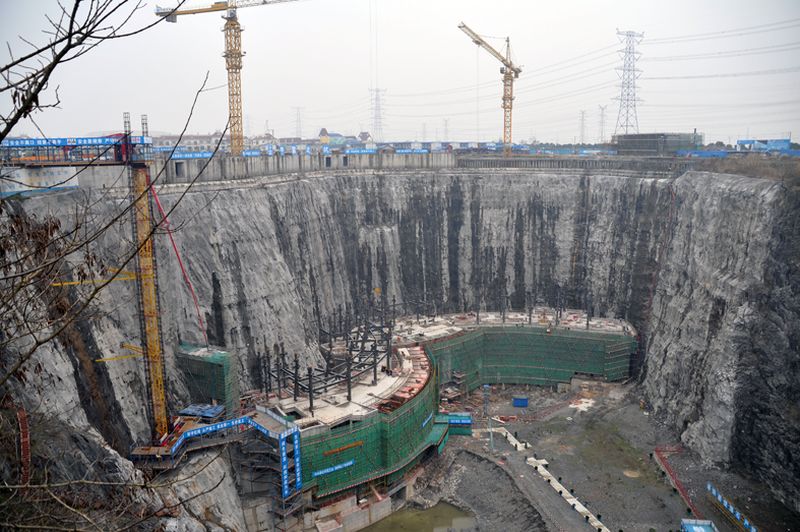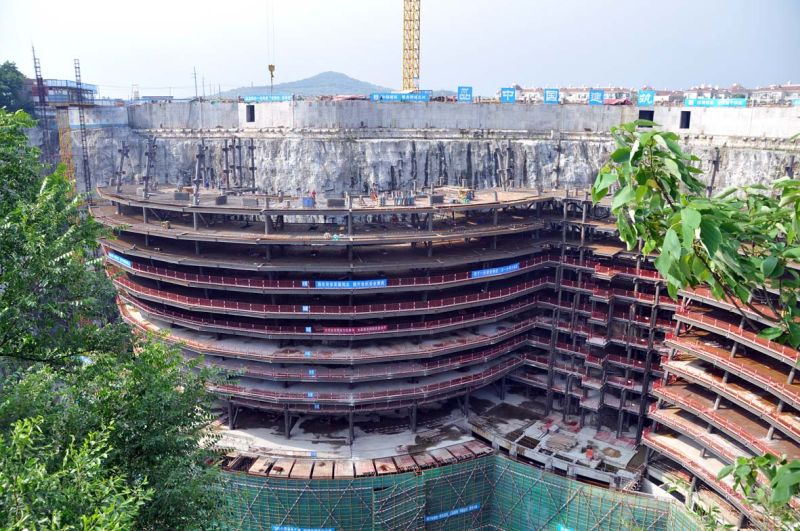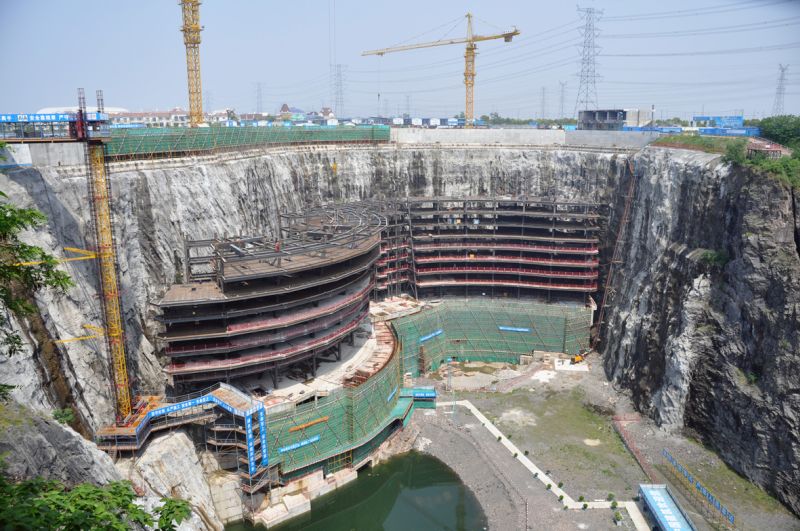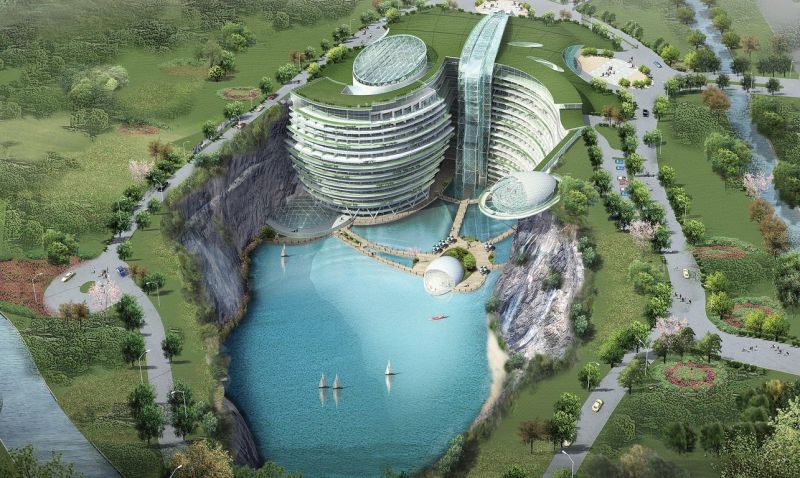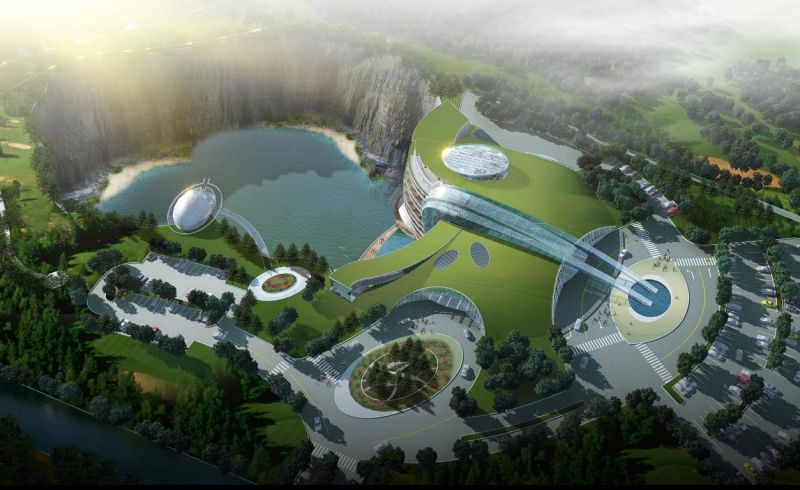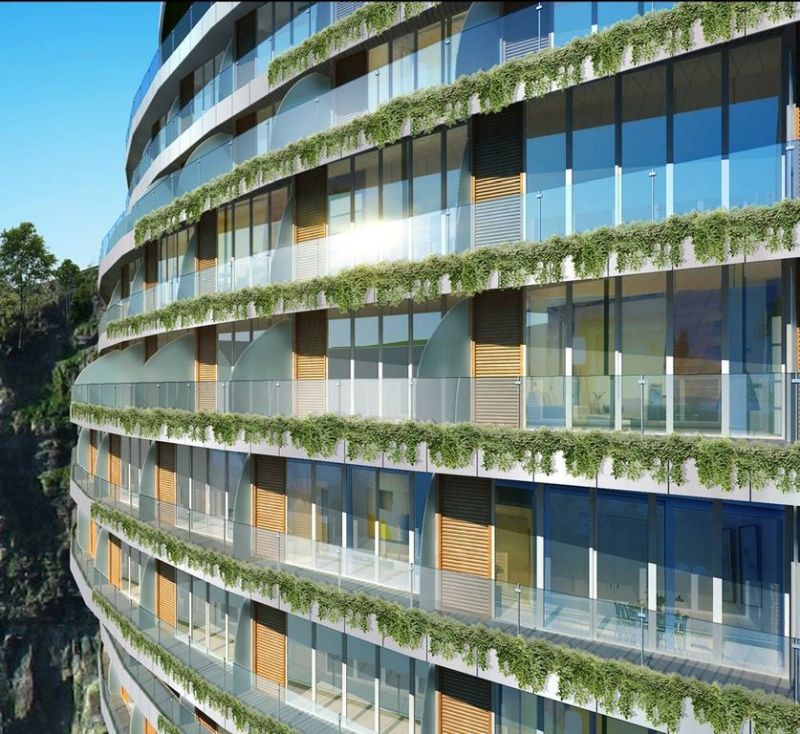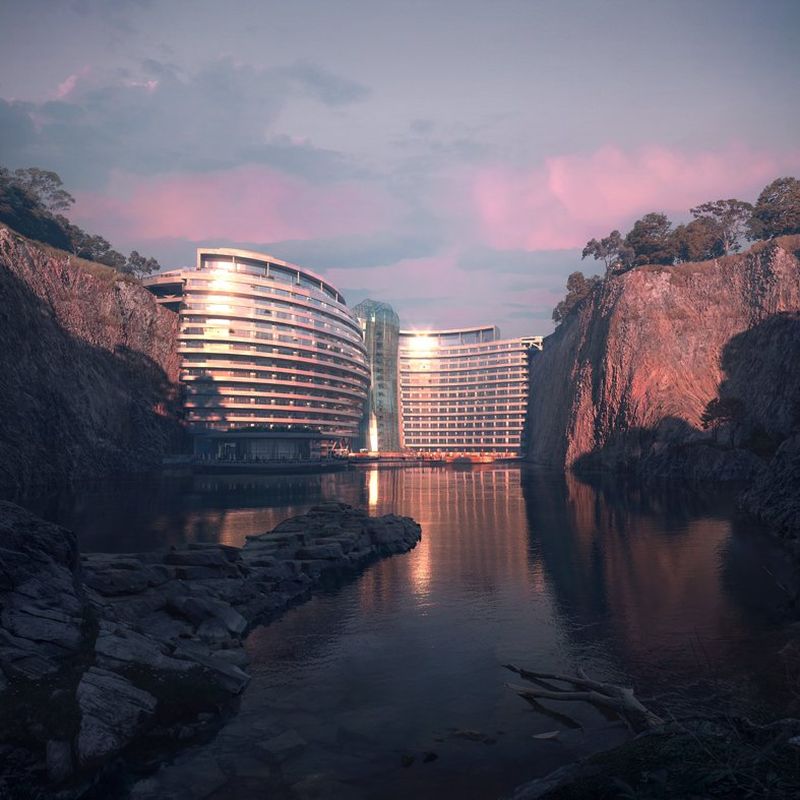 Via: ChinaDaily