Tommie Wilhelmsen's Dalene Cabin nestled in a blissful setting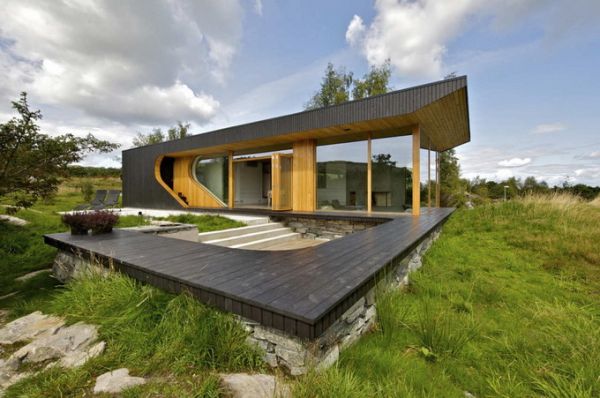 Our quest to find out the nigh perfect modernist house nestled in the nigh perfect surrounding has finally come to an end. We have stumbled across the sheer elegance of the Dalene Cabin, a summer retreat designed by architect Tommie Wilhelmsen, in Østhusvik on Rennesøy Island, Norway. Flanked by expansive glass facades comprising of tall windows, this 120 sq ft south facing gem of a building gives commanding views over all the lush, paradisiacal vistas offered by the solitary island.
The predominance of these tall windows and the extending facade ensures that natural lighting is available in profusion, thus countering the requirement of resource-intensive artificial lighting systems. And, this 'naturalistic' essence is further enhanced by the usage of interior oak panels along with the exterior fir cladding. Dalene Cabin's rustic flavor gives way to more modernistic bearing with a concrete back wall, which also contains the fireplace. This fusion of wood and concrete contrasts on many levels, but still managing to uphold the ultimate scope of minimalism.
Via: FreeYork
The following two tabs change content below.
A proud native of the beautiful steel township of Durgapur, West Bengal, Dattatreya's fascination lies within a range of diverse matters. With a bachelor's degree in architecture, he is quite fond of his hardcore strategy gamer as well as amateur historian tag. Of course, with over two years of blogging experience under his belt, he also likes to write about the latest updates on home based technology and gizmo oriented products.
Latest posts by Dattatreya (see all)
Comments