MotoArt's Boeing 747 conference table made from authentic parts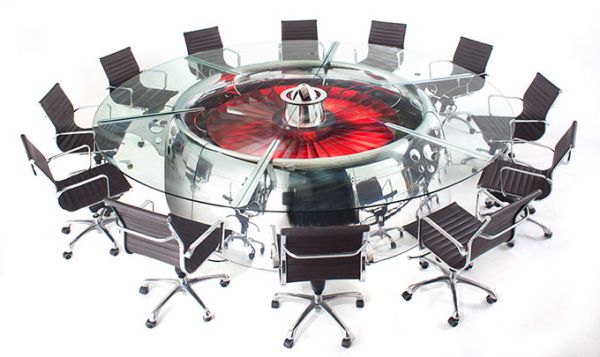 Previously we came across MotoArt's 'Stearman Desk' made from an authentic Boeing's Stearman Biplane model. And now the 'airplane' scope is notched up to a whole new level with MotoArt's Boeing 747 conference table. Comprising of the famous Boeing 747 Jumbo Jet's original engine nacelle (made by General Electric) as its support component, the table item surely boasts of some boisterous credentials. These include a high-mirror polished, 12-ft diameter glass-plate atop the nacelle, which has the capacity for 12 people, while also having 6 dedicated connection ports for your smartphones. However, the definitive feature of the whole magnificent furniture would surely be the internal LED lighting that accompanies a custom fabricated engine stator in the center. And, the 'cherry on the top' of this stator arrangement is a veritable engine spinner salvaged from none other than the Boeing B-52; arguably the greatest strategic bomber plane in possession of US Air Force.
Via: MotoArt
The following two tabs change content below.
A proud native of the beautiful steel township of Durgapur, West Bengal, Dattatreya's fascination lies within a range of diverse matters. With a bachelor's degree in architecture, he is quite fond of his hardcore strategy gamer as well as amateur historian tag. Of course, with over two years of blogging experience under his belt, he also likes to write about the latest updates on home based technology and gizmo oriented products.
Latest posts by Dattatreya (see all)
Comments