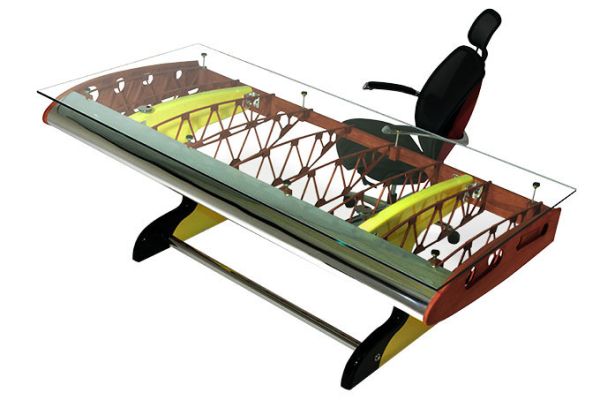 From training USAAF cadets for the Second World War, being utilized as crop dusters to being showcased in numerous air shows, it would be pretty safe to assume that Boeing's Stearman Biplane model has had a remarkable history. And, to celebrate this grandiose legacy, some enthusiasts/designers from MotoArt have crafted the New Stearman Desk.
Known for their fascinating portfolio of classy furniture designs made from vintage aircraft parts, the company has once again showered their dedication for this conception. The workmanship is quite evident from the custom fabrication of the desk with real Sitka spruce wood wing spars from the original aircraft. The flow of authenticity is further maintained by the aerodynamic leg supports of the design that nigh perfectly replicates the landing gear of the venerable Stearman.
On the functional side of the affair, MotoArt has confirmed that this conception actually is their smallest desk design to date, specifically created to cater to residential spaces. In this regard, the length of the desk varies from 6 ft to 8 ft, while its uniform width is around 42-inches (3.5 ft).
Of course, the 'piece de resistance' of the whole furniture is its exhilarating visual essence that fuses the thrill of aircraft design with deft workmanship. The designers surely wanted to showcase their painstakingly arranged contrivance by placing a 0.5-inch tempered glass at the top. This provides an unobtrusive window to gawk at the fascinatingly ribbed wings of the vintage biplane, which is further enhanced by the dynamic distribution of the streamlined legs. And, finally, to enrich the overall user experience, the creators assure us that the design can be customized according to the customer's preferred colors and wood stain.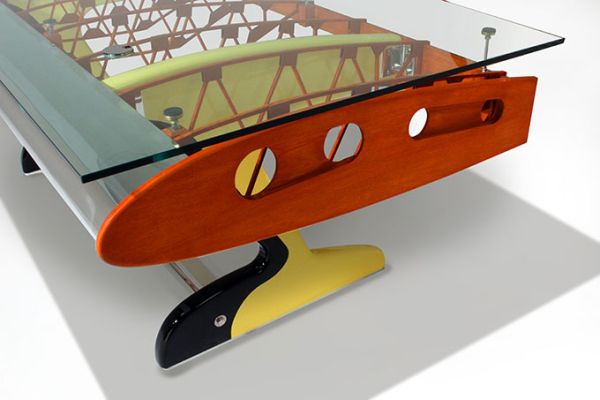 Thanks, MotoArt