Have you ever thought of transforming your living room with objects that look beyond the obvious? Well, Boxetti furniture has actually made that possible by launching its latest Mo Collection by Latvian designer Rolands Landsbergs. The entire collection is designed to hide various functional units under its lustrous visage.
The furniture collection features single sofa, double sofa, wall TV stand, TV stand, coffee table and area rug. Combining dramatic forms with distinct functionalities, each furniture piece doubles up aesthetical addition into any contemporary living space. Head over here to find out more about the different furniture units of the Mo Collection:
# Mo single and double sofa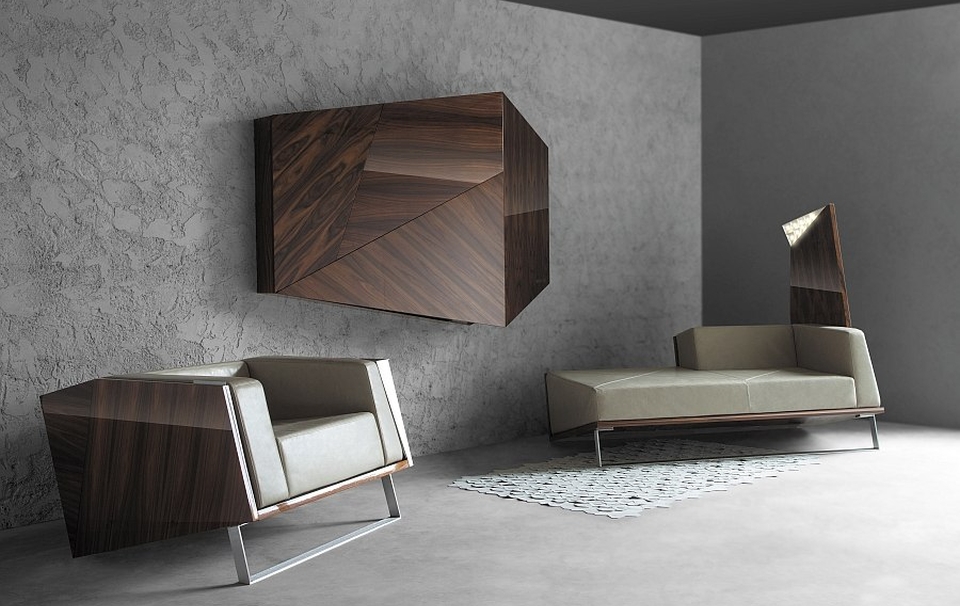 Both single and double sofas are upholstered in natural leather from CamoLeather's VACONA collection, giving classy touch to its minimalistic design. With these exclusive sofas, you can completely forget the need of floor lamps, as both sofas feature lifting side panels with built-in LED lights. These side panels at the armrest can be lifted up anytime when you feel the need for extra light in living area. Furthermore, the other side panel can be opened to create a compartment for books and magazines.
# Mo wall TV stand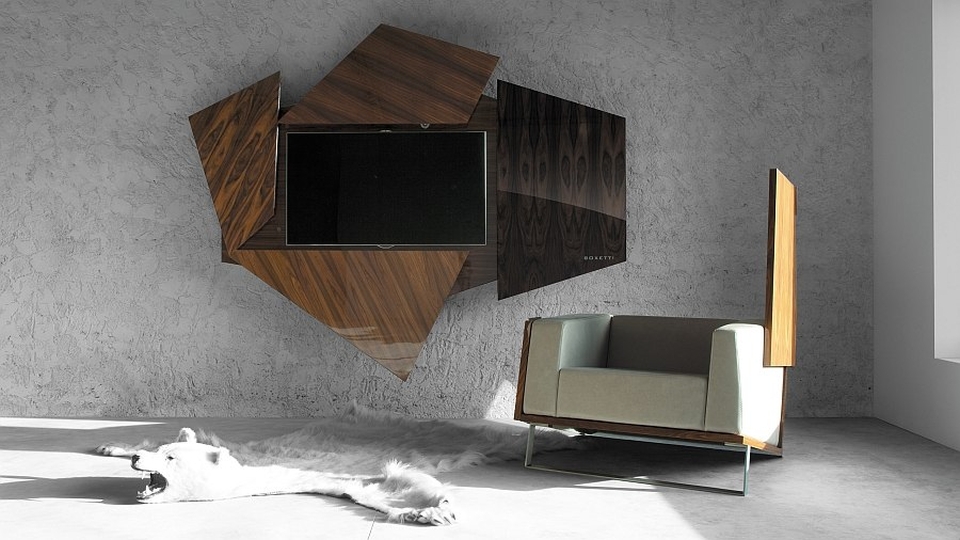 The MO wall TV stand forms a wooden sculptural design that is crafted by combining distinct shaped panels into one. It is an electronic wall unit that hides TV behind its wooden panels. On press of a button on the Boxetti remote control, the wooden panels split apart revealing the back wall with room for upto 55-inches flat TV screen.
# Mo TV stand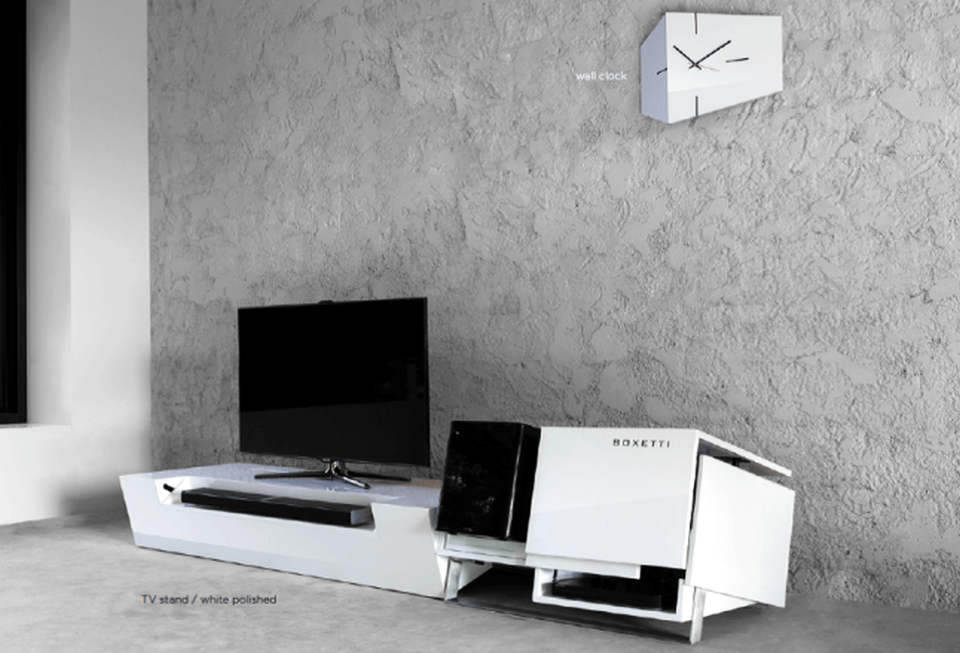 Mo TV stand in white lacquered wood also has a shiny surface. The TV stand has room for sound bar, subwoofer, Blu-Ray, DVD, and satellite units. With one push of a button on the BOXETTI remote control, the stand's doors open up to reveal the shelves with your audio/video equipment. It forms a perfect entertainment hub that hides unnecessary clutter behind its glossy appearance.
# Mo Coffee Table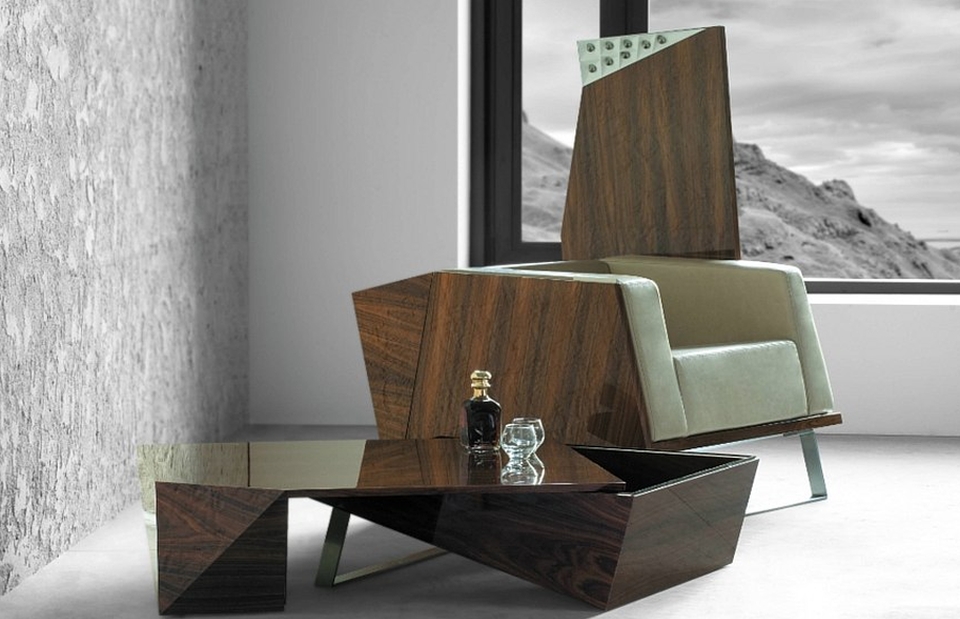 The coffee table is made from dark solid wood, carved into an artistic form. It is highly polished to enhance its design more with lustrous finish. The tabletop is installed with small bearings to let the surface move, revealing a storage space. The storage space underneath the tabletop can be used to store magazines or utilized as a mini bar.
# Mo Rug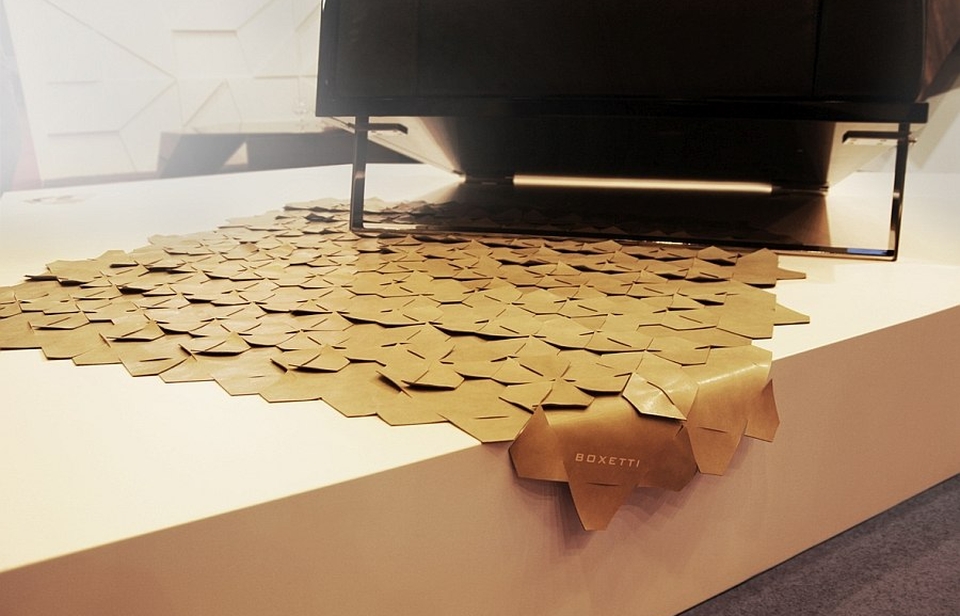 The Mo Rug is made from premium leather and comes in a patterned design, whose pieces can be arranged according to the available floor space. It is basically designed to match rest of the furniture collection or combining different colors and shapes for contrasting décor.
These were few essential details about the entire furniture collection. You can contact the designer online to purchase this classy furniture and transform your home into a posh living space. Check out the video of the complete Mo Collection at London Design Festival 2014.
Source: Boxetti