The temperature is cooling down day by day and the decorations have started to pop up on the windows along with gifts everywhere. Christmas is almost here! When others are preparing, are you still wondering what interesting twist to give to your festive decorations? Why not add some flavor to your home decorations with Christmas foods? Yes, you read that right!
Christmas foods are creative and festive decor items to deck up your Christmas tree or other areas of the house. Plus, the aroma of these edibles will spread festive vibes everywhere around your home. From cookies to gingerbread wreaths, there are so many interesting ways to decorate your home with holiday food items. Here we have listed 20 Christmas foods that you can consider for decorations this year.
Stained Glass Cookies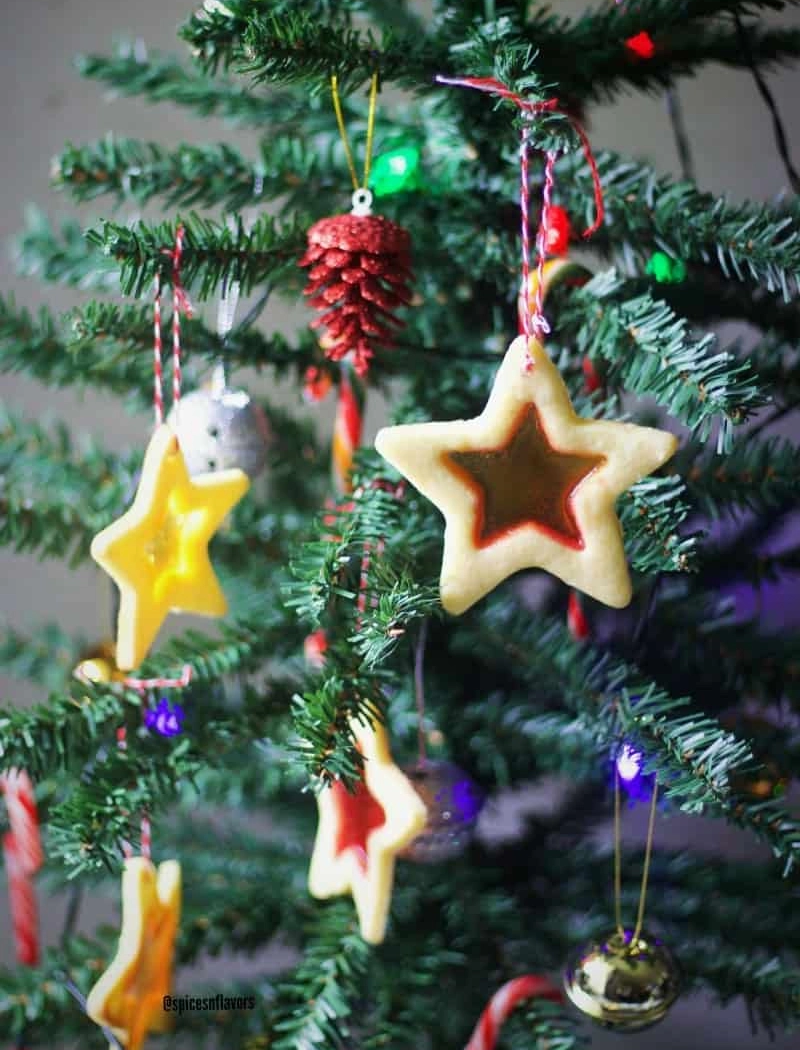 The stained glass cookies make adorable edible ornamentation for your Christmas tree. This is how your Christmas tree will appear more special. And, of course yummy! These pale textured sugar cookies are further decked up with shiny candy in different Christmas shapes. What else can shout out festive cheer than this tasty cookie? If you agree consider preparing it this Christmas. For recipe visit Spices n Flavors.
Lebkuchen Christmas Tree Decoration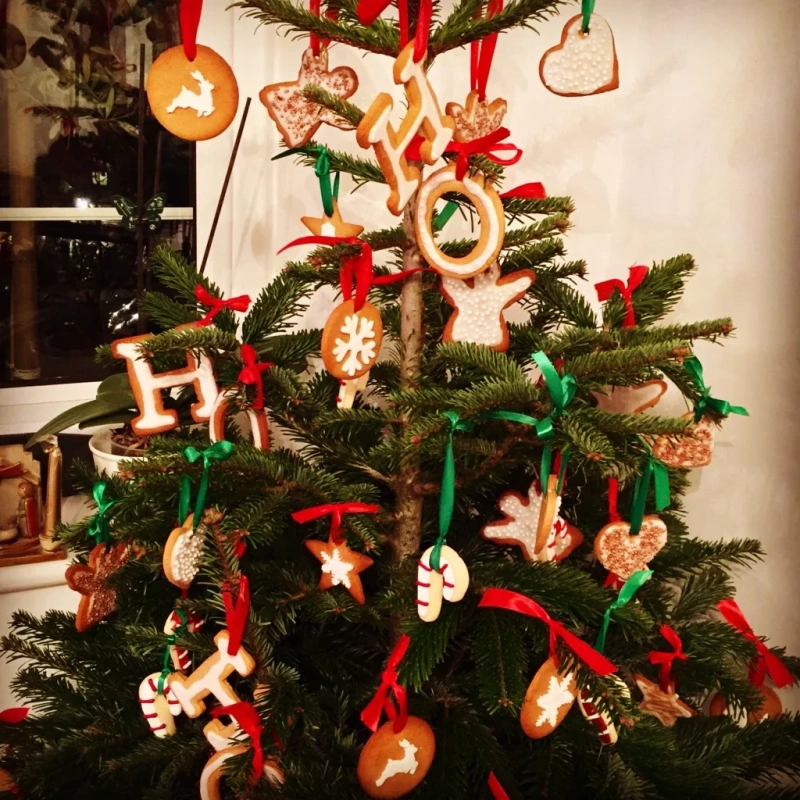 This is another wonderful Christmas foods decoration for the festive tree. You can also prepare it with toddler-friendly ingredients. So, you can give the treat to your little one while decorating the house with yummy cookie ornaments. And, the wonderful smell of baked cookies will fill the entire house. Hence, you get a little more benefit for your effort. Head to CaptainBobcat for the recipe.
Cinnamon Dough Ornaments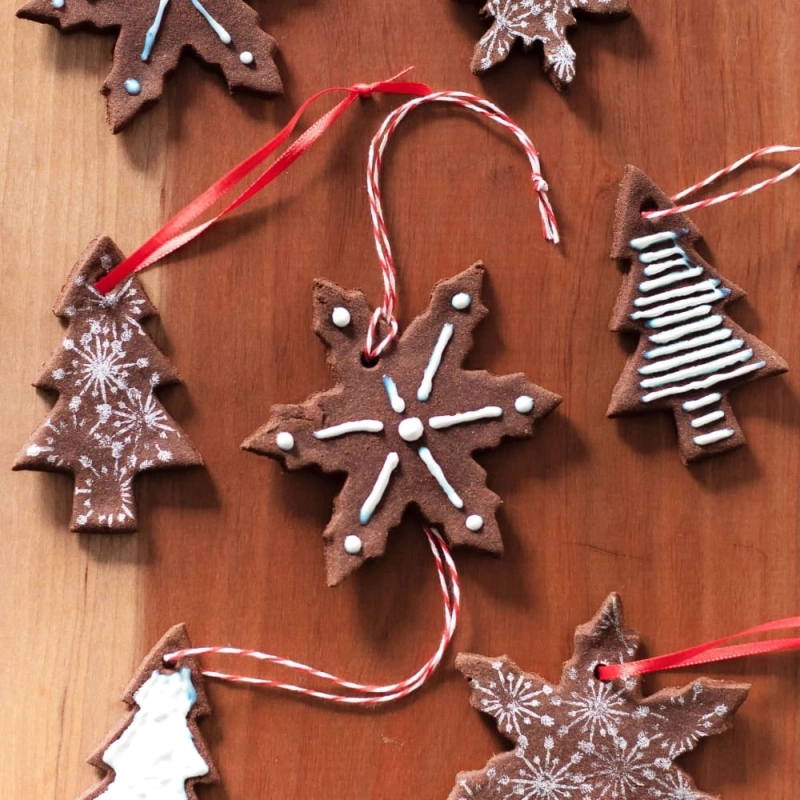 Love the wonderful aroma of cinnamon? It is perfect to make the holiday season even more fun. Whether it's mulled cider cooking on the stove or gingersnaps baking, the tempting aroma of this warming spice is almost in every house. If you like it, you can consider preparing cinnamon dough ornaments this year. These are very easy to prepare with the help of your kids. When hung on your Christmas tree, the house will get immersed in the goodness of cinnamon. Get the recipe on TheKitchn.
Christmas Cookie Ornaments with Colorful Patterns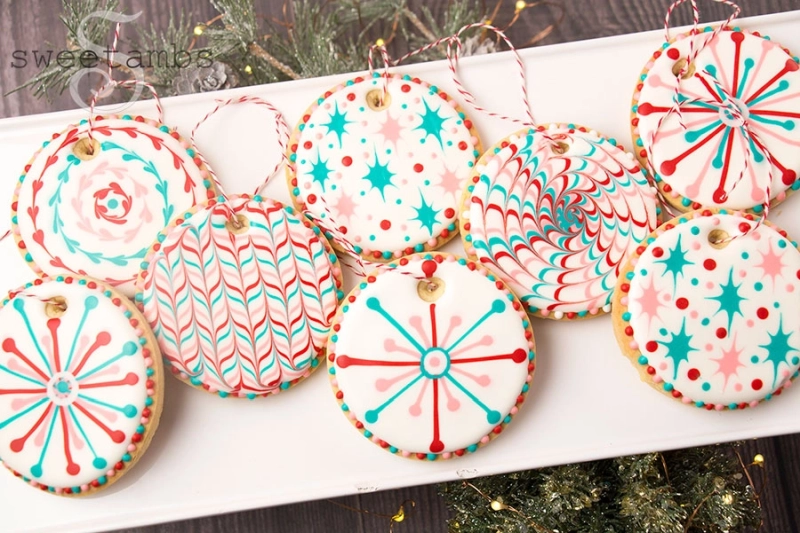 What's another fun way to decorate your Christmas tree? It's the Christmas cookie ornaments! It requires nothing special to prepare these holiday cookies. Just a few ingredients and it's easy to put together. Check out the complete recipe on SweetAmbs.
Edible Christmas Tree Ornaments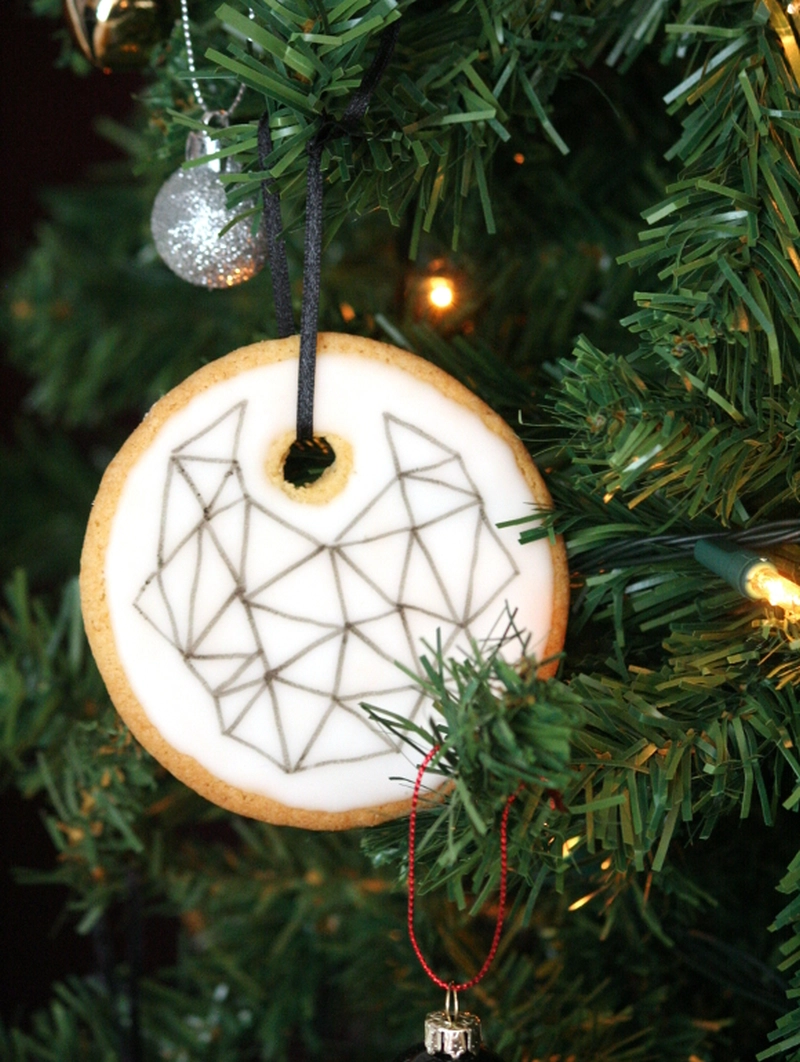 Another simple way to decorate your Christmas tree is with these edible ornaments. You can use a tumbler glass as a cookie cutter to prepare these cookies in a uniform shape. And, you can cut the holes using raw dough along with a plastic drinking straw. The preparation is very simple and easy. Find out the recipe on TheInteriorDIYer.
Popcorn Garland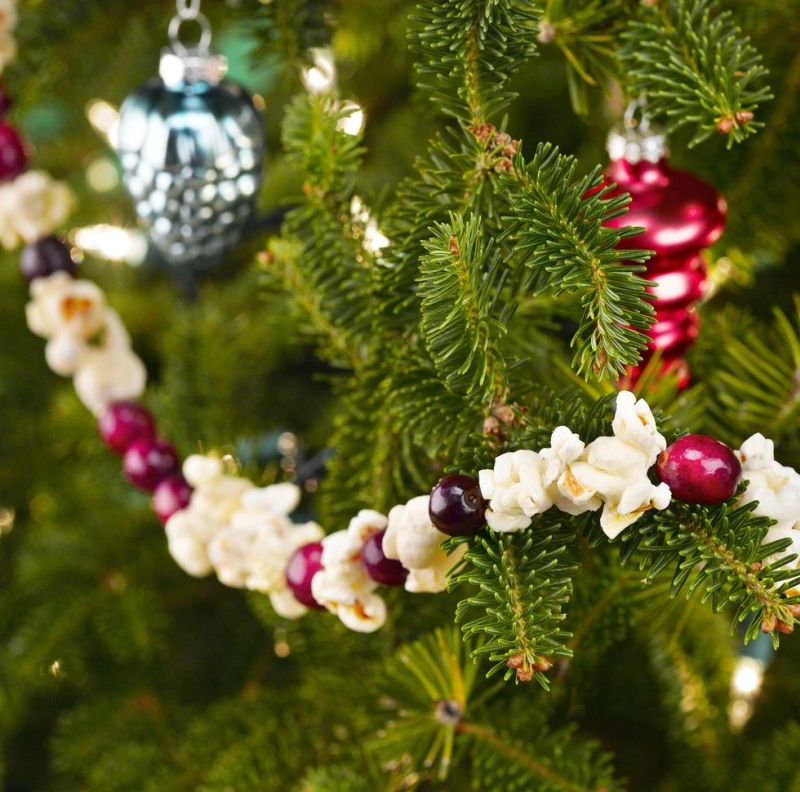 Now just today, but the popcorn garlands are the classic decoration items that go back to the era of Victorian England. Even nowadays some people love to follow the tradition and prepare these aromatic popcorn garlands for Christmas tree decoration. Do you want to try it as well? Just go for it! These festive ornaments are very easy to prepare and hang on the Christmas tree. Go through the recipe at ThePioneerWomen.
Gluten-Free Salt Dough Ornaments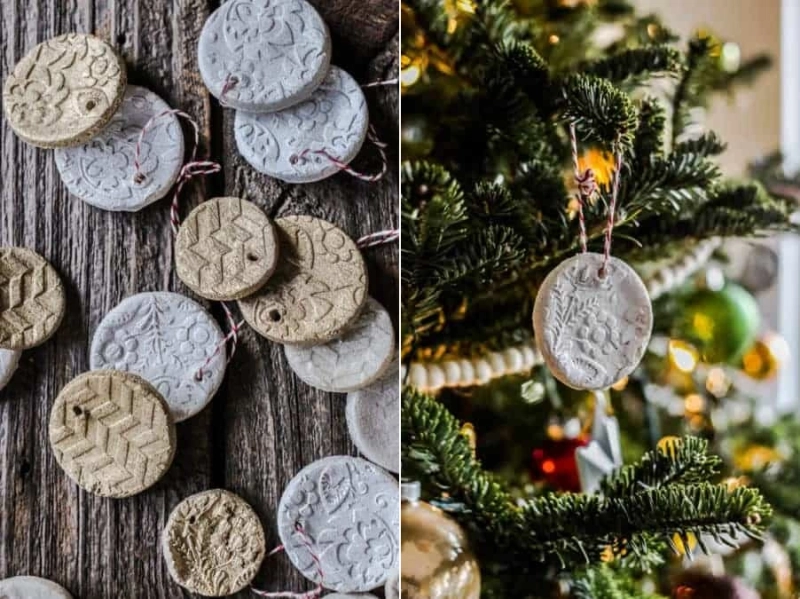 Another fun holiday tradition that many families follow is to prepare salt dough ornaments. It's just amusing how elegant these salt dough cookies appear on a Christmas tree. Plus, the preparation is very easy. All you require is some ingredients, such as flour, salt, and water. Also, involve your kids in the preparation process. It's a great fun project to try with your kids. And, if these are gluten-free, make extra for your family and friends as well. So, you can enjoy them while decorating the tree. For the recipe go to ThisMessIsOurs.
Kaleidoscope Cookie Christmas Tree Ornament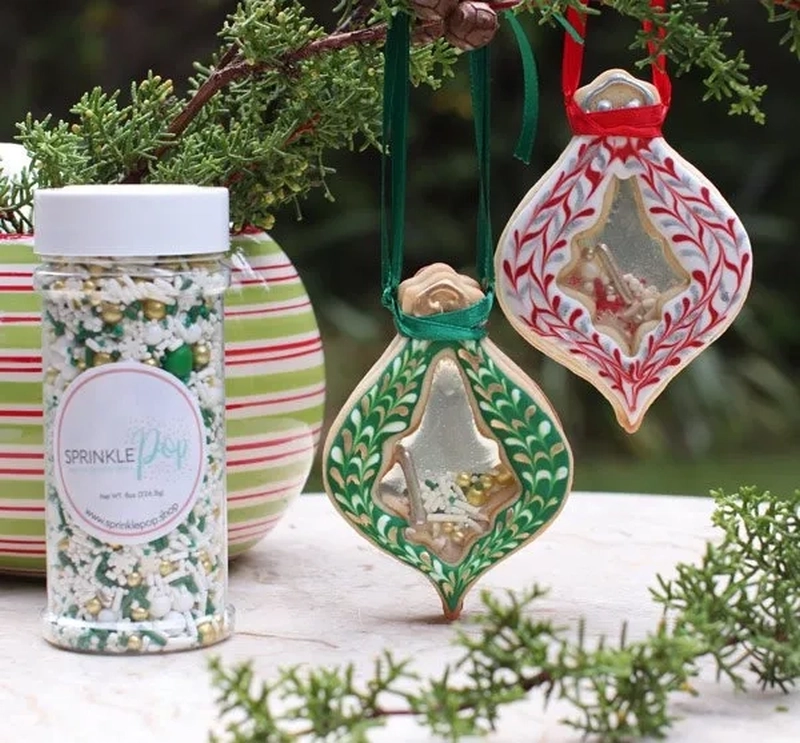 You must have seen unique festive cookies at the time of the festive season. Here's another one. It's the kaleidoscope cookies! These edible ornaments not only look amazing but delicious to munch on while decking up your house. And, also easy to prepare. Want to add some kaleidoscope cookies to your Christmas tree this year? Follow the recipe at Shani'sSweetArt.
Dried Fruit Garland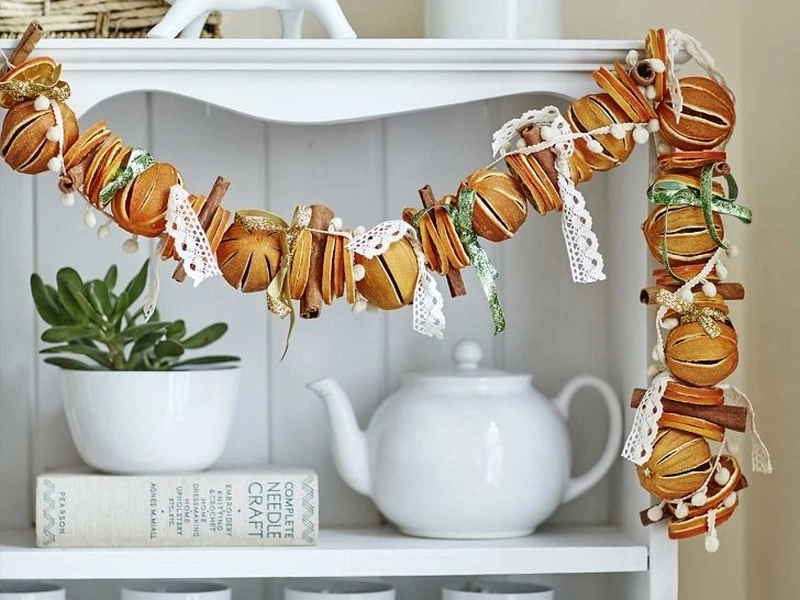 How about garlands made of dried fruits? These will look amazing on a green Christmas tree while adding a pop of colors. You can consider adding dried pears, apples, tangerines, oranges, cranberries, and lemon to your dried fruit garlands. These make a magnificent Christmas garland while decorating the entire interior of your living space.
The best part! These are super easy to prepare. All you need is some fruits, dry them in an oven, and craft them into elegant garlands. These decorations not only appear good but also add a fantastic fragrance to a room. Check out the preparation in detail on Deavita.
Dried Citrus Ornaments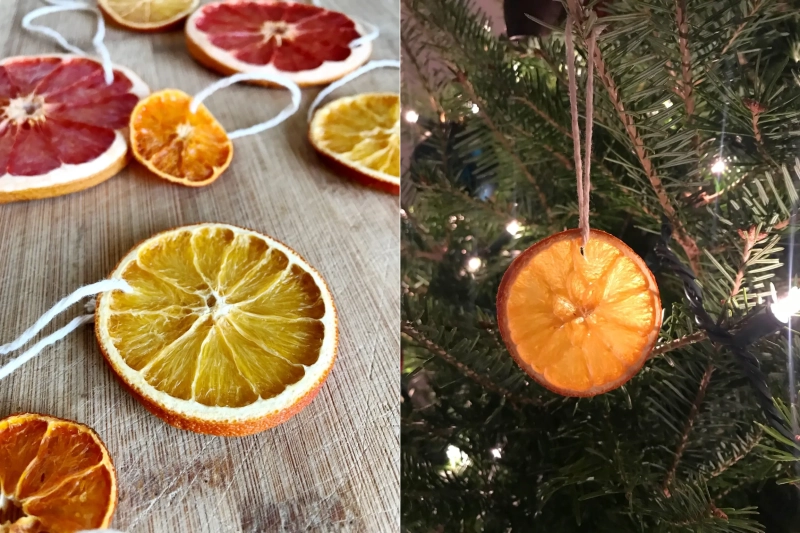 Want to bring some nature to your home for festive decor? If a large pine Christmas tree in your living space is not enough, you can consider preparing the dried citrus ornaments. These are very easy to prepare and beautiful to offer as gifts or simply decorating your house with. You can simply hang them as ornaments on a Christmas tree for decoration. Check out in detail at KrystaFrench.
Also Read: Best Gingerbread House Kits to Buy For Christmas
Cherry Ornaments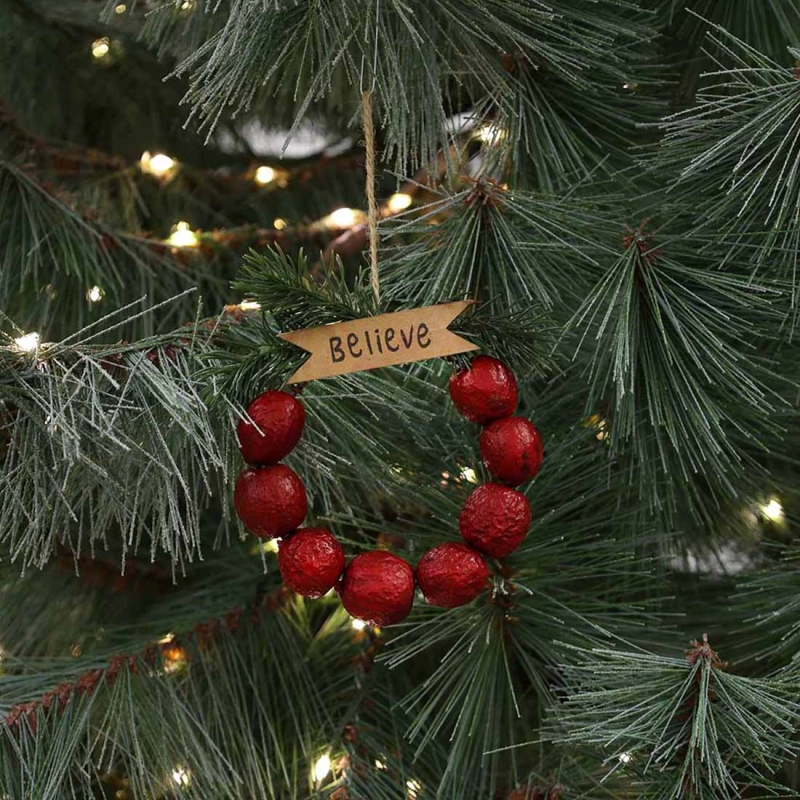 Another simple and fun way to add festive cheer to your house is with this red ornament for the Christmas tree. You can easily prepare it using a few cherries and simply hang it onto the tree with other decor items. However, the pop of red will grab everyone's attention.
Fresh Cranberry Garland
Another fun garland made from the fruit is the fresh cranberry garland. It will also give a festive pop to your evergreen Christmas tree. You can prepare it simply with sugar-dipped berries and craft it in form of a garland. This is one of the inexpensive holiday decor items for Christmas trees or fireplace mantels. Check out preparation in detail on InteriorFrugalista.
Snowman Ornament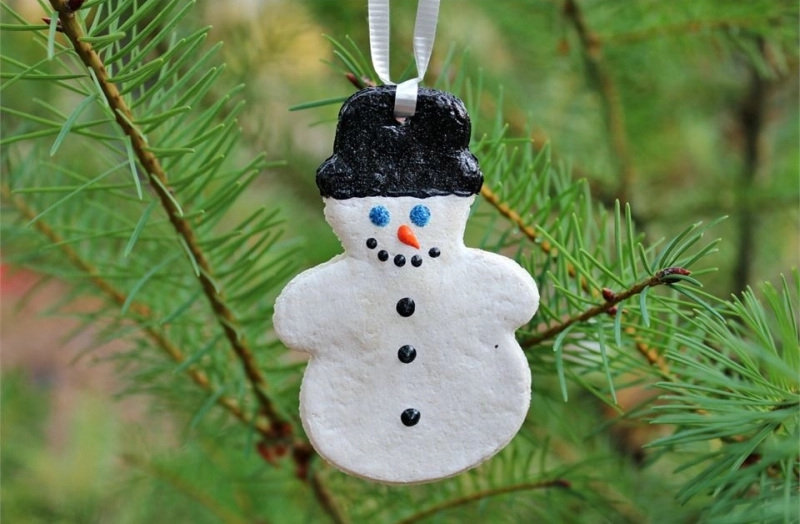 Have a look at these baked ornaments that are hardened nicely overnight before using them for decoration. You can simply decorate them with a tube or poster paints. Also, allow the spray and dry using a clear polyurethane on either side for preservation. Finally, hang them up with the pieces of ribbon or yarn. Follow the recipe on AllRecipes.
Oreo Ornaments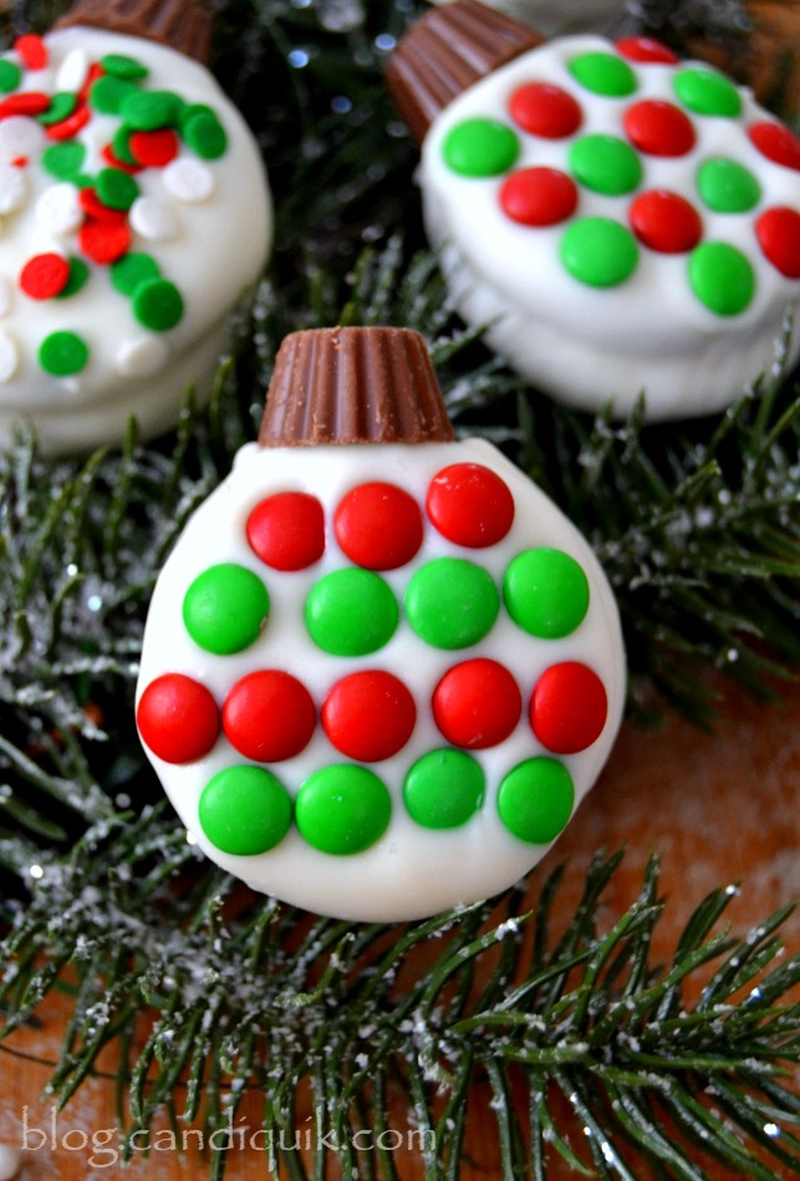 Oreo ornaments are super easy to make! All you need to do is dip them into melted Vanilla CandiQuik and further attach a miniature peanut butter cup for the 'top'. You can further decorate them as you wish. But for some glam touch, add holiday sprinkles along with some pearl dragee sprinkles. You can even use other candies and decorative edible items, like mints, chocolate, sugar, or frosting. Check out the recipe at CANDIQUIK Blog.
Gingerbread Men Garland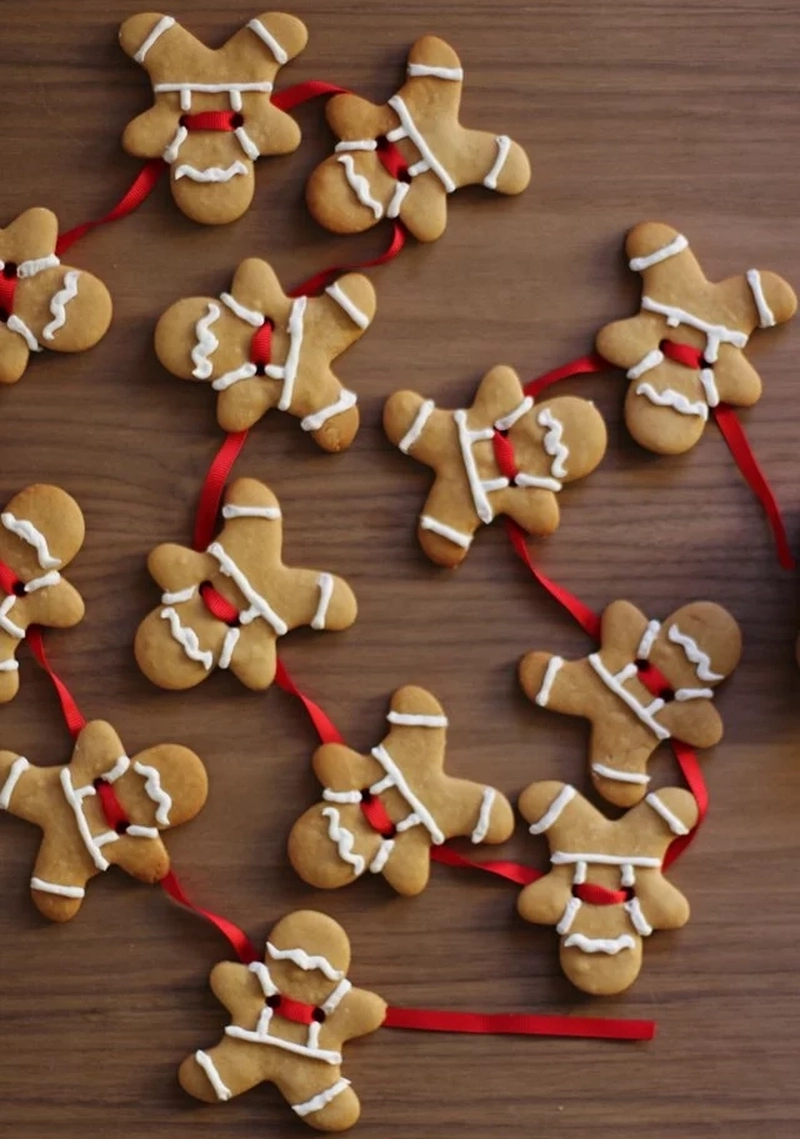 Gingerbread men Garland! If you are not in the mood to prepare the whole gingerbread house, simply prepare a gingerbread men garland for festive decoration. You can create it easily using a cookie cutter. Besides this particular shape, you can even give other desired shapes to the gingerbread recipe. Once prepared, simply hang the garland using a bright ribbon on a Christmas tree. See the recipe on HonestlyYum.
Christmas Oreo Cookie Balls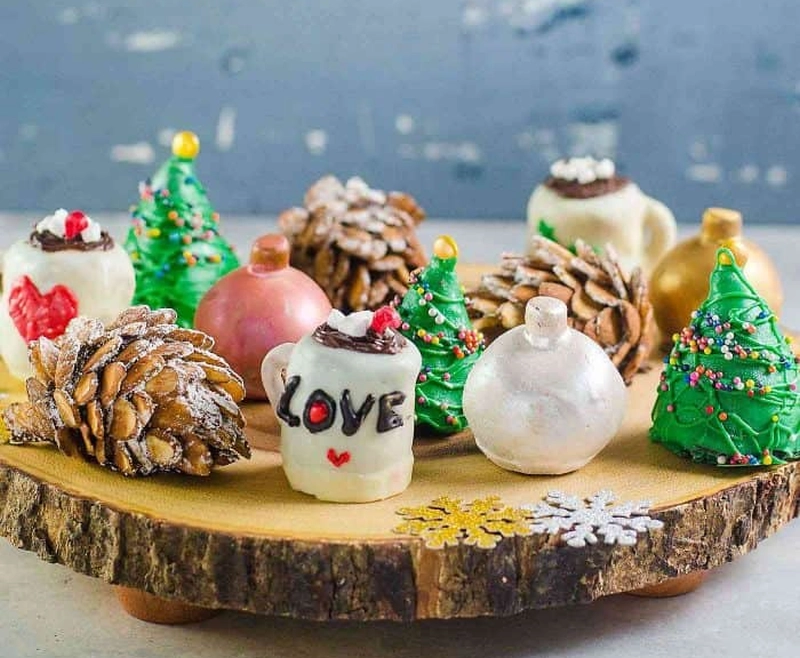 Here's another fun Oreo decoration. Since Oreo comes in various flavors, you can prepare Oreo cookie balls in the desired flavor – be it mint, chocolate, or more. Once prepared, decorate them with seasonal sprinkles. These are very easy to prepare and use for decorations. Check the full recipe on TheFlavorBender.
Gingerbread Letter Garlands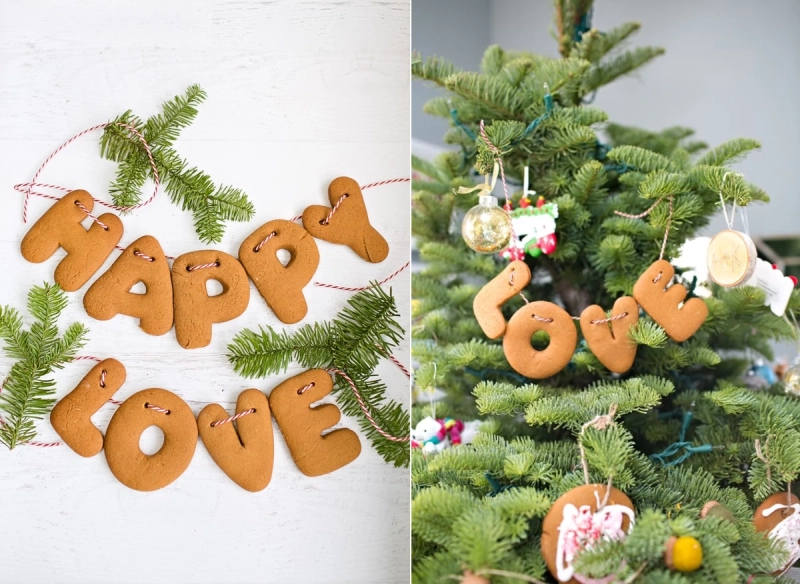 Another gingerbread men Christmas decoration idea is the gingerbread letter garlands. You can prepare them with letter cookie cutters. These garlands are easy to personalize and also give a festive look to mantles or trees. You can easily prepare them with the help of your kids. Check out the recipe at HelloWonderful.
Gingerbread Wreath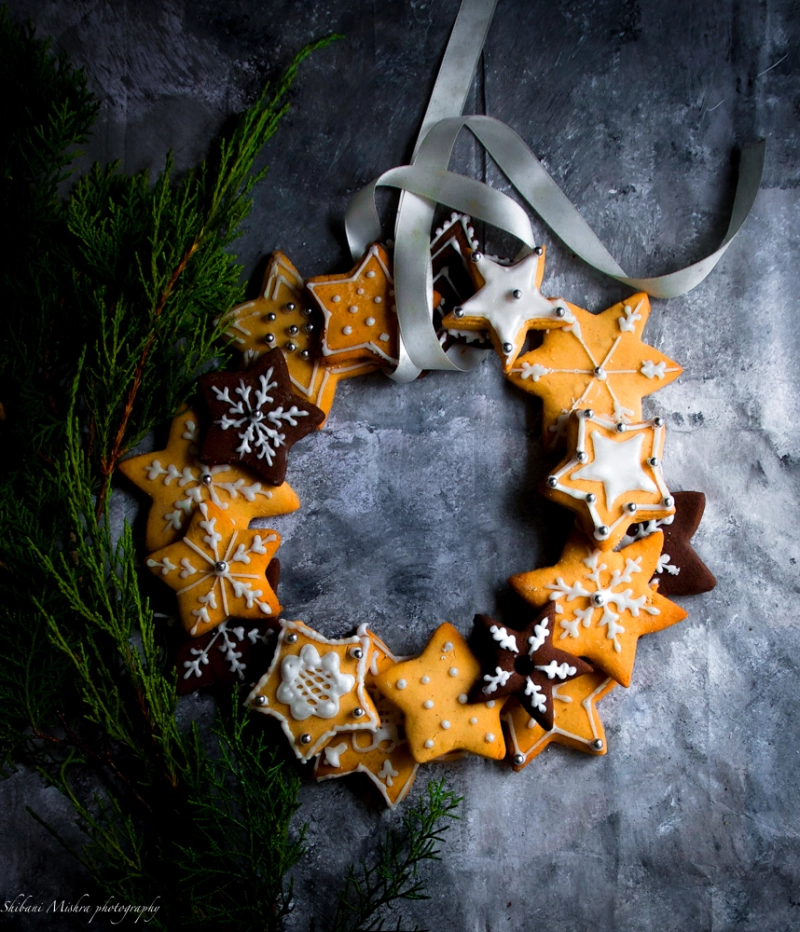 You can even consider baking some batches of gingerbread cookies. You can prepare them in any desired shape you like. Finally, put the cookies together as a wonderful wreath. Further, decorate the wreath as your heart desires. Check the whole recipe at PearlsofEast.
Sugar Christmas Ornaments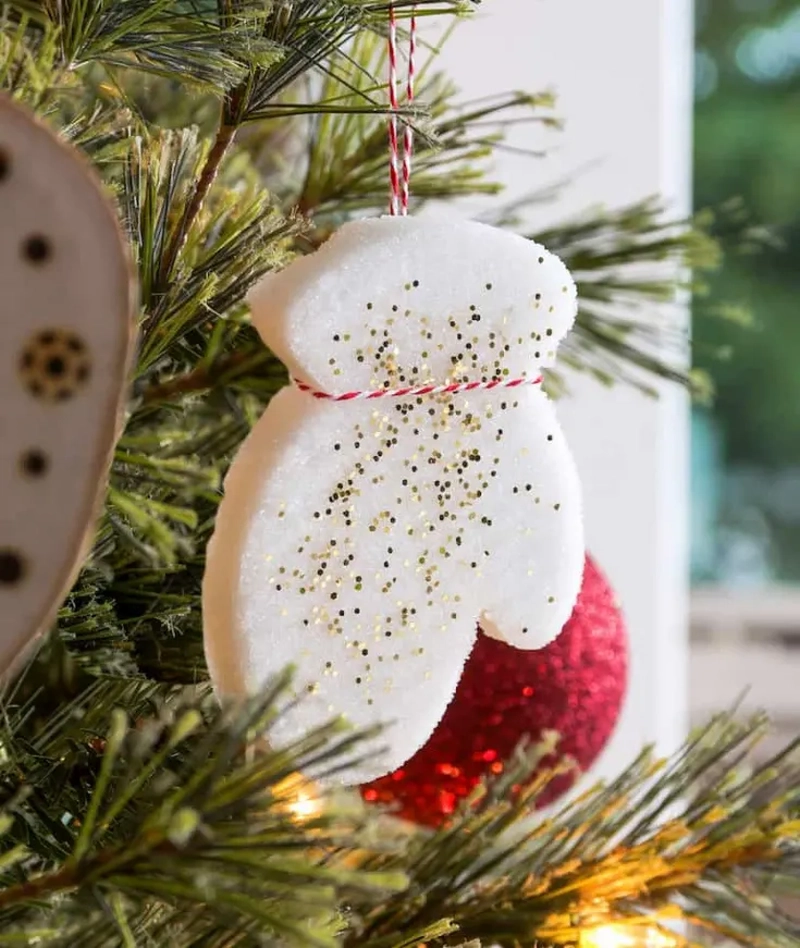 The tasty sugar Christmas ornaments are also age-old food items for holiday decoration. One of the old sugar ornament recipes was published in 1741 – around 280 years ago. These are edible decorations that you can make as sparkly or as decorative as you desire. Follow the recipe on ModPodgeRocksBlog.
Marbled Christmas Ornament Jelly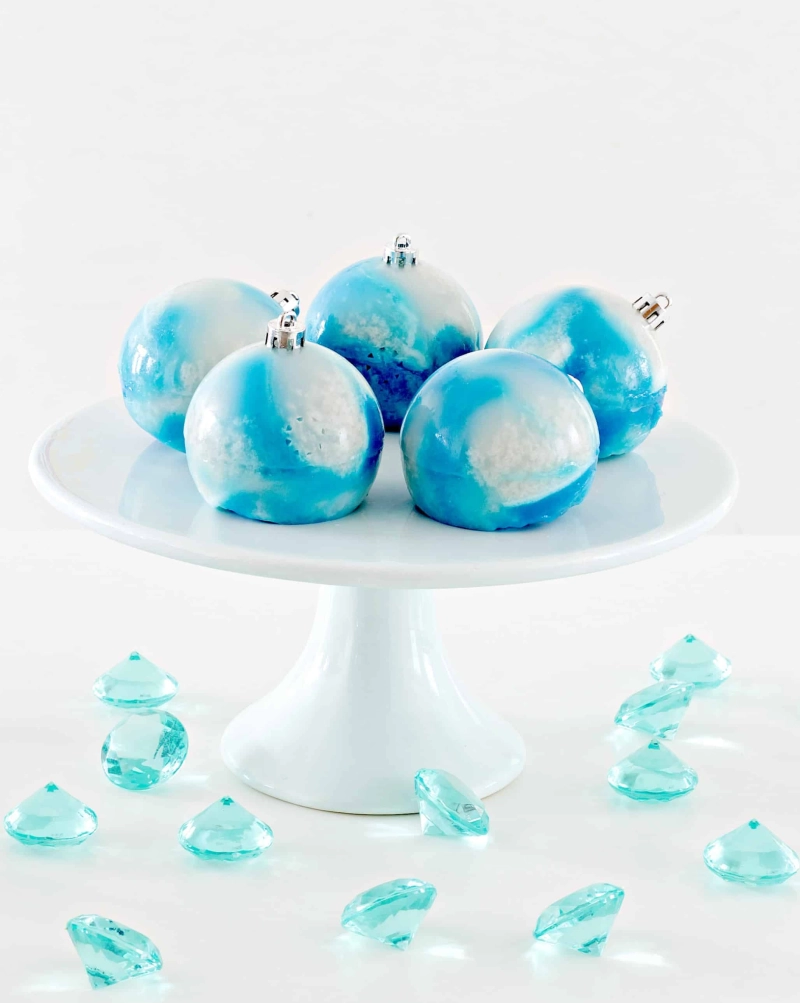 Finally, have a look at this unique Christmas dessert! It's the yummy marbled Christmas ornament jelly. What's amazing is that these edible ornaments appear like real marbled ornaments with a striking swirled effect. Plus, these are very easy to prepare at home. See the full recipe on SquirrelOfAFeather.