When I am feeling sad and down, I return to the basics – food and cinema. Being an introvert, I prefer staying at home and love watching the best Christmas movies that uplift my mood. While binge-watching stuff, I'd definitely need something to munch on. This gives me the option to explore my unique food items at home. If you also plan on staying inside your house this Christmas, try these unique Christmas food ideas and fill your home with the wonderful aroma of holiday cooking.
Christmas Tree Veggie Platter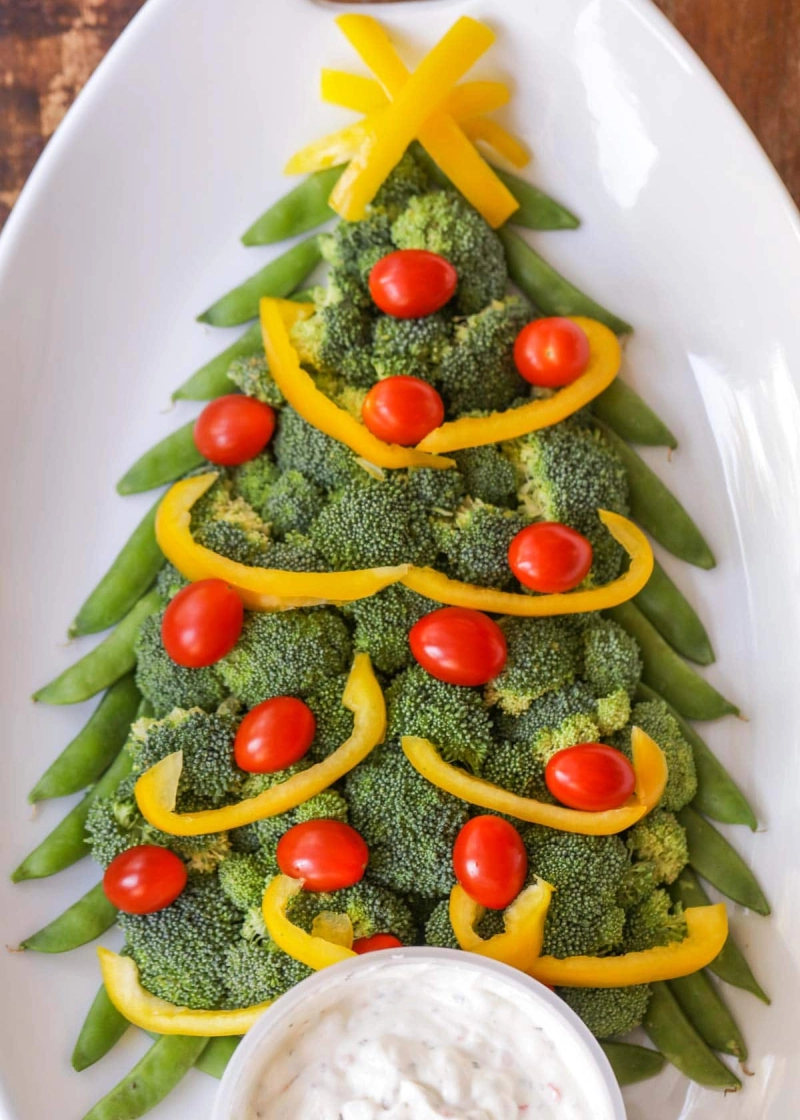 People do anything to look intellectual these days whether it's moving from non-vegetarian food to a vegan diet after eating a thousand lambs or consuming green tea instead of coffee. Nevertheless, if you want to be part of social change as well, try making this delicious Christmas tree veggie platter at home and serve it to your friends and family. Cauliflower florets, broccoli, carrots, radish and onions are what you require to pull this off. Check out the full recipe at Lil' Luna.
Reindeer Rice Krispie Treats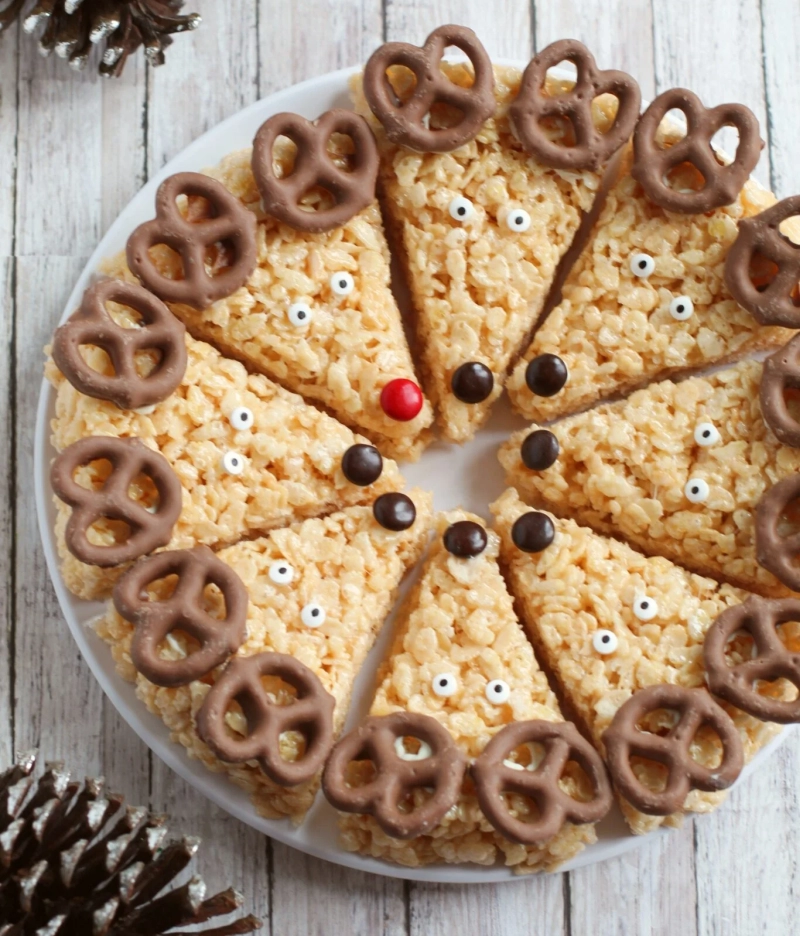 What better than consuming reindeer rice on Christmas Eve? These pizza-like slices are super adorable and very tasty to eat. I am sure your kids would absolutely fall in love with this. The full recipe is available on myincrediblerecipes.
Christmas Crackers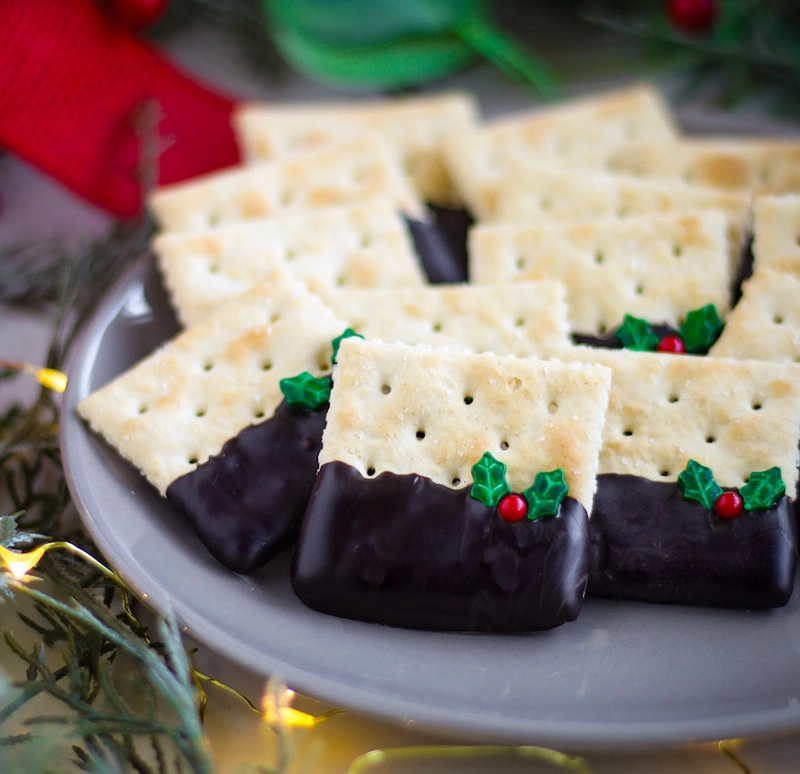 Life is full of ups and downs. The same should be the case with our food as well. The sweet and salty flavor of these Christmas crackers is suitable for your Christmas Eve. Moreover, they add the perfect crunch to your Christmas party. Jump over to smartschoolhouse to check out the full tutorial.
Snowman Scotcheroos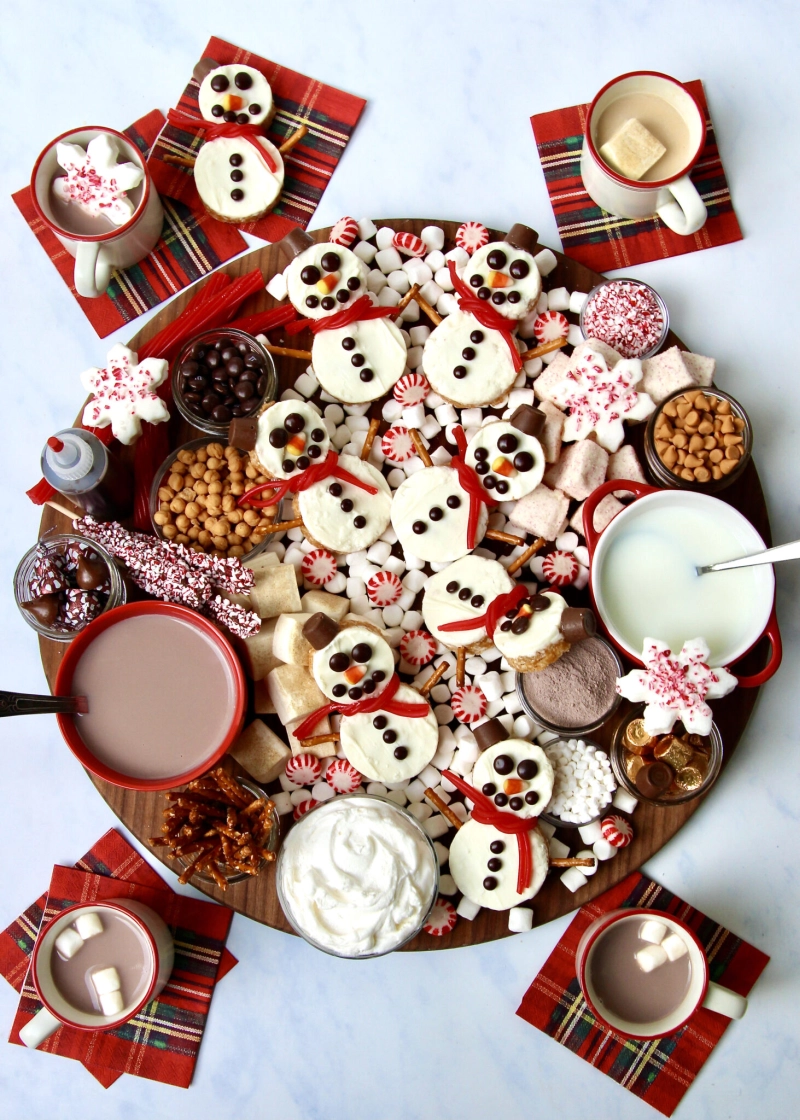 If you are looking for something quick and fancy, try this hot chocolate board featuring snowman scotcheroos this holiday season. The snowman scotcheroos would be the cutest and coziest holiday treat that goes well with a cup of hot chocolate, salty pretzels, zippy peppermint, and oodles of sweets. For full recipe, check out thebakermama.
Ice Cream Cone Trees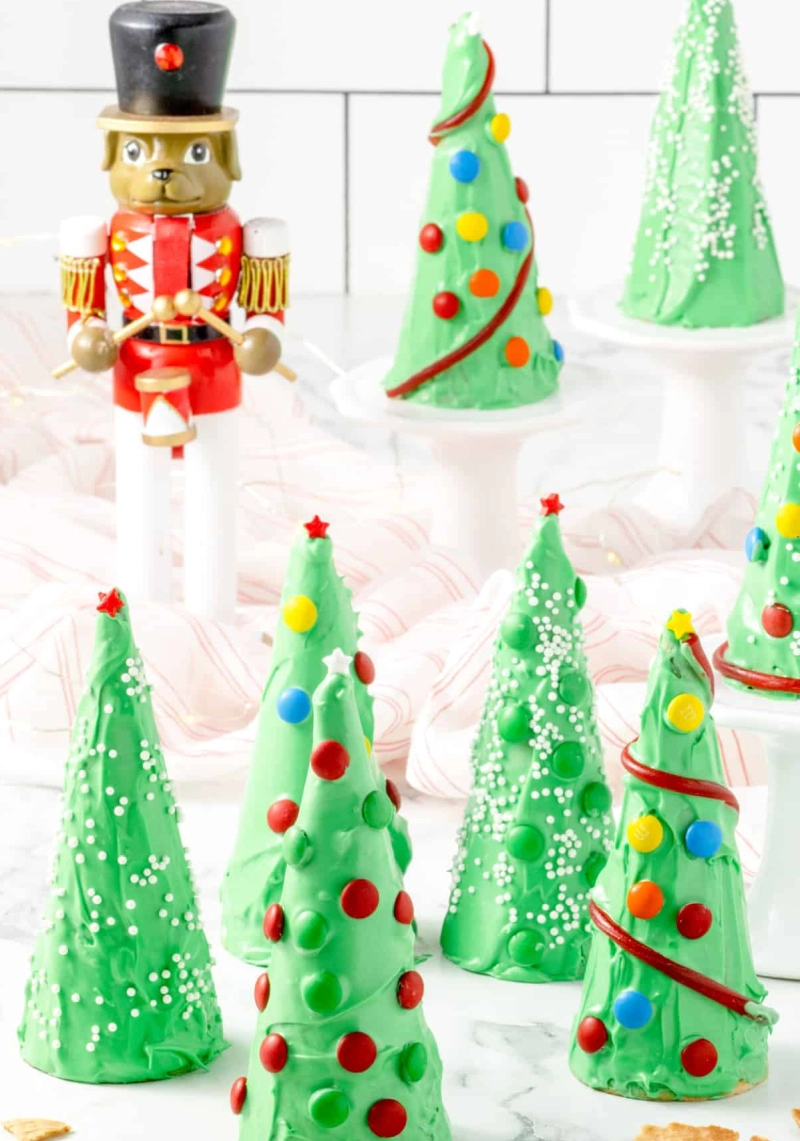 Be it summers or winters, my love for ice cream is eternal and knows no boundaries of weather and temperature. The Ice cream cone Christmas tree would be a perfect holiday treat for any family gathering. The best part is they are easy to make. Jump to Midget Momma to read the full tutorial.
Chocolate Christmas Tree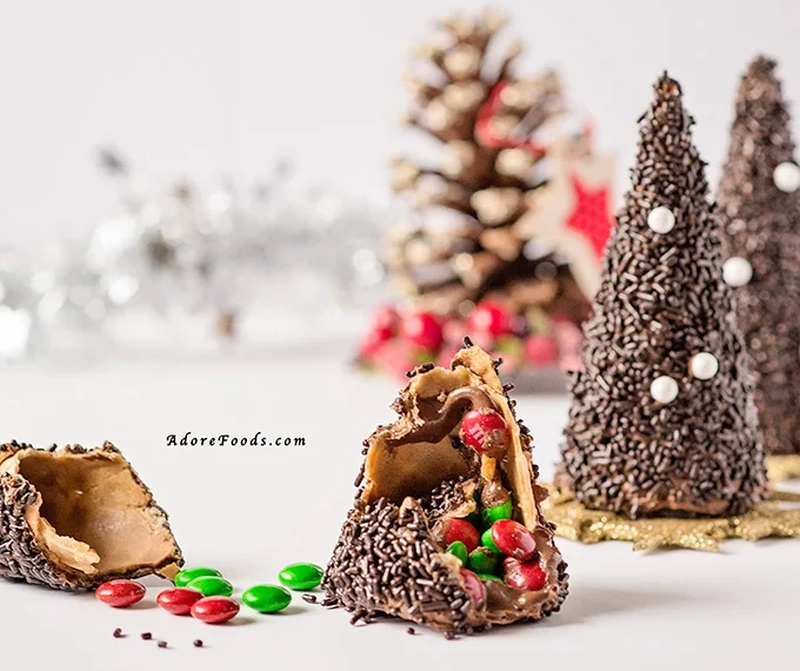 Alright, you bought a Christmas tree for your porch, why not have one on the dining table too? And what better than having a Christmas tree that could later find a place in your belly. This chocolate tree looks like an edible piñata and will be a delicious treat to have on Christmas Eve. The full tutorial for the recipe is available at AdoreFoods.
Candy Cane Cookies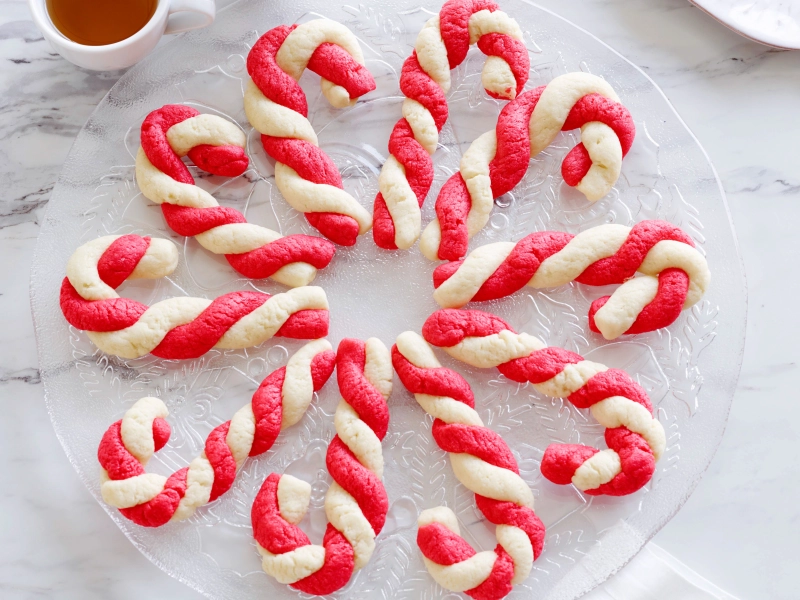 Forget Christmas, I don't miss out on dessert whenever I am at a wedding or birthday party. Our lives need some sweet melodies to keep our melancholy going and a candy cane cookie perfectly fits there. Check out the full dessert recipe available at Food Network and serve these delicious cookies to your friends and relatives.
Strawberry Christmas Tree Brownie Bites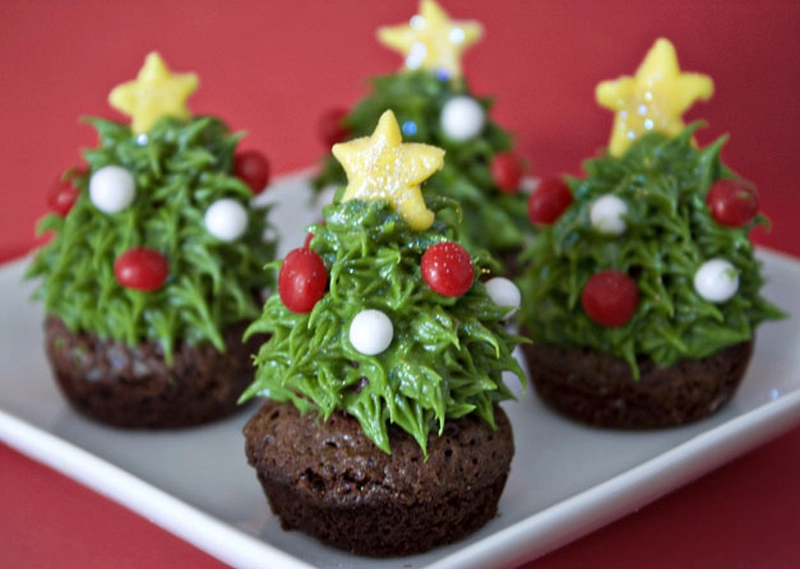 It won't be a bad idea to try something out of the box this Christmas. Baked brownies and strawberries are all you require to make your Christmas even sweeter. Though, you must have an artistic hand while decorating the dish before serving it to the guests. Check the entire recipe at Erica's Sweet Tooth.
Egg Snowman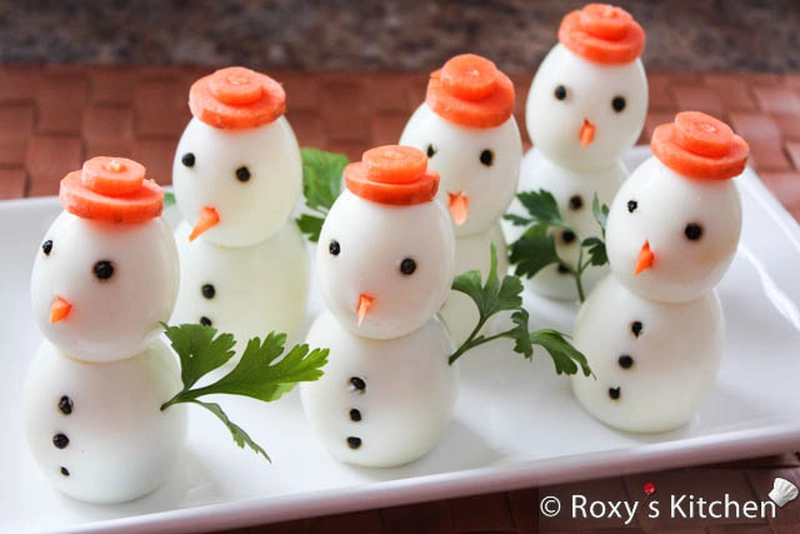 Give your body a chunk of protein this Christmas by consuming a snowman made of eggs. Decorate them with carrots and some peppercorns and they are a pretty nice addition to your platter. The full recipe is available at Roxy's Kitchen.
Reindeer, Snowman and Santa Pancakes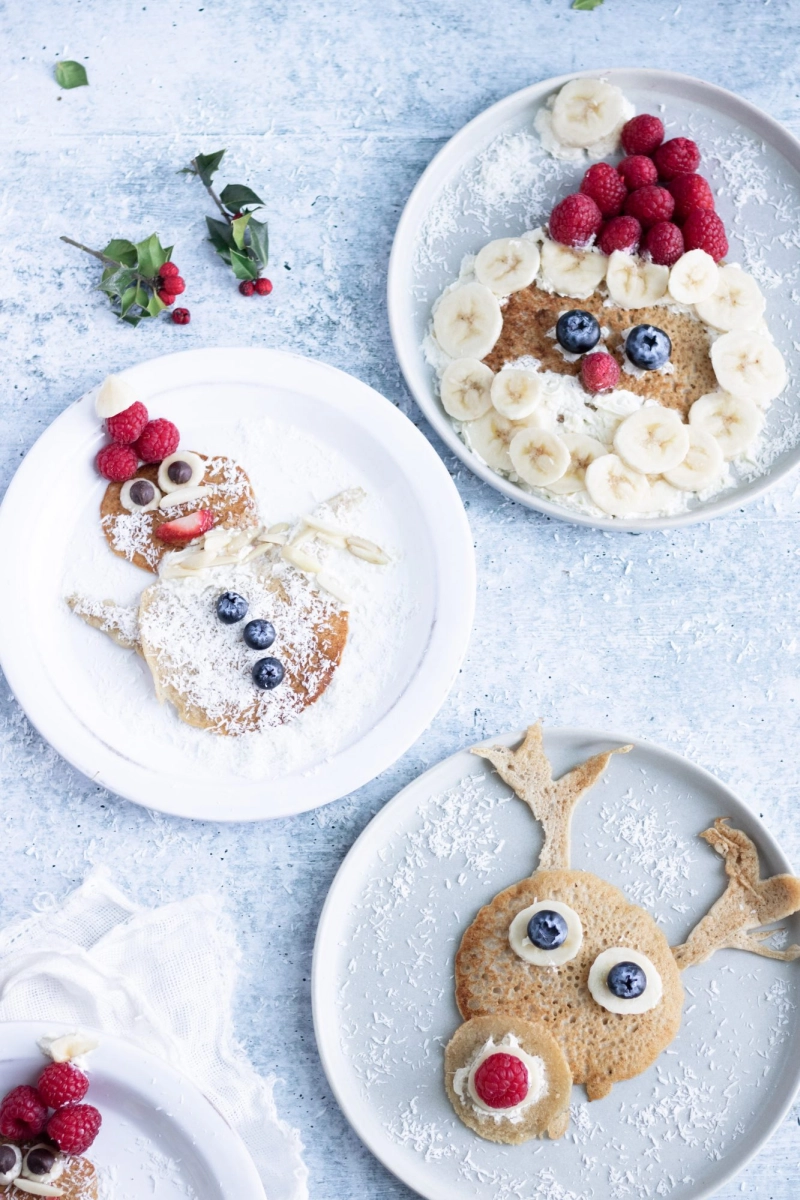 Pancakes are a heavy and healthy breakfast especially when they are gluten-free and sugar-free. These Christmas pancakes in the shape of everyone's favorite holiday friends are something you'd love to make this Christmas. With base of the pancakes featuring oats, they will make a great breakfast you can serve to your mom or dad. Check out the full recipe at eatingbyelaine.
Reindeer Doughnut Bites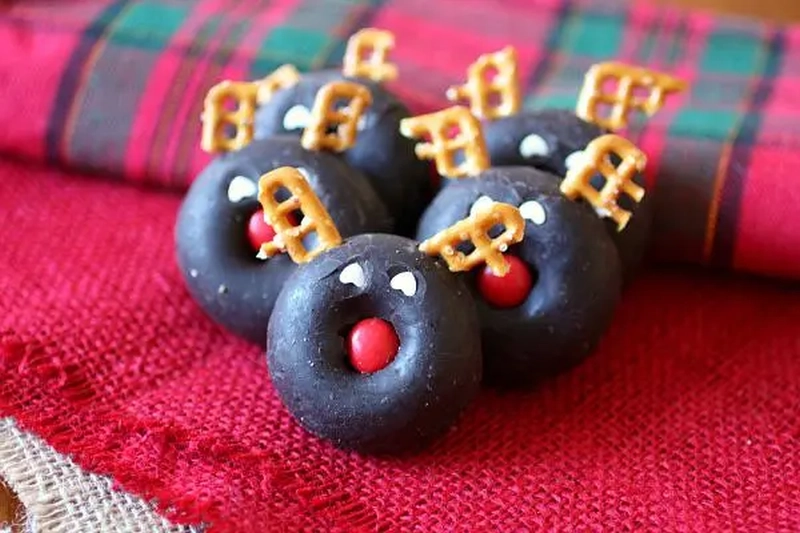 Well, if you can't pet a reindeer why not make one. Give your kids a free hand and let them explore the kitchen with these reindeer doughnut bites. These reindeer doughnuts will be a great holiday breakfast to be consumed with some hot coffee. Full recipe is available at Sheknows.
Easy Snowman Marshmallows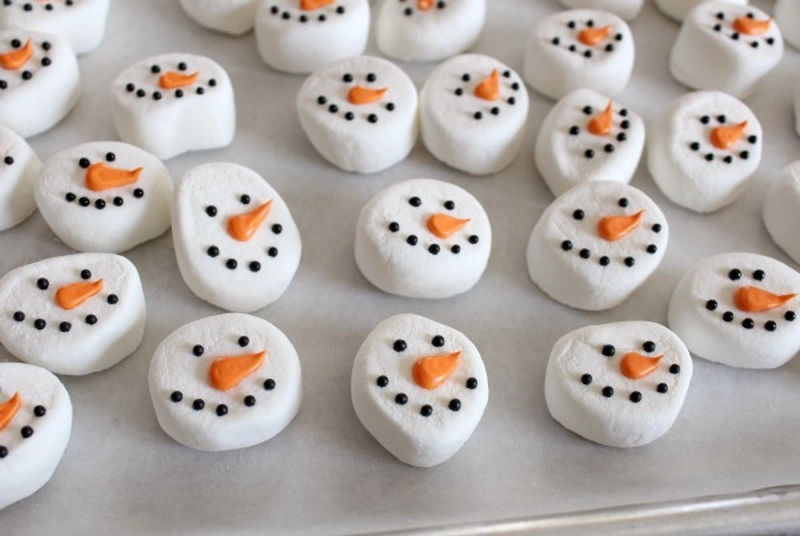 Looking to make a super cute and adorable treat for Christmas! Try these snowman marshmallows by sweetsugarbelle and serve them to your guests with some hot chocolate.
Also Read: Last-Minute Christmas Food Ideas
Kale Pomegranate Salad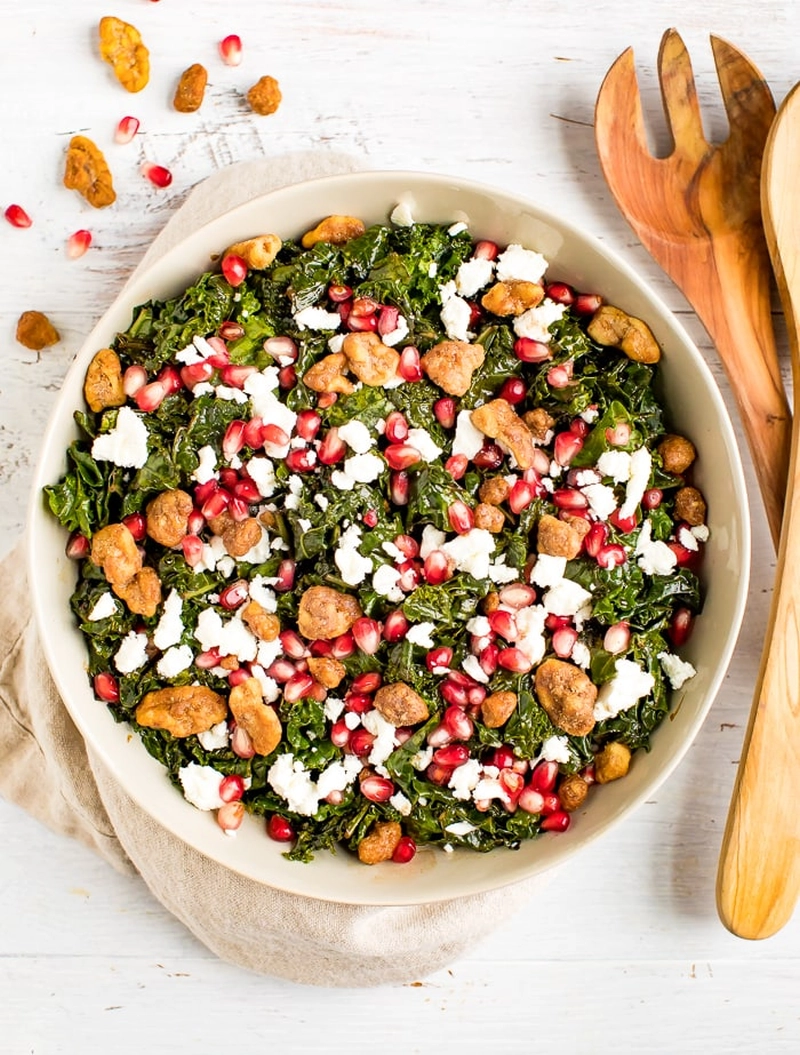 Cherish the festive season with some great food ideas and this Kale Pomegranate Salad won't be a bad option either. This particular Christmas salad is a perfect meal for you and your friends and is festive, tasty and pretty simple to make. Read the full recipe at Eating Bird Food.
Christmas Brownies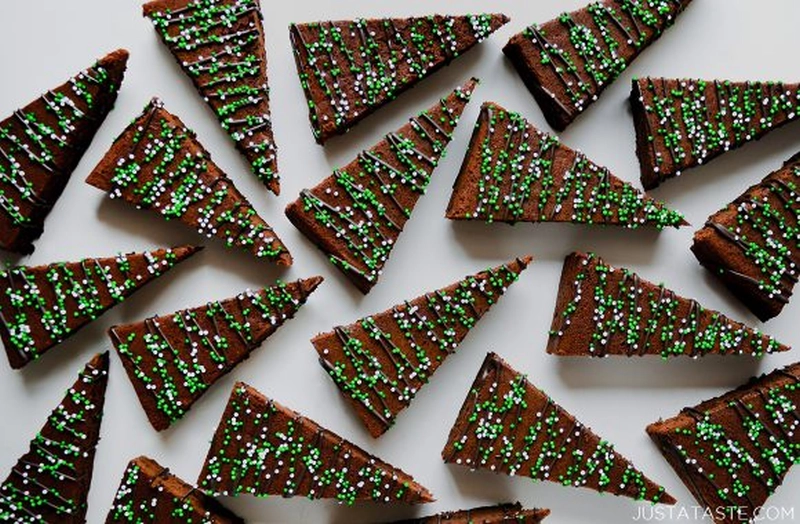 If you are dieting and hate consuming fats but still crave spicy, sweet and tasty food, don't worry, we are all sailing in the same boat. However, a cheat meal won't be bothersome unless you're on insulin. Try these fudgy Christmas brownies and spare a bite for me too. These brownies are drizzled with chocolate and studded with sprinkles. Read the entire recipe on Just a Taste.
Marshmallow Penguins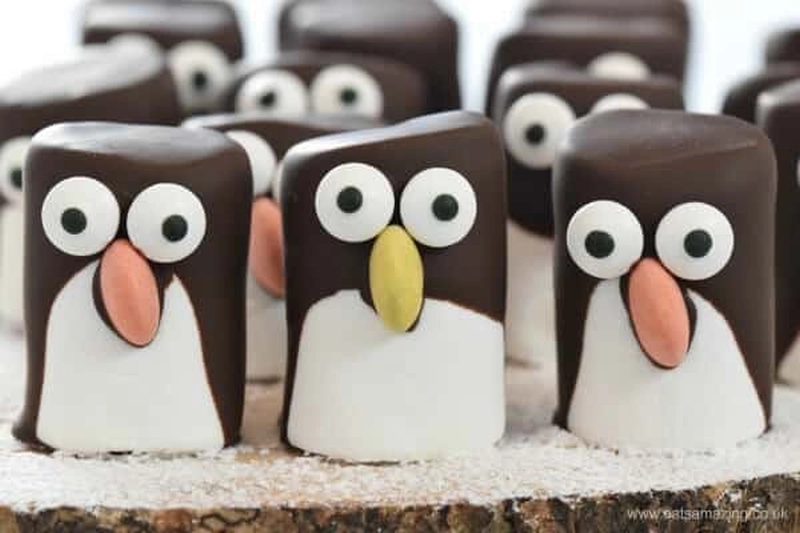 Let's be honest, these flightless aquatic birds are the most adorable creatures on the planet earth. I've never seen them in person but they will definitely feature a marshmallow penguin dish at my home this Christmas. No animal cruelty here! Just some marshmallows and dipped chocolate to make my Christmas table look amazing. You can check the recipe at Eats Amazing.
Chocolate Crinkle Cookies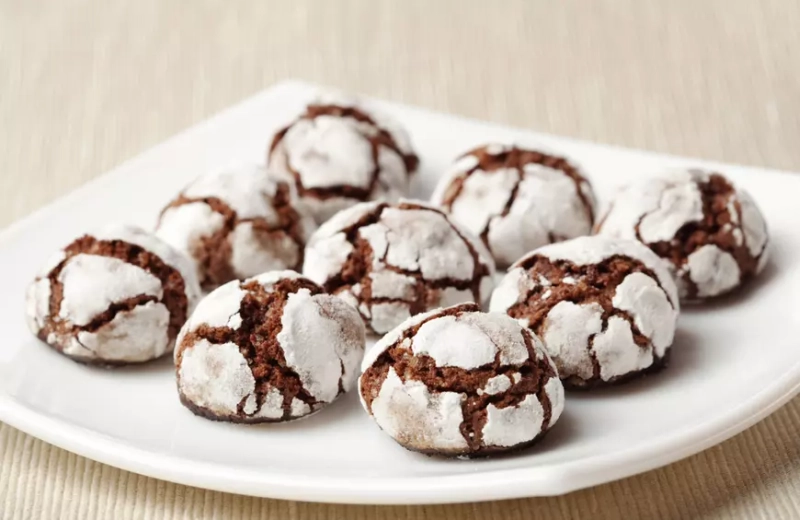 We are at the end of the list and if you are not bored yet, try making these chocolate crinkle cookies based on snow theme. This would be one of the most unique Christmas food ideas but worth a try. These cookies not just taste great but also mimic the appearance of a fresh coat of snow. Check the full recipe at thedailymeal.
Antipasto Edible Christmas Wreath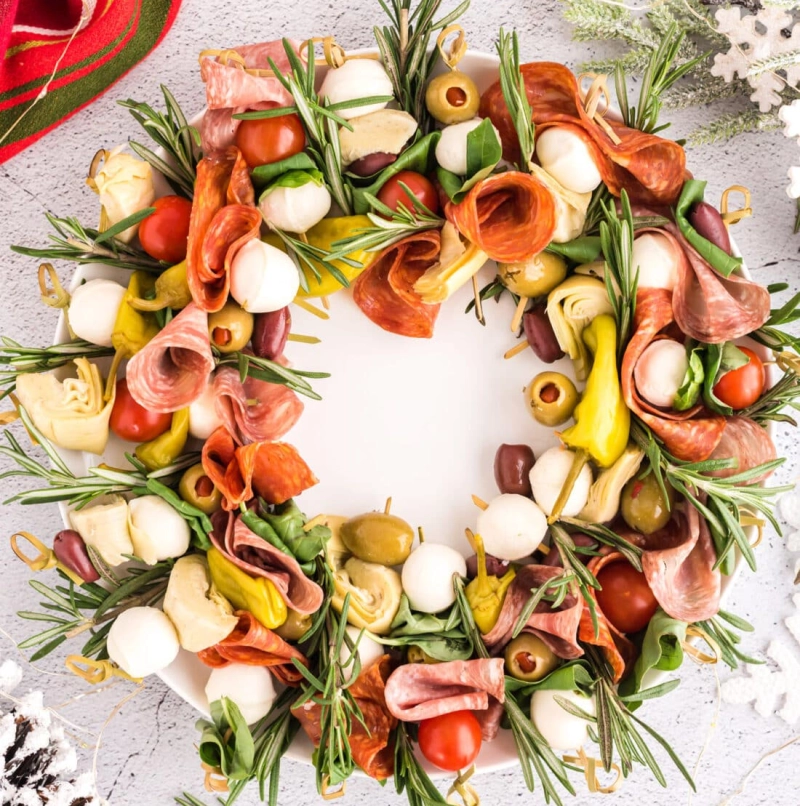 Christmas tree wreath at your front door and antipasto wreath in your belly is an eye-catching festive appetizer. The gorgeous-looking wreath comprises different types of meat, mozzarella pearls, basil, cherry tomatoes, olives, and artichoke hearts. Check out the full recipe at Amanda's Cookin'.