I happen to recall an old joke from a famous comedian where the artist discusses how he celebrated Thanksgiving Day by inviting his neighbors and offering them a grand feast. During the feast, where the guests were expecting a Thanksgiving place card, instead, he poisoned them to death and seized their land. Well, Thanksgiving is all about laughing, celebrating, and growing together in a hope of a bright future.
Thanksgiving is a day when families and friends count their blessings over a luxurious meal. While every host plans an extravagant Turkey Day menu, place cards and holders are another stylish addition to the table layout. They ensure a complete control over the seating arrangement without any drama.
If you have a creative hand, you can try some pretty place card crafts for your big holiday dinner. Now we understand that your turkey will be the star of the night but DIY Thanksgiving place cards and holders have a distinct way to charm your guests. This fall, welcome your guests with these DIY Thanksgiving place cards and holders.
Table of Contents
Thanksgiving place cards made of different materials
Cork and Feather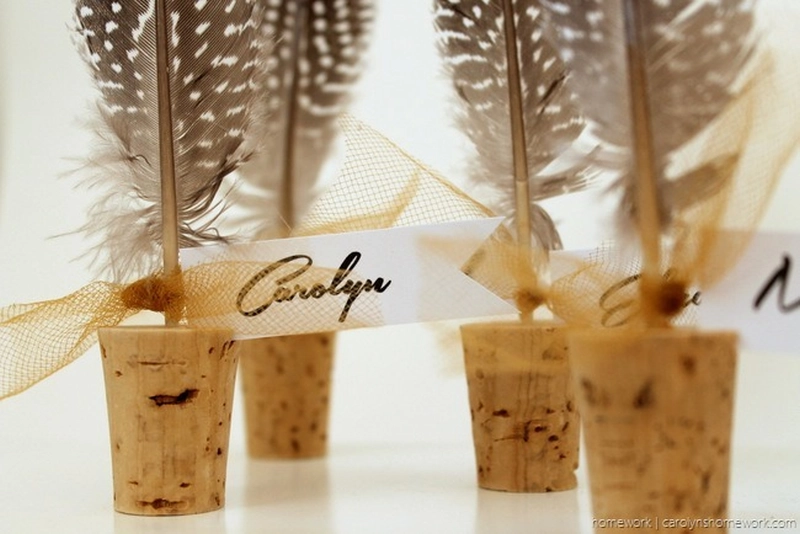 Brace your guests with this cork and feather place card for the grand dinner party. Feather placed inside an old rum cork is a really adorable way to direct guests to their seats. Full tutorial at Carolyns Home work.
Golden colored Leaf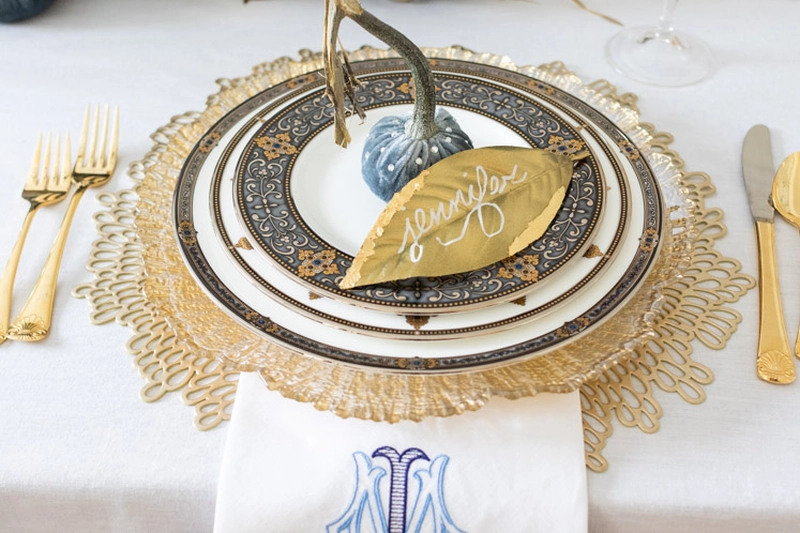 Spruce your dining with the gold leaf place cards this holiday season. The faux magnolia leaves in golden shade add an elegant touch to your place. The full tutorial is available at Jennifer Maune.
Eucalyptus Pumpkin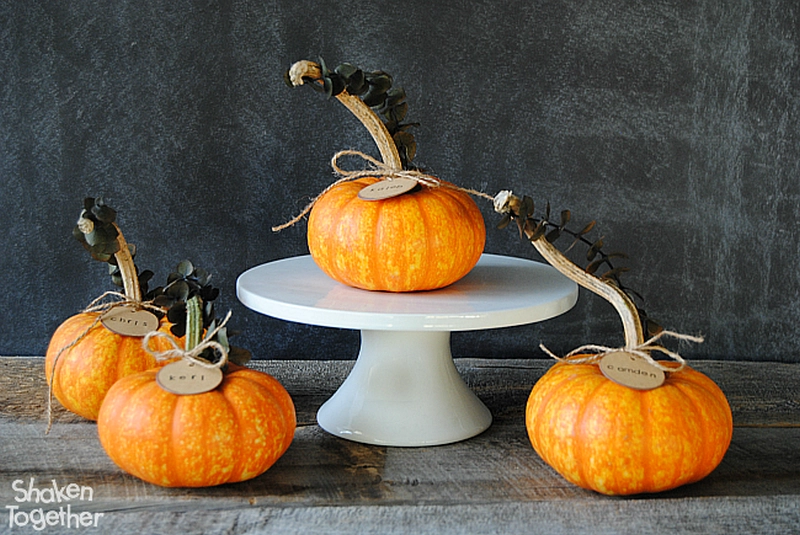 Halloween may be over but you can still charm visitors with this eucalyptus pumpkin place card. Hit your nearby grocery store and grab a pumpkin, some thread and a card stack to celebrate the occasion. Read the full tutorial at A Night Owl.
Clay Place Card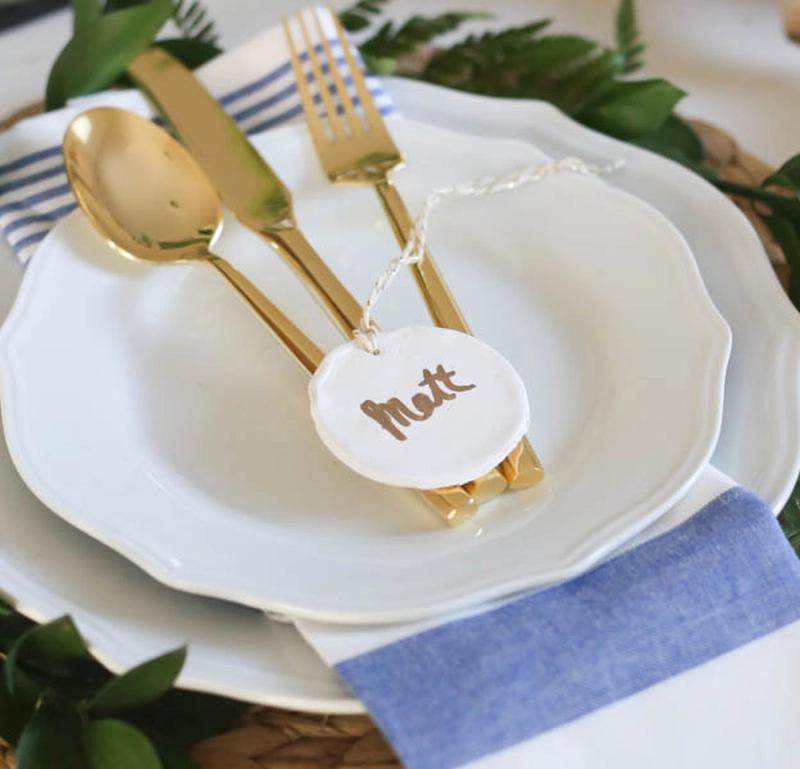 A clay place card with the name of the guest written with a metallic marker is truly intriguing. It will extend a warm welcome amidst your table setup. The full tutorial is available at Making Home Base.
Agate Slice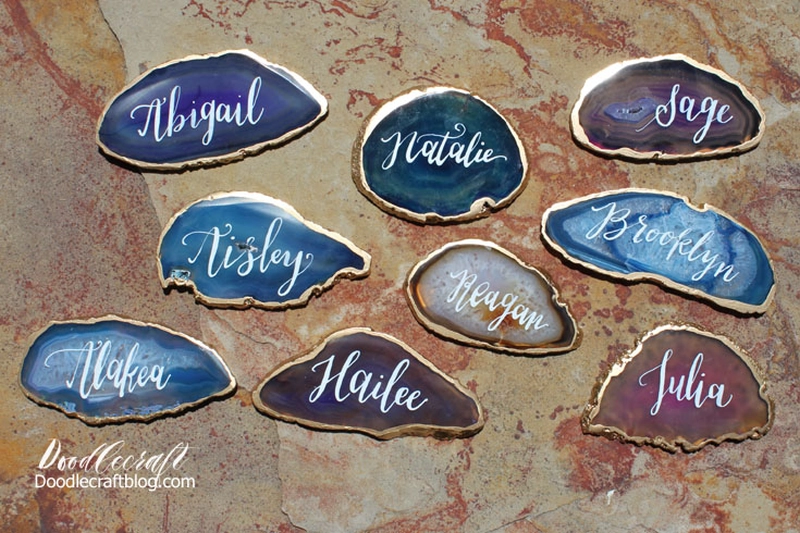 There is nothing fancier than finding your name card on a dinner plate. These little plate cards are really pretty and will fascinate your guests. Agate, gold liquid leaf and paintbrush are all you need to bring this project to reality. Read the full tutorial at Doodle Craft.
Riverstone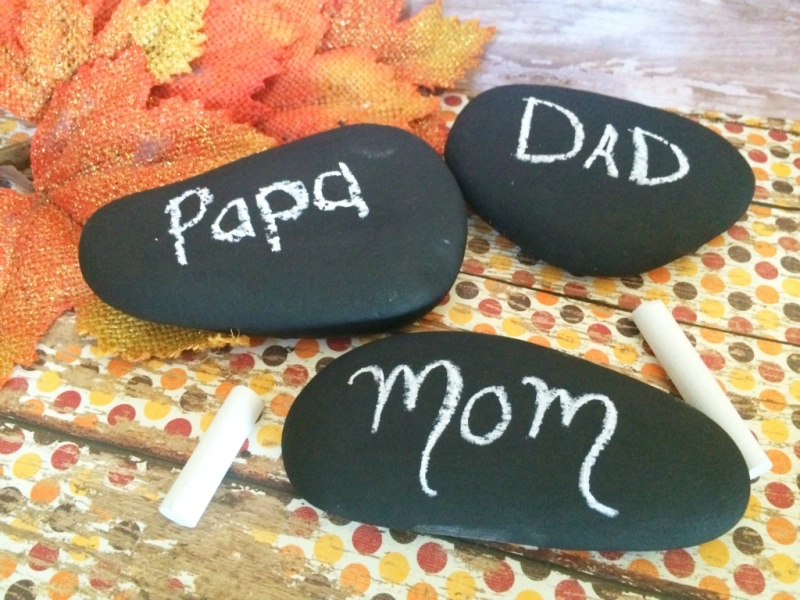 This may look absurd but a rock place card is a cute and the simplest way to thank your family and friends. The supplies you would require to pull this off are rocks of any size, a paintbrush, and chalk. The full tutorial is available at Take Time for Style.
Rosemary Wreath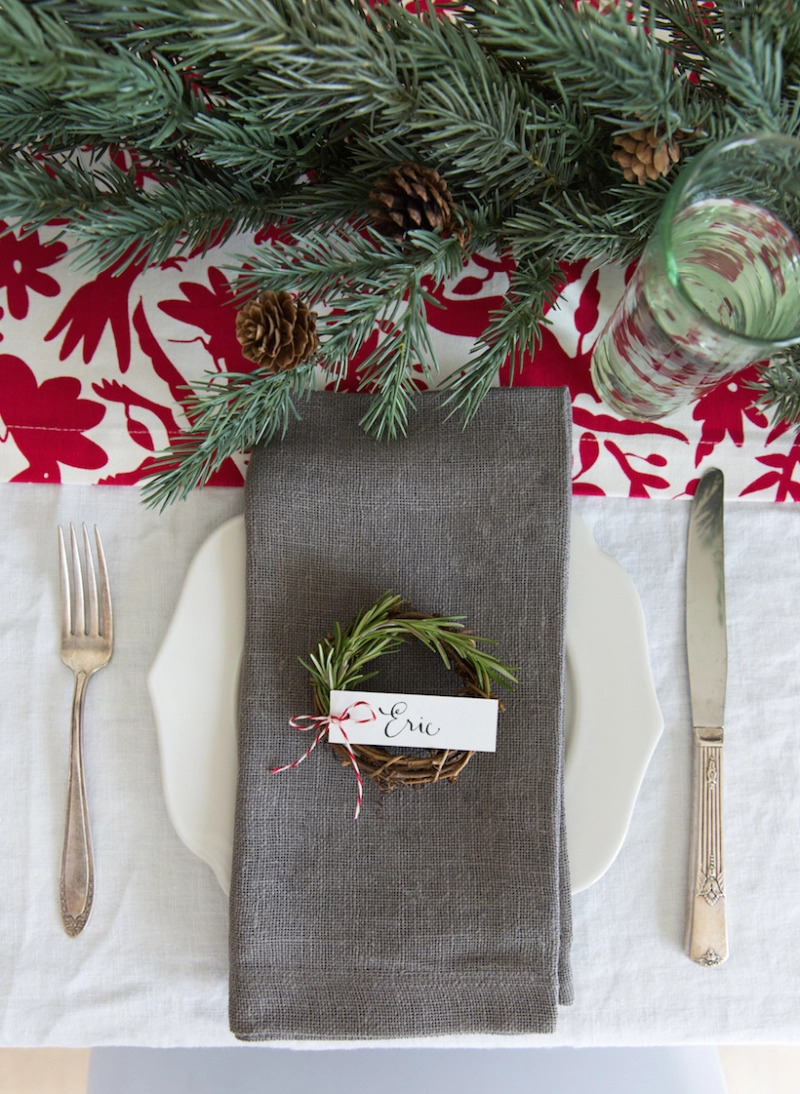 Rosemary wreath place card is neat, clean and very soothing to the eye. Nothing beats the grapevine when it comes to decoration. Combined, they add a natural element to your place and make everything look fresh. Check full tutorial at Camille Styles.
Gilded Pear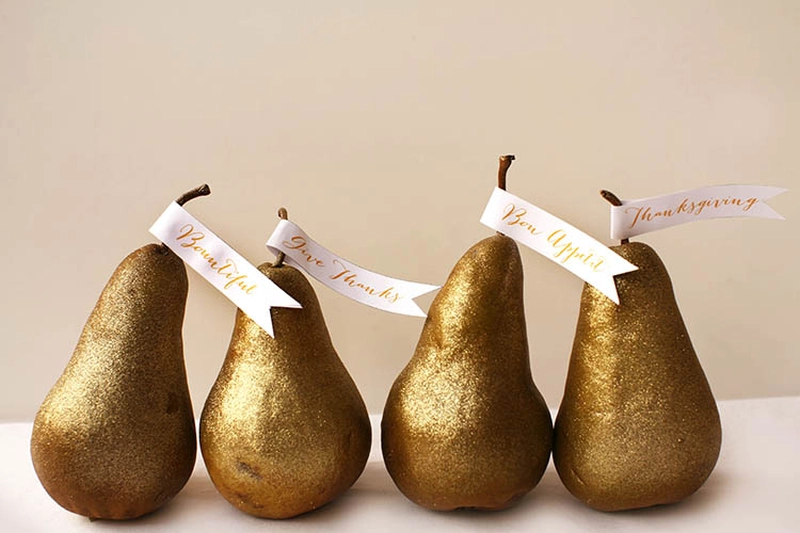 Glitter your pear in golden color and wrap a flag around each pear stem to offer a perfect setting for your guests. Tell your loved ones how thankful you are to them with a kind and sweet note on that wrapped flag. Read the complete tutorial at Freutcake.
Computer Printed Place Cards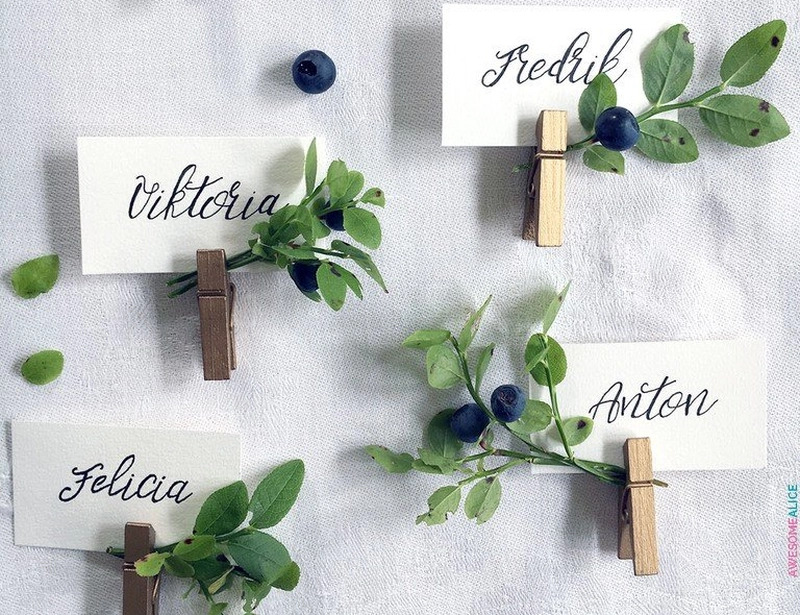 In case you have bad handwriting and you are worried about the prospect of writing your guests' name on the paper, do not worry. Use your computer and word processing program and simply print the names and offer your guest a warm Thanksgiving welcome. Read the full tutorial at Awesome Alice.
Acorn Emoji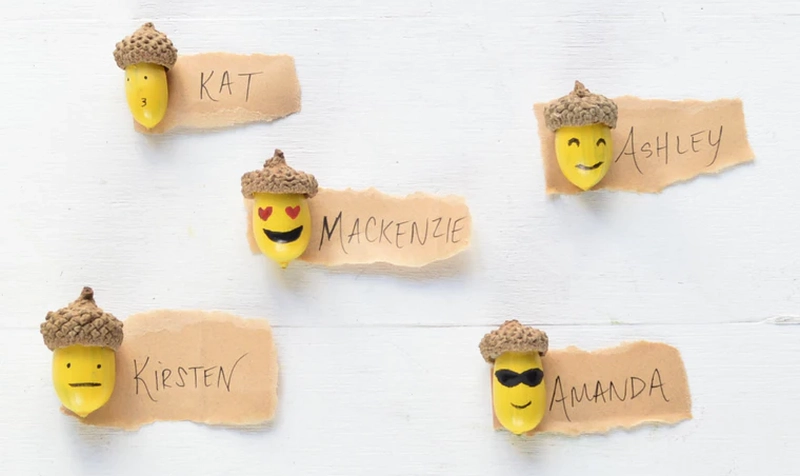 Put together these simple place cards with acorns, glue, and spray paint. These acorn emojis are so darn cute that your guests will absolutely be in awe of them. Moreover, you can match the emoji that best suits the personality of individual guest. Check the full tutorial at Bustle.
Corn Husk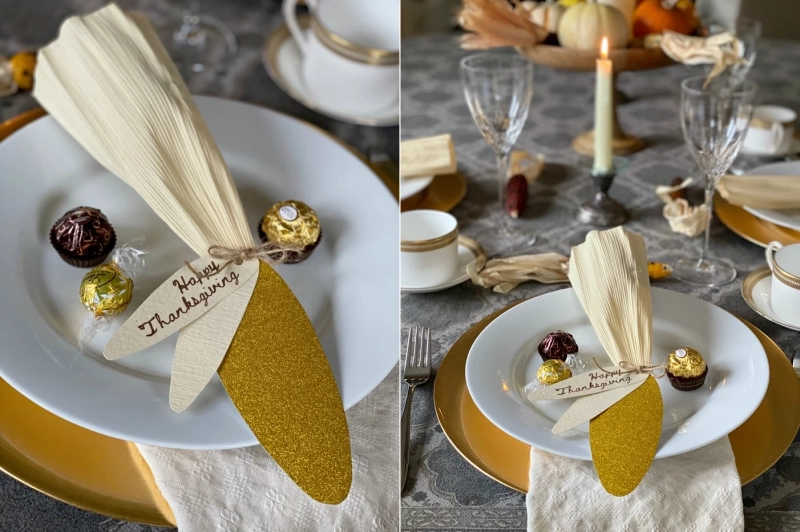 Use corn husk and gold glitter card stock to create this fancy place card. They are an absolute show stopper and a great way to welcome guests to your home. The complete tutorial is available at Satsuma Designs.
Also Read: Easy DIY Thanksgiving Decoration Ideas
Chalkboard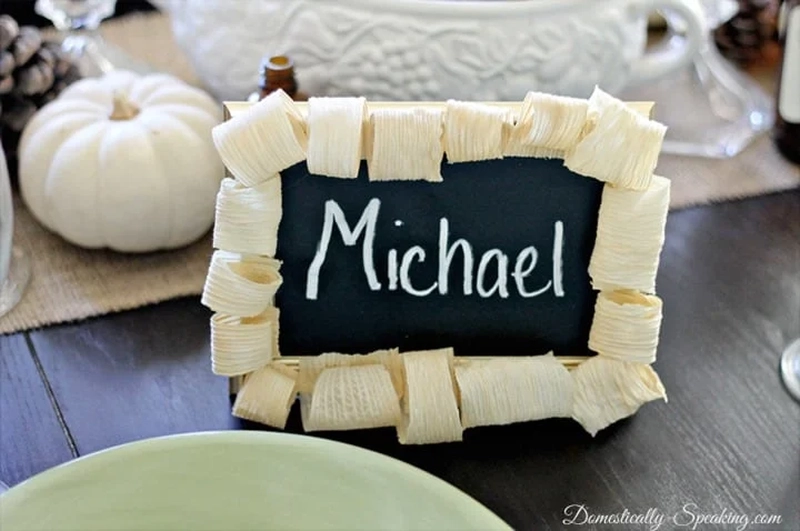 A chalkboard decorated with corn husk makes the perfect place card you will ever see. The corn husk frame acts as a perfect keepsake for your guests. These little corn husk loops will remind you of old Thanksgiving dinners you've had at your grandparents' house. Hop on to Domestically Speaking for the complete tutorial.
Cinnamon Stick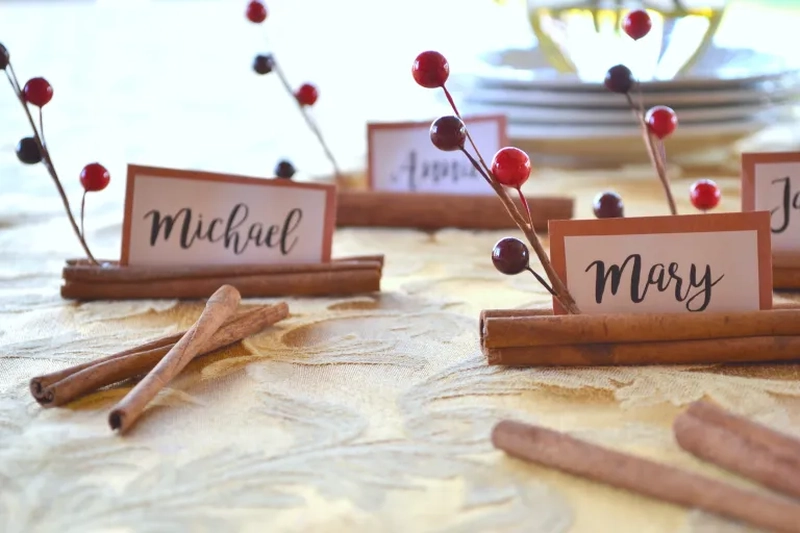 Simple, sophisticated, and serene would come in the anatomy of this Cinnamon stick place card. Easy to make, the place card will be a perfect welcome gesture for your family and friends. Add little embellishments to the place cards with some berries alongside the name of the guests. Check the complete tutorial at The Cofran Home.
Embroidered Leaf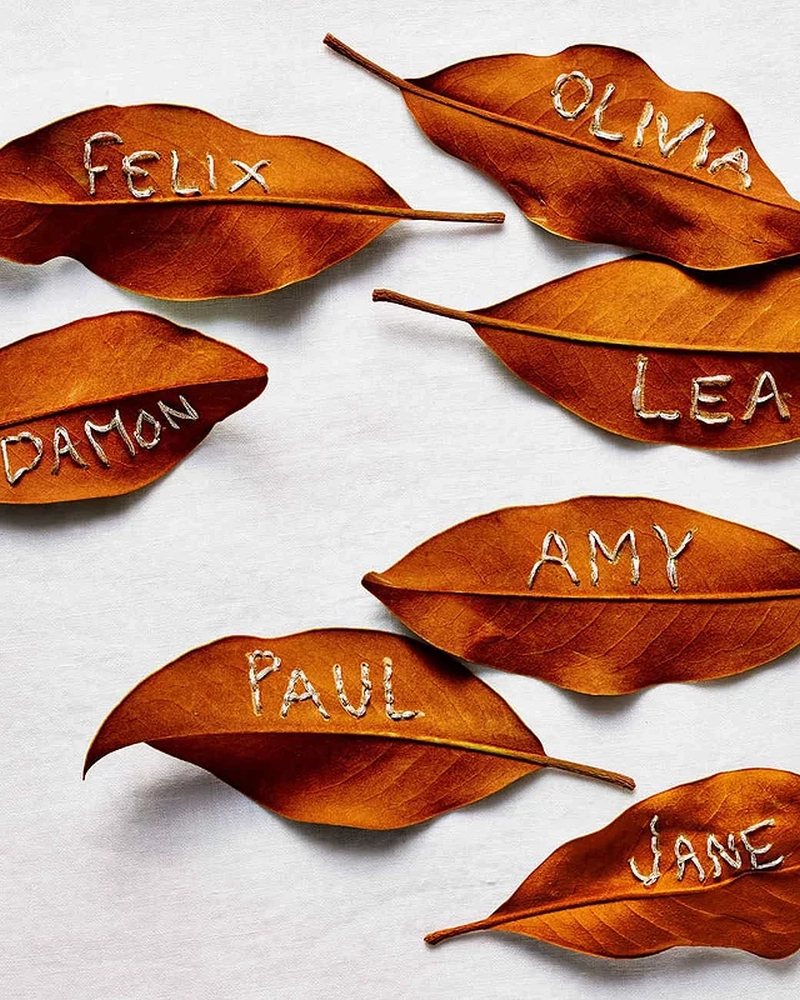 This is one of the most intriguing yet difficult DIY Thanksgiving place cards to be made. You would require magnolia leaves, plastic yarn needles, and gold marker to pull this off to perfection. The full tutorial is available at Martha Stewart.
Toilet Tube Haystack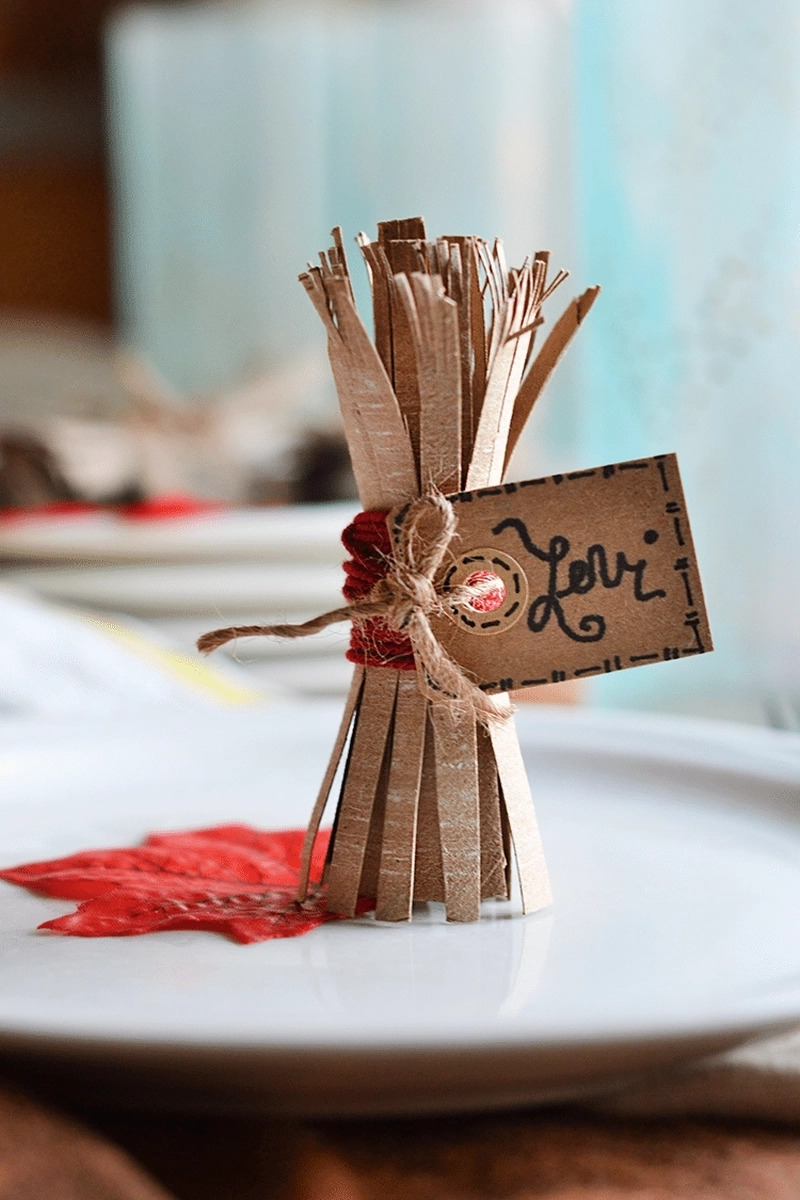 Toilet tube haystack place cards are a complicated setting but worth spending your time over. Paper tube, color twine, and tags are the essential items you require to make this DIY place card and holder. Read the full tutorial at Nellie Bellie.
Also Read: Best Thanksgiving Quotes
Turkey Feather

A cork, toothpick, and paper would be enough for you to make this DIY Thanksgiving place card. Impress your guests with this feathered piece and bring a bright smile to their faces. Read the full tutorial at Almost Makes Perfect.
Thanksgiving card holder crafts
Starbuck Bottle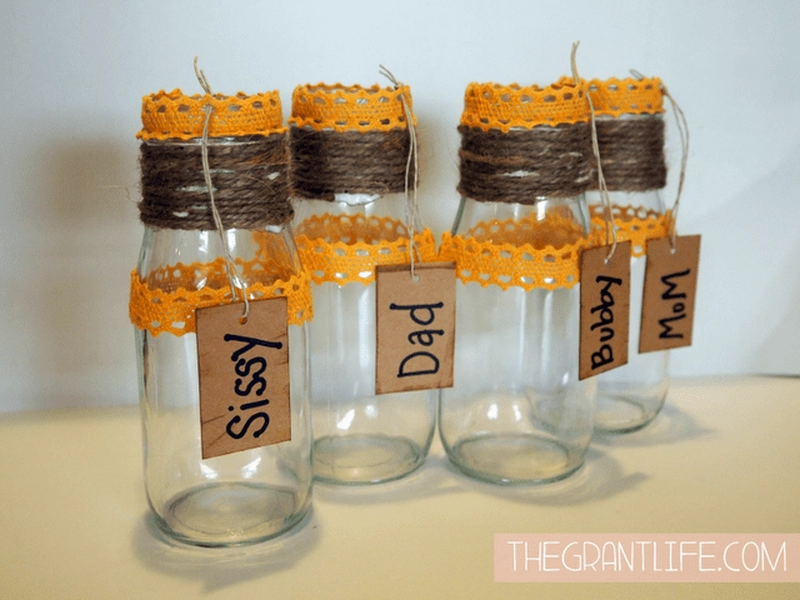 Help guests find their seats with these pretty place cards hanging on upcycled Starbucks bottles. All you'll need is some old bottles, name tags, and lace tap to decorate and wait for the holiday season to strike. Read the full tutorial at Mom Makes Dinner.
Twig Place Card Holder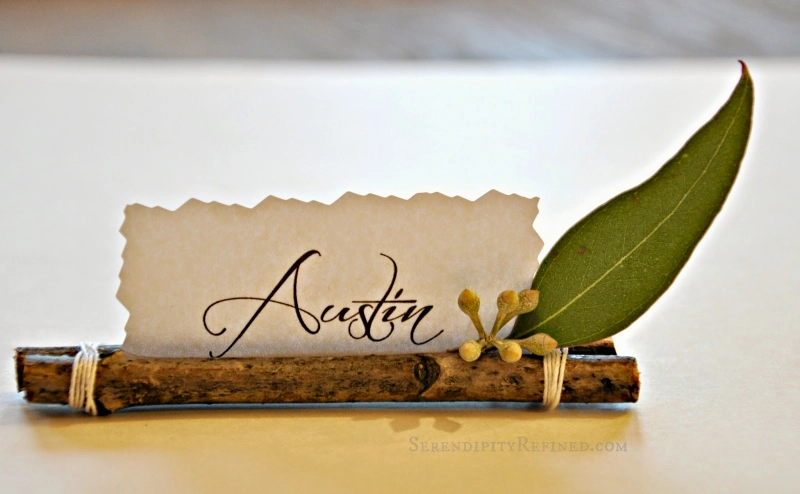 If you are looking for something quick, easy and rustic, gather a few fallen twigs and eucalyptus from your backyard and tie them with glue and twine. Write the names of your guests on cards and place them between the twigs. Follow the complete tutorial at Serendipity refined.
Golden Pine Cone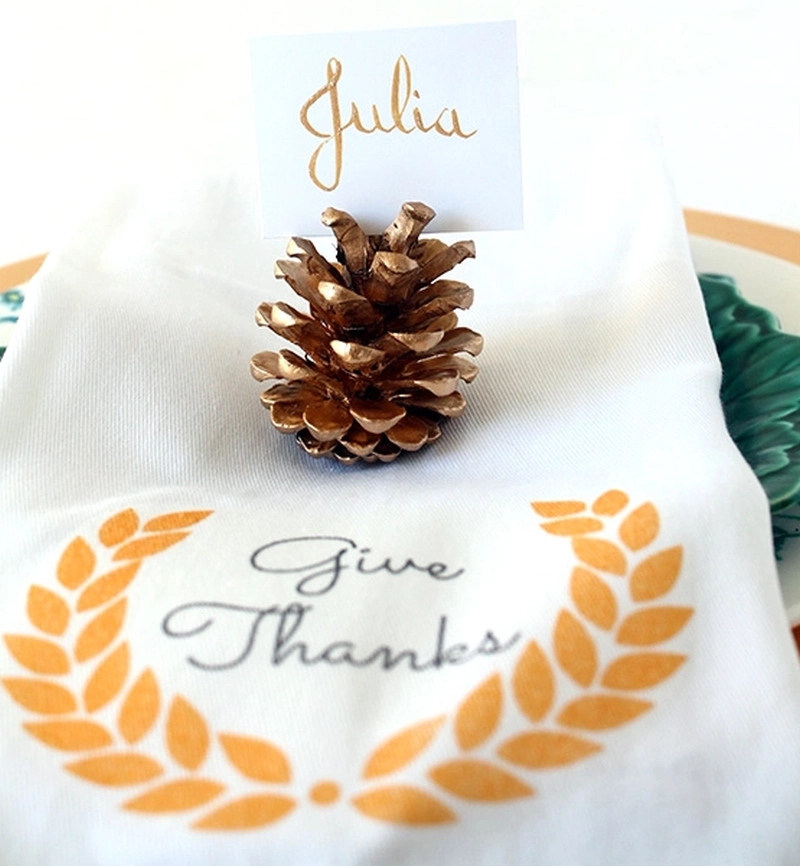 Undoubtedly, this has to be one of the easiest DIY place cards and holders. Cardstock, pine, and golden glitter are all you require to pull this off. The full tutorial is available at Squirrelly Minds.
Sailboat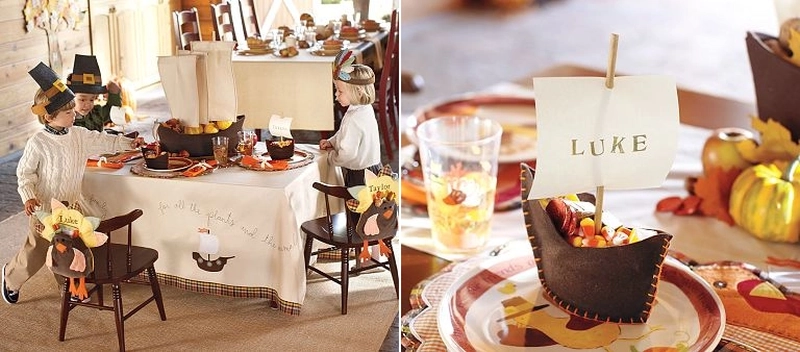 These sailboat holders double duty as a treat holder and a place card holder. They look super cute and can be gifted to children as well. Make your own sailboat place card from brown felt, wooden dowel rod, and with some additional help from scissors and glue. Read the full tutorial at Sheek Shindigs.
Clay Bowl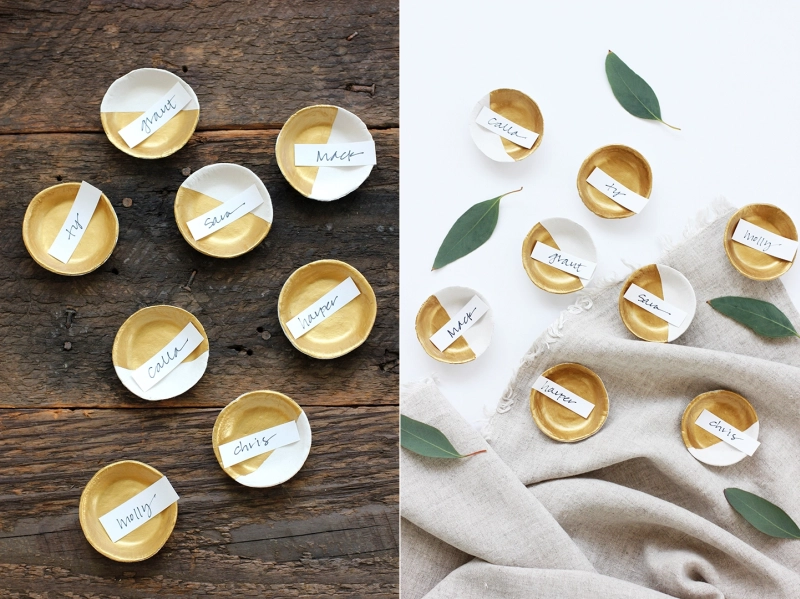 Clay bowl place card holder is a great idea that can indeed be used as a trinket when hosting a holiday dinner. The styling done on air dry clay looks really fantastic and will charm your guests. The full tutorial is available at Alice and Lois.
We are pretty sure you loved these DIY Thanksgiving place cards and holders. For more such content keep reading Homecrux as our team wishes you a Happy Fall.