Gobble Gobble! Thanksgiving is just around the corner and you must be busy browsing through Thanksgiving food and decoration ideas to create a warming environment to wow your guests. Set the mood for holiday celebration by making Thanksgiving decorations by yourself. This gives you opportunity to adorn your home in holiday cheer and also add some personal touch to it.
Decorating home for holidays doesn't mean you have to spend money large money on fancy objects. You can collect natural and artificial items around your home plus use some cheap decorations to create a festive environment for the occasion. Here are few DIY Thanksgiving decorations you can try out making this holiday season.
Table Runner
A beautiful table runner forms the centerpiece of your dining table. While serving Thanksgiving dinner, make sure you have the best looking table runner that looks intriguing from a distance as well. Making a table runner by yourself will allow you to save bucks and also charm your guests with its personalized appearance. Table runners can be crafted out of paper, napkins, clothes, etc.
Make a simple and sweet Thanksgiving table runner with a roll of butcher paper and craft paint. See Tutorial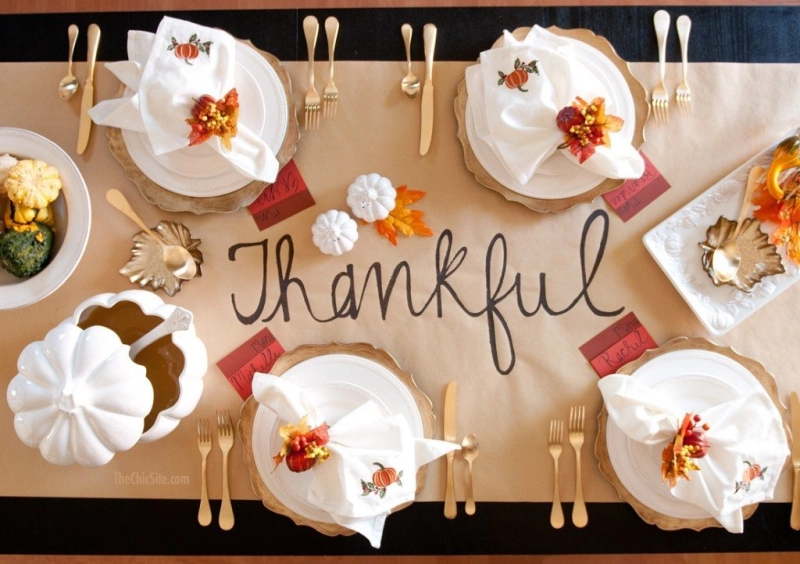 Different colors of paper leaf arranged into a quirky thanksgiving table runner. See Tutorial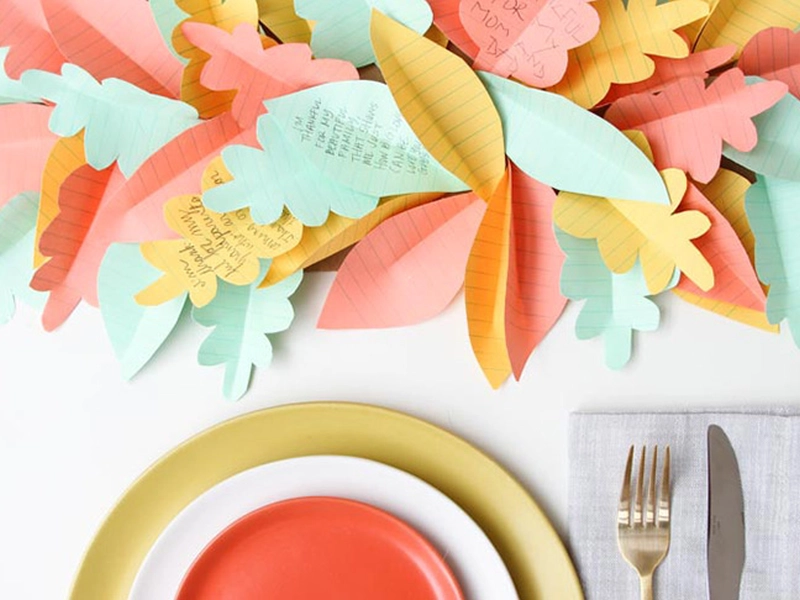 Thankful Banner
Well, Turkey Day seems incomplete without a Thankful banner in the center of your decorations. If you have a creative hand, it won't be hard to craft a holiday-themed banner. And even if you are not much creative, you can buy a few things and create a simple banner yourself.
Craft a banner using unfinished wood banner squares you can get from any shop. You could paint on them a variety of Thanksgiving phrases. See Tutorial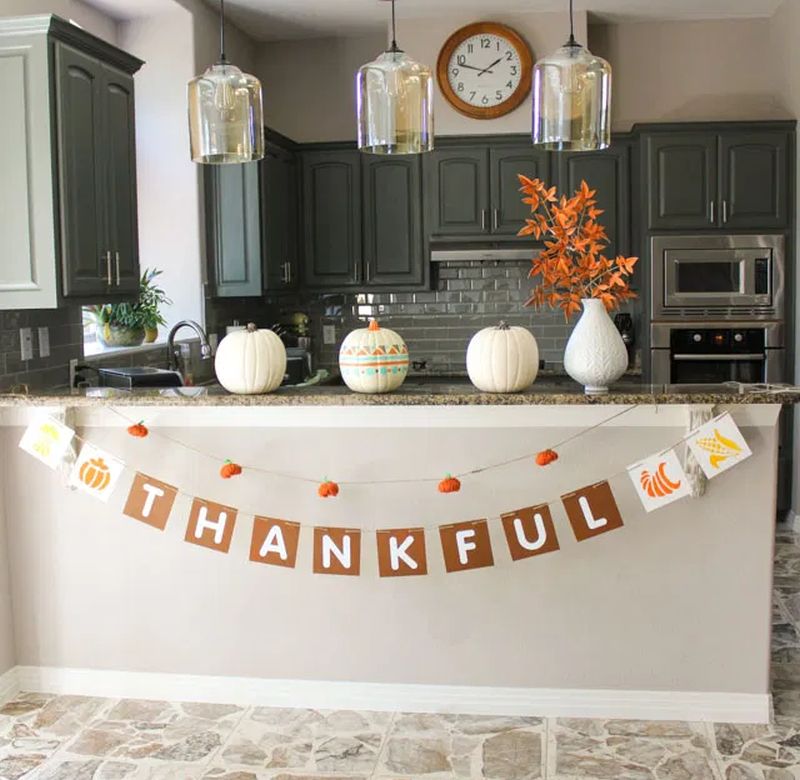 Cut out felt letters and paste them over burlap banner to make it look really attractive. Use felt leaves for decoration. See Tutorial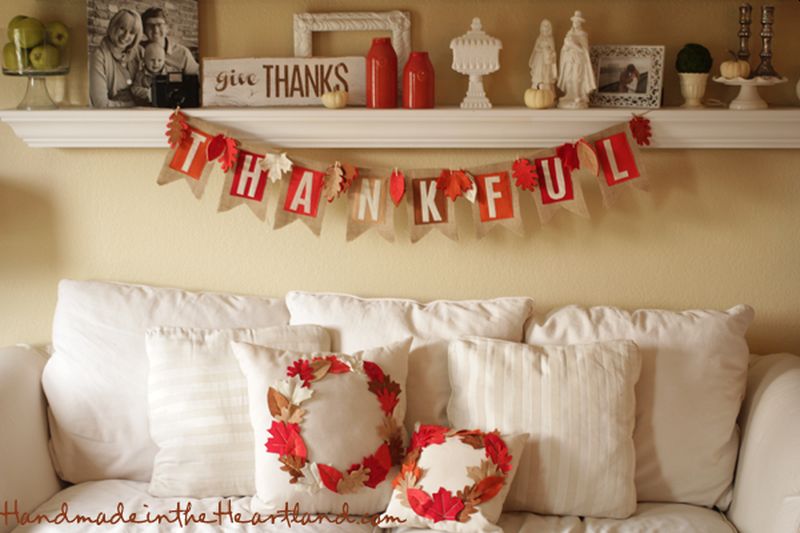 You simply tie a bunting onto a grapevine wreath along with some jute string for this DIY. See Tutorial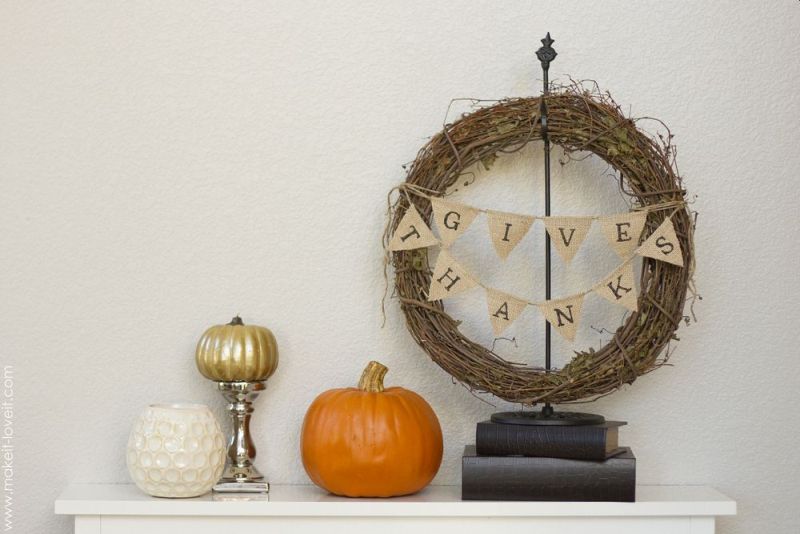 Thanksgiving Wreaths
Wreaths are one of the most common holiday decorations. You can make one using a wreath base, which you need to cover in several materials like burlap, mesh, paper, etc. Keep adding other decorations as per your desire; you can even add flowers or leaves on it to make it more beautiful.
Wrap the base wreath with burlap and decorate with rolled burlap flowers. Glue the scrabble tiles in the last. See Tutorial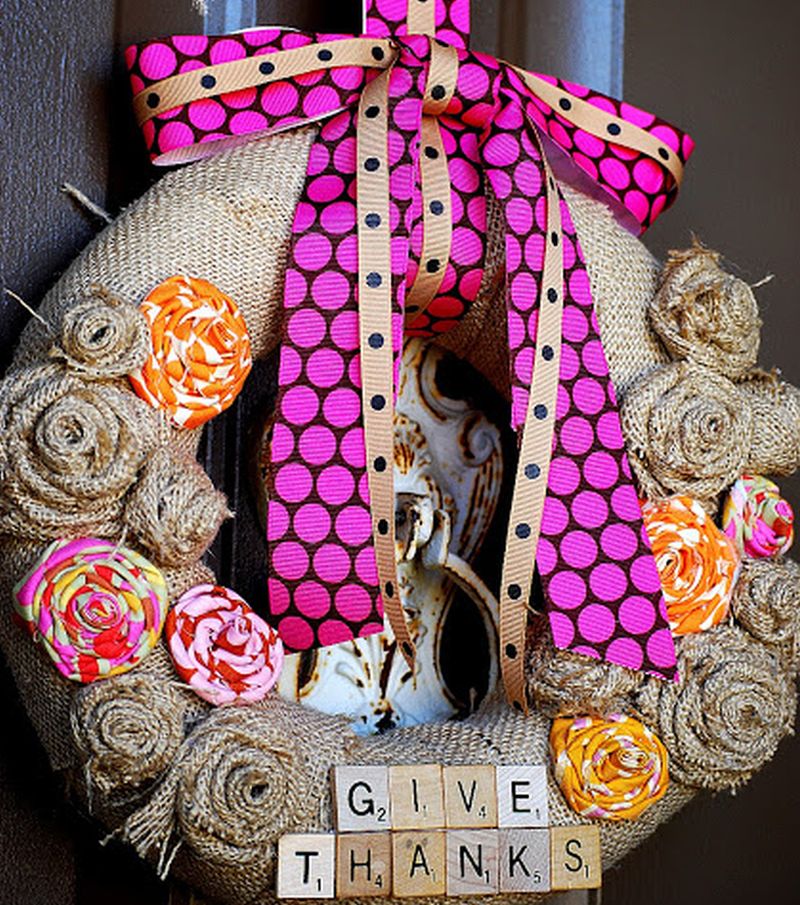 Make a simple harvest wreath with autumn leaves and silk flowers arranged in different ways. Finish with a themed sign and ribbon. See Tutorial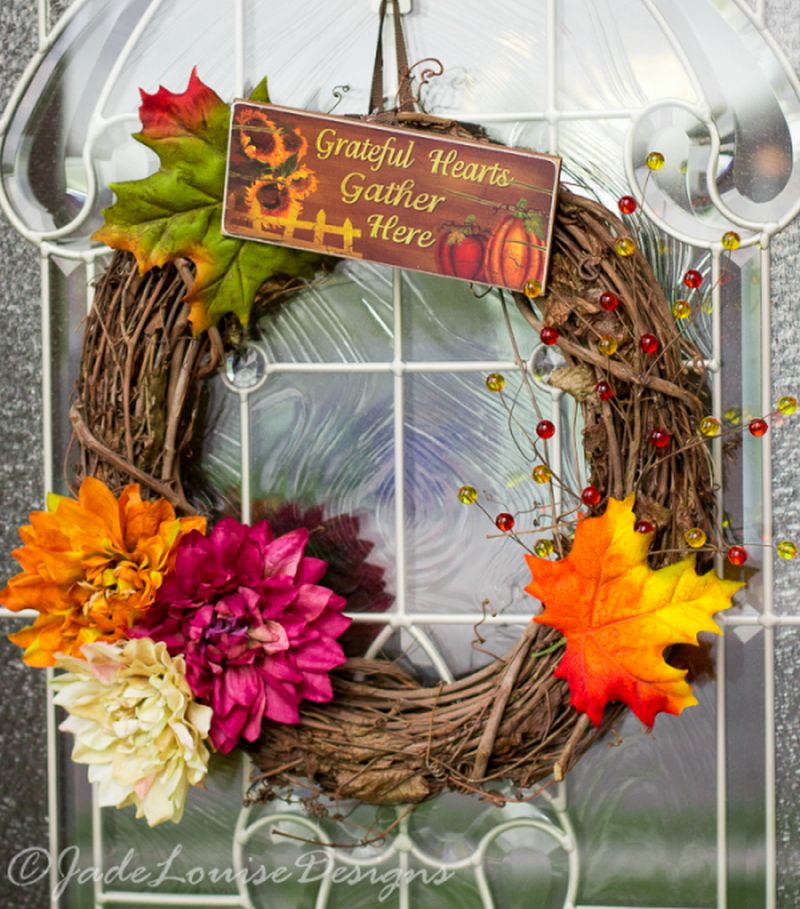 Use a store-bought fall wreath and decorate with Hydrangea flowers. Add a Thanksgiving sign in the center. See Tutorial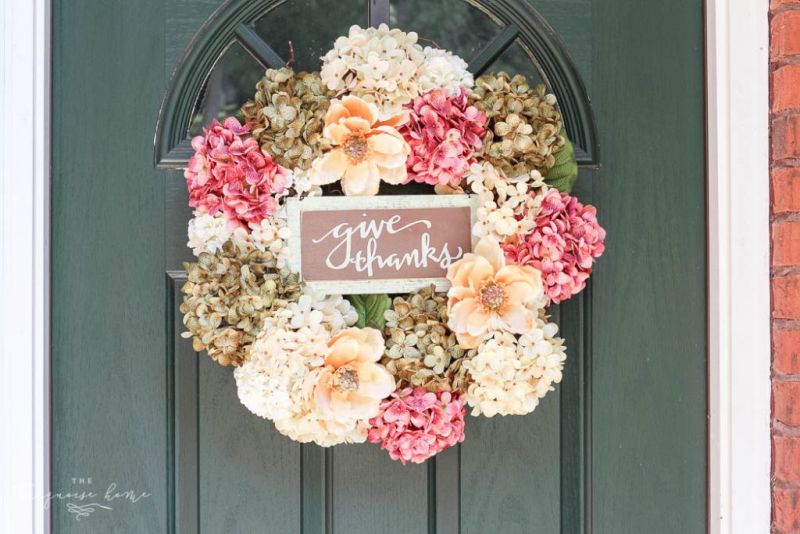 Make this beautiful Thanksgiving wreath with mesh curls. It's a super simple DIY and will look amazing on your front door. See Tutorial
You can make a Thanksgiving wreath with leaves cut from paper in various pastel colors and metallic shades. It will be a gorgeous seasonal work of art. See Tutorial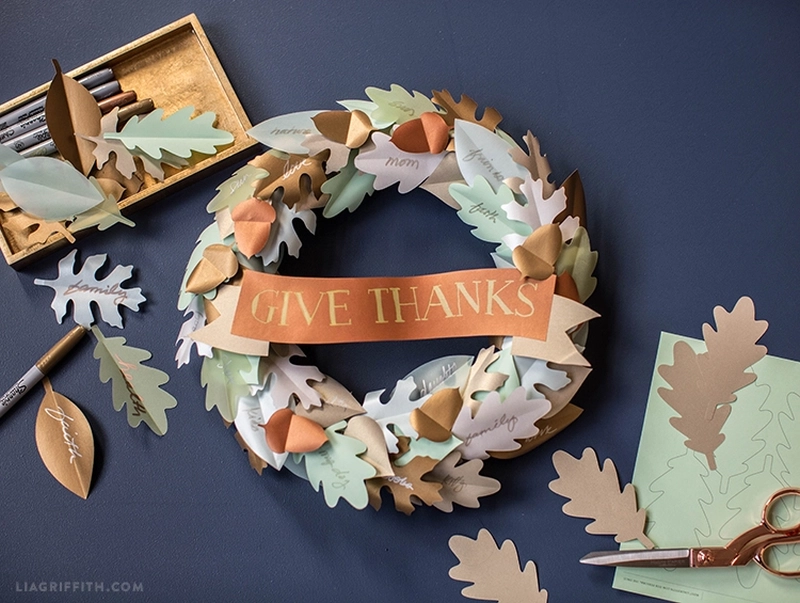 Thanksgiving Decorations from Mason Jars
Create striking decorations for the occasion using legendary mason jars. You just need to decorate the jars in a unique way. You can also paint them in fall colors. Place a candle or some other light source inside the jar to scatter soothing ambiance of light throughout your room.
Take some fake autumn leaves and glue them on a mason jar in a creative pattern. Raffia tied at the top finishes off the fall craft. See Tutorial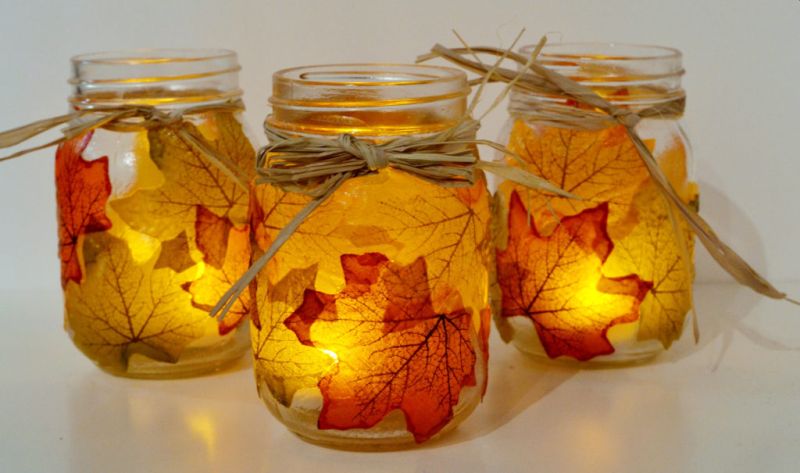 Hanging mason jars filled with dried fruits for fall décor. Add votive candles or tea lights and you're done! See Tutorial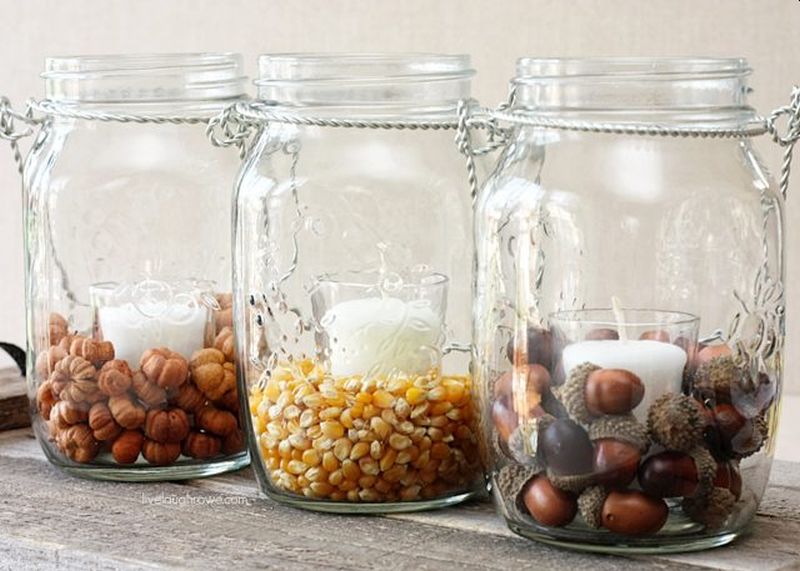 Use a vinyl leaf decal to add a pattern while you hand paint the mason jar in your favorite color. Add a final touch with a twine ribbon on the top. See Tutorial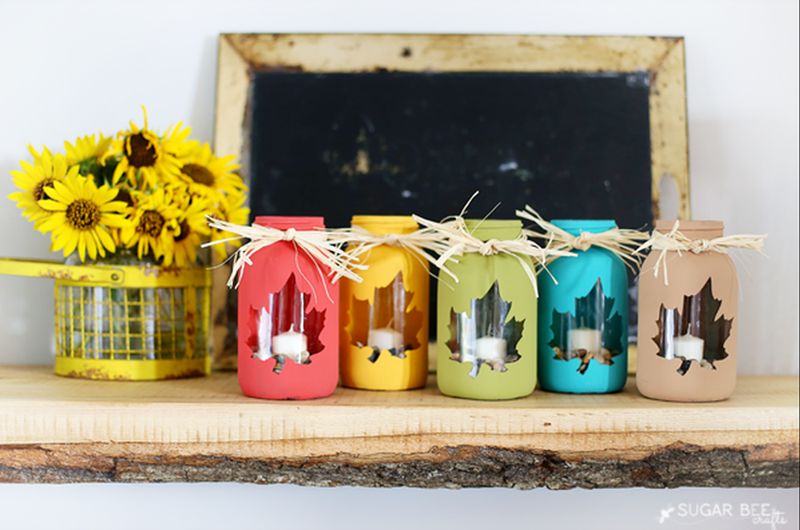 You are going to love this beautiful Mason jar craft for thanksgiving décor. The jar is painted white and is filled with wheat spikes. See Tutorial
Wine Bottle Crafts
Dash your house with wine bottles for your Thanksgiving dinner. Make sure you don't forget to give an artistic touch to your wine bottles. It is totally up to you whether you want to paint them completely or write something partially on them. Do not forget to add some faux flowers inside the bottle to make them look fancy and attractive.
You can easily make this turkey wine bottle for Thanksgiving decor. Attach a couple of autumn leaves to the back of the wine bottle top and then, add two googly eyes, a red felt wattle, and a yellow felt beak to complete the project. See Tutorial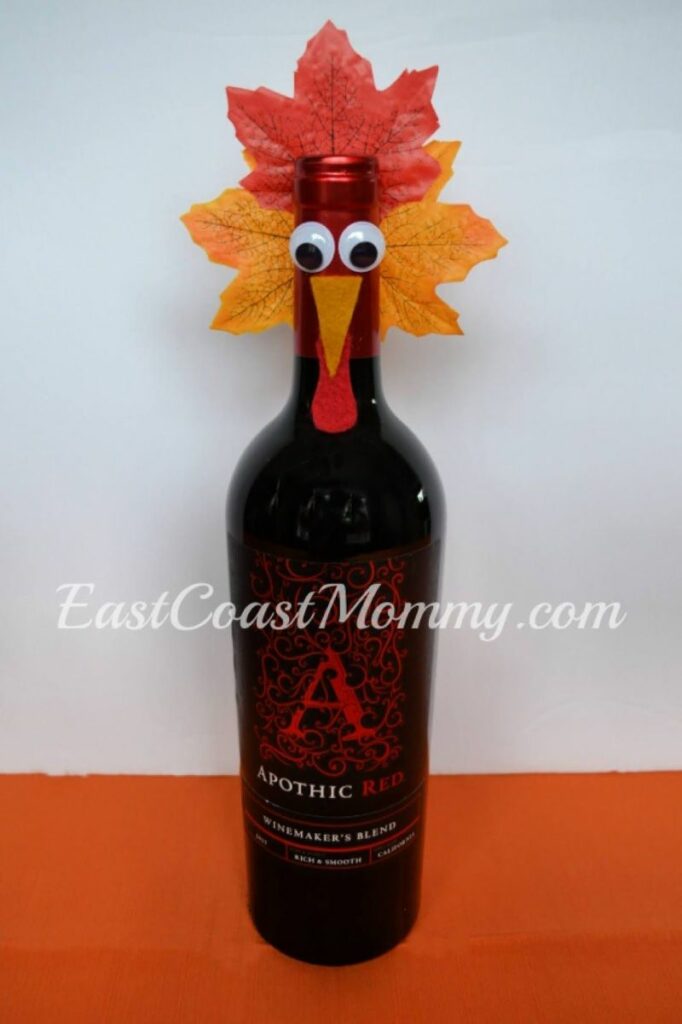 Recycle wine bottles into Thanksgiving décor with spray paint and twine. Letter stickers are used to spell GIVE THANKS. See Tutorial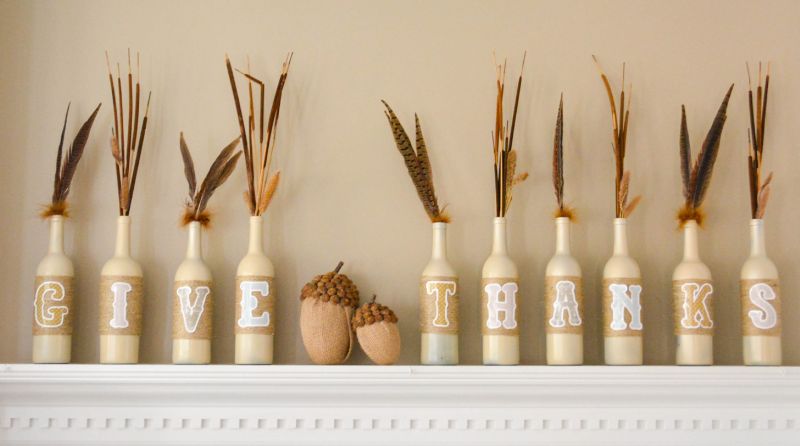 Turn your empty wine bottles into beautiful home decor with some craft paint. It would make a fantastic flower vase. See Tutorial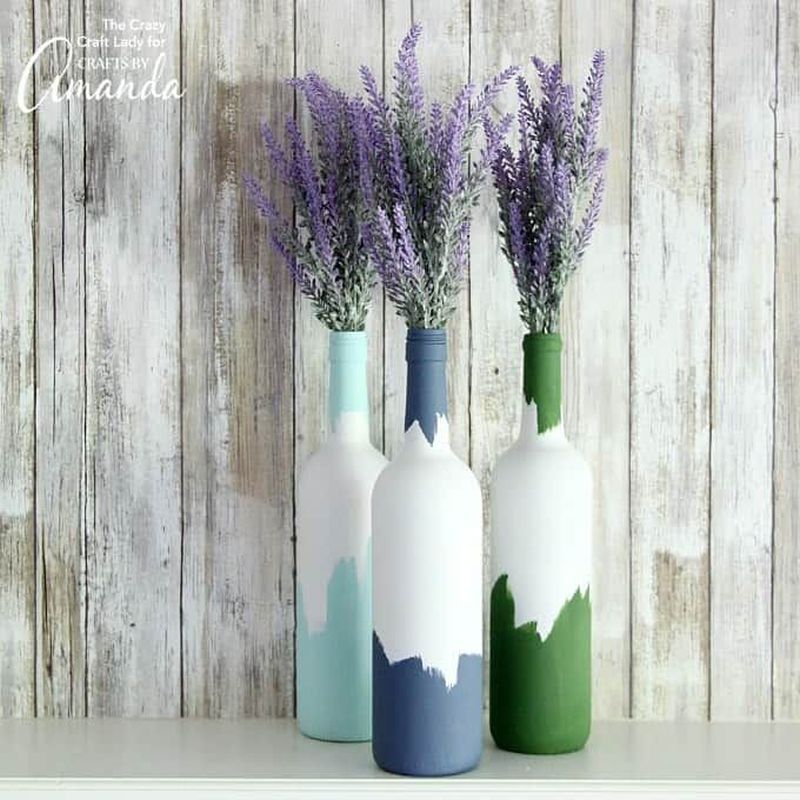 The frosted wine bottle and some greenery will make a cool centerpiece. Add twinkle lights inside the bottle to make it feel cozy and elegant. See Tutorial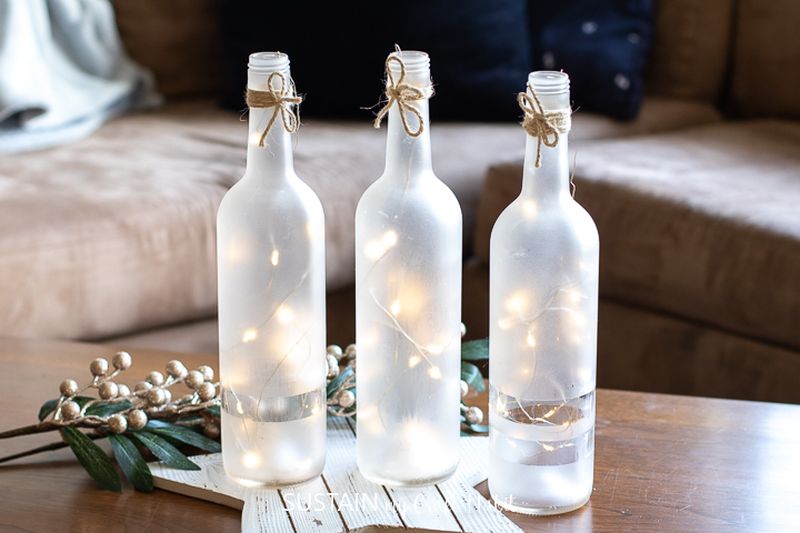 Floral Attractions
You can never go wrong with flowers, be it any holiday. They not only fill the place with fragrance but elevate the aesthetic beauty as well. You can put vases on the center table, or try different materials as vases for your colorful flowers.
Create a beautiful pumpkin vase using a faux craft white pumpkin, dried flowers, grass, pinecones, and fall berries. See Tutorial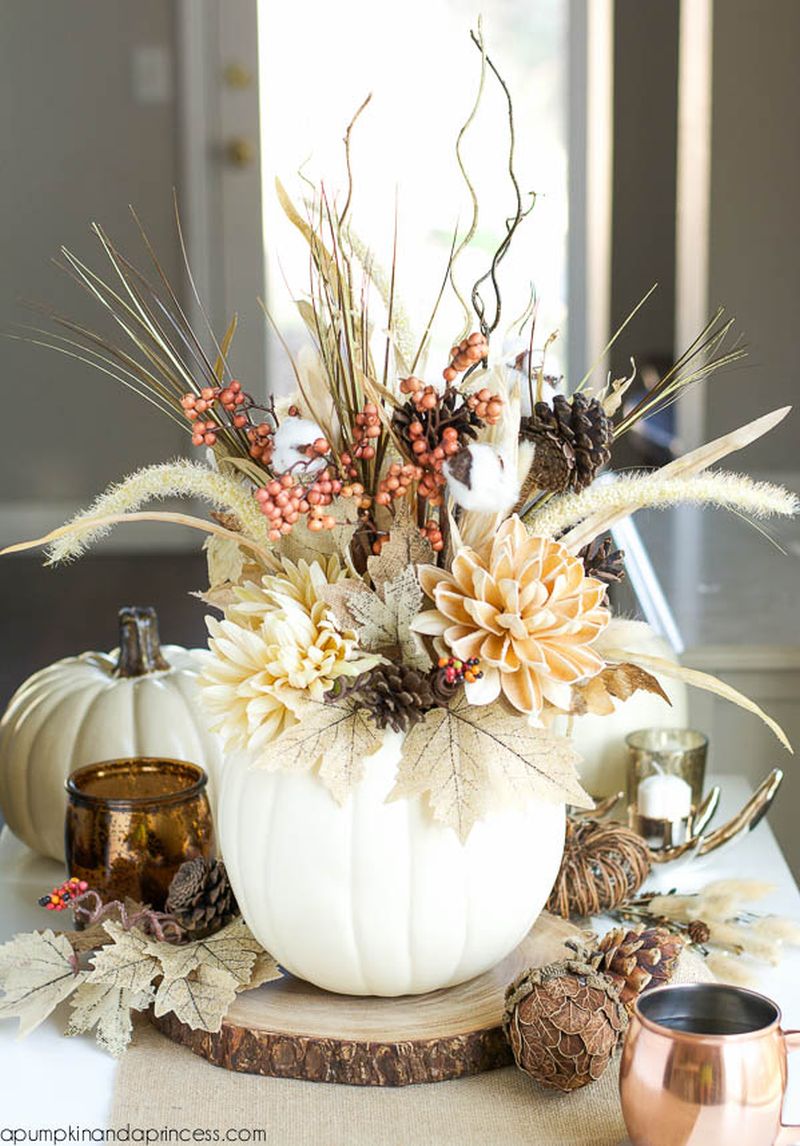 You can start with a small pumpkin and a bunch of flowers to make this centerpiece. Fill the pumpkin with water to keep flowers fresh for longer. See Tutorial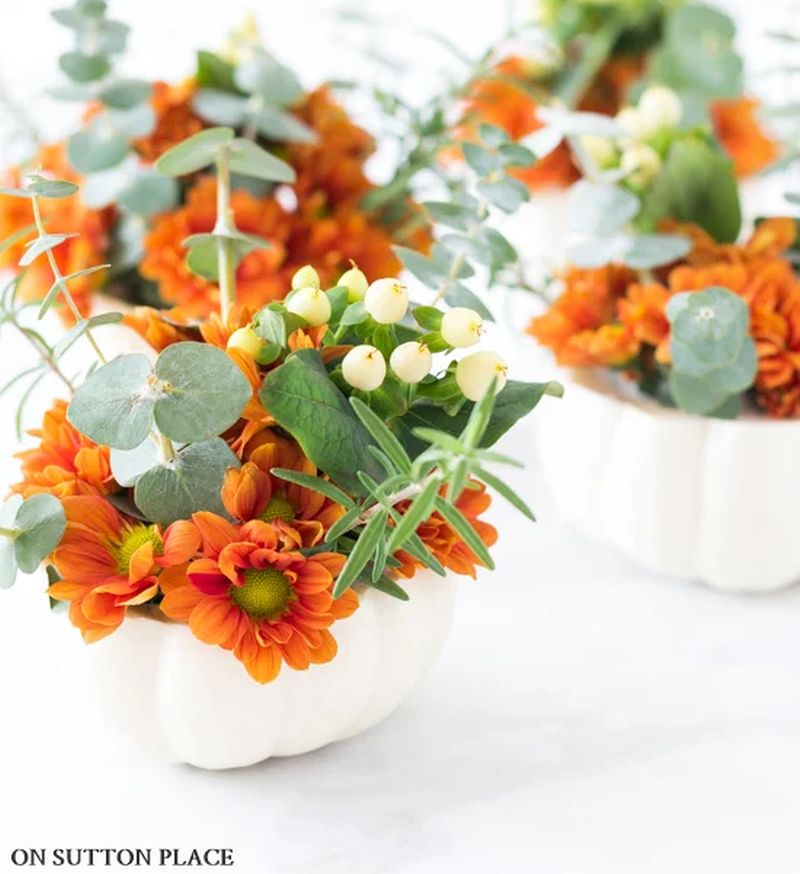 Make a mini pumpkin flower arrangement for a fall dinner party. You can use white pumpkins, white berries, russet mums, and rosemary for the project. See Tutorial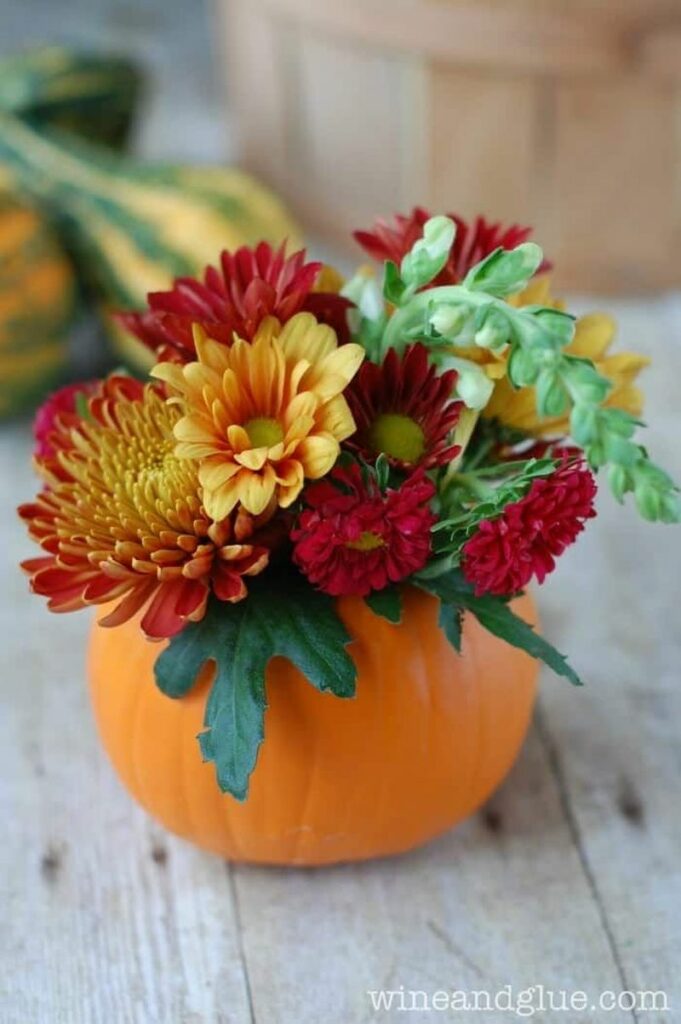 This DIY Thanksgiving floral centerpiece looks simple and elegant on dining table. You can simply place some roses, red mums and other flowers in a pumpkin vase. See Tutorial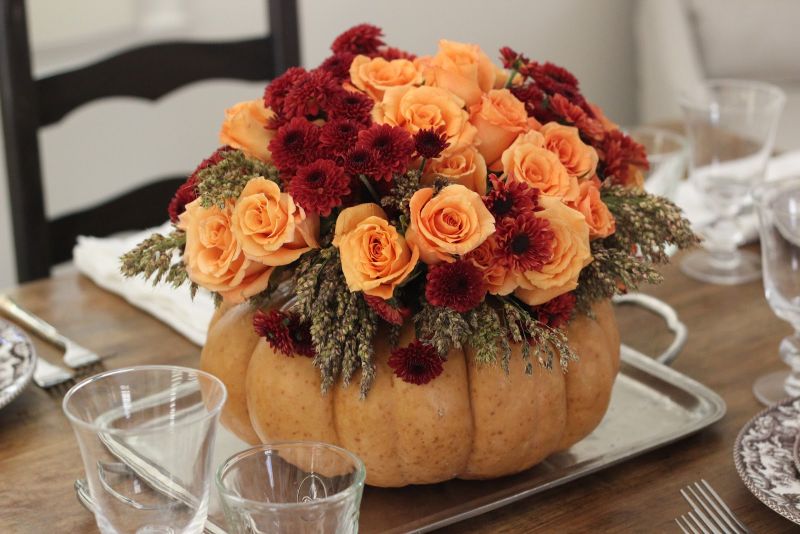 This golden-hued Thanksgiving floral centerpiece amalgamates traditional fall flowers with unexpected elements. The flowers are showcased in a modern vase. See Tutorial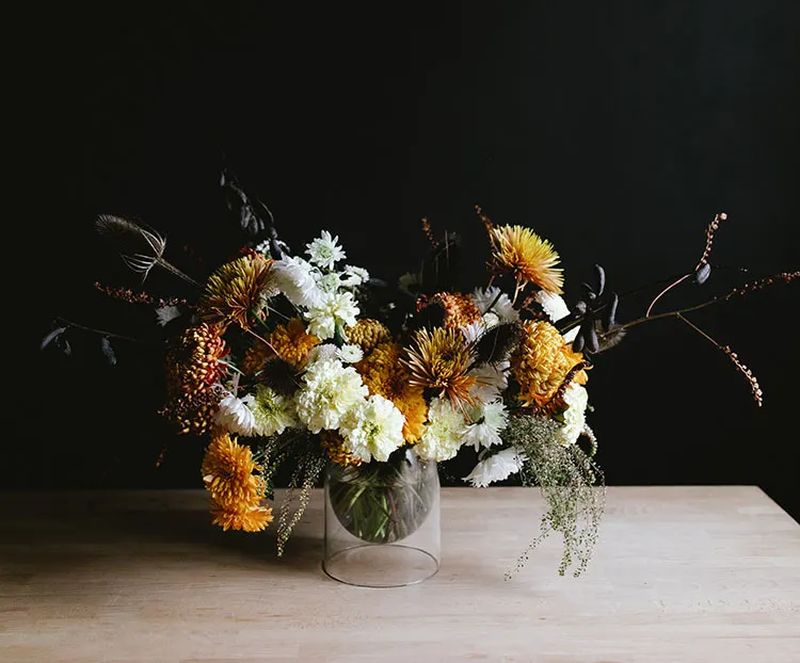 Thankful Tree
If you don't like the idea of a simple message board, then you can create a fancy thankful tree to hang paper with messages using a thread. Use dried sticks of tree branches to form an artificial tree decoration that can be placed on a shelf or tabletop. Give your guests a piece of paper to write down their messages and tie them on different branches.
Take a peek at this DIY thankful tree with colorful paper rounds featuring beautiful patterns. See Tutorial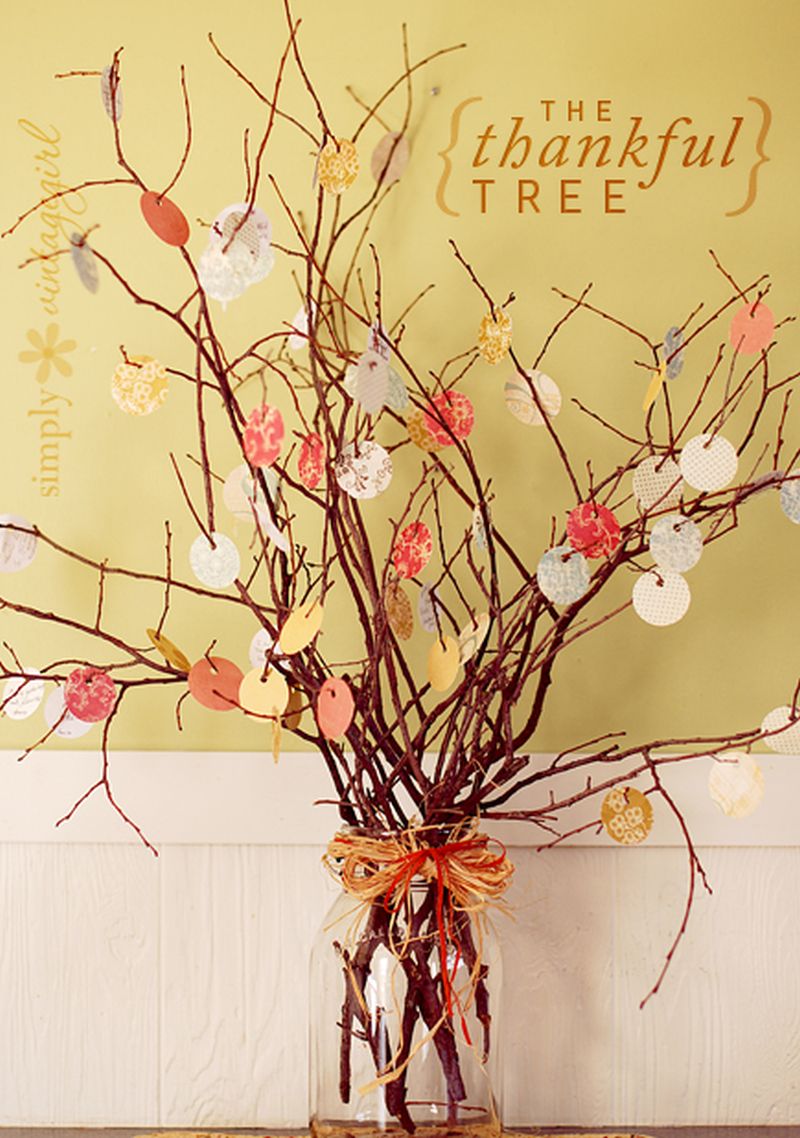 Make a gratitude tree for Thanksgiving Day that is decked with paper maple leaves. A bonus element in this craft is acorns. See Tutorial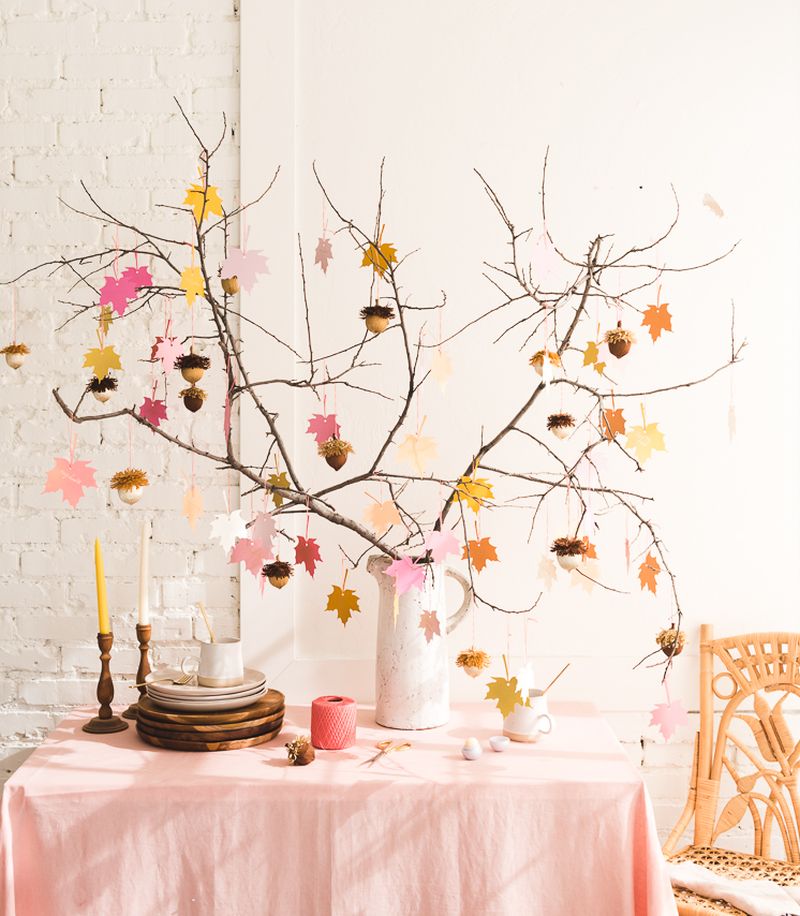 It is a simple Thanksgiving activity and craft for kids. They will love making paper leaves, writing notes on them and pasting to a tree branch. See Tutorial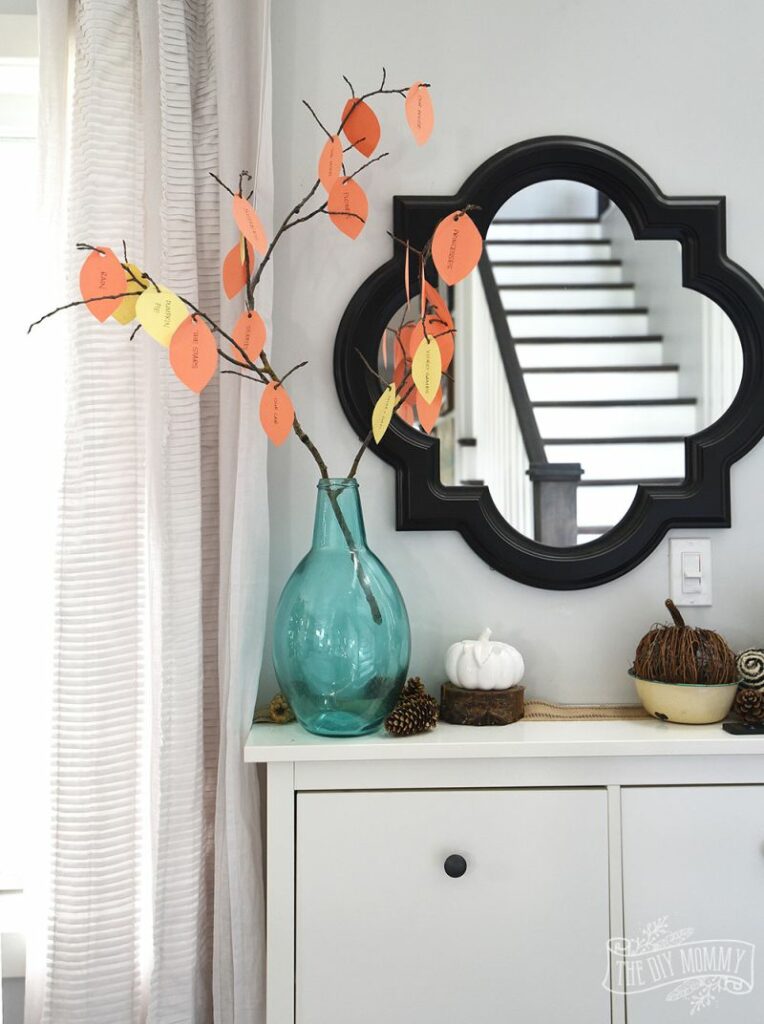 Create this nicely decorated tree with maple leaves that celebrates the spirit of Thanksgiving. It's a fun project for the whole family. See Tutorial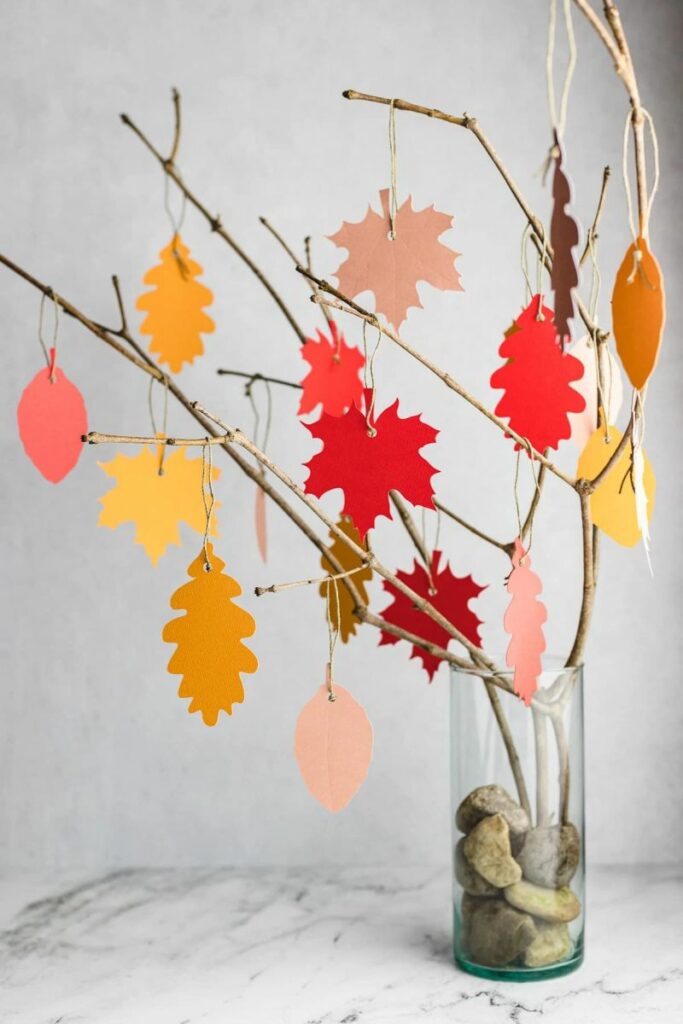 Pinecone Thanksgiving Decorations
Using pinecones you can make a garland or wreath for Thanksgiving decor. You can color these pinecones into different shades or glitter them up. These decorations can be placed inside or outside your house to embellish the look of your home for the holiday.
Simple pine cones can be a cool addition to Thanksgiving table decoration. You can also group them into a centerpiece. See Tutorial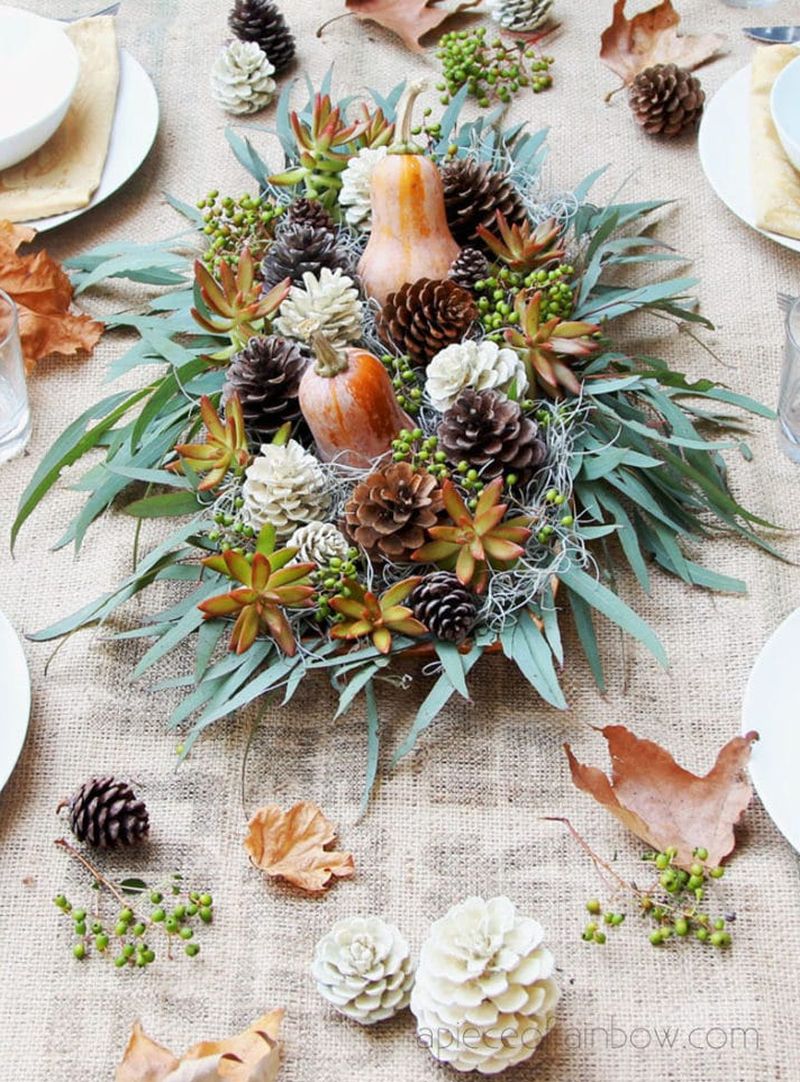 This painted pinecone turkey is fun decoration for Thanksgiving. You can make the face with felt and googly eyes and even add some feathers on the back. See Tutorial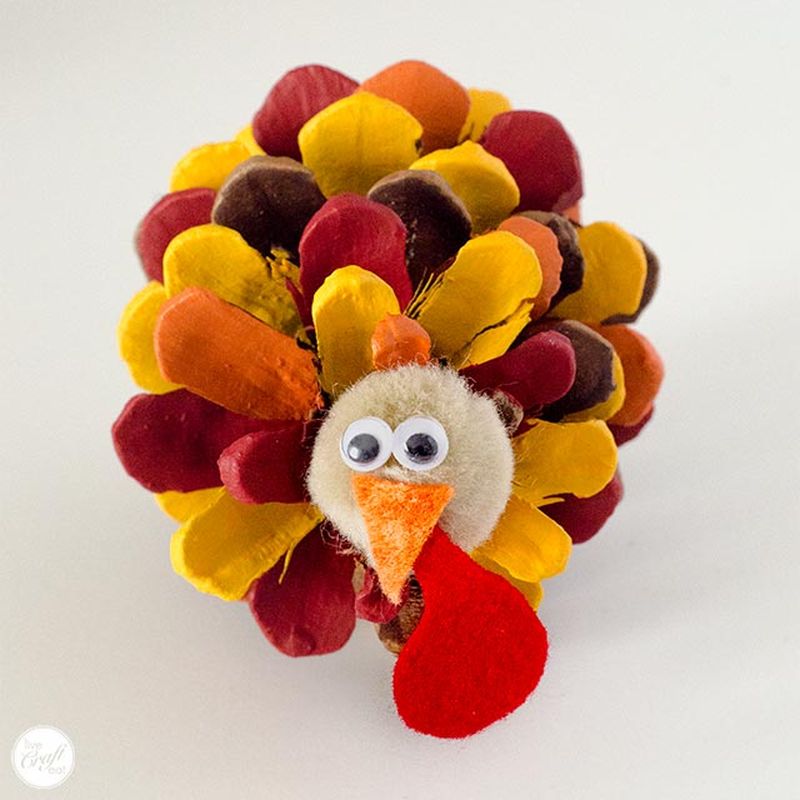 Make a colorful paint dipped pinecone wreath. It is an easy to make fall themed DIY craft. See Tutorial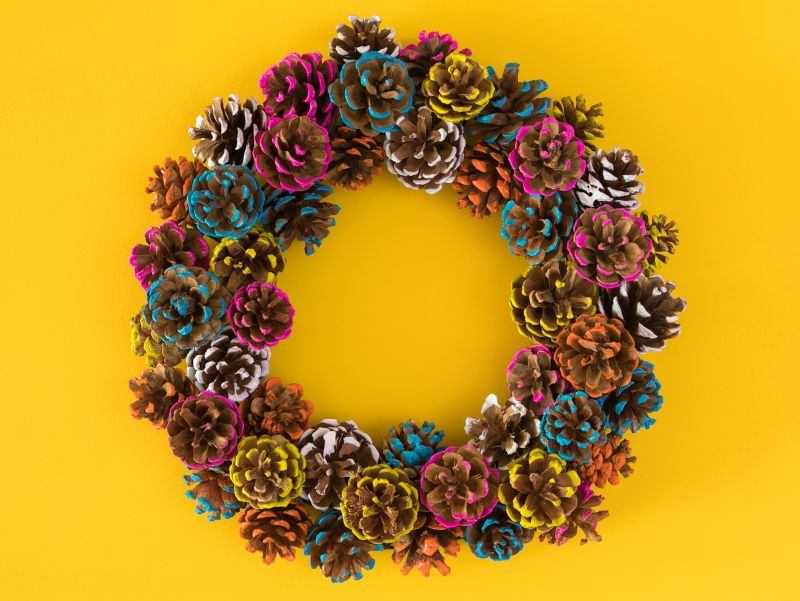 Neatly paint some pinecones with acrylics and tie them up in a group with a ribbon and hang on the door. See Tutorial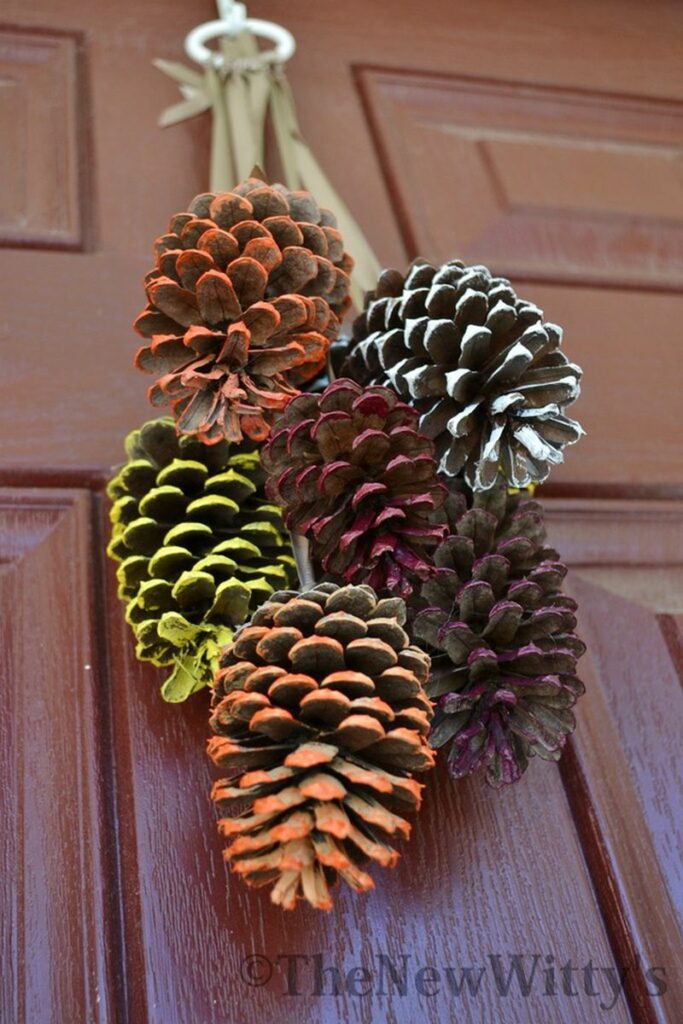 Creative Candle Holders
This fall create fancy candle holders using simple glass bottles, wine glasses or tree branches. Fill the glass bottles with sand or dry pulse beans and place colorful candles on each bottle's opening. You can also add colorful ribbons on bottle necks to grace up the decoration. You can also give a different take to the candleholder decoration by putting stuff on them.
Use a birch branch to make a candle holder. The top is colored for a vibrant look on dining table. See Tutorial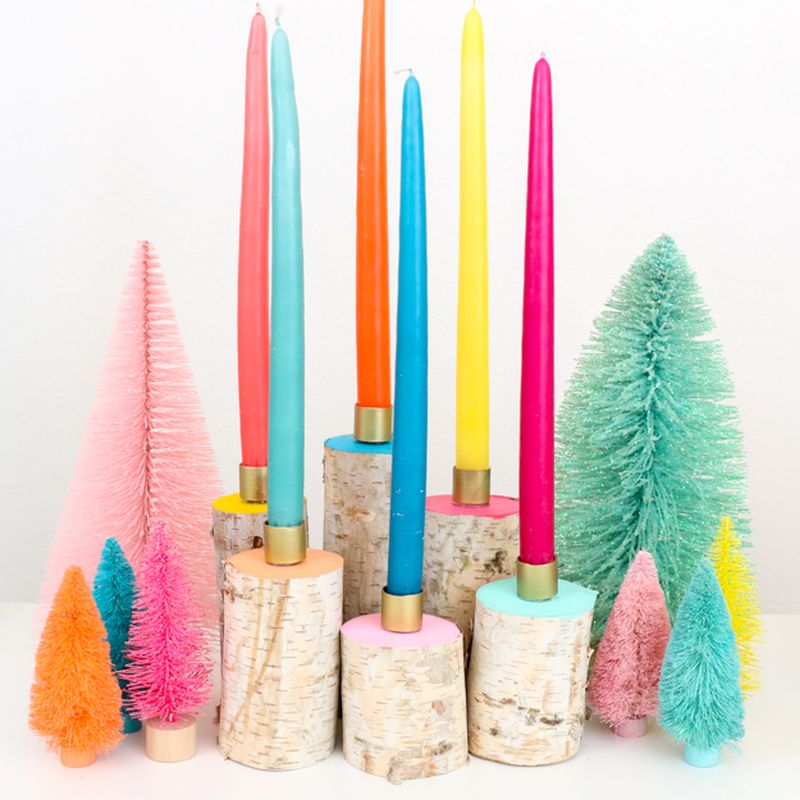 Turning a wine glass into a candle holder is an easy project. You just need to wrap a wine glass with twine and place it upside down when using as a candle holder. See Tutorial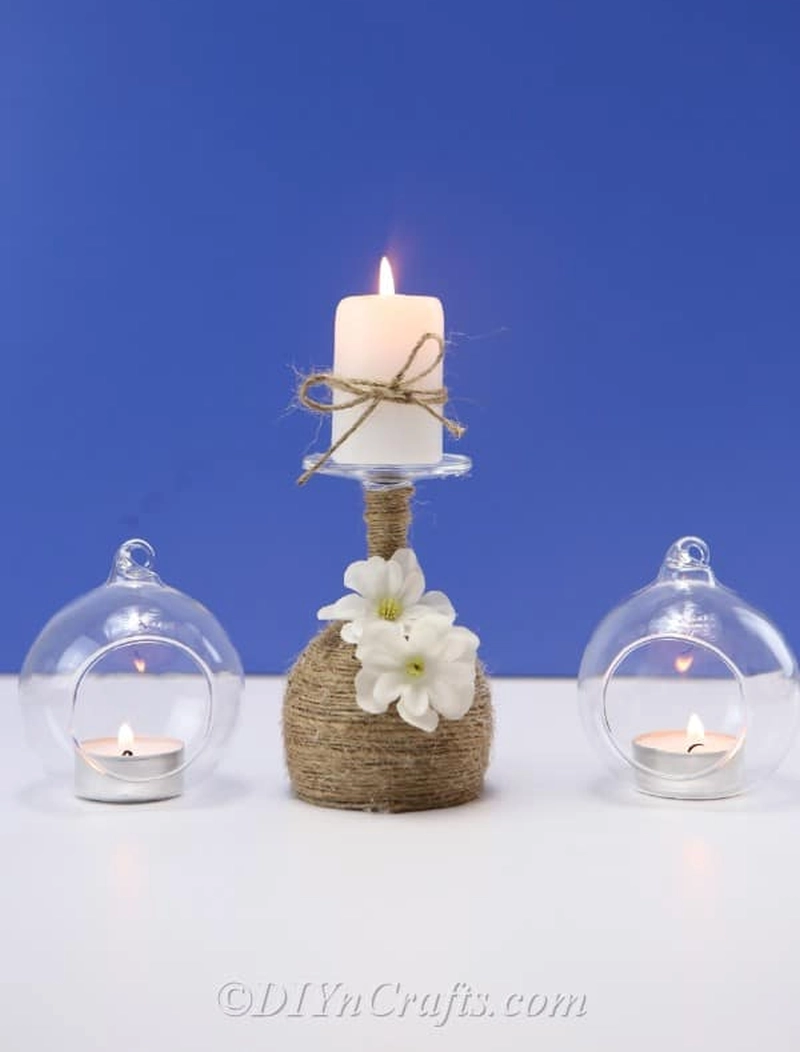 Create a log centerpiece that functions as a candle holder. You need to drill holes where you put candlesticks. See Tutorial
Pumpkins can also be turned into lovely candleholders for your dining table. Each pumpkin holds a single candle. See Tutorial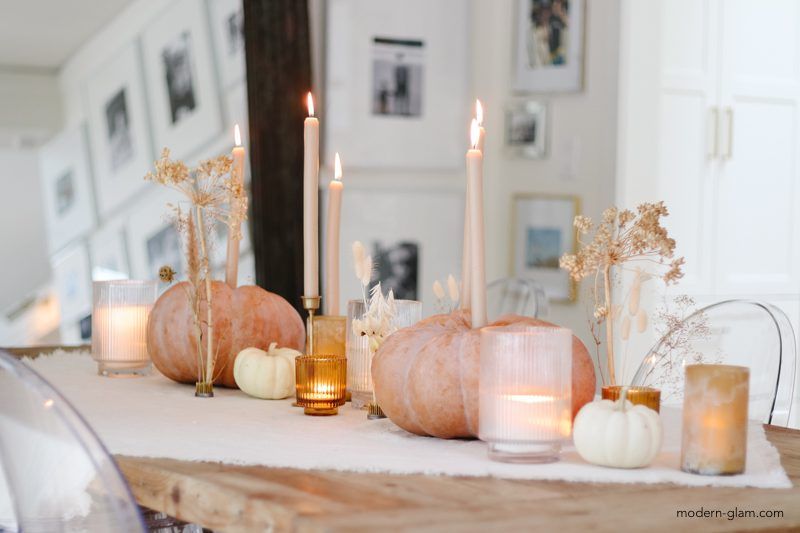 You can transform a fresh apple into a unique candleholder in minutes. It will be a stunning fall themed addition to your tabletop decoration. See Tutorial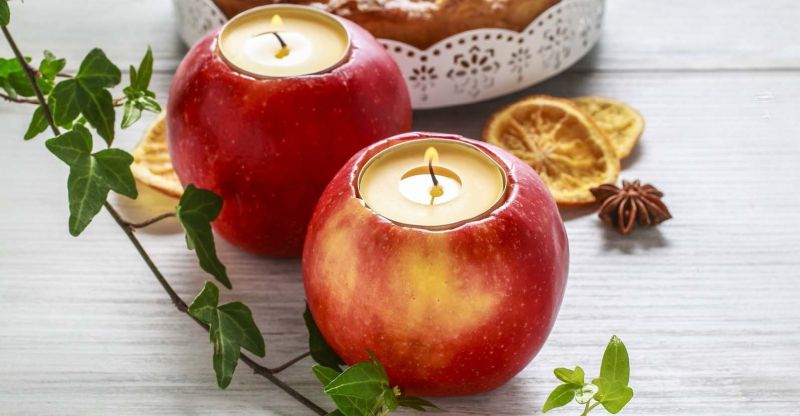 Turkey Craft
Turkey is the favorite meal of Thanksgiving; the occasion is almost incomplete without it. You can create handcrafted Turkeys using yarn balls and a few colored papers to decorate your house with. Attach one small yarn ball at one side of a bigger yarn. Now create and fix its eyes, beak as well as feathers using colored paper patterns.
These pom-pom and felt turkey decorations for Thanksgiving are a lot of fun to make. They are also perfect gifts for children. See Tutorial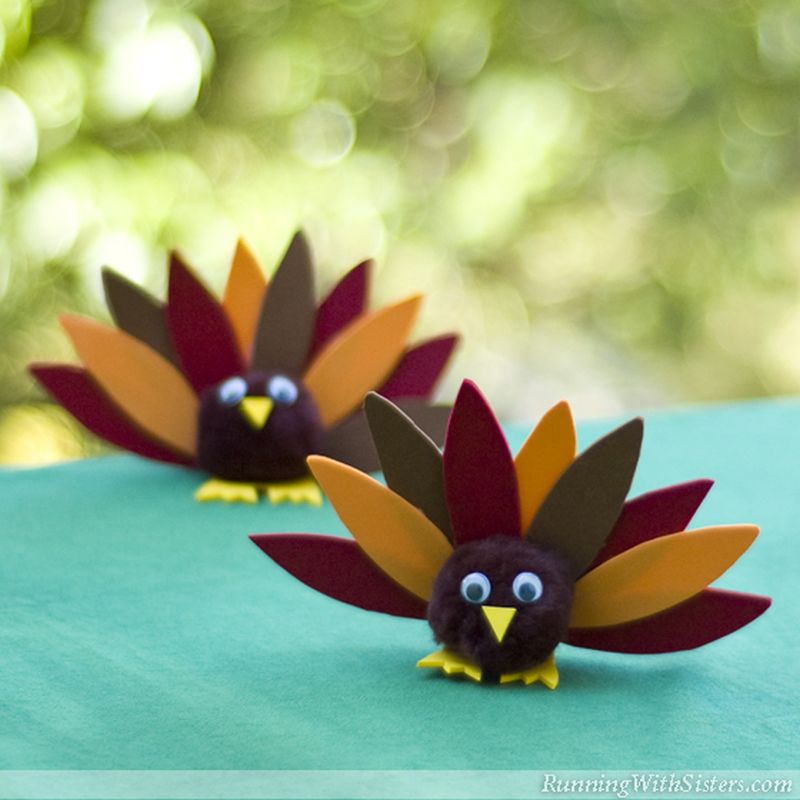 You can easily make a ball of yarn turkey for Thanksgiving. It is a great project to make with the kids! See Tutorial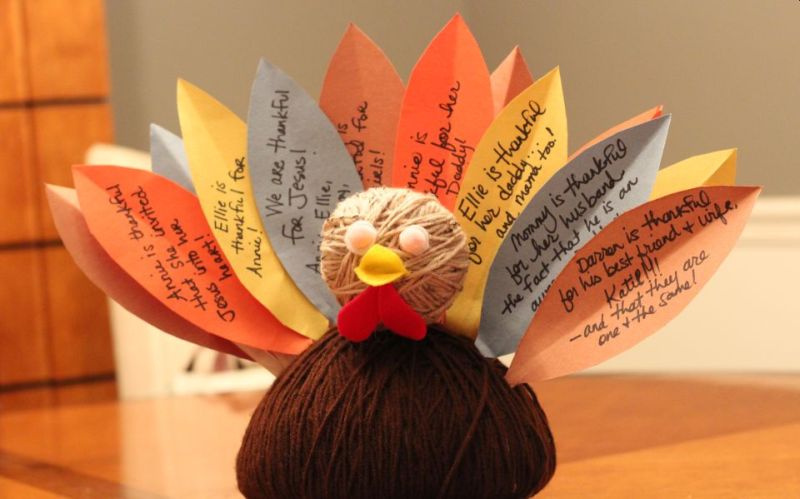 If you are looking for a fun craft to make with your kids, try this yarn and ribbon Thanksgiving turkey craft. The turkey legs are made of clothespins. See Tutorial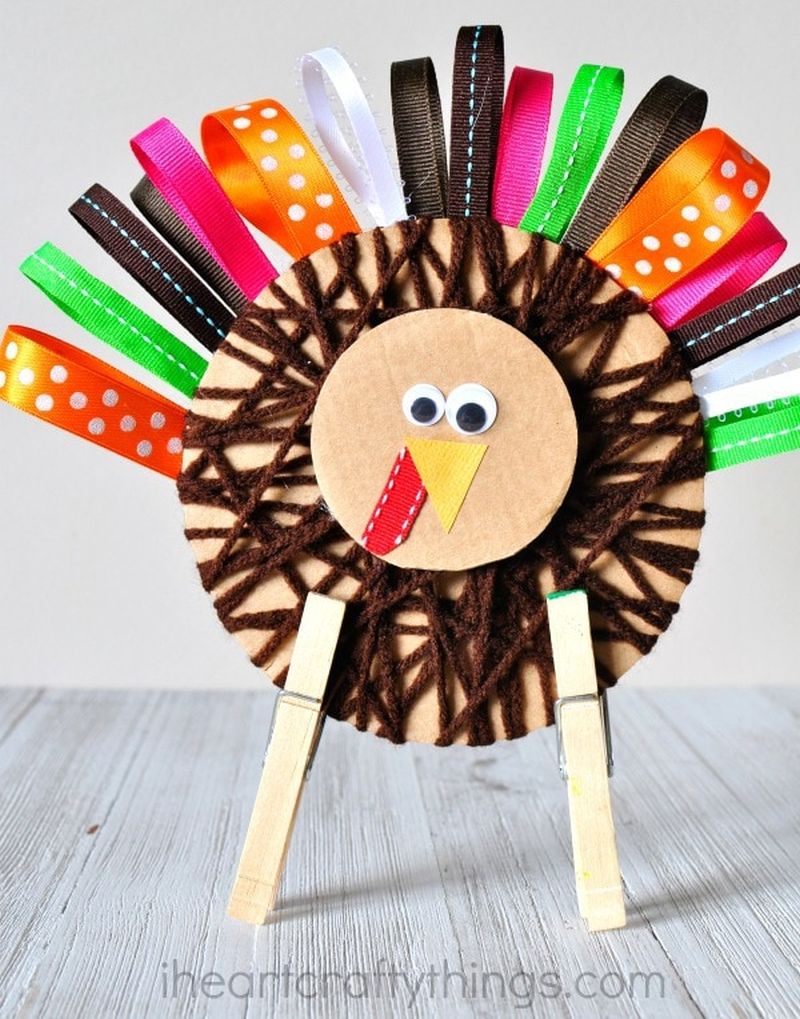 Be a little different and make a turkey for Thanksgiving décor using a repurposed golf ball. Use googly eyes and golf tees for further decoration. See Tutorial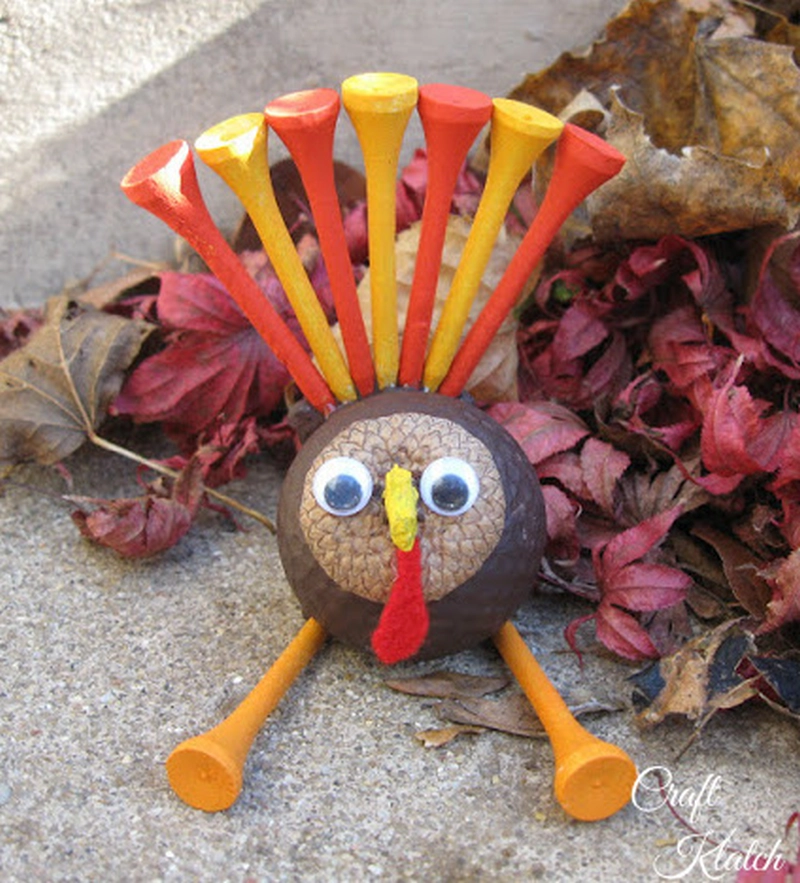 Fancy Napkin Rings
Create decorative napkin ribbons using different materials. These simple yet fancy napkin ribbons will add a unique touch to your feast table. You can also use fake berries and leaves.
Use fresh leaves, flowers from your garden, and a few other supplies to create these pretty napkin rings. This floral napkin ring is perfect to to elevate your tablescape. See Tutorial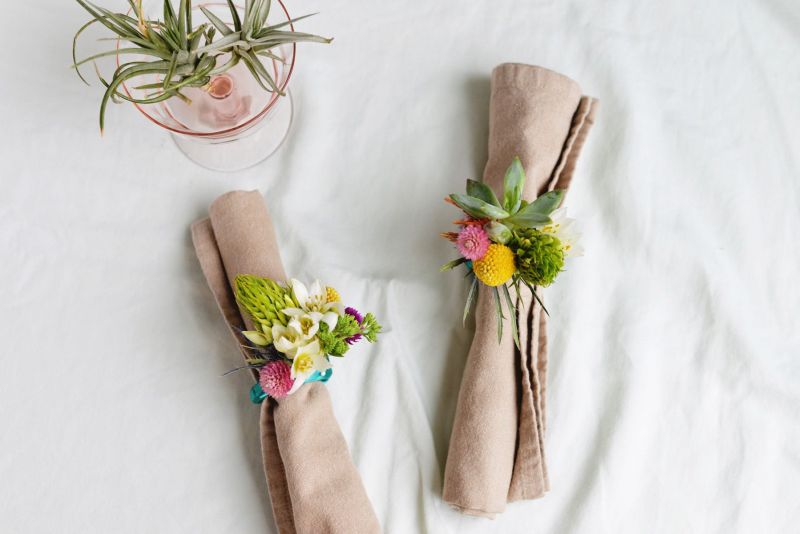 Make cute napkin rings from a toilet paper roll, burlap, pinecones, acorns, etc. You just need to glue them up around a toilet paper roll. See Tutorial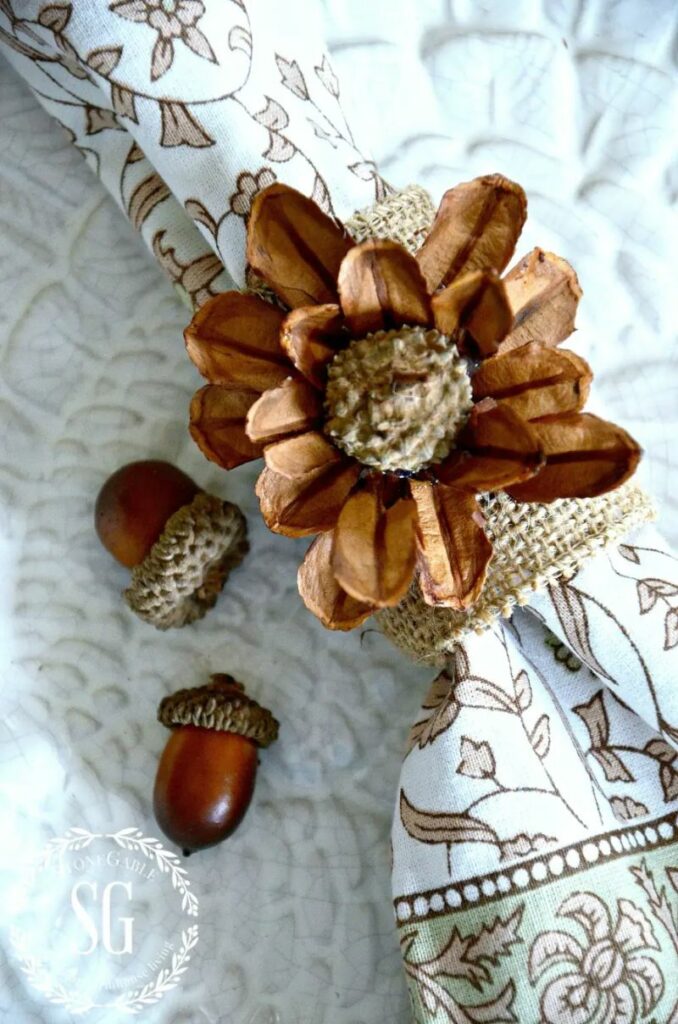 You can make this napkin ring using an old paper towel tube, burlap, twine, and wooden leaves. It will add a rustic appeal to your dining table. See Tutorial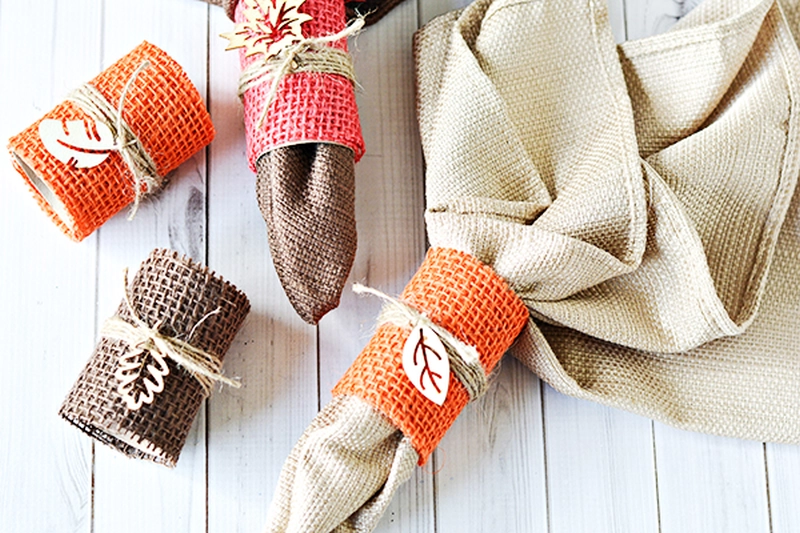 These napkin rings are super easy to make and will spruce up your holiday table. You need to a wrap a berry garland around mini a grapevine wreath, add a few maple leaves, and it's done. See Tutorial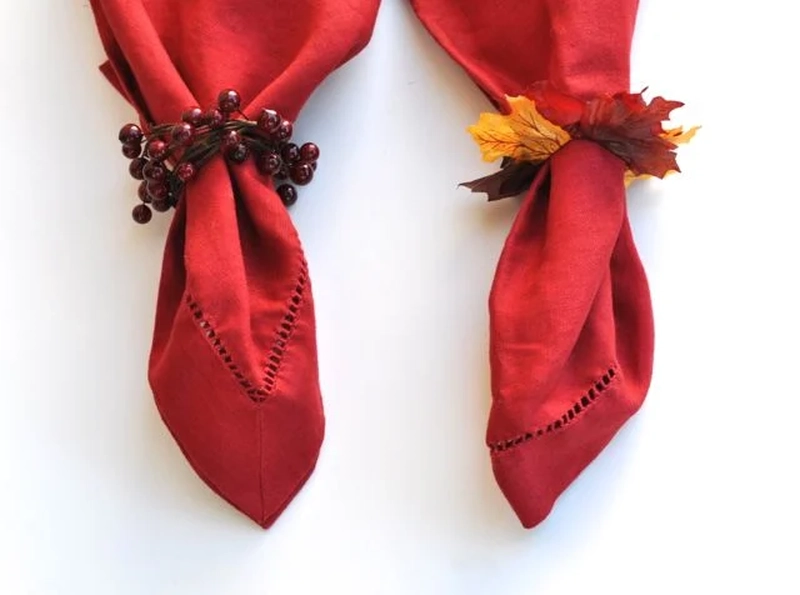 Simply glue up small felted wool balls onto acorn caps as well as some felt leaves. These autumn acorn napkin rings are the perfect accent for thanksgiving table. See Tutorial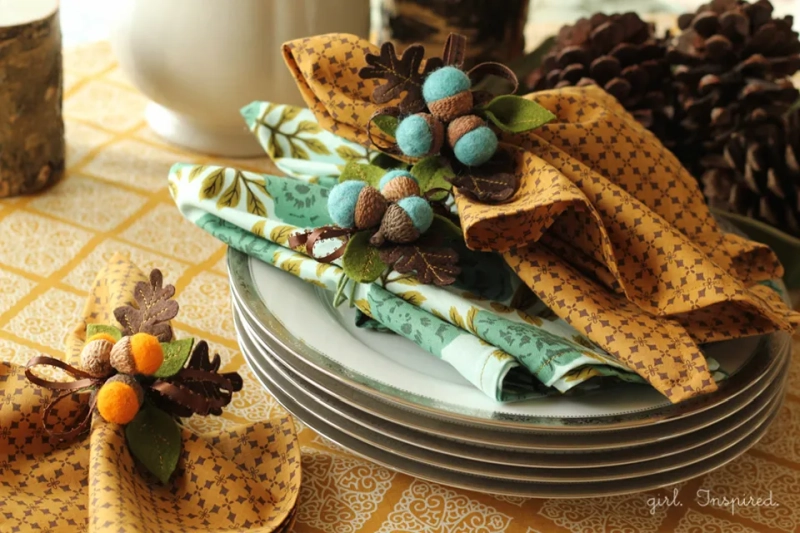 Chalkboard Art
A simple chalkboard can also be used for Thanksgiving decoration. You can also create a simple message board where your guests can express their feelings and pen down the reasons they are thankful for.
Just frame a board using simple wooden planks, paste a simple chart paper on it and fix some animated images on it to make it more attractive. You can also use a readymade chalkboard. See Tutorial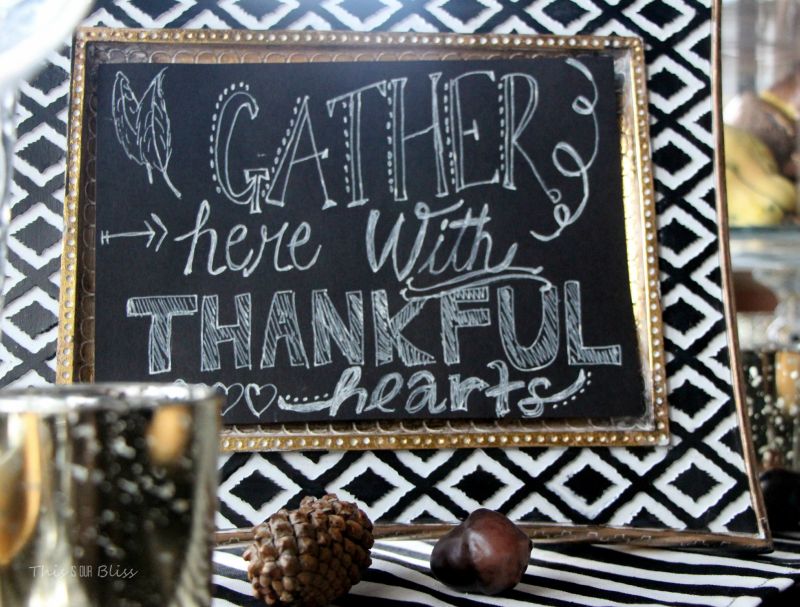 Festive Cloches
Cloches can be used most impressively when it comes to easy Thanksgiving decor ideas. You can group together pieces of wheat, wrap with a ribbon, and place under cloches. Or you can pile miniature white pumpkins under a cloche. For dramatic effect, you can place them on cake stands on varying heights.
Pumpkin and berries can be used for glass bell cloche decor for Thanksgiving. They look really elegant and will spruce up your dining table. See Tutorial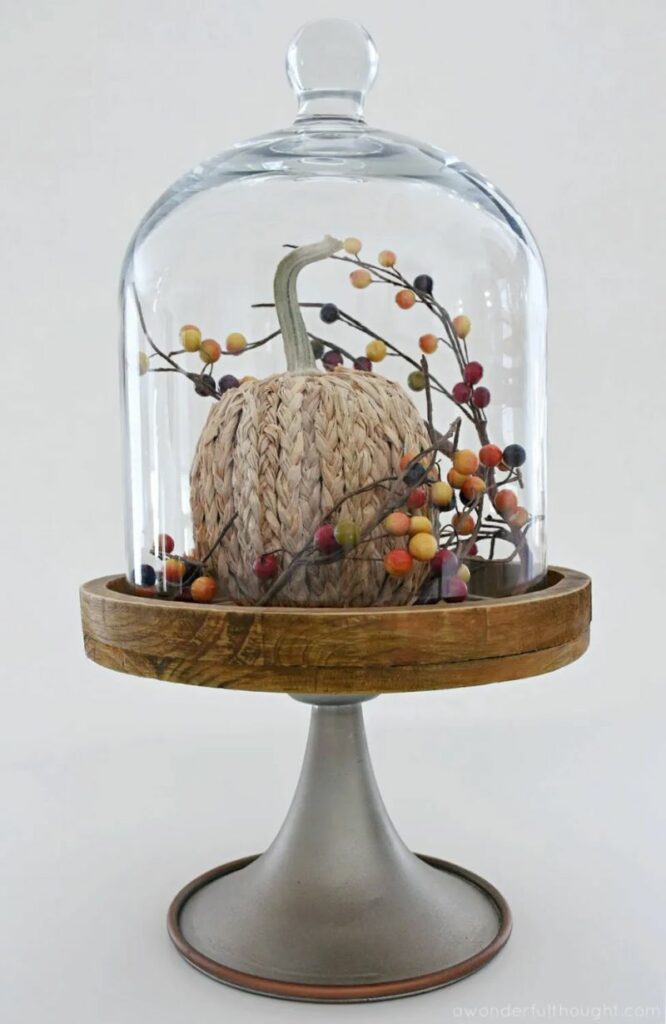 Wheat spikes displayed inside a cloche will induce a fall vibe to space. Pair with metal candleholders for a chic contemporary look.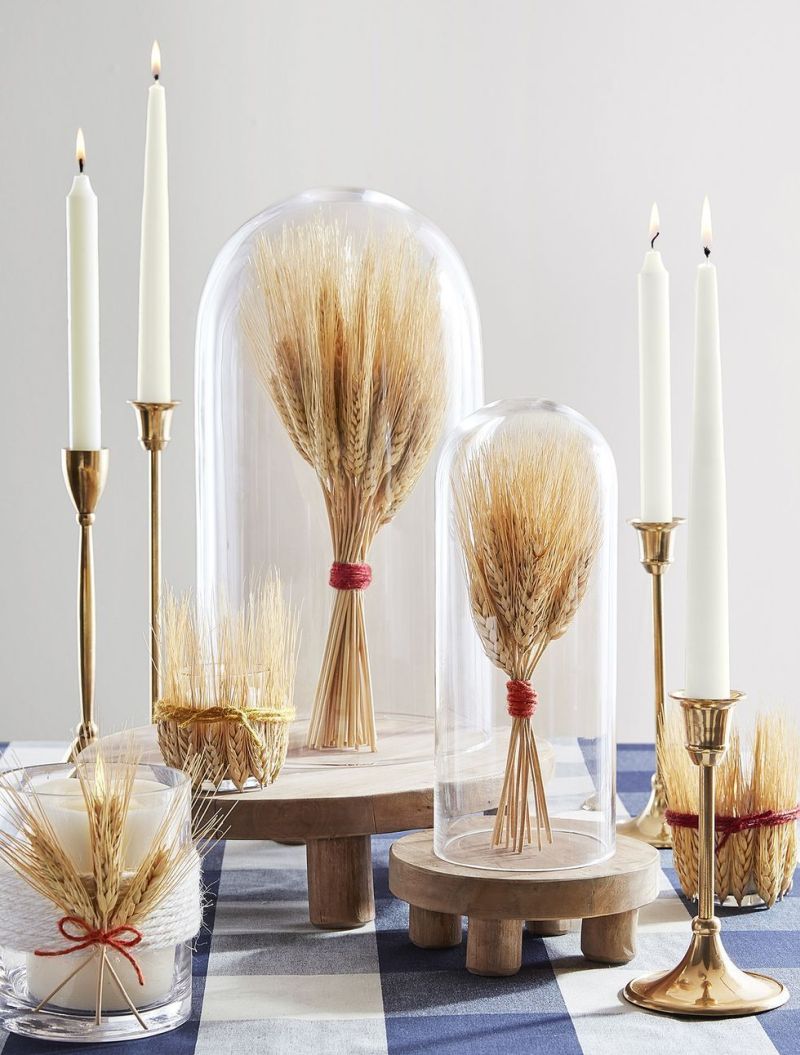 Cornucopia Décor
The cornucopia is used purely for Thanksgiving decoration. It continues to symbolize abundance, a bountiful harvest, and, largely, an appreciation for both of those things. Small pumpkins, gourds, and other vegetables and fruits spilling out of a cornucopia create a lush seasonal look on your tabletop.
You can make a cornucopia with chicken wire and burlap. Decorate it with an assortment of flowers, fruit and veggies. See Tutorial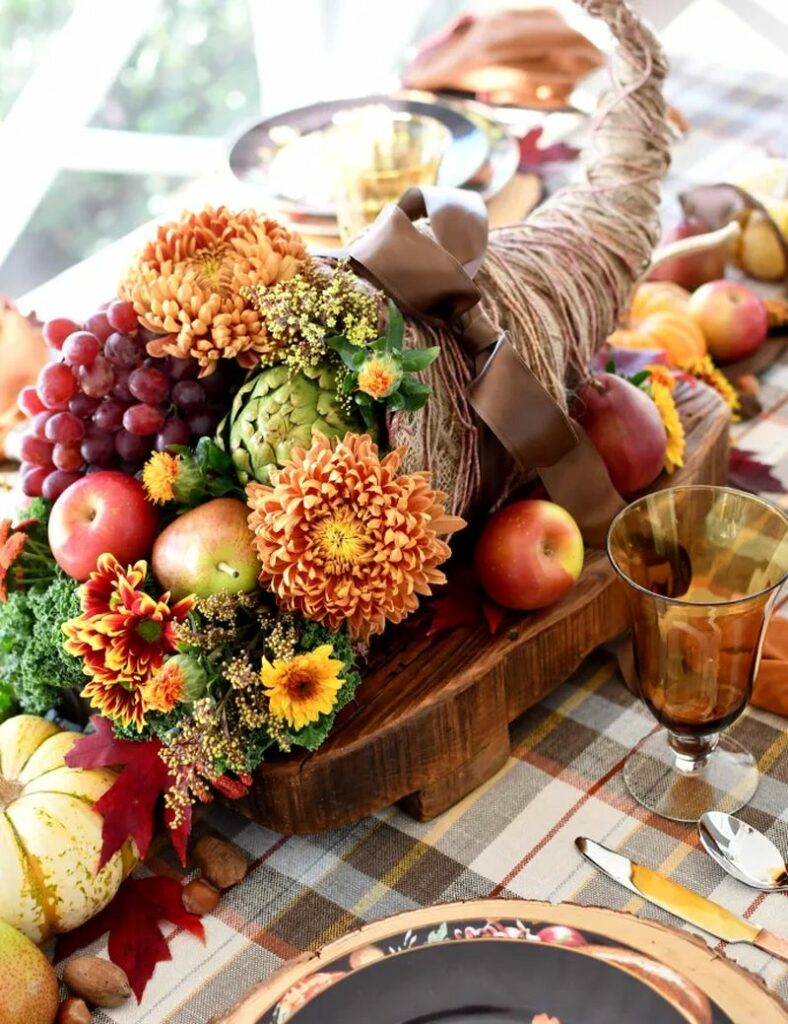 If you are a baking fan, you can also make a makeshift cornucopia with bread. You can decorate it with fruits, nuts, and some sprigs of herbs. See Tutorial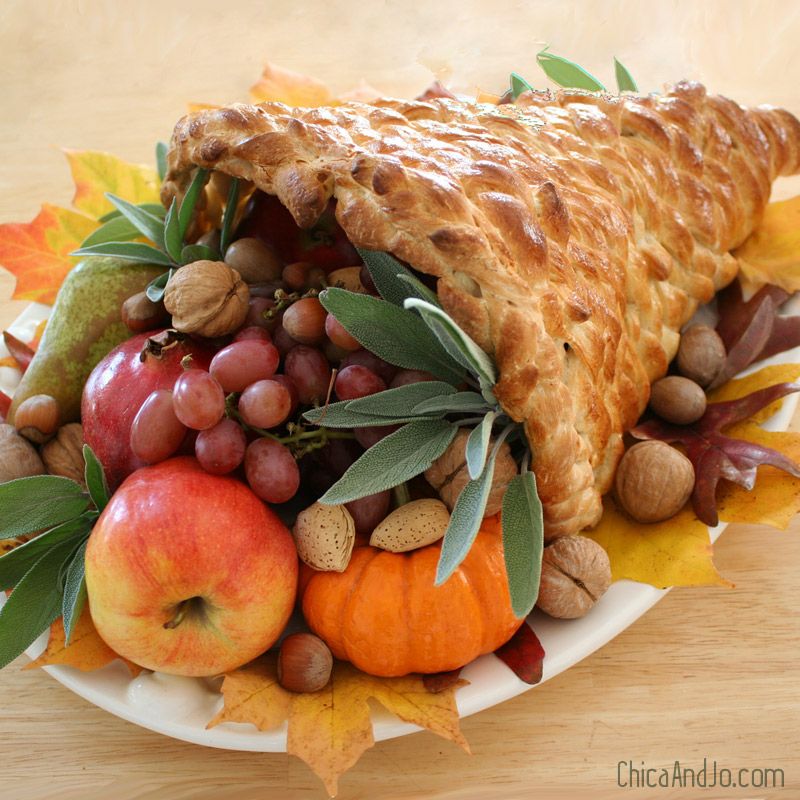 Take a wicker cornucopia with a plastic bag and fill it with different type of succulents. It's the arrangement that will take time in the DIY succulent cornucopia project. See Tutorial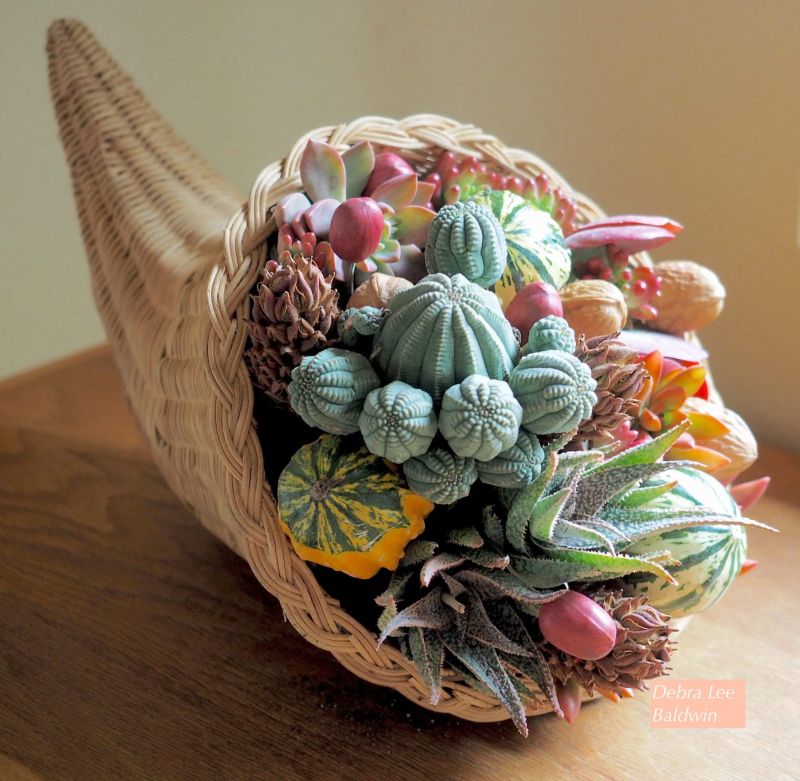 Make a centerpiece for your Thanksgiving table using paper. You just need different colors of origami paper that can be folded in different fruits and vegetables. See Tutorial