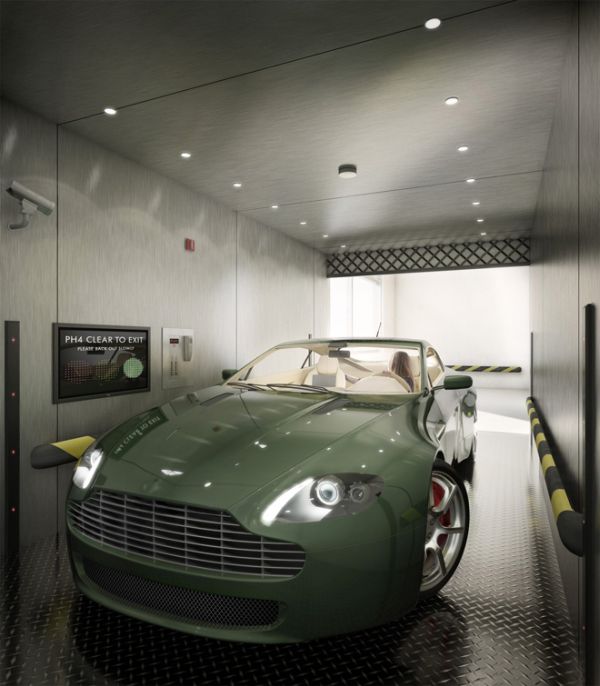 Young Woo & Associates, New York-based real estate developers, has brought MVRDV – Netherlands-based architectural firm, to redesigned PH1. PH1 is a 3598 square-feet penthouse in a building in West of Chelsea, New York. The penthouse on 11th Avenue building features a car elevator, offering its residents the luxury to drive straight into their apartment without worrying about an outdoor parking. The elevator, lined with stainless steel, takes less than a minute to bring car up to the parking garage situated next to living room.
The duplex has a guest bedroom, guest bathroom, disappearing kitchen, car garage, dining area and a sky vault in its upper floor. The sky vault is surrounded by a staircase with a glass ceiling where residents can have a view of beautiful Hudson River and Manhattan skyline. The lower floor includes a master bedroom, a second bedroom, study room, and a bathroom. White color dominates interior of the house, giving it a classy touch.
MVRDV's Jan Knikker said in an interview,
It is convenient for celebrities who want total privacy until entering their apartment – no chance for paparazzi.
The renovated PH1 penthouse is designed to offer extreme luxury and privacy to the residents residing here. It occupies the 12th and 13th floors of the Avenue building, which was designed by Annabelle Selldorf, New York-based architect, in 2010. There is no other apartment which can match this luxurious penthouse's comfort and privacy along with an amazing city view.
Via: URDesign
Image Courtesy: MVRDV