With people getting more and more aware and responsive towards deleterious effects of wooden and plastic products, consumable cutlery is becoming a hot trend, motivating designers and food chains to launch their own edible cutlery range.
The same has been done for the first time in India by Hyderabad-based Bakey's Food Private Limited, an environment conscious company, which has created an unconventional yet useful cutlery to replace plastic cutlery with edible ones.
Narayana Peesapaty, Founder and Managing Director of the company, after learning about the harmful effects of plastic on humans as well as environment, he came up with the idea of creating something that is not only palatable but also environmentally-friendly at the same time.
We have already come across edible cups and bowls, made from biscuits and peanut husk, but the Bakey's edible and biodegradable cutlery is made from mix of Sorghum (jowar), rice and wheat flour.The cutlery consists of spoons, chopsticks, soup spoons, dessert spoons and common spoons giving users plenty of option to pick according to their requirements.
Additional benefit – the cutlery can help maintain groundwater level since, producing less rice and more dryland crops like jowar would help stabilize the levels of groundwater.
The durable spoons take 10-15 minutes to get soggy and mushy, therefore giving you plenty of time to finish your meal easily. Available in three tastes i.e. plain, sweet and spicy, edible cutlery can be consumed after or with your meals, and if discarded, it can be consumed by insects or else will decompose in the environment within five to six days.
As per Peesapaty, he got the idea of creating edible cutlery, during his flight from Ahmedabad to Hyderabad, when he saw a passenger using Khakhra (thin crackers made from mat bean, wheat and oil) as spoon to finish his dessert.
Peesapaty has spent around 60 lakhs (approximately $78,574) to develop the prototype machines and moulds. He had to give up on his career to chase his dream. Being completely new concept, there were many challenges, but the biggest challenge according to Peesapaty, was the behavioral issue – people are accustomed to using plastic products and will find it difficult to change to edible cutlery.
However, to cover maximum area and location, Bakey's not only sells the cutlery online but also organizes stalls and exhibitions to educate people about the harmful effects of plastic and benefits of using biodegradable utensils.
Well the advantages and humanitarian approach of Narayana Peesapaty does not end here. Bakey's manufacturing unit is an all-women enterprise, which is managed by his wife (Director of the Company) and run by females from all-around the area. Well, we have to admit that the company is not only providing healthy options to people but is also empowering women in true sense.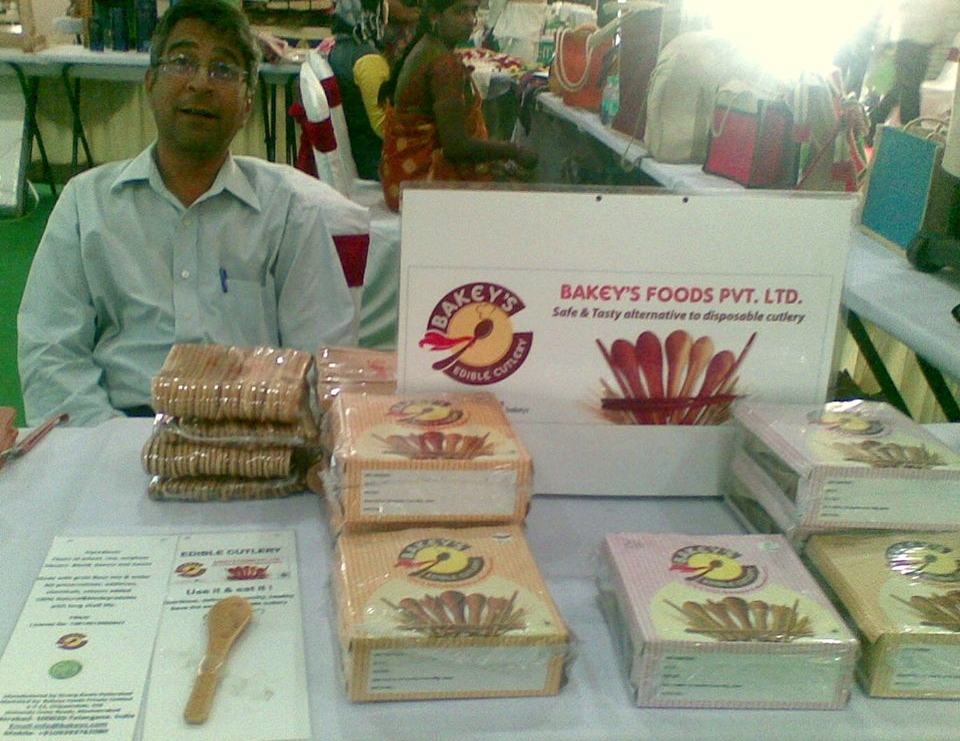 Via: NDTVFood