With the hoot of an owl and the cackle of a witch,
let's dance with the skeletons and stand on a flitch.
Before the hallows go back to their quiet graves,
Let's trick or treat, smell my feet, give me something good to eat.
Unlike other festivals, Halloween is marked with Haunted Hayrides, spook seekers, Crypt of Vampire, Summoning the spirits, getting dressed as witches, ghosts, and ghouls, and serving the eeriest and icky dishes on the table that are easy to prepare and fit in the time.
Here are some easy Halloween food recipes that will leave your guests, kids and every other family member in a state of awe and appreciation.
Appetizers
Mummy's little monsters!
#1 Cheesy Breadstick Bones
The easiest, cheesiest breadstick bones, served with 'blood' for dipping. Here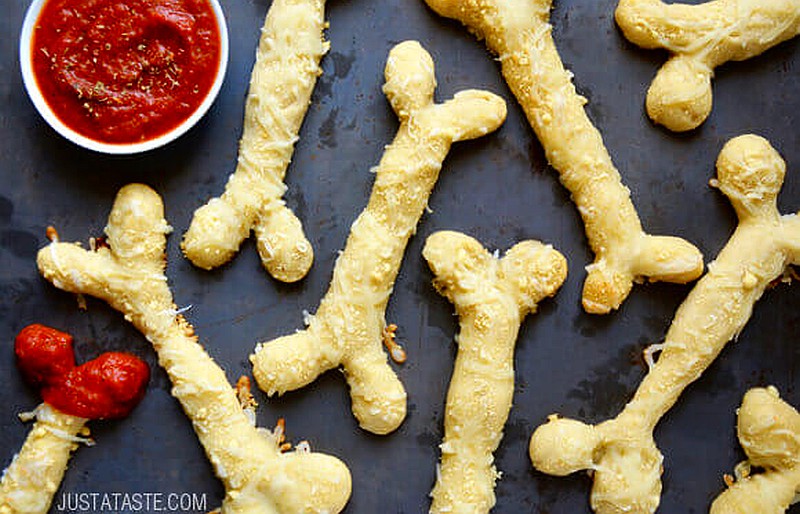 Ingredients:
1 pound of homemade or store-bought pizza dough
6 tablespoons unsalted butter, melted
2/3 cup grated Parmesan cheese
1 cup of shredded mozzarella cheese
Homemade or store-bought marinara sauce for serving
Directions:
Preheat the oven to 375 degrees F. Line two baking sheets with parchment paper or Silpat.
Divide the dough into 10 equal balls. Roll each ball into an 8-inch rope slightly larger on the ends.
Arrange five breadsticks on each baking sheet, spacing them at least 2 inches apart.
Cut a 1-inch slit on the ends of each breadstick using scissors and gently stretch each cut piece apart to form the ends of the bones.
Brush the breadsticks with the melted butter, then sprinkle the grated Parmesan cheese on it.
Bake the breadsticks for about 15 minutes, remove from the oven and top them with the mozzarella cheese.
Return the breadsticks to the oven for an additional five to seven minutes or until the cheese is melted.
Take out the breadsticks from the oven and serve them warm with marinara sauce for dipping.
Recipe sourced from Just A Taste
#2 Bloodshot Deviled Eyeballs
One of the easiest and creative Halloween food recipes that seem emerging from the darkness of the night to send spooky vibes down your spine.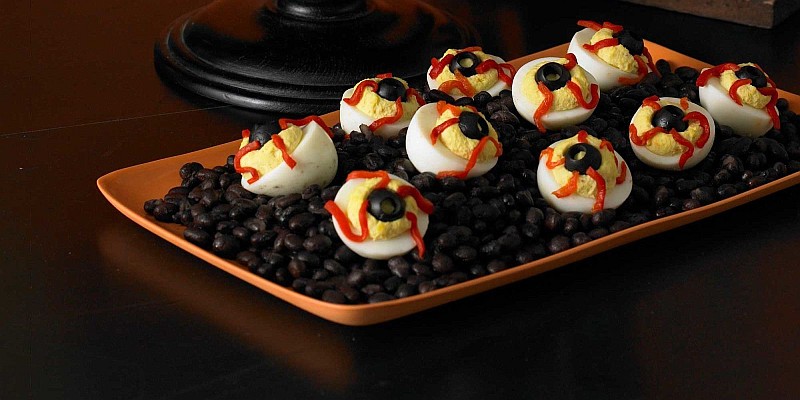 Ingredients:
18 large eggs
½ c. mayonnaise
2 tablespoon of mustard
1 tablespoon of minced scallion or shallot
1 tablespoon of lemon juice
½ tablespoon of hot red pepper sauce and Worcestershire sauce each
¼ tablespoon of salt
36 black olive slices
1 pimiento or jarred roasted red pepper
2 can black beans
Directions:
Take hard-cooked eggs and cut them in half crosswise on a slight diagonal. Remove the yolks, leaving the whites intact.
Place yolks in a bowl; mash with mayonnaise, mustard, scallion, lemon juice, pepper sauce, Worcestershire, and salt until blended and becomes fairly smooth.
Use two scoops of yolk mixture into small balls and position in hollows of whites to resemble eyeballs.
Press an olive slice into the center of each yolk eyeball. Cut pimiento into very thin 2 inch-long strips for veins. Decorate eyeballs with bloodshot veins.
Place beans on a platter to provide an anchor for the eggs, keeping them in place.
Set eyeballs upright in beans.
Cover and refrigerate up to six hours before serving.
Recipe sourced from Woman's Day
Also Read: 20 Eerie Halloween Party Food Ideas That will Freak Your Guests Out
Main Course
#1 Dead Man Meatloaf
Each bite provides a forkful of witchful thinking.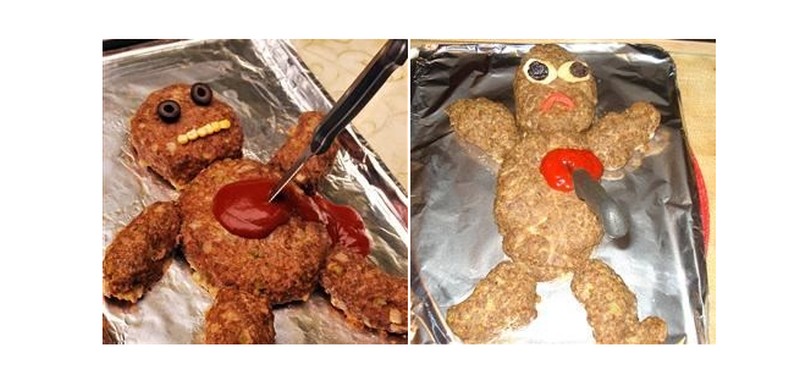 Ingredients:
1 tablespoon of butter
1 tablespoon of minced garlic
1 onion, chopped
1 cup of chopped celery
2 eggs
2 pounds of lean ground beef
1 tablespoon of Cajun seasoning
1 cup of seasoned bread crumbs
1 pitted black olive, cut in half
1 cup of ketchup
Directions:
Melt butter in a skillet over medium heat. Cook and stir the garlic, onion, and celery in the hot butter until the onion softens and turns translucent.
Transfer the vegetables to a mixing bowl and allow to cool to just warm.
Preheat the oven to 350 degrees F (175 degrees C). Place a sheet of aluminum foil onto a baking sheet and spray with nonstick cooking spray.
Crack the eggs into the mixing bowl with the vegetables and mix until the egg is smooth.
Add the ground beef, Cajun seasoning, and breadcrumbs.
Mix with your hands until the mixture is evenly blended.
Form the meat mixture into the shape of a stick man.
Bake in the preheated oven for about 35 minutes until no longer pink in the center.
An instant-read thermometer inserted into the center should read at least 160 degrees F (70 degrees C).
Once done, place the olive halves onto the head for eyes and pour the ketchup onto the abdomen.
Return to oven and bake for 10 more minutes.
Serve with a plastic knife impaled in the abdomen for a perfect effect.
Recipe sourced from Allrecipes
#2 Eyeball Pasta
Make no bones about it! A simple and fun Halloween food recipe with the edible eyeballs more like the eye of a newt.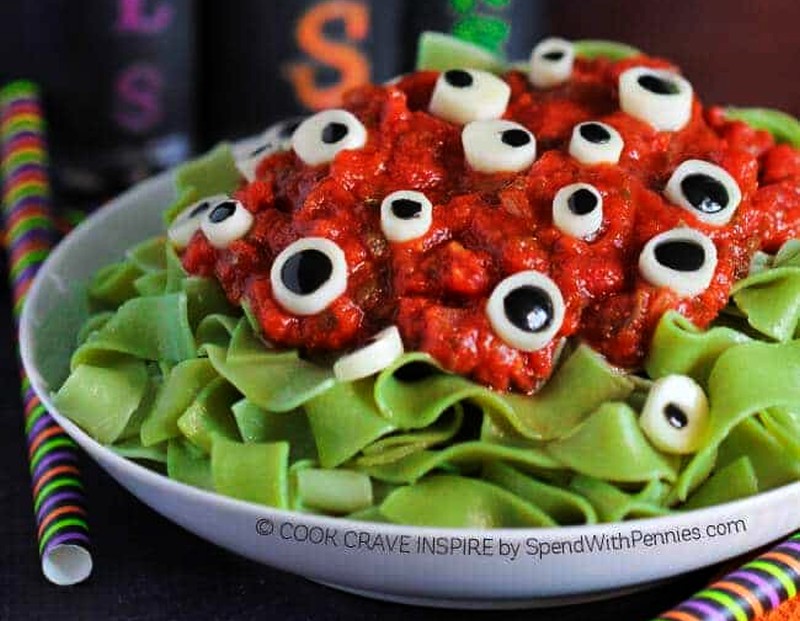 Ingredients:
Note: There are no amounts in this Halloween food recipe as it can be prepared in any amount.
Spinach pasta (any shape)
Your favorite pasta sauce (from a jar or homemade)
Eyeballs
String cheese (approx.. 1/2 per person)
Black olives (or darkly skinned veggies like zucchini)
Straws (assorted sizes)
Directions:
Slice string cheese about 1/4″ thick. Cut the olives in half lengthwise.
Cut circles out of the cheese discs using the straw. Cut pieces out of the olives using the same straw. Place the olive pieces in the cheese pieces to make eyeballs.
Cook pasta according to directions. Top with a serving of pasta sauce and add eyeballs on top.
Recipe sourced from Spend With Pennies
Halloween Desserts
Come as you aren't and carve out some good times.
#1 Pumpkin Mousse
Layers of snow-white whipped cream and spiced pumpkin mousse topped with chocolate curls for an elegant presentation.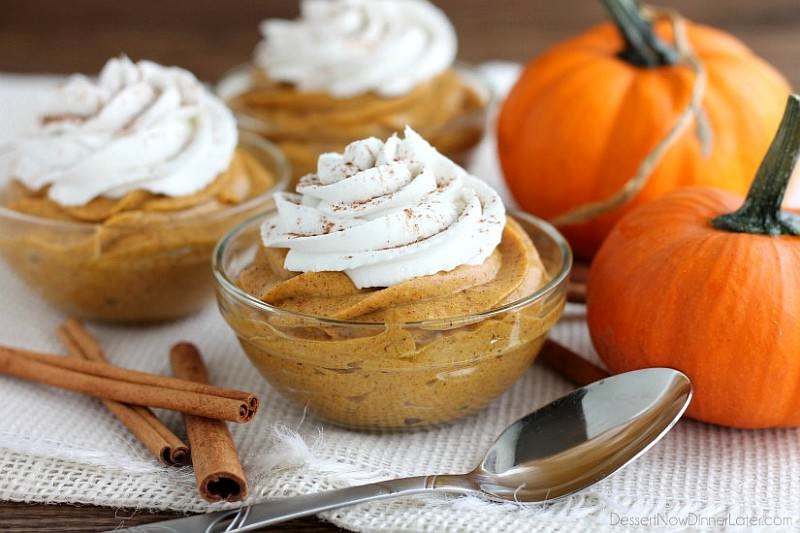 Ingredients:
5 large egg yolks
1 c. sugar
3½ c. heavy cream
15 oz. Canned pumpkin
2 tsp. vanilla extract
1½ tsp. ground cinnamon
½ tsp. ground ginger
¼ tsp. ground nutmeg
¼ tsp. salt
2 tbsp. dark rum
1 tsp. powdered gelatin
3 oz. shaved dark chocolate
Recipe sourced from Super Healthy Kids
Directions:
Fill a large bowl halfway with ice water and set aside.
Whisk the yolks, 3/4 cup with 2 tablespoons sugar, and 3/4 cup cream together in a medium saucepan.
Heat while stirring continuously with a rubber spatula or wooden spoon over medium-low heat until thickened and the mixture coats the spatula.
Transfer to a medium bowl and set over the ice bath. Stir to cool.
Add pumpkin, vanilla, spices, and salt to the egg mixture.
Stir 1 tablespoon rum and 1 teaspoon gelatin together in a small bowl.
Heat the remaining tablespoon rum and stir into the gelatin mixture until dissolved.
Gently whisk into the pumpkin mixture. Beat 1/2 cup cream to stiff peaks, and fold into pumpkin mixture.
Pour into a shallow dish, cover and chill until cold and thick enough to fall from a spoon in heavy dollops – about 8 hours or up to overnight.
Beat the remaining cream and sugar to stiff peaks.
Alternately, layer the pumpkin mousse and whipped cream in a glass serving dish.
Sprinkle the chocolate shavings between top two layers. Serve chilled.
#2 Black Poison Apples
Black and classic; period! A pure bliss with no guilt, straightforward sugar and apples, that's it.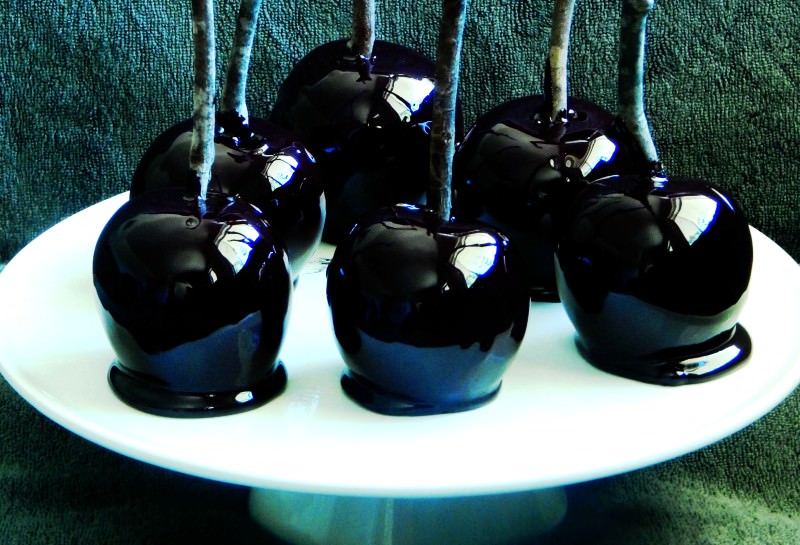 Ingredients:
2 cups of granulated sugar
¾ cups of water
½ cup of liquid glucose/light corn syrup
Few drops of black gel food coloring
6 Granny Smith apples or 12 small apples. Ensure apples are fresh and haven't been waxed.
Directions:
Grease a piece of baking paper and place on a tray/baking sheet.
Insert bamboo skewers in all the apples and set aside.
In a medium pot, combine the sugar, water, glucose/corn syrup, and food coloring and stir over medium heat until the sugar gets dissolved and the mixture feels smooth when you rub it between your fingers.
When the sugar has dissolved, turn the heat up and wash the sides of the pot down with a pastry brush dipped into clean water to prevent crystals from forming.
Allow the caramel to boil until it reaches the hard crack stage (150°c/310°F on a candy thermometer).
Carefully dip the apples into the hot candy mixture and place on the baking paper to set and cool for approximately an hour before serving. You can serve them on top of gummy worms as well.
Recipe sourced from Say it with Cake
Also Read: Beyond Pumpkins: 8 Fruits & Veggies You can Carve This Halloween
Halloween Cocktails and Mocktails
These Halloween cocktails and mocktails will make you fly with the witch on her ragged broom. 
#1 Suicide Squad-Inspired Shot: Deadshot
An enticing Halloween food recipe for Grateful Dead, sugar in purple, poison in black and to tremble, it's iced.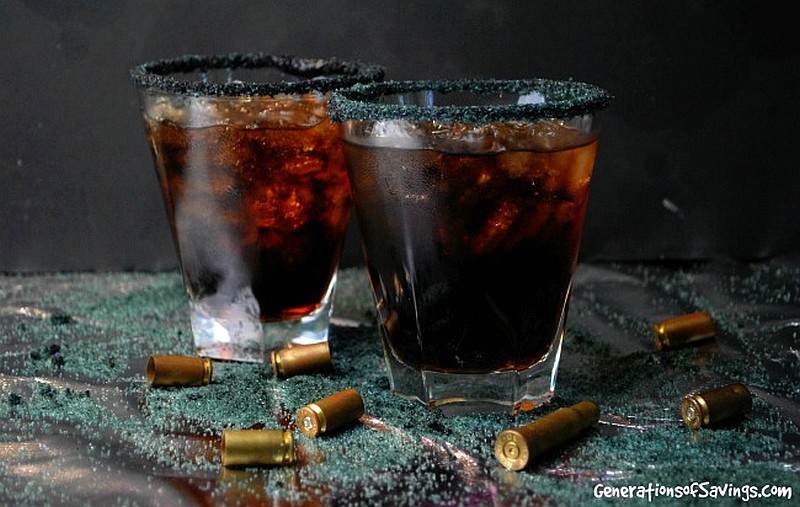 Ingredients:
1 oz Jack Daniels
1oz Jim
Beam
1 part vodka
3oz Coke
Ice
Black Sanding sugar (sugar with added purple food coloring)
2 tbsp of Simple syrup
1 package Pop Rocks (here the watermelon flavor has been used)
Directions:
Dip your glasses into the Simple syrup and then the black sugar. Leave it to dry for five minutes.
Fill a glass 3/4 of the way with ice.
Pour in your liquor: Jack and Vodka.
Top off with Coke. And your Deadshot is ready.
Recipe sourced from Generations of Savings
#2 Ghostly White Wine Spritzer
This is the blue ghoulishly delightful drink for the hobgoblin.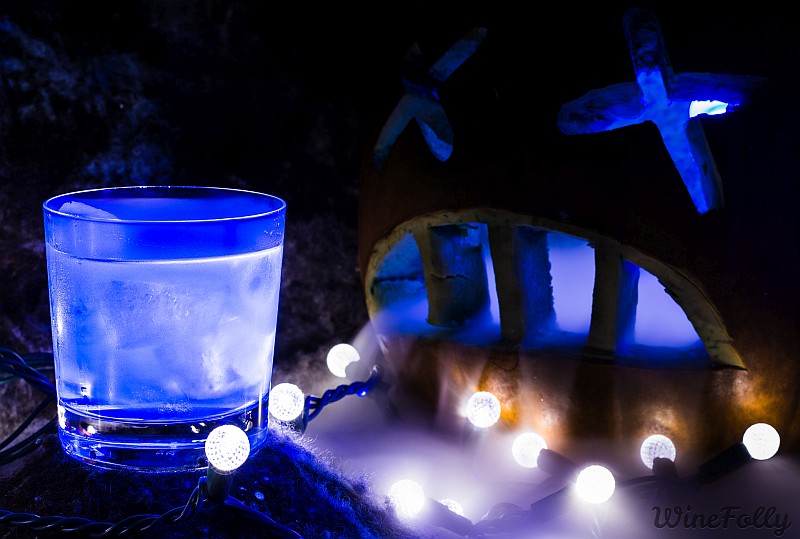 Ingredients:
5 ounces of Vinho Verde (preferred), Sauvignon Blanc, Grüner Veltliner, Verdejo, Vermentino – 5 different white wines in simple words.
Tonic ice cubes – all you have to do is pour tonic water into ice cube trays and pop them in the freezer until they freeze.
Recipe sourced from Wine Folly
Directions:
Place cubes in a large wine glass, pour white wine over ice and serve.
#3 The Vampire Blood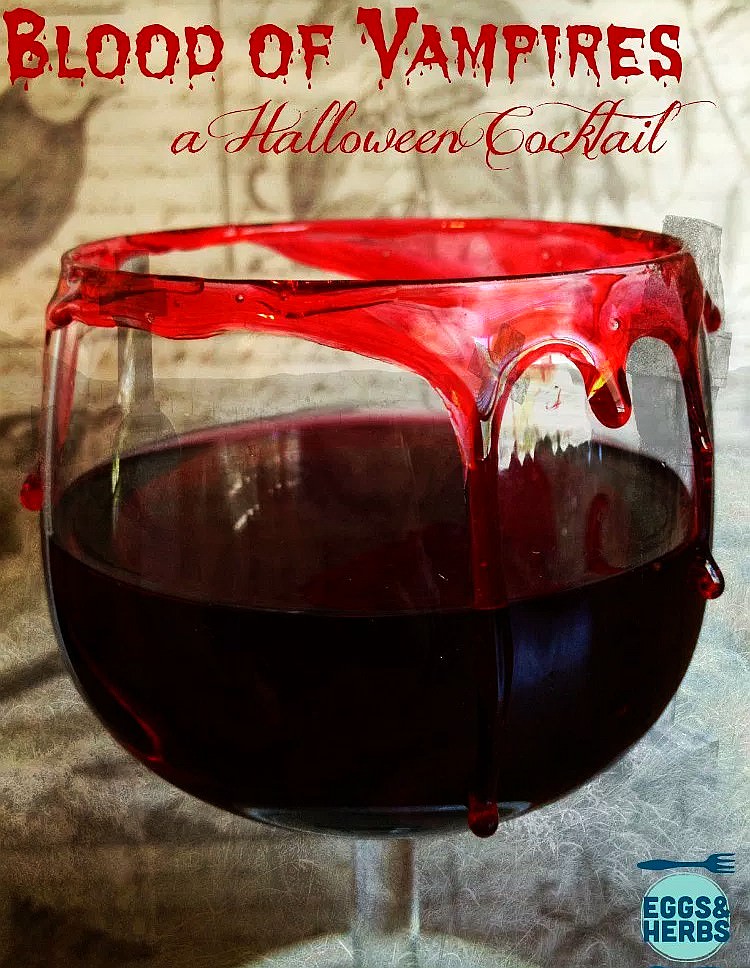 Stir up this fruity punch in your cauldron. Your little monsters will love its ghoulish blood-red color.
Ingredients:
Cranberry juice
Apple juice
Grenadine
Lime and mint
Seltzer water
Red Candy gel
Directions:
Squeeze one tube of red candy gel on a plate.  Rim the edges of low-ball glasses and pour the prepared drink evenly into the glasses. Garnish with mint and gummy vampire teeth and serve.
Hope you all have a spook-tacular Halloween. Eat, drink, and be scary!