Already planned everything from decorations to costumes for Halloween? But why are regular food snacks and meals on your menu list? Don't let it end up just like any other party. Instead, make things little creepy and horrifying this time.
Well, we're not talking about decorating your dinner table with scary jack-o'-lanterns or skeletons. Think of adding some gross Halloween-themed cuisine into your spooky party to have your guests screaming out loud of horror.
We've compiled a list of 20 delicious yet insanely creepy Halloween party food ideas that anyone would think twice before sinking in their teeth into. Have a look and find for yourself.
# Red velvet brain cake: This cerebellum-shaped brain covered in blood would be the perfect dessert for the scariest eve.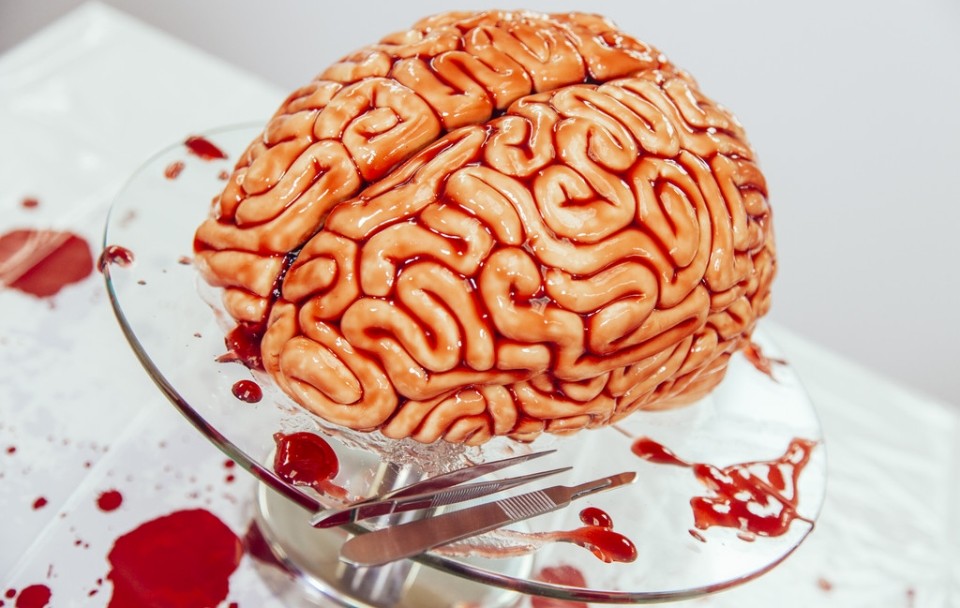 # Serial killer cake: This murder-scene inspired cake will remind you of a crazy serial killer in thriller movies.
# Witchy finger cookies: Chopped-off witch's fingers can be served as sugary cookies for Halloween snacks. Now, that's a delicious treat that your eyes won't be pleased with.
# Feetloaf with bunions: This creepy foot-shaped treat is perfect to surprise family and guests on Halloween.
# Surgery-replicating sweets: Well, this one is absolutely gross. Only humans with cannibal instincts would be able to consume this recipe.
# Dog poop cookies: Disgusting poop cookies, anyone? They look as appetizing as you would believe them to be, if you get the sarcasm!
Also Read: 15 Halloween Food Hacks You can Whip Up in a Jiffy
# Raspberry jello worms on chocolate doughnut crumbs looks similar to crawling earthworms within fertile soil. The treat looks eerily real and is going to be challenging one to gulp down.
# Guacamole puking pumpkin: Will you be able to feast on the gourd's puke? Surely, very few will dare to do so.
# Cat litter cake: This cat's litter cake is taking the gross puking pumpkin recipe to a whole new disgusting level. Dare eat this, folks!
# Zombie brain jello shots: Get a sugary dose of zombie brain jellos shots to please your inner demon.
# Snake cake: This reptile here is waiting to feed your guests on its body. But who's going to get the head?
# Zombie mouth cupcake: A perfect Halloween treat for a fan of Walking Dead series. A zombie mouth that you have to eat, yuck!
# Zombie Guts: This nasty looking dessert is super delicious red velvet cinnamon rolls in actual! They look just like guts" by the way!
# Toddler toddy punch: Would you like to feast on this gory toddler toddy punch? Definitely not the one for people who love infants.
# Cream cheese and walnut-stuffed roach dates: This recipe is reminiscent of creepy cockroaches, roaming around in the dark.
# Halloween ribs recipe: Rib cage recipe along with scary skull on the top is another treat for the scariest night.
# Burnt hand meat loaf: This meat loaf in shape of burnt hand is definitely going to delight monsters at your party. By the way this one is going to be a head turner at any Halloween party.
# Blood Splatter cookies: Simple but creepy Halloween party food to freak out kids, as well as adults. Easily add prompt sanguinary touch to your Halloween party.
# Edible eyeball jellies: The creepy jellies are identical to human eyes, but their creamy ingredients make it very delicious.
# Bloody intestine recipe: This recipe is covered with loads of whipped cream and raspberry syrup, but shaped like human intestine. Eww!
# Consumable cranium: Eat this healthy and nutritious cranium-inspired recipe. This one is definitely not for the faint-hearted.
# Spooky glow noodles: These fun noodles with UV lighting offer creative-yet-eerie way to celebrate the Halloween evening with friends and family.
From glowing noodles to creepy monster jaws, these Halloween recipes are perfect gruesome delights for ghouls and witches in your scary party. These creepy edibles will certainly spice up your Hallows' Eve in grimly palatable manner. But the question is, would you be able to eat any of these disturbing foods?