It's Halloween, the spookiest party of the year. For this spookiest day of the year, your house should be ready to welcome scary ghosts, ghouls, and goblins. Frightening adornments and trick-or-treating are some of the important activities that are enjoyed by families on October 31.
Leaving all things aside, what will you be serving your unearthly friends on All Hallows' Eve? Obviously, the food must be stuffed with horror and creepiness. However, if you don't have time to prepare a full course meal, here we have listed some easy kid-friendly Halloween treats that you can whip up quickly, even at the last moment.
Sweet And Salty Halloween Snack Mix
To add spice and sugar to your Halloween dread, feed your kids with the Sweet & Salty Halloween Snack Mix that can be prepared within a couple of minutes. Comprising of Corn Candy, Chex Mix, Reese's Pieces, and peanuts of your choice, this will be the perfect Halloween treat for your kids. Read the tutorial at The Miniature Moose.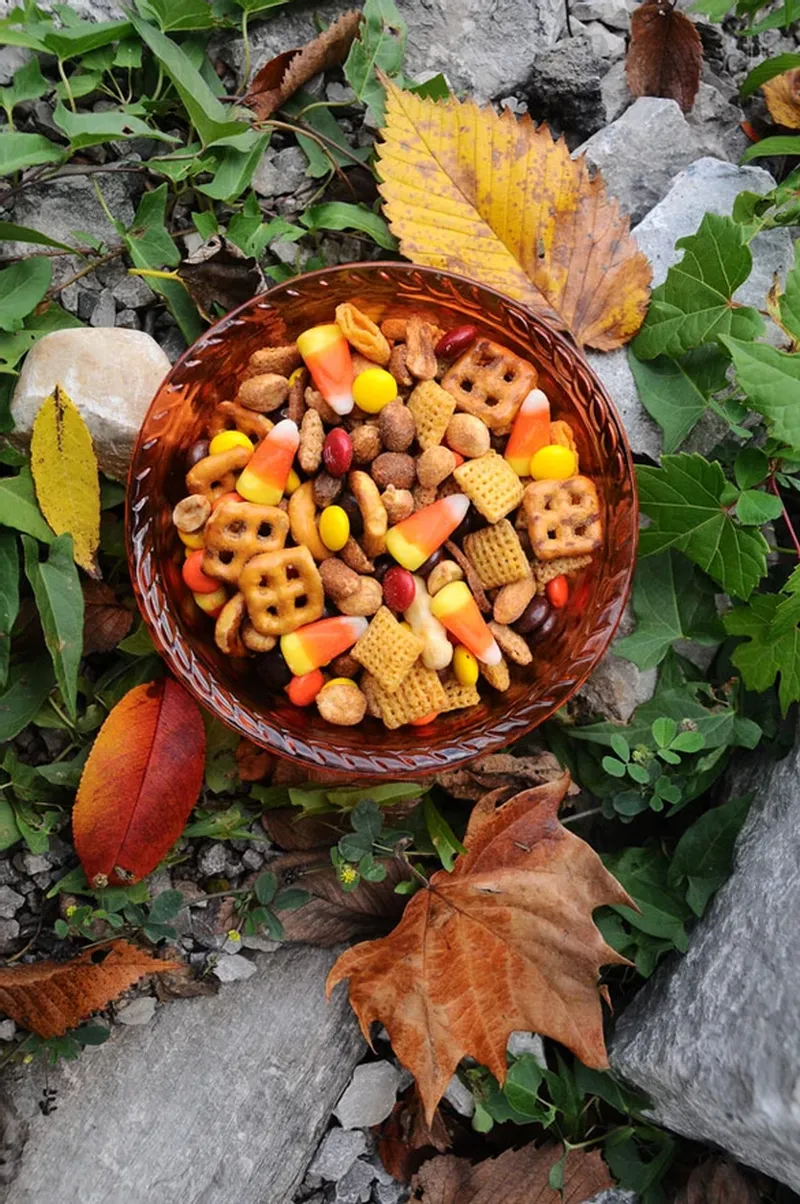 Spooky Face Popcorn
If you are too busy with Halloween decorations and the trick-or-treaters are about to approach, hand them these Doddle-faced popcorn bags. The popcorns look spooky and what adds frill to the fear is circular eyes, triangular nose and saber teeth. See tutorial at 100 directions.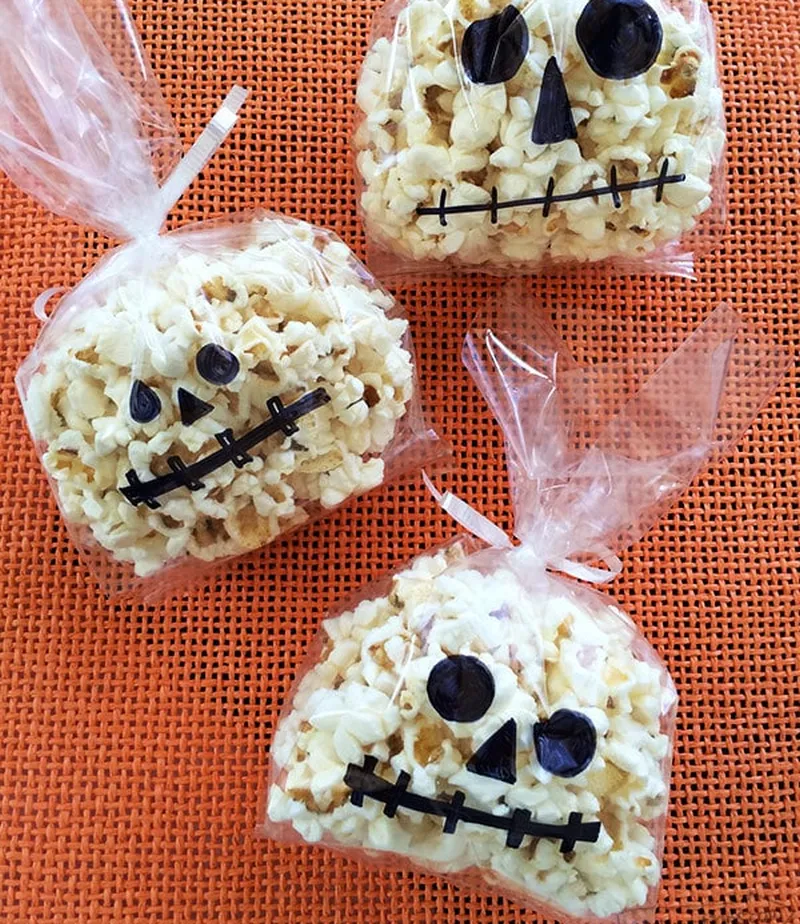 Frankenstein Kiwis
If you are looking for something healthy and spooky at the same time, Frankenstein Kiwis come to your rescue as a great Halloween treat. Use two pretzels and two mini chocolate chips to give your kiwi a spooky look. The full recipe is available at Two Healthy Kitchens.
Witch Hat Cookies
It is a no-bake Halloween food recipe. To make these witch-hat cookies all you need are four ingredients: chocolate crème Oreo cookies, Hershey's Kisses, yellow candy melts, and orange-colored frosting. You just need to decorate the cookies in a spooky way. Full recipe at Princess Pinky Girl.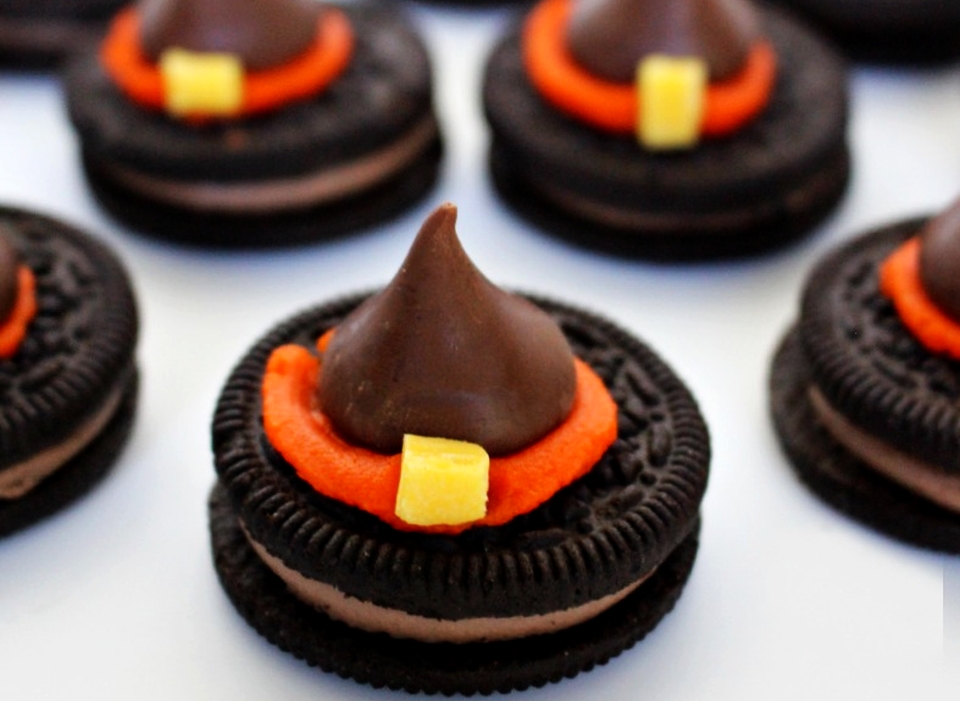 Black Cat Oreos
These black cat cookies are easy to make and kids will love them. If you don't have much time and aren't into baking, it is the right recipe for you. You just need a few Oreo cookies and colored frostings to turn them into black cat treats. It is surely a frightening yet fun food hack. Full recipe at Moments with Mandi.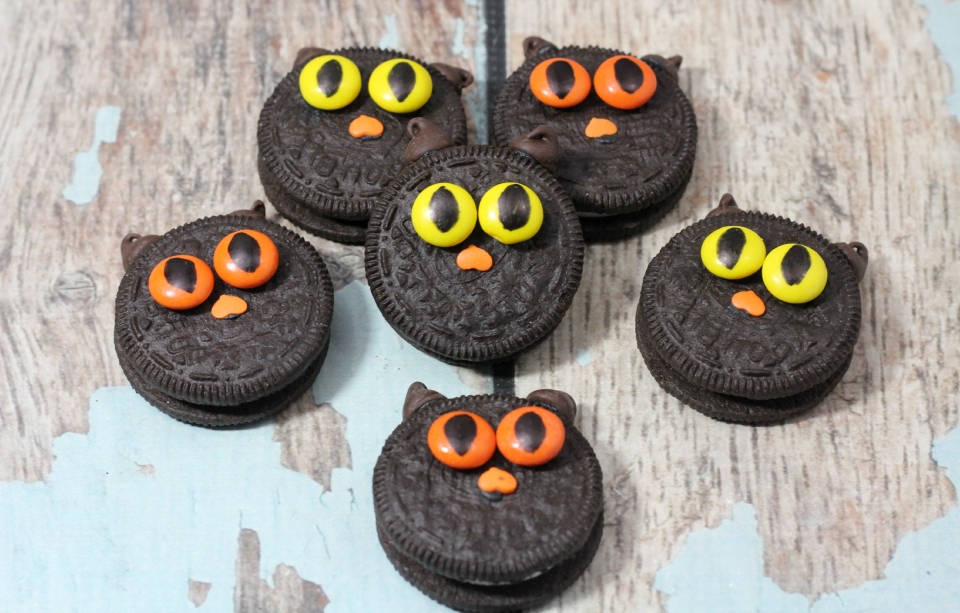 Mummy Drink Boxes
Create a mummy-like appearance by wrapping white-colored tape or gauge bandage around a tetra-pack of juice or other food boxes. Add creepy googly eyes to intensify the effect.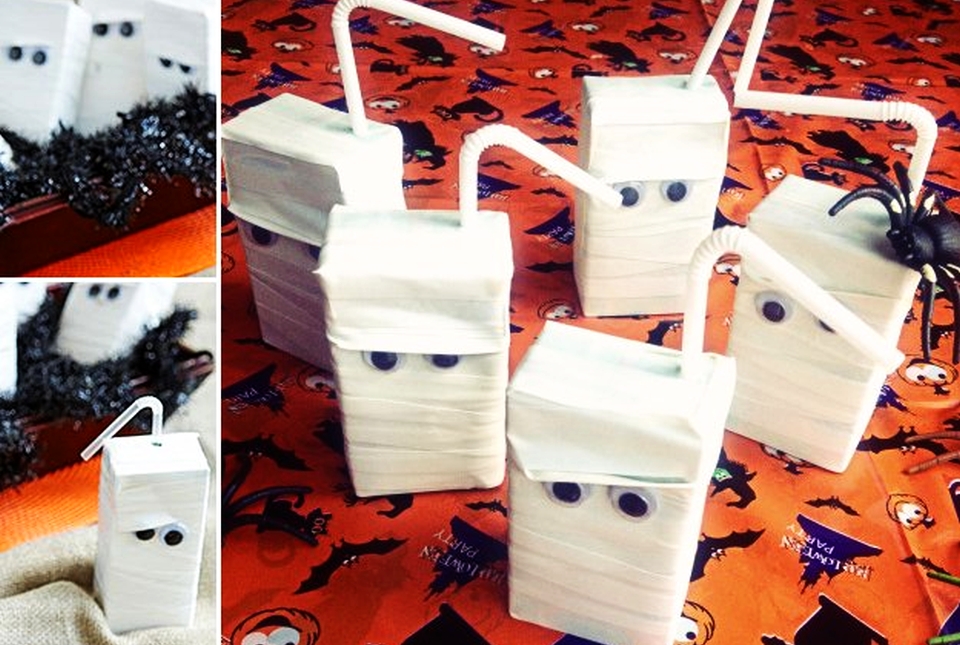 Ghostly Cupcakes
If you're a good baker, you can easily create yummy cupcakes for your guests. If you're making this for Halloween, you can decorate the cookies with cream to add a ghostly charm. You can also draw faces on the cream you have layered on the cupcake. Full recipe at Our Family of Seven.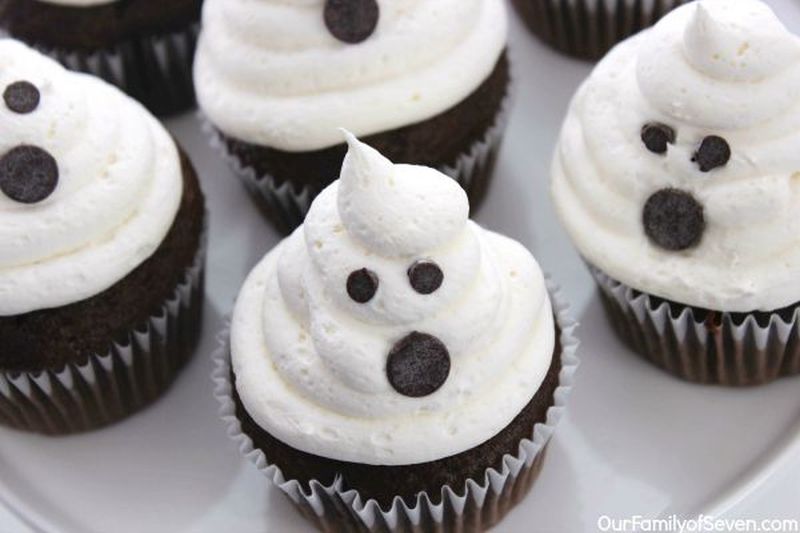 Jack Skellington cupcakes
Impress your kids with Tim Burton-inspired Halloween treats. It is an easy idea shared by Frugal Mom Eh.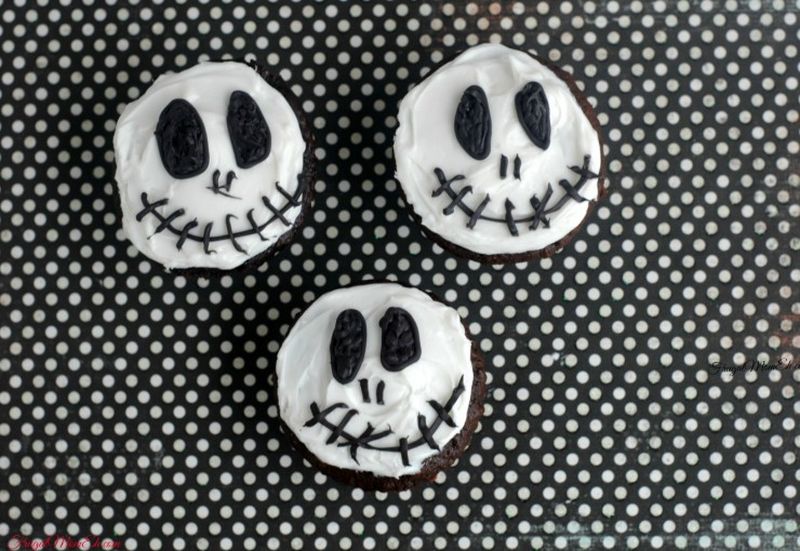 Candies in Blood-Stained Surgical Gloves
Want to impress your neighborhood kids. Serve them candies in blood-stained surgical gloves. It'll surely give them heebie-jeebies.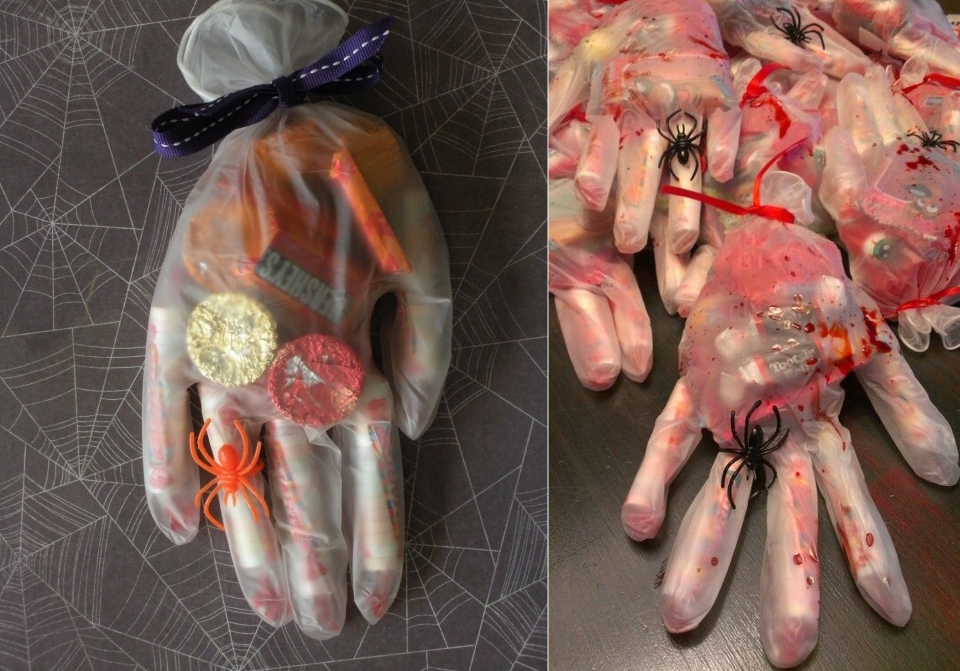 Also Read: 100+ Cute and Creepy Halloween Cake Ideas
Carrot Fingers
Using fresh carrots you can create evil witch hand and serve them to your health-conscious guests on the eve of Halloween. It'll be a pleasant treat for vegetarians with a surprising factor. See more at Jesse Lane Wellness.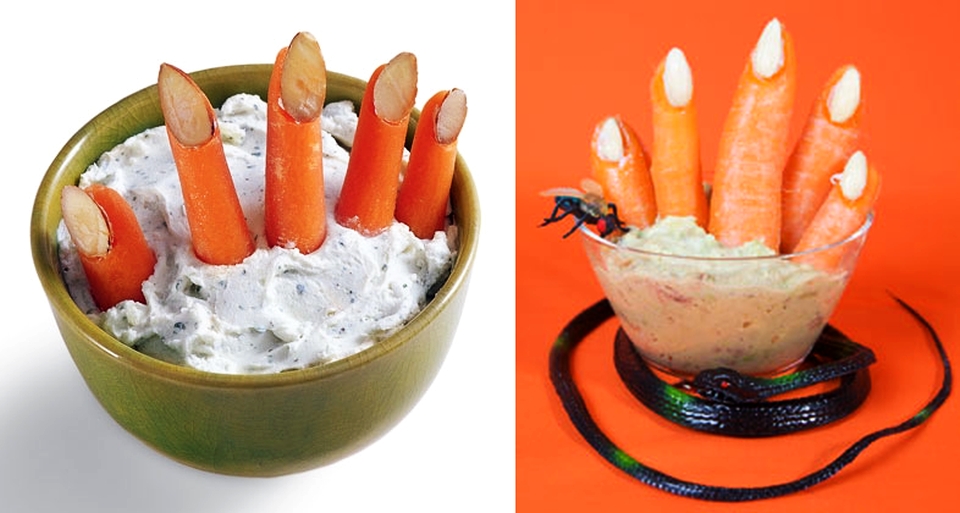 Mummy Pizza
You can prepare this creepy Halloween recipe in minutes, and it'll surely be loved by your guests especially youngsters. Olives here act as spooky eyes and layers of cheese are the key to the 'mummy-like' appearance of the pizza. Tutorial at DVO.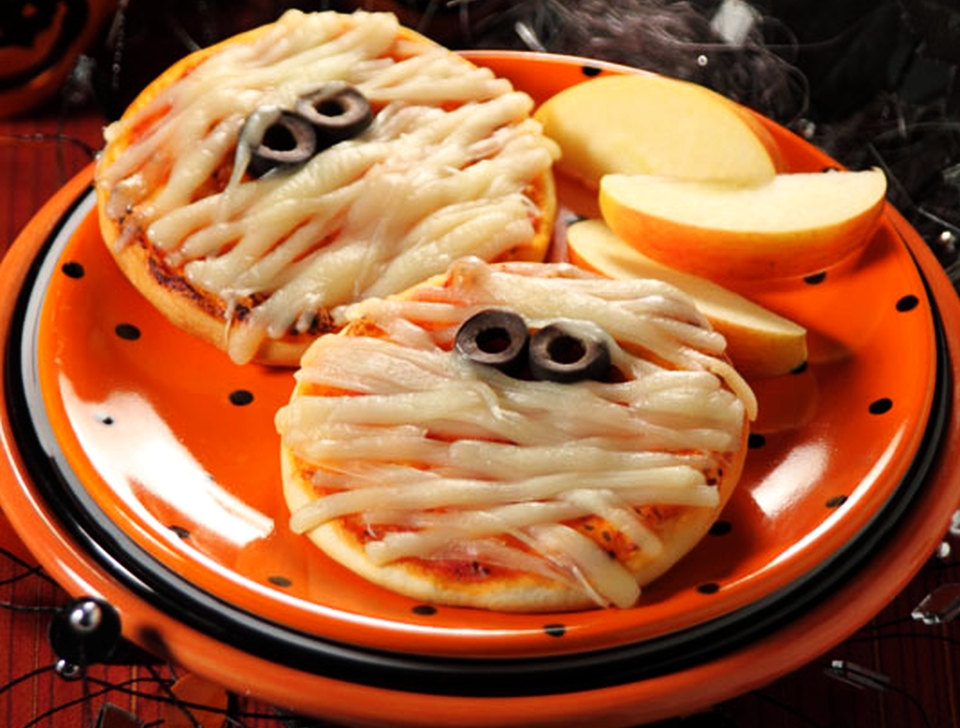 Frankenstein Avocado Toast
It is an easy-to-make Halloween treat that kids are surely going to love to see and eat at the dining table. Use avocado paste to make the face, dry toasted seaweed for hair, black olive for eyes and a sliced tomato as its mouth. See the tutorial at Vegan Chow Down.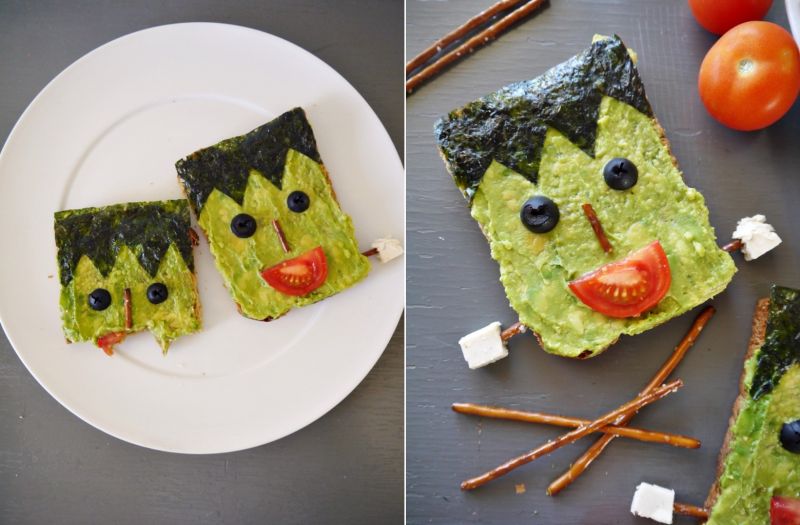 Blood Red Punch with Spider Ice Cubes
Add fake plastic spiders in ice cube tray and freeze them until they are solid. Add to any beverage and serve chilled to your guests. These spider ice cubes are sure to give shivers to your Halloween party guests, especially the ones who are arachnophobic. For the bloody drink, see the tutorial at Noble Pig.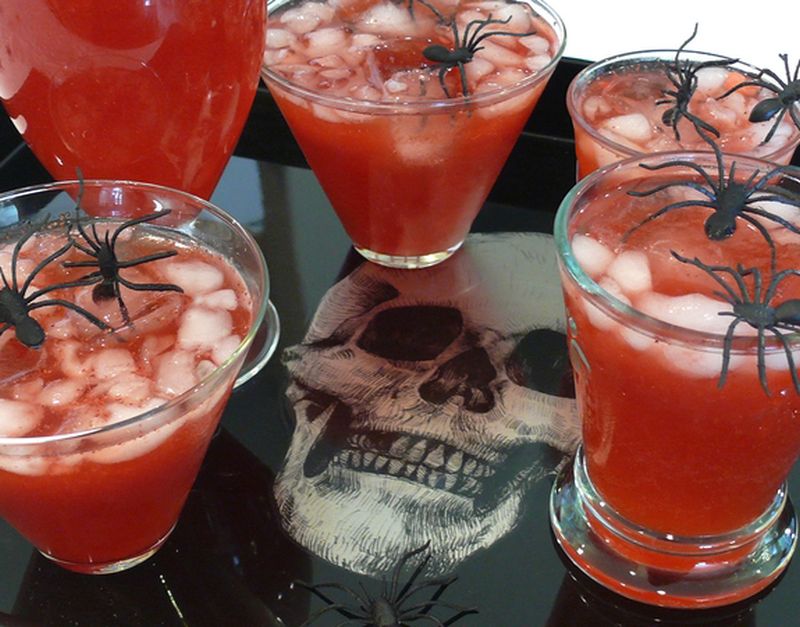 Jack-o-Lantern Burgers
How can you forget jack-o'-lanterns for Halloween? Try this recipe idea by Pastry Wiz, where burger buns and meat patty is topped with a cheese slice patterned to look like jack-o'-lanterns.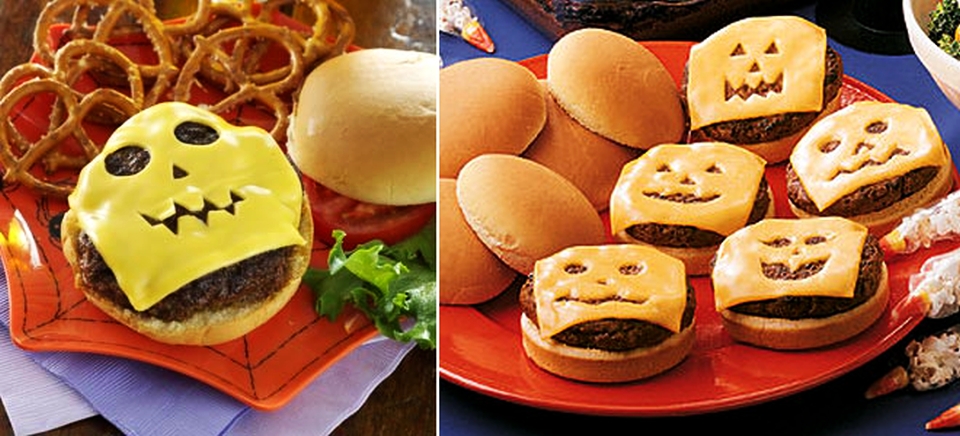 Deviled Eggs for Halloween
Creepy looking food items are the staple of any Halloween party. You'll need boiled eggs, avocado, and black olives and other basic cooking ingredients to prepare the monster eyeball recipe by Scattered Thoughts of a Crafty Mom.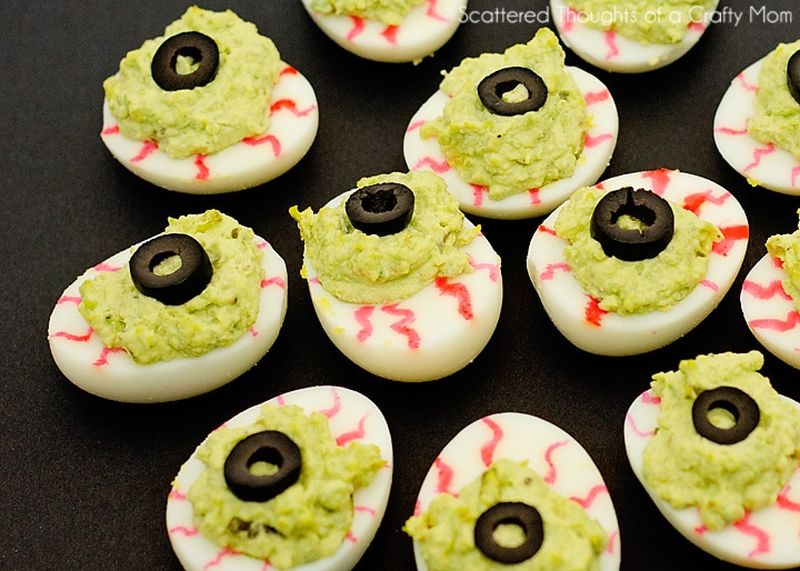 Deviled Purple Potatoes
Boil some potatoes until they are ripe and then cut them in half, lengthwise. Decorate with tofu salad to give it a cool, creepy look, your guests and everyone at home will love it. Tutorial at Veggies Save The Day.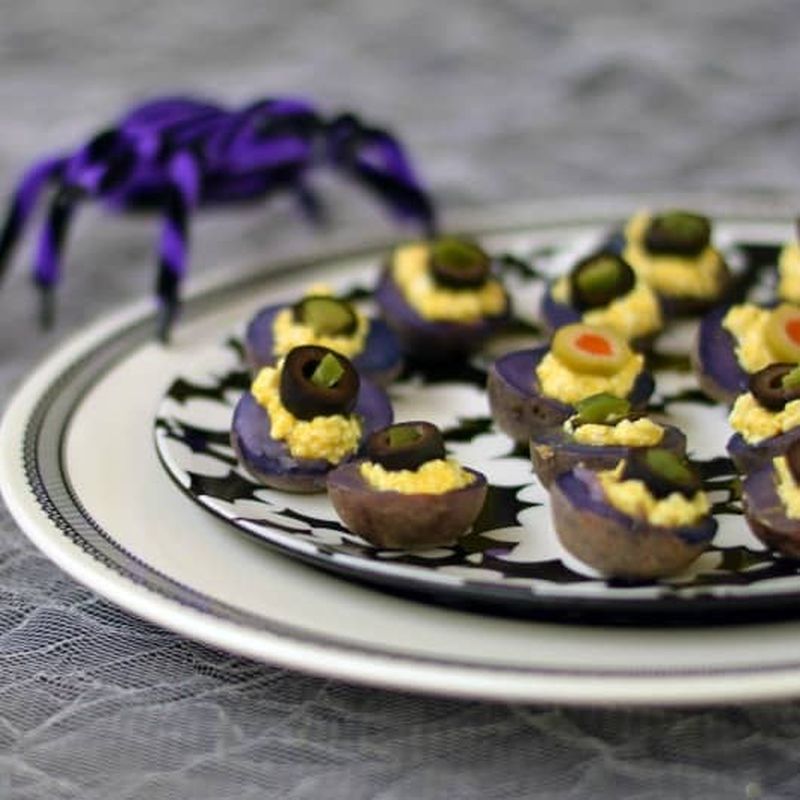 Halloween Monster Apples
If you're looking for fun Halloween treats that can be prepared with help of kids, this one is absolutely right for you. Just cut the middle out of each quarter of the apple in order to create the shape of a mouth. Then fill the gap with almond butter. Use sunflower seeds as teeth and a sliced strawberry as tongue. See tutorial at Parenting Chaos.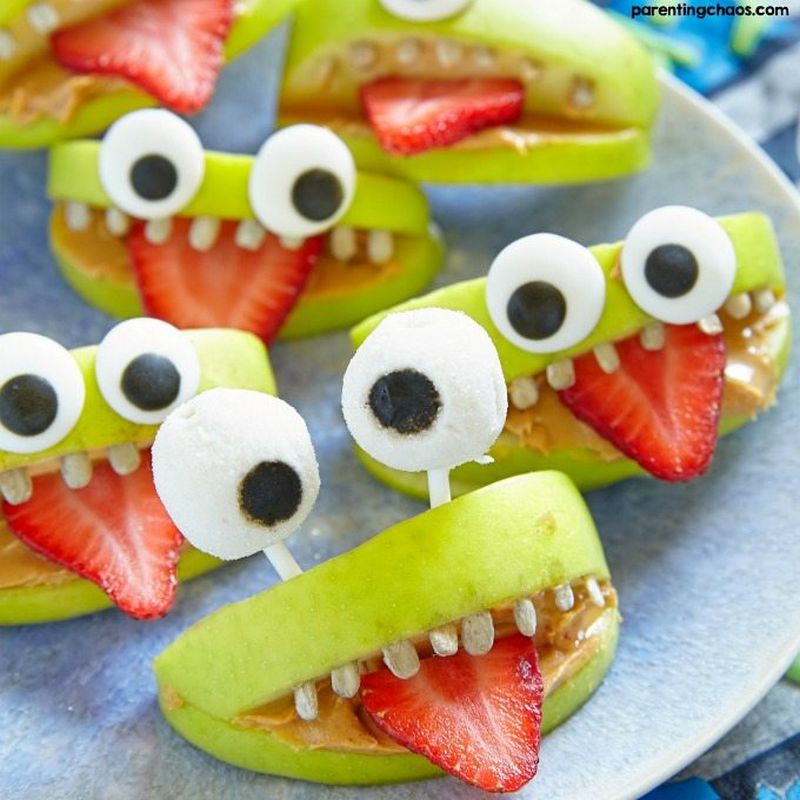 Banana Halloween Ghosts
Take some bananas, cut them in half and decorate with chocolate chips to give them the appearance of a ghost. This easy Halloween treat can be prepared in less than five minutes. Even kids can be involved. See tutorial at Live Love Texas.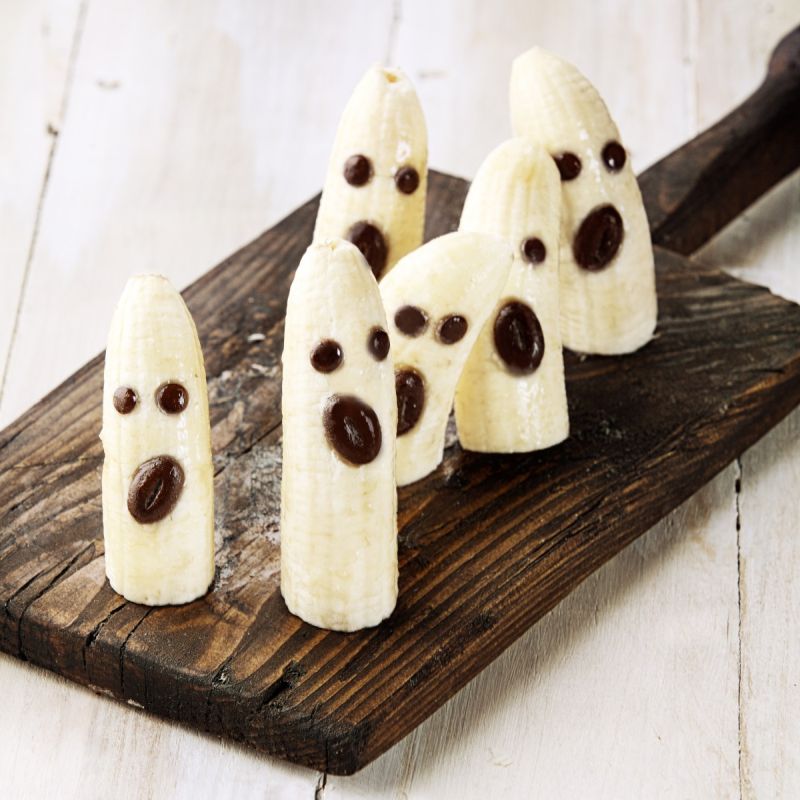 Also Read: Fang-Tastic Food Ideas for the Festival of the Dead
Brew-Ha-Ha Punch
Get your guests into the spirit of Halloween with this witchy party punch made from lime and pineapple juice. For a haunting effect, you can place the punch bowl inside a larger glass bowl filled with dry ice (for creepy smoke). Tutorial at My Recipes.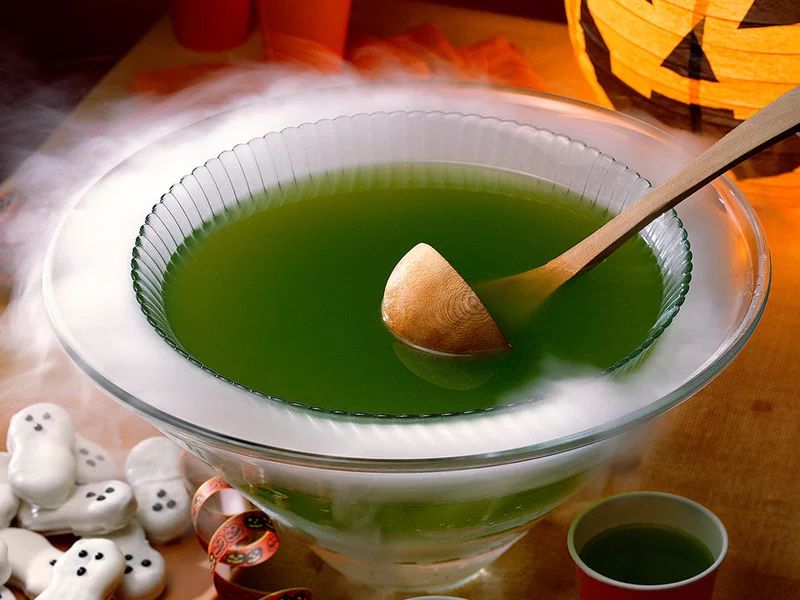 Is any of these going to be on your Halloween dinner menu this year? Let us know in the comment section below. Happy Halloween!