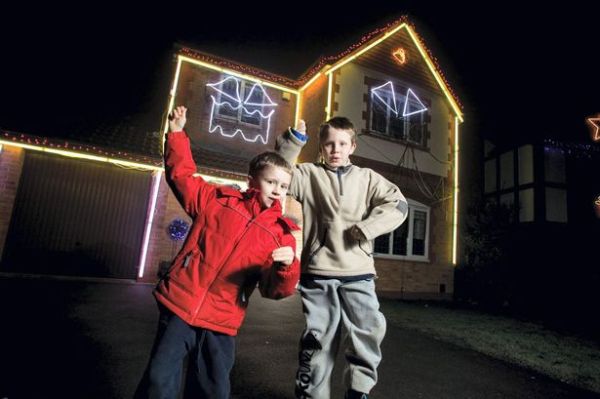 A Gangnam style Christmas decoration was always in the cards, since Korean pop sensation Psy's vigorous yet affable dance moves smashed through records after records in the YouTube views (in fact, it reached to a whopping billion views yesterday). However, when it comes to the intricacies of Christmas lighting, to be just inspired by the Gangnam Style is obviously not enough. One does have to follow it up with his/her own set of technical wizardry. In this regard, Phil Brookes from Britain certainly proves up to the task, with the complete metamorphosis of his detached home in Salford with the help of extravagant lighting.
A writer by profession and father of four, Phil did bring out his 'A' game in the lighting department. According to sources, he utilized around 2,000 LED lights to transform the twinkling aptitude of his quiet neighborhood. In this he succeeded, as all the lights are properly and painstakingly synchronized by computer programming to give the rousing effect. Even the windows are complimented by tube lighting that mimic various faces and mouths to exhibit the notion of singing.
And, if you thought this was it, then you are sorely mistaken! To really get into the Christmas groove, the resident technology aficionado also hosts 15 minute street parties starting from 7 pm. So yes, dancing, singing and lighting; all are notched up to the mirthful scale of the Gangnam Style.
Via: Mirror