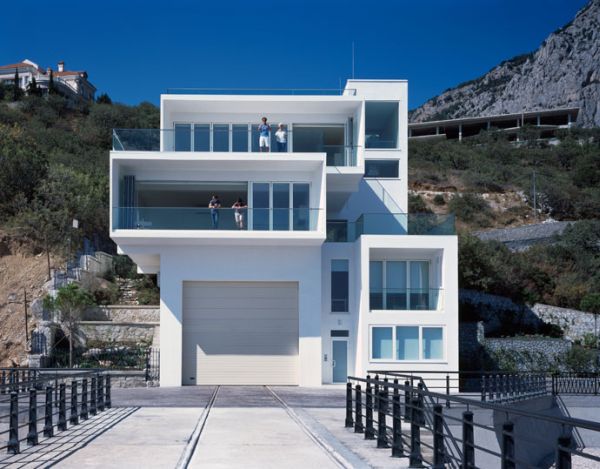 Yesterday, we talked about how yachts can pose as credible habitable unit, albeit with a ritzy quotient of their own. And, now we have come across the Yacht House, a fully furnished accommodation establishment (with holiday flats) built above a yacht storage space. Designed by Robin Monotti Architects, the modernist structure is situated in the paradisiacal setting of Foros, Crimea along the Black Sea coast. In fact, the site of the Yacht House rather accentuates upon its unique spatial value; an advantage that is derived from being positioned between the sea and the mountains that rise 1,000 m above sea level.
Coming to the user oriented zoning, the Yacht House comprises of accommodation units with their own balconies and terraces. The important element of privacy is maintained by offsetting these units from each other by incorporation of slightly variant levels. The structural credentials of the Yacht House are also based upon the site features. This is quite evident from the main roof that offers a glorious 360 degrees view of the beautiful landscape from its terrace.
The access to the holiday flats is through the gated Foros Shore Resort, which is actually a property of the Donetsk Steel group, and is used for the company's high level employees when they are vacationing. In many ways, this is intrinsically related to the purpose of the retreat. According to the architects –
Yacht House is intended to cater to the luxury end of the general holiday market and to transmit the feeling of living in a Yacht, or being on a cruise on an Ocean liner.
So, at the end of the day, it is the replication of a luxury yacht that leads to the exclusivity of the modernist construction.
All images are courtesy of Ioana Marinescu.
Via: RobinMonotti