Bathroom is a place where you refresh yourself to kickstart each and every day full of energy. Not only that, but you also unwind yourself after tiresome activities of a usual working day. So it makes an absolute sense to install a cozy bathtub into your powder room. Not everyone can own a huge bathroom, and this is the time when bathtubs with built-in storage come into life.
If you're looking for some creative bathtub that can store store your products or other stuff within itself, well, here's a list that'll help you the decide the perfect one for your bathroom.
# Sliding drawer tub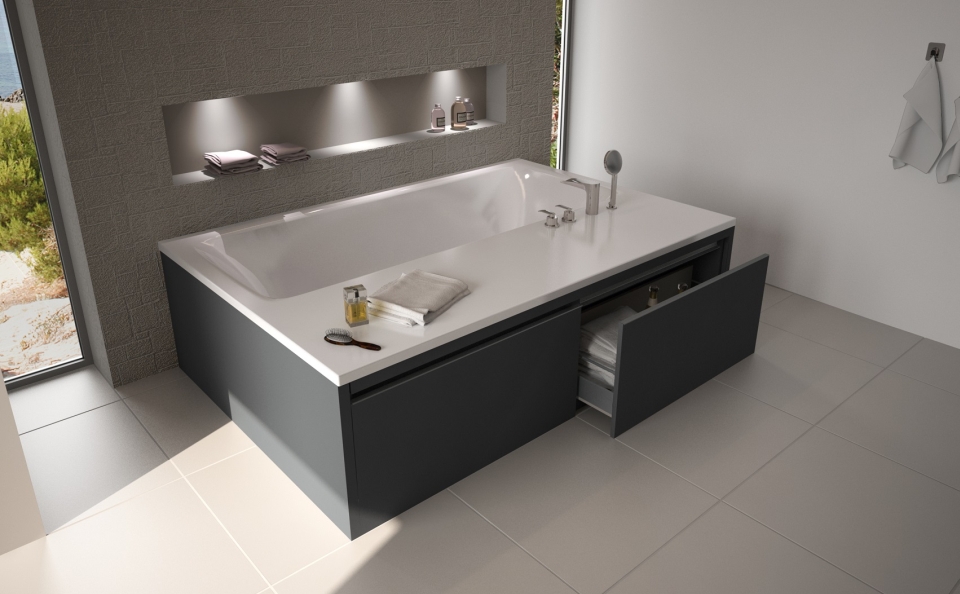 Sliding Drawer Tub by Aquatica comes integrated with drawers of Pool Solo for keeping towels and other items at hand. On the other hand, the wide area extending from the tub serves as a hygienic seat as well as a space for personal care. Overall, it adds elegance and practicality into any bathroom interior.
Buy: $4,700
# Comfort tank tub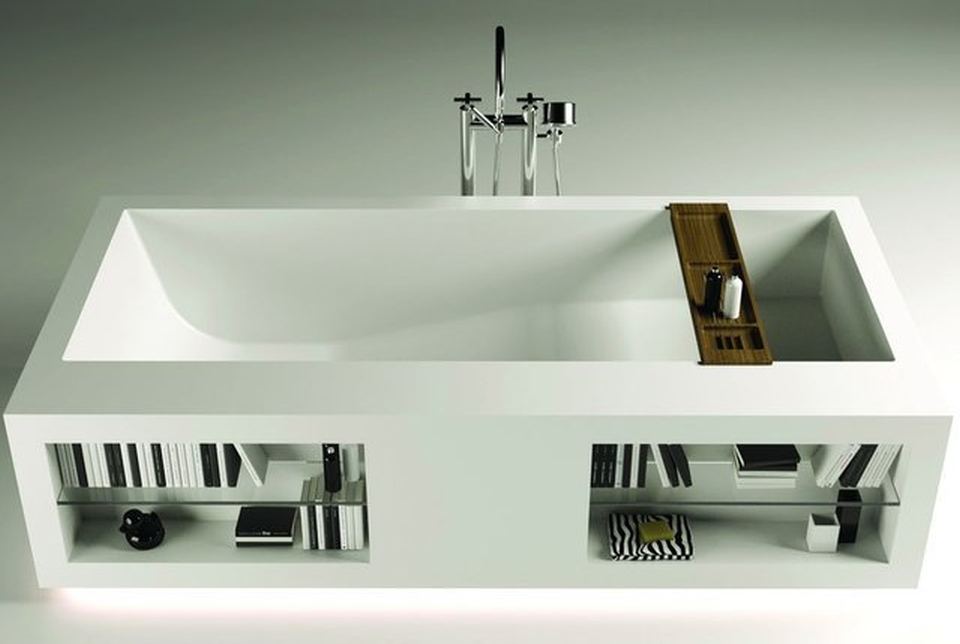 The Comfort Tank bathtub by Moma Design features built-in curved seat with rounded interior corners, providing you with ultimate comfort for total relaxation. There is a teak tray across the tub that offers space for keeping your belongings. Moreover, exterior shelves provide additional storage space.
Buy: $10,460
# MyStyle freestanding bathtub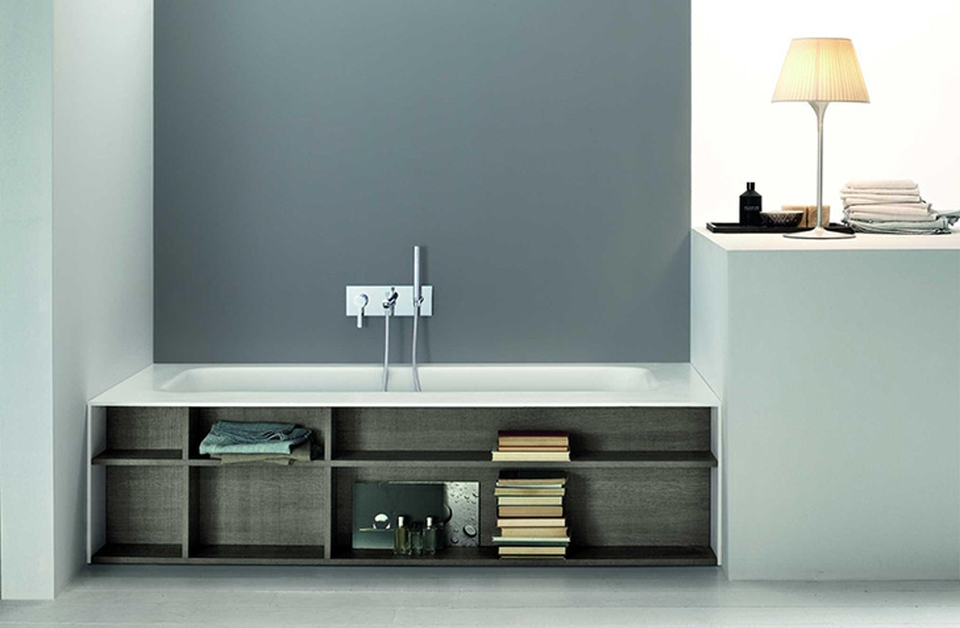 The MyStyle freestanding bathtub by Marko comes with built-in shelving and open compartments for convenient storage opportunities. You can store towels, bath products, lotions etc. close to you while bathing in this comfortable tub.
Buy: $12,408
# KellyBook bathtub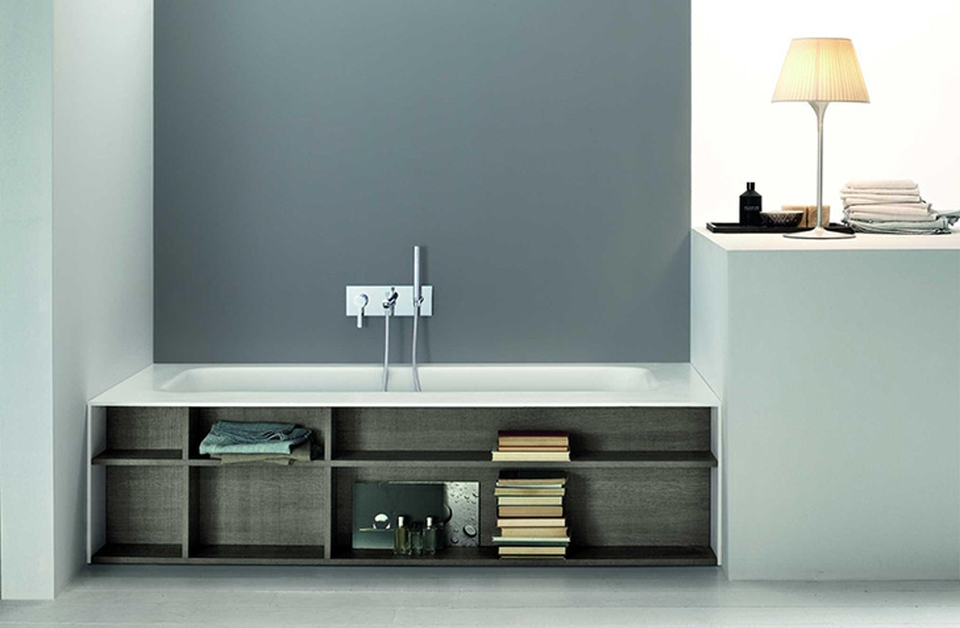 The KellyBook bathtub by Mastella Design is created with wooden shelving to store your books as well as toiletries. The storage space comes in wood and other lacquer finishes for transforming your bath with aesthetics and functionality. Depending on available bathroom space- it can be positioned freestanding, niche or against the wall.
Buy: $13,750
# Bathtub with book storage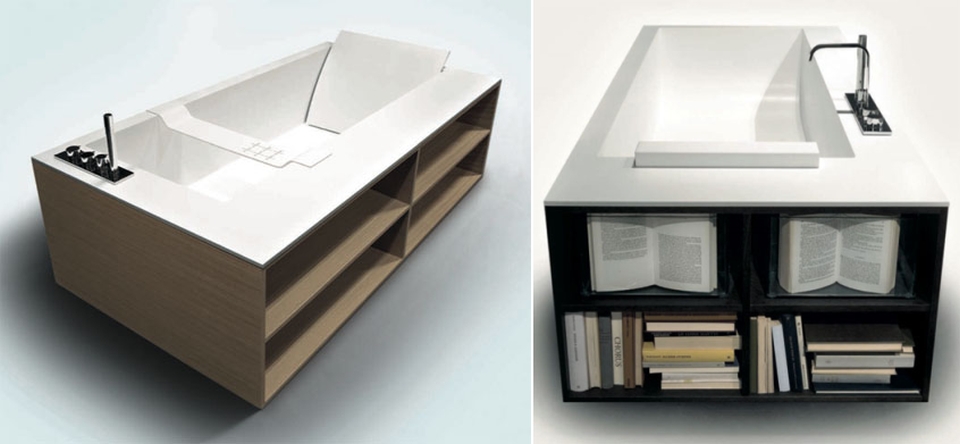 If you love your books to such an extent that you don't like to part with them, then this unique bathtub with built-in book storage is just perfect for your bathroom. The rectangular tub is designed by Antonio Lupi, who created it with an encompassing shelving unit to hold your book collection.
Buy: $17,300
# Stowaway bathtub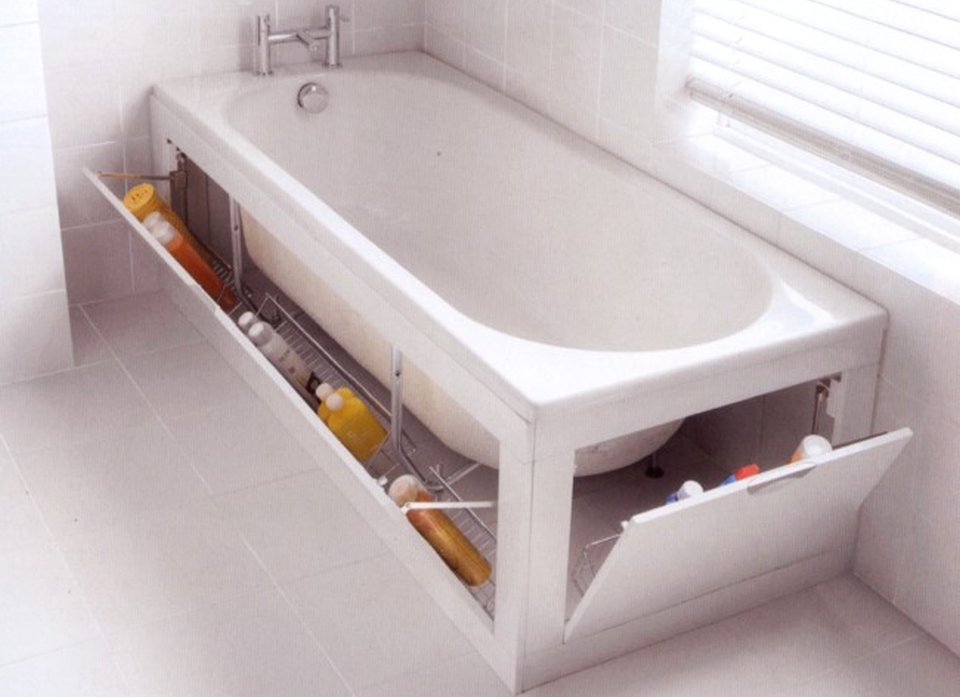 The Stowaway bathtub by GW International is designed to utilize unused space underneath the tub and turns it into a functional storage space. This minimal tub comes with a pull-down panel having built-in chrome baskets for providing organized storage of toiletries and other accessories.
Buy: Price on Request
# Keops Evolution bathtub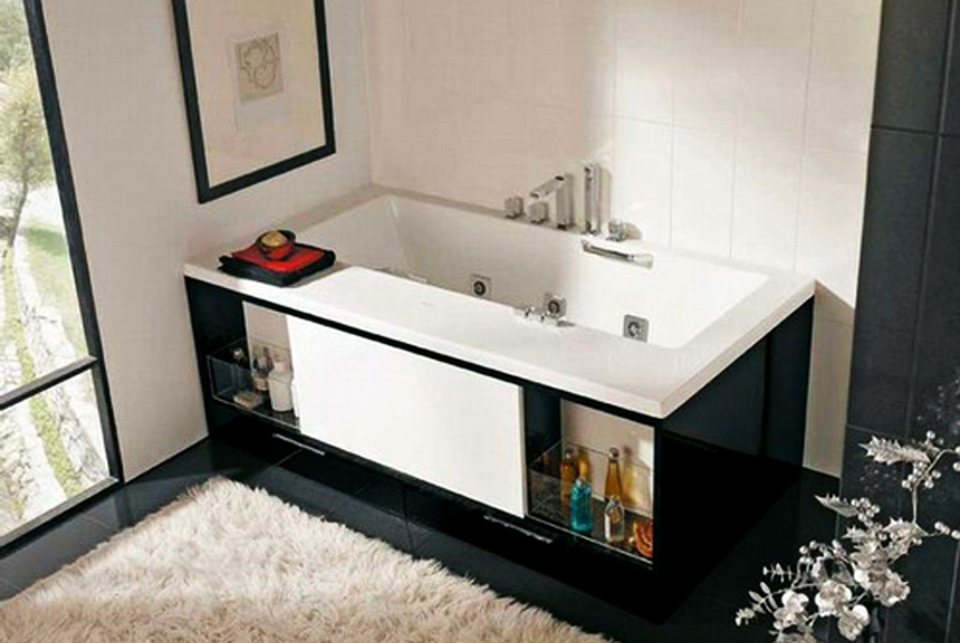 The Keops Evolution bathtub by Royo Group boasts functional drawers and small shelves to keep all your bath-related products near you while bathing. This bathtub is not only aesthetic, but also space-efficient for small shower spaces. Besides all the storage space, it is installed with other features such as ozone therapy, aromatherapy, LED lighting and dynamic jet message, all for a relaxing bath.
Buy: Price on Request
# Toto Neorest bathtub with LED lighting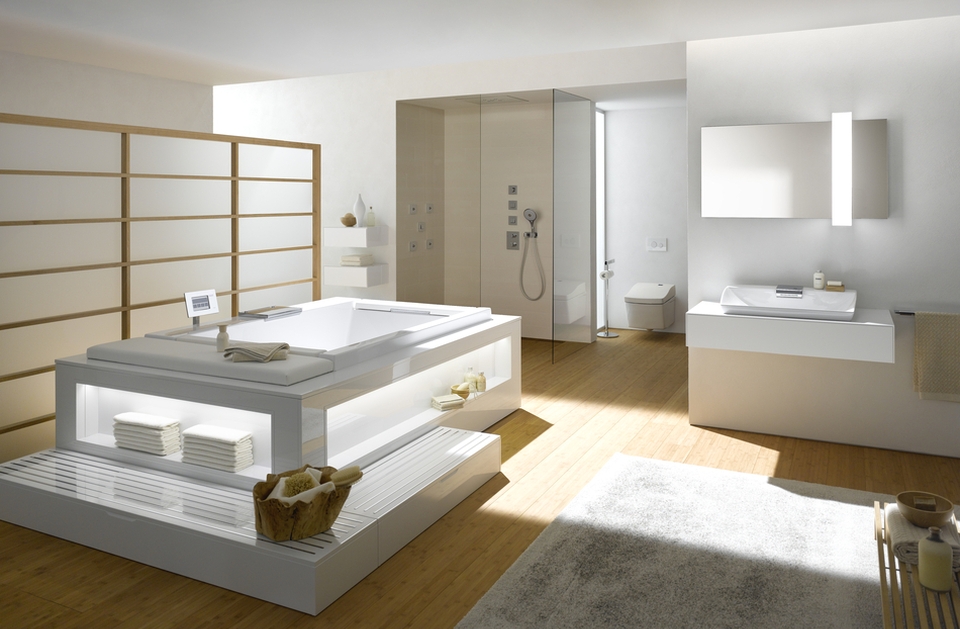 This illuminating Neorest bathtub by Toto is surrounded by a sleek storage space to hold towels and other bath products. Like other, Neorest collection it is also an air tub with various water jets to rejuvenate your body while bathing. Moreover, LED lighting underneath the tub adds stunning ambiance into your bath.
Buy: Price on Request
# Rexa Unico Egg bathtub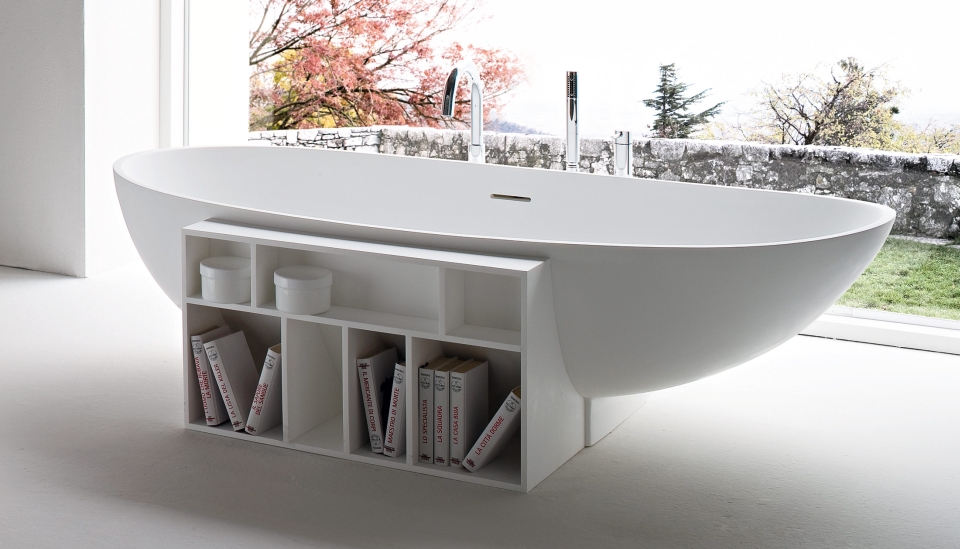 Rexa's spa-like Unico egg bathtub design can revamp any washroom with its minimal aesthetics. It embodies tasteful contemporary oval shaped tub with functional space in the form of an integrated shelf. The storage compartments underneath the tub are perfect to place bath products or books at arms' length while bathing.
Buy: Price on Request
# Thais Art whirlpool tub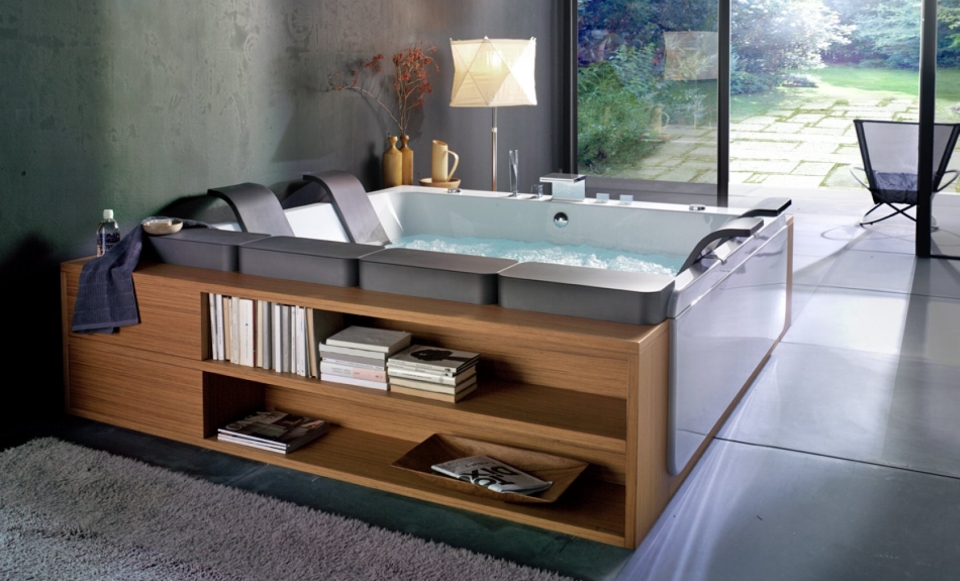 Thais Art whirlpool bathtub is spacious enough to accommodate two persons for ultimate spa experience. Besides that, it boasts wooden shelving around it to hold your books and magazine collection. So, you can enjoy reading while bathing in hot bubbling tub.
Buy: Price on Request
# Library bathtub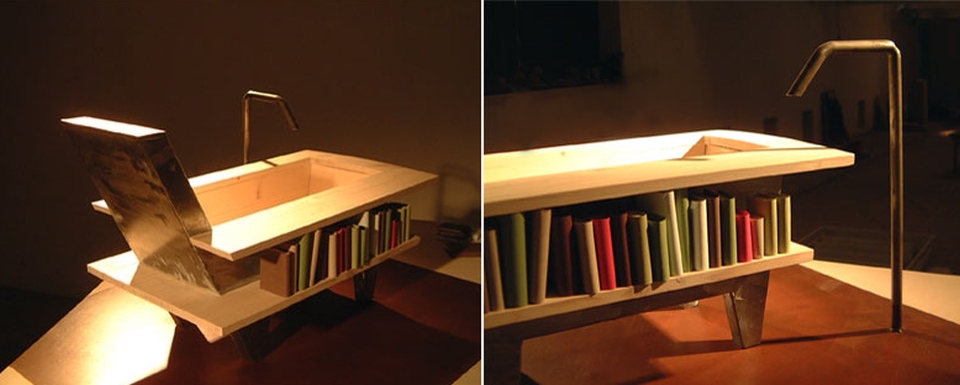 Combining a bathtub, an armchair and a bookshelf, Swedish designer Malin Lundmark has created this impressive Library Bath for relaxing your body and mind. It boasts minimal design and storage space for keeping your books safe from splashing water.
Buy: Price on Request
# Circular freestanding tub with shelving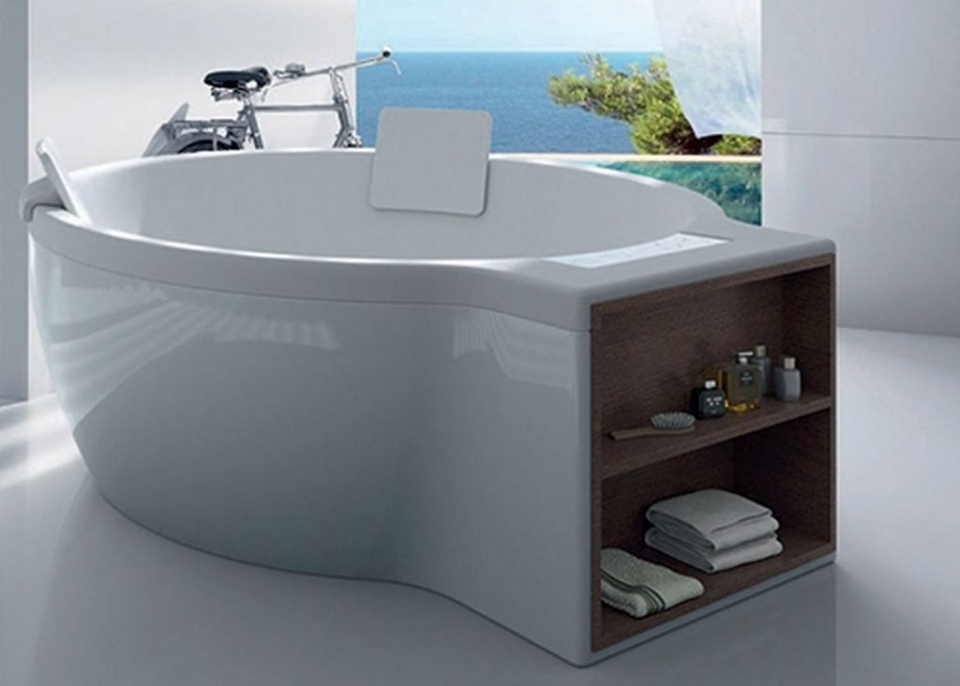 The Circular bathtub by Roca is an ergonomically freestanding soaking tub with two head rests to suit a range of luxury bath designs. This tub is designed especially to provide you amazing experience of hydro-massage. Furthermore, it features little storage space for keeping your bath-related products closer to you while bathing.
Buy: Price on Request
These were some modern bathtubs for styling any bathroom with aesthetic appeal as well as high-end functionality. Above all, such practical bathtub designs are idyllic for both small and large shower spaces. However, what's your take on these extravagant bathtubs?