Transforming sofa converts into dining table and bed for two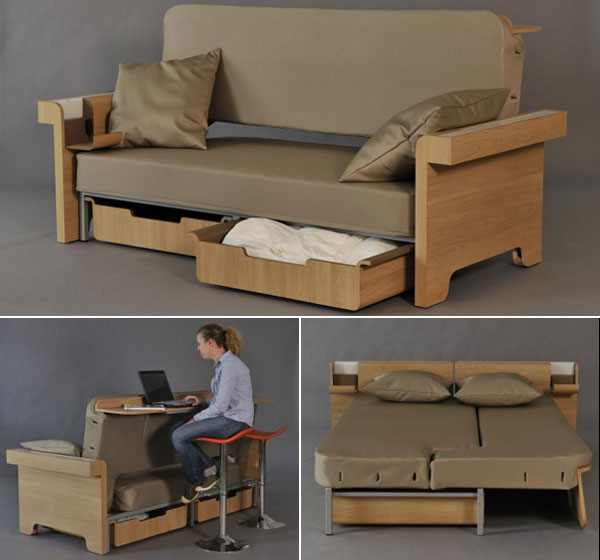 With an objective to meet current needs of urban dwellings where space comes for a premium, a French design student Fanny Adam has designed a transforming sofa that can become your workstation or dining table and bed to successfully overcome challenges associated with lack of space in our urban apartments. Designed for the Formica Group, this convertible piece of furniture is made with Formica wood and serves as a sofa and bed besides including a table for additional dining and work space. The armrests of the sofa become headboard when the sofa is transformed into a bed, and as a smooth tabletop with drawers when being used as a table.
So, all in all the sofa bed is probably all that you'll want in your apartment, not just because it is elegant but because this is an indispensible furniture unit you'll want for all the sitting, eating, relaxing, working and dining needs. The Formica laminate and use of oak with Naturella matte finish makes the sofa bed durable, scratch and heat resistant besides adding a very elegant look to the furniture. Formica laminate also makes sure the sofa bed prototype is available in unbelievable choice of colors and finishes.
Via: Archello
The following two tabs change content below.
Bharat has been reviewing latest gadgets, toys, robots and new home technologies across various platforms. In addition to reporting and reviewing new products and technologies, he spends too much time digging the Internet for endless questions. Bharat is a football fan and a big time foodie.
Comments