Sensor Mirror with hi-tech lighting features to bring out the finer details of your face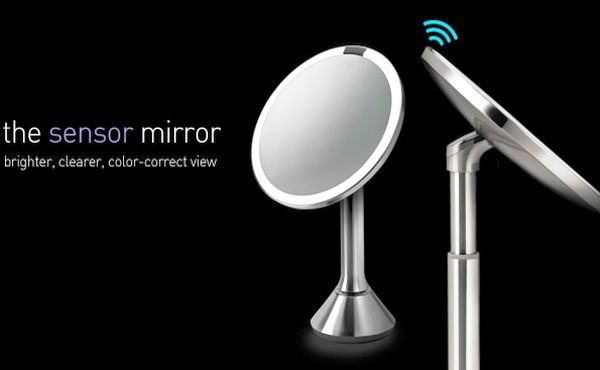 'Mirror, mirror; now, even you are a smart gear?!' Well, it seems that even mirrors have taken the hi-tech route to 'smartness', as can be seen from this Sensor Mirror specimen from Simple Human. Featuring a wireless circular mirror with an automated (and advanced) lighting mechanism, this vanity contraption supposedly allows you to see your own face in an impressively detailed manner. The mirror is crafted from a stainless steel frame that endows it with hardiness. However, beyond the sturdy attributes, it is the technology that really drives the working features of the Sensor Mirror.
And, concerning this facet of technology, the 5x magnification 'device' is integrated with tru-lux natural light system (600 lux) consisting of super bright rechargeable LED bulbs. According to the creators, this lighting entails a degree of brightness that is at least twice as intense the next comparable mechanism.
Of course, the scope is not only about brightness, but also about the uniform distribution of light for showing the fine details of your visage. In this regard, the mirror incorporates an array of micro reflectors that traverses any significant loss in light or distortion. This results in a CRI (color rendering index) of 90, which closely replicates the natural intensity of sunlight, with full color-spectrum variations.
And, finally to notch up on the degree of usability, the wireless sensor in the mirror automatically lights up when you move your face close to it. Correspondingly, it also turns off, while you move away from the contraption.
Via: SimpleHuman
The following two tabs change content below.
A proud native of the beautiful steel township of Durgapur, West Bengal, Dattatreya's fascination lies within a range of diverse matters. With a bachelor's degree in architecture, he is quite fond of his hardcore strategy gamer as well as amateur historian tag. Of course, with over two years of blogging experience under his belt, he also likes to write about the latest updates on home based technology and gizmo oriented products.
Latest posts by Dattatreya (see all)
Comments