Louie's Box: A cardboard hideout for cats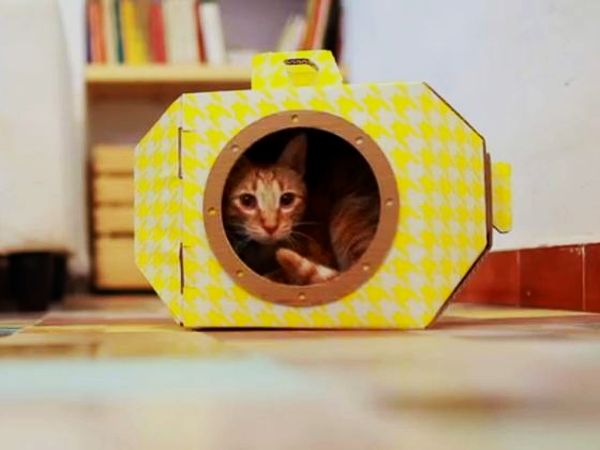 For all those who have a playful, naughty little kitty at home, there's something you can surprise your beloved pet with. A cool new hideaway designed for cats, the Louie's Box is a submarine shaped cardboard house for cats. Another amazing creation featured on Kickstarter, the cat hideout has been designed by a team in Tel Aviv. They christened it after their own sweetheart, Louie.
The pet hideout is designed to be shipped flat and can be easily assembled without glue or tape. Your cat can use the box for playing, hiding, or even taking a small nap. It looks cool and is bound to become your cat's favorite toy. When assembled, the box will measure 9.5" wide, 15.5" in deep, and 12.5" tall. The designers need to raise $5000 for the first batch of 2500 units. If they get your support, soon there will be a series of designer cat hideouts available for sale. Also, if you're in for pledging $2000, you can name the product after your own pet, to bring them everlasting fame.
The following two tabs change content below.
A Punjabi by birth, a hill girl by heart, Pratima loves writing. Even when she holds an MBA degree in Marketing and HR, her soul keeps yearning for something to read, and something to write. She believes that reading is the way to discover the world, and writing is a way to discover yourself.
Comments