r2k Architects create a residential building with projecting 'bacon' balconies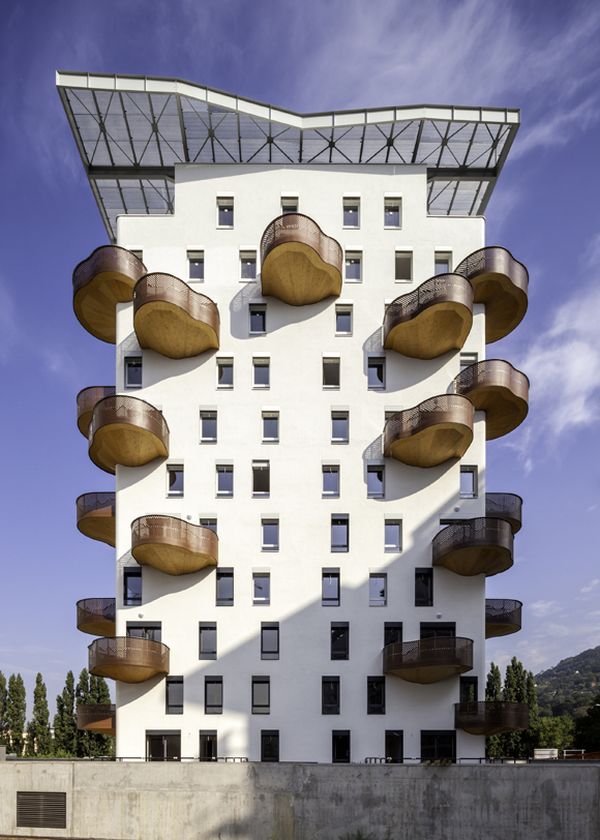 The juxtaposition of the nigh mundane and the utterly unique – this in a nutshell describes the above pictured architectural conception by r2k Architects. Envisaged as a residential building in Grenoble, France, the structure itself is plainly constructed with an ordinary white scheme adorning its facades. This form is slightly chamfered at its corners, while being crowned by an overhanging metallic cap integrated with thermal sensors. However, the 'piece de resistance' of the whole design obviously entails those 'organic' shaped balconies jutting out from the individual rooms. Almost looking like projecting pieces of fried bacon, they are actually crafted out of timber floors along with semi-enclosed metallic railings, and fixed with braces.
Suffice it to say, the balconies do provide good viewpoints of the city from different angles (given that some of their forms even extend over the corners). And, as for the overall visual effect, we do suspect that the designers intentionally put forth a simplistic building design so as to provide that much needed contrast between the balanced, linear backdrop and the flourishing, organic elements 'embedded' over it.
Via: r2k-Architecte/Contemporist
The following two tabs change content below.
A proud native of the beautiful steel township of Durgapur, West Bengal, Dattatreya's fascination lies within a range of diverse matters. With a bachelor's degree in architecture, he is quite fond of his hardcore strategy gamer as well as amateur historian tag. Of course, with over two years of blogging experience under his belt, he also likes to write about the latest updates on home based technology and gizmo oriented products.
Latest posts by Dattatreya (see all)
Comments