The modular 'Waste Less' chair crafted from simple timber log sections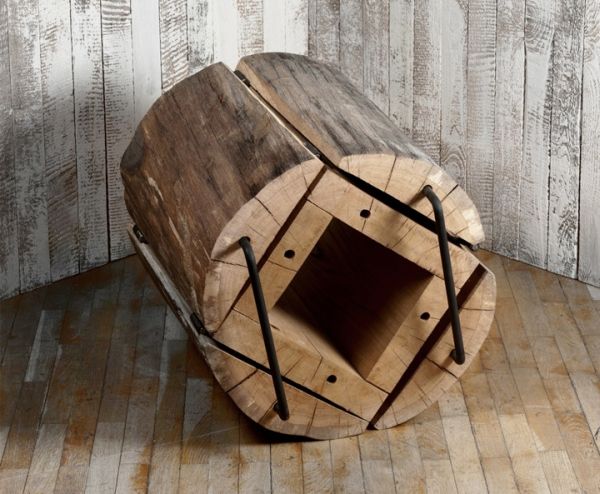 There are very few conceptions that seriously follow their design language from the monikers they are given. The 'Waste Less' chair (by 'Architecture uncomfortable workshop') belongs this exclusively rare category. With a righteous aim to fully utilize the timber logs after structural beams have been carved out of them, the chairs are crafted from sections of these logs. The simple sections are joined by elementary yet strong iron clamps, thus traversing the complexity of 'modern' structural designs. This unadorned form also alludes to the easily accessible as well as the naturalized essence of the furniture.
Functionally, the sections sort of 'open up' to transform the log into the physical entity of a chair. This transformation process can be achieved manually by the user on removing the clamps, and then adjusting the position of the sections. In this regard, the final chair can be of two types – a conventional chair with leg rest or a rock chair.
So, at the end of the day, it is an example of modularity, which is achieved by the simplistic use of components. However, when the chair is not used, the design poses as an unpretentious piece of raw oak log with portable features.
Via: Iganant
The following two tabs change content below.
A proud native of the beautiful steel township of Durgapur, West Bengal, Dattatreya's fascination lies within a range of diverse matters. With a bachelor's degree in architecture, he is quite fond of his hardcore strategy gamer as well as amateur historian tag. Of course, with over two years of blogging experience under his belt, he also likes to write about the latest updates on home based technology and gizmo oriented products.
Latest posts by Dattatreya (see all)
Comments