Conceptual wooden bench Picnic gives new life to unwanted wood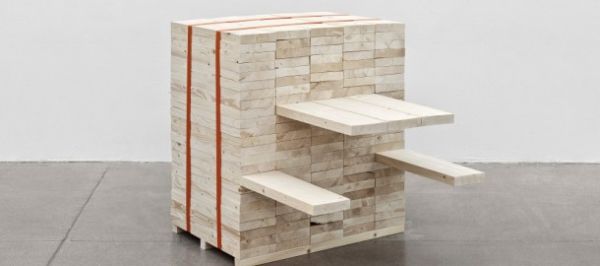 With rising environmental consciousness, many designers are coming up with innovative furniture pieces with environmentalism as the main concept in their creation. They create beautiful and functional furniture pieces by making good use of trash and other unwanted things, thus preventing them to be collected in the landfills and harm the environment. Daniel Svahn, a Swedish designer has done the same thing. He has created a conceptual wooden bench, dubbed as Picnic, by making use of wood from the trees which could not withstand the devastating storm and fell down.
His conceptual wooden furniture sculpture was displayed at the Wood Punk exhibition held in Stockholm, which narrated a story about the Swedish woods, idyllic road rest stops and the aftermath of devastating storms. By creating Picnic he gave a second life to the otherwise surplus and unwanted wood of the storm felled trees. The beauty of his functional furnishing object lies in its simplicity. His simple design has given value to the wood that would either have been burnt or thrown away in junkyards. The conceptual bench measures 98 cm in width, 110 cm in height and 120 cm in depth.
The following two tabs change content below.
A soft hearted girl, Garima finds herself to be lucky to be born in Shimla, Himachal Pradesh. With a writing experience of three years, she has been writing for various renowned blogs and absolutely enjoys her work. She is a firm believer of God and holds a positive attitude towards life. She is a big chatter box and adores every kind of music.
Comments