Sound designer assembles 3D printed speaker from music patterns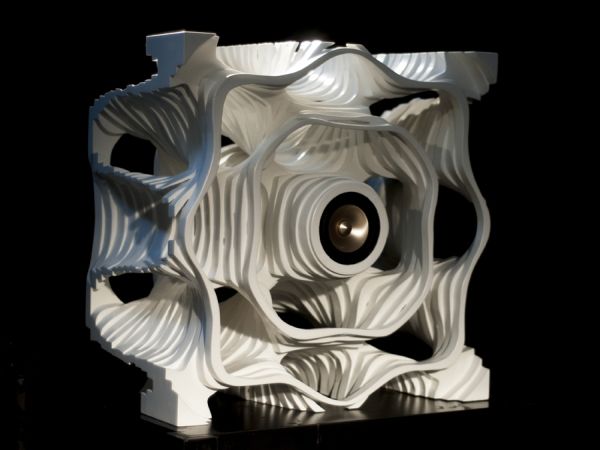 Netherland-based designer and owner of SoundShapeLab, Ricky van Broekhoven is having a huge fascination for electronic music and always thought of music as touchable. The designer has developed a speaker that is created by generating drawings made from studying music patterns generated by resonating metal plate that distributes the salt poured on it into uniform patterns. He got captivated by the Chladni patterns which conceptualize resonance patterns of sound, while he was studying in Amsterdam at the Rietveld Academy.
Chladni plates basically are used to test sound resonance and while experimenting with them he discovered that tonal pitch represents the complexities of sound patterns. The drawings gets more complex with higher tone and then the designer put them on paper in 2D drawings that would work as blueprint for the 3D printed model.Van Broekhoven created his own model by translating these short-lived drawings into computer generated 3D renderings. He filmed the process and then took the screenshots, thereafter he analyzed the images which were then 3D printed. Made from 16 hand-cut MDF layers, the casing of speakers are piled, glued together and then were coated with rubber-like polyurethane. Ricky van Broekhoven displayed his work during the Dutch Design Week 2013 at Convoi Exceptionnel exhibition in Eindhoven Strijp-T.
The following two tabs change content below.
SunilChandel
Sunil has been blogging about autos, consumer gadgets and home improvement ideas from a couple of years. When he is not writing, you can find him riding his royal enfield motorcycle, listening to music and showing off his football skills.
Latest posts by SunilChandel (see all)
Comments