Chocolate and Strawberry Christmas Tree is immensely tempting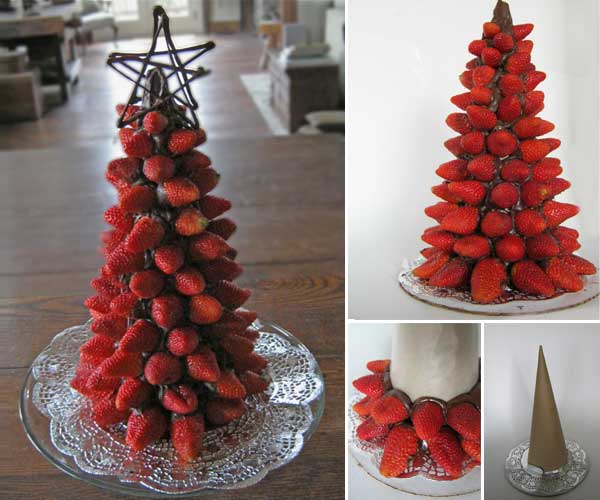 If you're done with Styrofoam Christmas trees and want to take home a tree more personal and fascinating this time, then here is an option you can try at home and have the desired effect. The Chocolate and Strawberry Christmas Tree (as the appearance itself suggests) is something that you guys will actually love. Though, you need to be particular about the right size of papiermache cone and melted chocolate you'll use. Pick an ideal size cone (about 8-10-inches should be appropriate), chocolate candy melts and strawberries in all sizes, small, medium and big.
Lay out a layer of waxed paper neatly over the tree, fix it to a doily for disguise with help of melted chocolate. Place it on a cardboard round for stability. Now, drape the tree with melted chocolate and fix large size strawberries to the base up and then continue with medium sized in the center with small one reserved for the top. Top the tree with stars made of chocolate and there your breathtaking Chocolate and Strawberry Christmas Tree is ready. Read the full tutorial on Can't Stop Making Things.
The following two tabs change content below.
Bharat has been reviewing latest gadgets, toys, robots and new home technologies across various platforms. In addition to reporting and reviewing new products and technologies, he spends too much time digging the Internet for endless questions. Bharat is a football fan and a big time foodie.
Comments