CES 2014: Sony launches 4K Ultra Short Throw Projector for better viewing experience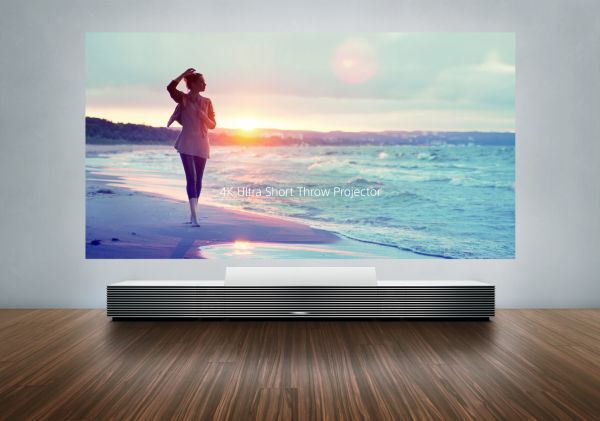 Taking a break from sound systems and home appliances, it's time for you to enhance your viewing experience with the latest 4K Ultra Short Throw Projector unveiled by Sony at the CES 2014. Boasting an elegant, furniture inspired design, the new Sony projector is capable of casting a 4K Ultra High-Definition image up to 147-inches. Easy to install, it can be placed next to a wall saving more space and offering you a visually immersive experience with images of up to 4096 x 2160 x3 pixels.
The 4K Ultra Short Throw Projector is crafted from aluminum and provided with a refined finish to add luxury to your living room. The 4K projector is equipped with an SXRD panel giving four times the resolution of HD. The 1.6x power zoom lens makes the projector flexible allowing the user to resize projection according to his needs. The top cover opens or closes automatically when the system is turned on or off, protecting the projector from dust when not in use. It can display current video content services from IP, satellite and cable operators and also from 4K content sources such as Video Unlimited 4K and Netflix. The 4K Ultra Short Throw Projector from Sony is currently on display at the Consumers Electronics Show and will be available for approximately $30,000 to $40,000 in the U.S. by summer of 2014.
Via: PR
The following two tabs change content below.
SunilChandel
Sunil has been blogging about autos, consumer gadgets and home improvement ideas from a couple of years. When he is not writing, you can find him riding his royal enfield motorcycle, listening to music and showing off his football skills.
Latest posts by SunilChandel (see all)
Comments