Gabriel Wartofsky's autonomous floating shelter for our future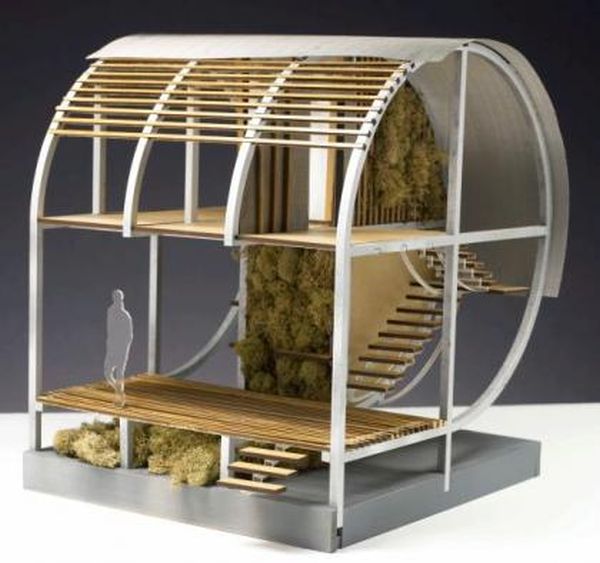 Many of our Dystopian scenarios encompass issues borne out of global warming and unsustainable living – like rising water levels, scarcity of conventional energy sources and lack of commercial materials for construction. Designer Gabriel Wartofsky has come up with a self-sustaining housing / shelter unit concept for such an adverse situation in our future. Comprising of an autonomous system with a floating base (in case of rising water levels), the building is to be built from completely recyclable materials. The 'green' features of the unit will entail off-grid power and water supply, thus overcoming the dependence on conventional electricity.
The scope however is not just limited to sustainable attributes; it also pertains to the practicality of usage. For example, the shelter has been envisaged as a modular pre-fab, which can be disassembled quite easily, without affecting the eco-system. Furthermore, the architecture of the self-sustaining unit alludes to an open plan with 360 degree views and unobtrusive access points. This 'effortless' arrangement would certainly improve upon the circulation as well as living pattern of the inhabitants/survivors from our future.
Via: SyahDiar
The following two tabs change content below.
A proud native of the beautiful steel township of Durgapur, West Bengal, Dattatreya's fascination lies within a range of diverse matters. With a bachelor's degree in architecture, he is quite fond of his hardcore strategy gamer as well as amateur historian tag. Of course, with over two years of blogging experience under his belt, he also likes to write about the latest updates on home based technology and gizmo oriented products.
Latest posts by Dattatreya (see all)
Comments