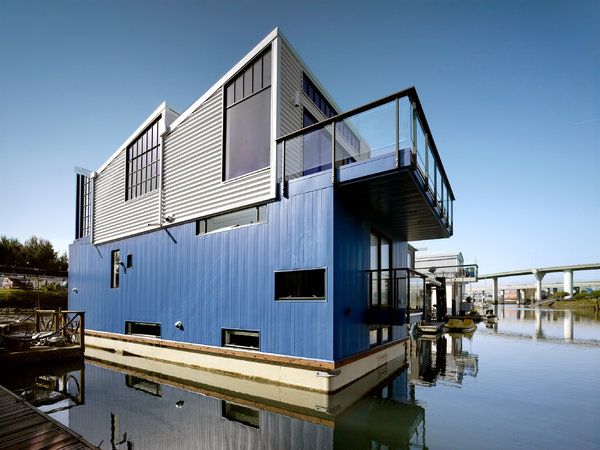 'Amphibious' housing units have always enticed us by their 'in-water' constructions as well as architectural innovations. And, now we have come across the Bertram's $400,000 home, situated in San Francisco's Mission Creek, an obscure backwater canal. The unique feature of this houseboat is not exactly its 'floating' nature, but rather its novel structural attribute. This attribute entails the whole 2,100 sq ft house to actually have a solid concrete barge that remarkably acts as its stabilizing as well as protective base.
So, basically, the concrete base serves as the shield from the permeating dampness of water, while also giving the housing unit its much needed structural balance. The above water-level walls have been constructed from metal facades, thus creating a hollow loft-like building atop the solid barge.
Finally, representing the locality's industrial past, the upper floor of the houseboat is shaped with a saw-toothed roofing, flanked by metal casement windows. However  the scope of symbolism doesn't stop with the metallic facades. The entrance to the house (accessible from the land side) is painted with the familiar orange hue of the Golden Gate Bridge, the iconic landmark of San Francisco.
All images are courtesy of NYTimes.
Via: NYTimes