Since hoary Christmas is just a month away, you should always be updated with accurate weather conditions to ensure happy Christmas holidays. Accurate weather predictions can help you to plan trouble-free vacations with your family, and get true information about the climatic conditions of your vacation destination.
It is very inaccurate method to surf the internet everytime you want to know exact climate conditions of the city where you are currently in. The better solution is buying a portable smart weather station that acquaints you with precipitation levels, high and low temperatures, and exactly how windy it's about to get in your city. The great thing is that they are inexpensive, and can be a great Christmas gift for your techie friend who loves traveling and trekking. If the idea inspires you, take these seven budget-friendly smart weather stations into consideration to make your pal's Christmas vacation happy and trouble-free.
Elgato Eve Degree
Your travel buff friend would love this handy weather smart station called Elgato Eve Degree. It is the most unique one in this roundup for its small and classy design. Made using aluminum as the main building material, it only measures 54 x 54 x 15mm. It comes with a minimalist square design and a big central information display that shows accurate temperature and humidity levels. Since it is water-resistant, you can mount it outdoors, and of course indoors too. This versatile smart weather station is HomeKit-enabled, so it will communicate effortlessly with your Apple devices.
Buy: US$65
Skywatch Windoo
Gift your adventure crazy friend the Skywatch Windoo weather smart station. Small and aesthetic for your wrist with a strap or attached keychain, the smart weather station is an ultimate accessory for your smartphone. The device comes with a 50 cm jack which connects to your smartphone via the music port, and gives you real-time information about current weather conditions.
Skywatch Windoo comes in three different variants – Windoo 1, Windoo 2 and Windoo 3. Wind intensity and temperature measuring features are common in all three variants, and to know humidity levels, you'll have to upgrade to Windoo 2. In the Windoo 3 version, you will get wind, temperature, humidity and atmospheric pressure measuring capabilities. The best bit is that this device is compatible with all Android, as well as iOS devices. For absolute weather predictions consider buying Windoo 3 for your travel aficionado buddy.
Buy: US$69
BloomSky Smart Weather Station
Watching the weather channel can be informative for a savvy traveler, but nothing will provide better accuracy than having a smart weather station with HD camera that captures real-time weather videos and sky images from your location. BloomSky Smart Weather Station's this feature makes it smarter than other weather stations in this collection. The cool-looking device connects to your smartphone and comes with thermometer, hygrometer and wind anemometer to provide precise weather data. The easy-to-mount unit also has a solar panel for automatic recharging. No doubt it is certainly a great home accessory for travel fanatics.
Buy: US$125
Archos
Consider buying this trendy weather station called ARCHOS Weather Station which connects to your home Wi-Fi network and provides detailed information of your indoor and outdoor temperature, relative humidity, atmospheric pressure, noise level and air quality. It works with the ARCHOS Weather application that provides all weather data on your smartphone, tablet or PC. ARCHOS Weather Station is available to use on both Android and iOS tablets and smartphones. The trendy weather predictor will definitely be a perfect Christmas gift for your traveler pal.
Buy: US$140
Netamo weather station
Have a look at this elegant Netamo weather station, which is equipped with high-end weather monitoring sensors that give 100% precise readings of current and prospect climate conditions. The portable weather predictor gives you information of the outdoor temperature, relative humidity, air quality and barometric pressures without any hassle of wires.
It comes with Bluetooth compatibility and communicates with other smart devices of your home. In case, there are chances of cyclone, heavy rainfall or snowfall in your area, you'll get a message notification on your smartphone. This ultimate weather station with the shiny aluminum body will not only help your travel enthusiast friend to plan his journey ahead, but will also look astonishing on his tabletop.
Buy: US$150
AcuRite Professional Weather Station
Have a look at AcuRite Professional Weather Station, equipped with a self-calibrating technology to provide you 24-hour precise information about indoor and outdoor temperature, humidity, atmospheric pressure, wind speed, wind direction and rainfall – all visible on a vivid color LCD display. The accurate forecast is generated by the sensor in your yard or roof. The great thing is that you can view your weather predictor virtually from anywhere on smartphone, tablet or computer using AcuRite app. Your travel savvy buddy will certainly love this.
Buy: US$170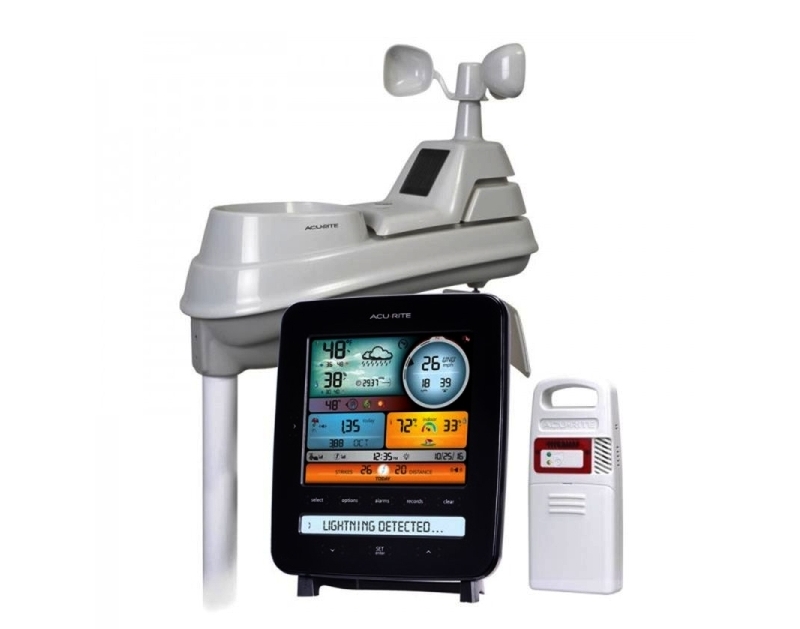 WeatherFlow weather station- SKY
If you do care about your friend's health, then consider gifting him/her WeatherFlow weather-Sky station. The modern weather station not only provides you precise information about outdoor environmental conditions, but also measures total indoor air quality including VOCs, CO2, Dust particles, humidity, and temperature levels. It also measures atmospheric pressure, and detects lightning & warns you of approaching storms. SKY comes with an eye-catching design, and WiFi & Bluetooth connectivity to communicate with your smartphones, Amazon Eco and PCs.
Buy: US$219