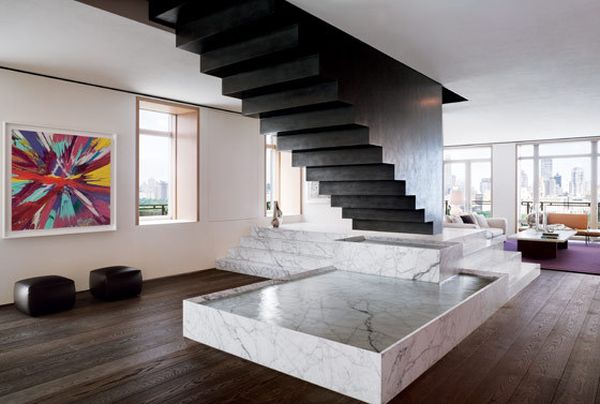 It is good to know that New York's costliest condo doesn't just have the intangible sense of opulence to show for its high price. Rather it showcases a very tangible art piece that can be felt, sensed and most importantly celebrated. We are talking about the 18th-floor duplex, which is part of Robert A. M. Stern designed 15 Central Park West. The setting serves as a retro luxurious space harking back to the pre-war times before the 50's, while its piece de resistance comprises of a gargantuan steel-suspended staircase. Equal parts sculptural and functional, this centerpiece designed by the renowned Mexican architect Ricardo Legorreta alludes to the industrial scope of things, while also symbolizing the structural 'suspension of disbelief'.
Legorreta's touch also becomes evident with the high modernism displayed by the rest of the ritzy duplex. In this regard, the user can easily make out to unobtrusive geometry marking the spaces, with linearity ruling the roost in the hard angled facades, wall hangings, windows and even furniture. These flourishing modernist flavor is complemented by earthly tones and marble pools, thus presenting the successful juxtaposition of two worlds – man made and natural.
However, as we mentioned before, it is the sheer presence of the imposing staircase that endows the expansive living room with a surreal yet magnificent essence. Architect Jorge Adler (who had collaborated with Ricardo Legorreta), sums up its design aim –
Legorreta wanted the staircase to be a piece of sculpture. It's a measure of his success that it takes you a minute to orient yourself, to determine exactly where and how to ascend the staircase, which is a feat of engineering as much as it is one of imagination.
Via: NYMag