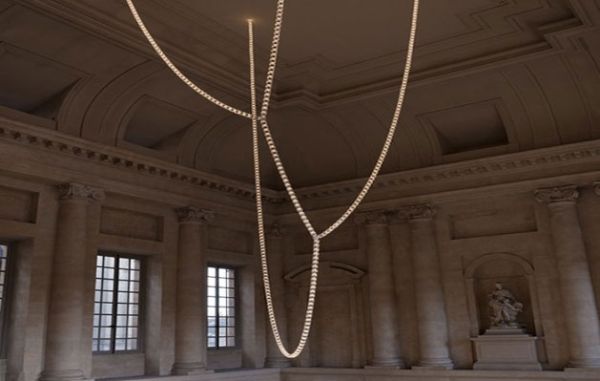 French duo of designer brothers Ronan and Erwan Bouroullec has created a chain like chandelier for the Palace of Versailles in collaboration with Swarovski. Dubbed Lustre Gabriel, the chandelier made from 800 crystals is draped around stainless steel wire and is integrated with a LED lighting system. The 12m high Lustre Gabriel Chandelier weighs 500kg and hangs from 20 meter high ceiling of the lobby through four holes which have a diameter of only 5cm.
The Gabriel Staircase is a colossal space which was originally designed in 1772 by Ange-Jacques Gabriel but was not completed until the 1980s. However, something was missing as the white marble Gabriel staircase needed a point of focus. It was decided to design the first contemporary artwork in the palace by Versailles and a competition was organized in 2011 which was won by the Bouroullec brothers. This led to the creation of Lustre Gabriel Swarovski Chandelier which completely blends with the staircase and its surroundings.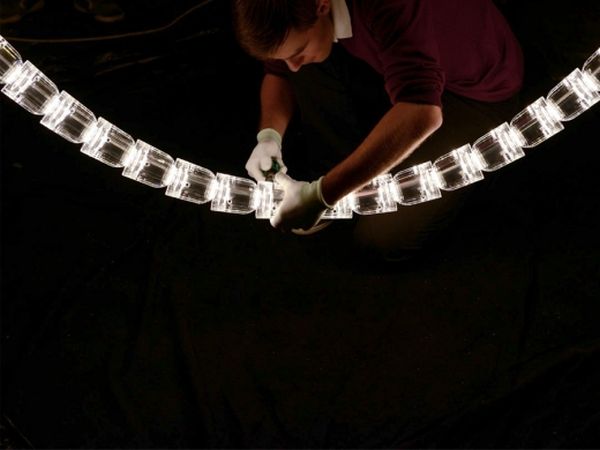 The shape of the Swarovski Chandelier is derived from physics, the design being achieved by observing the curves created by looping of the chains from the ceiling. The installation of the Lustre Gabriel by Ronan & Erwan Bouroullec took only 24 hours with assembling of all the components done at the site. This was the first ever permanent installation by the brothers and impressively it was done in just one attempt.
Via: Frameweb