As an eco-conscious wine lover, you should be familiar with creative ways to recycle wine bottles. They are full of reuse possibilities and you can give them a second life in a number of ways. All depends on your creativity, as you can turn an empty wine bottle into a beautiful planter, tumbler, cutlery or a decorative piece without much effort.
If you think you really care for the environment, here are a few examples of the finest wine bottle crafts you can try making at home.
Painted Wine Bottles
After enjoying the contents of a wine bottle, it must be reused to decorate home. Anyone can paint wine bottles and turn them into flower vases, lights and decorative pieces. This DIY wine bottle craft requires a minimal time. You can make them using oil paint, chalk paint, spray paint or food coloring. These wine bottle decorations are great to bring elegant charm to your shelving or coffee table.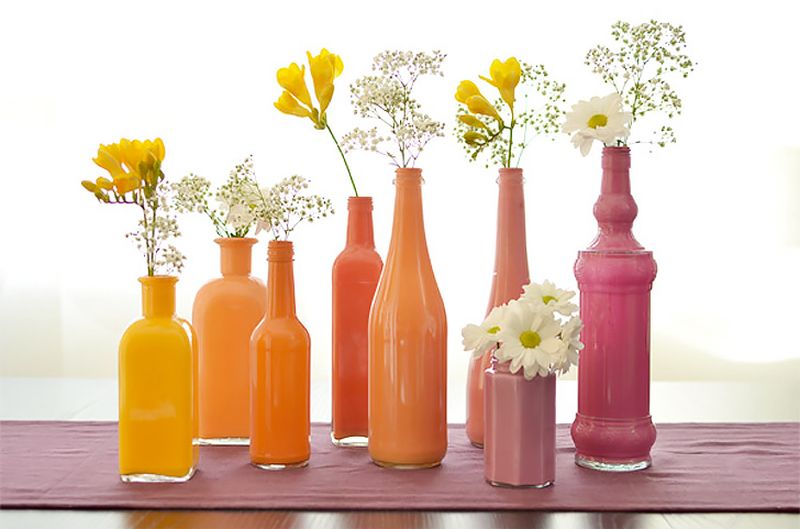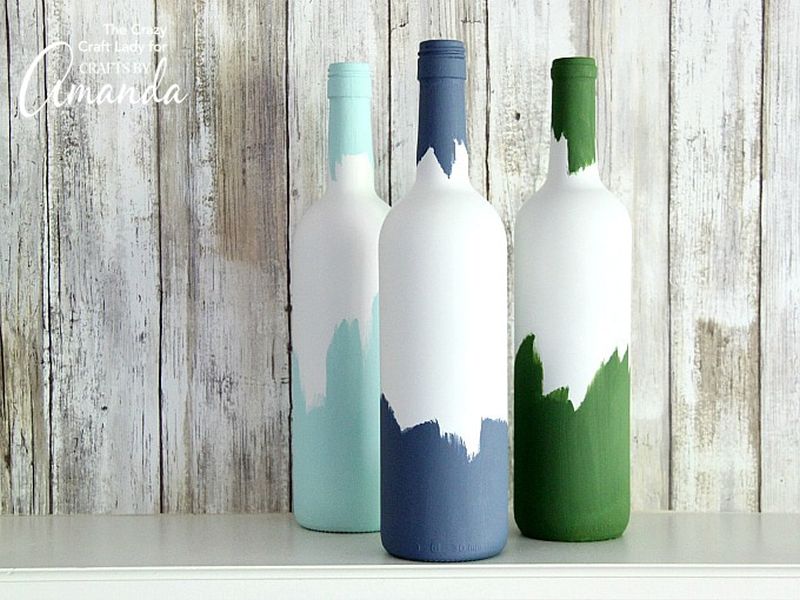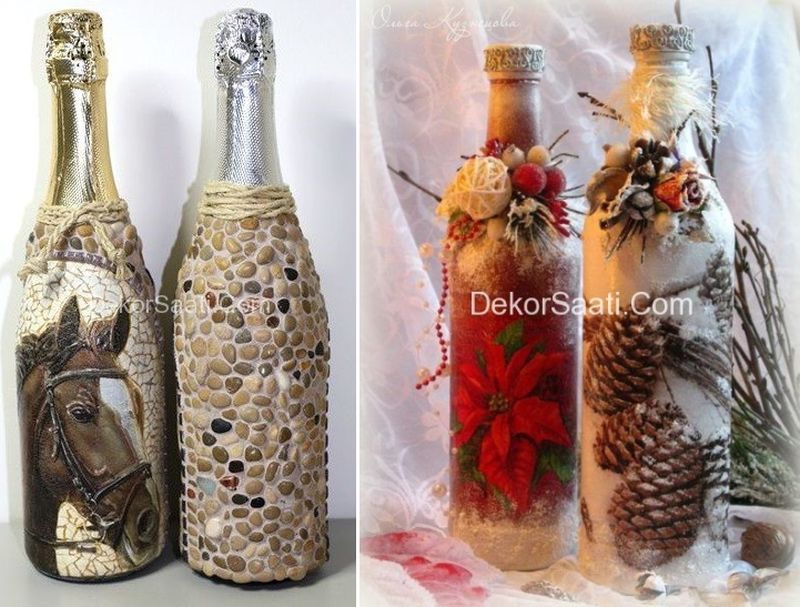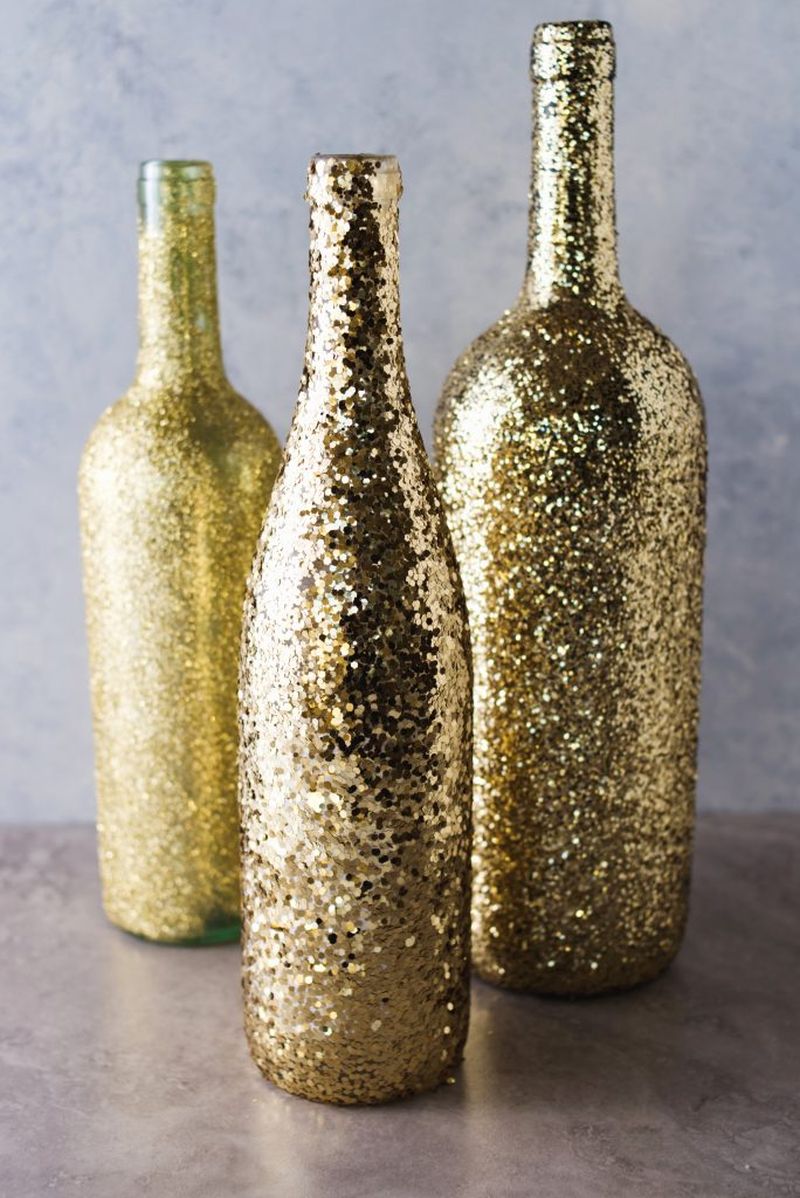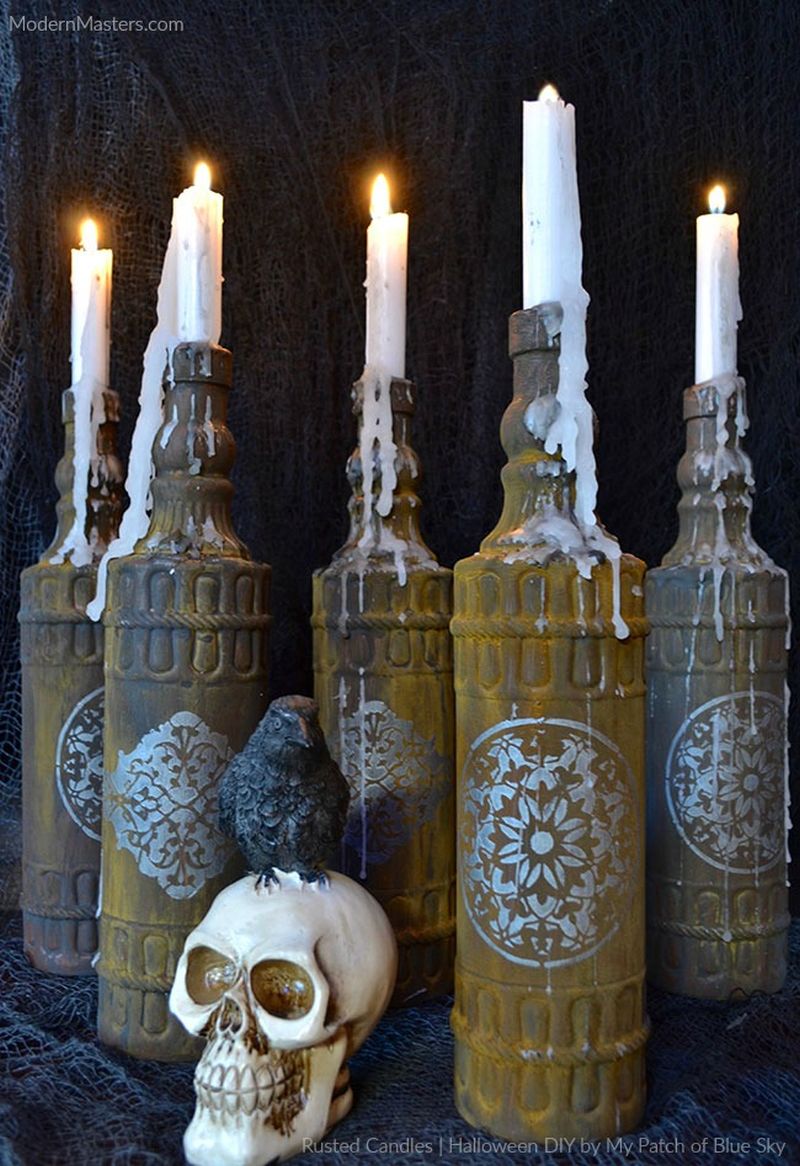 Jute Netted Wine Bottle Crafts
If you love wine and beach chic décor, then this wine bottle craft is right up your alley. You may find a plenty of ways to incorporate netting wrapped bottles in your home decoration as they are in trend. Instead of buying one from market why not try your hand at making a few yourself using a couple of empty wine bottles and jute twine.
You can find a simple tutorial to fully understand the DIY process of making a decorative wine bottle at Cameo Cottage Designs.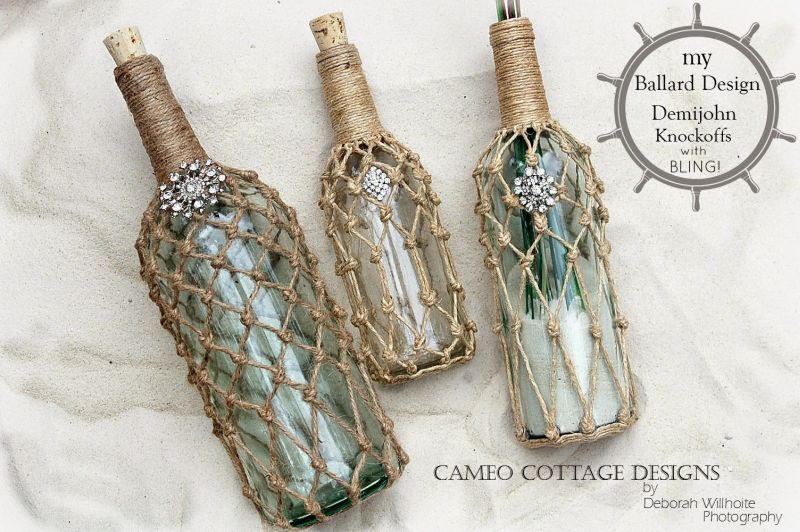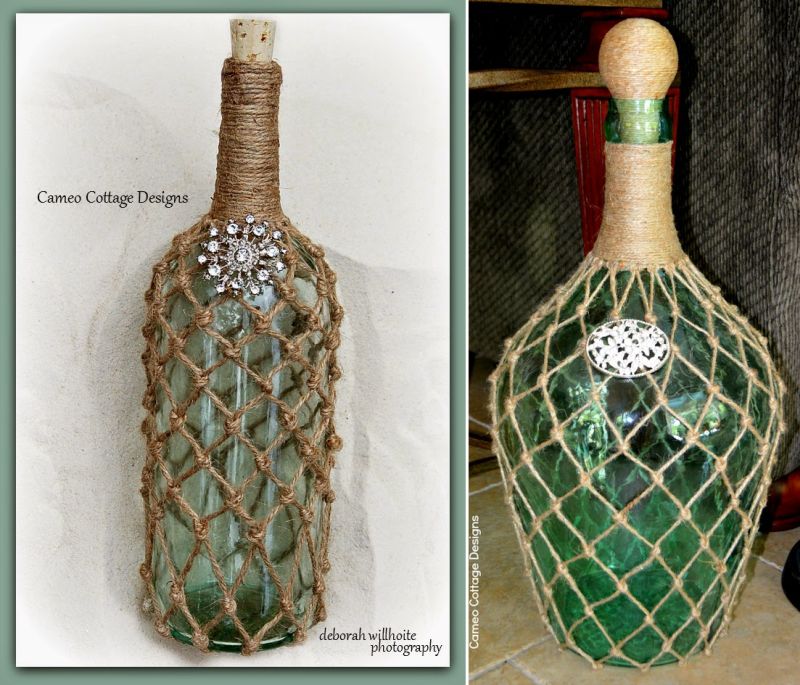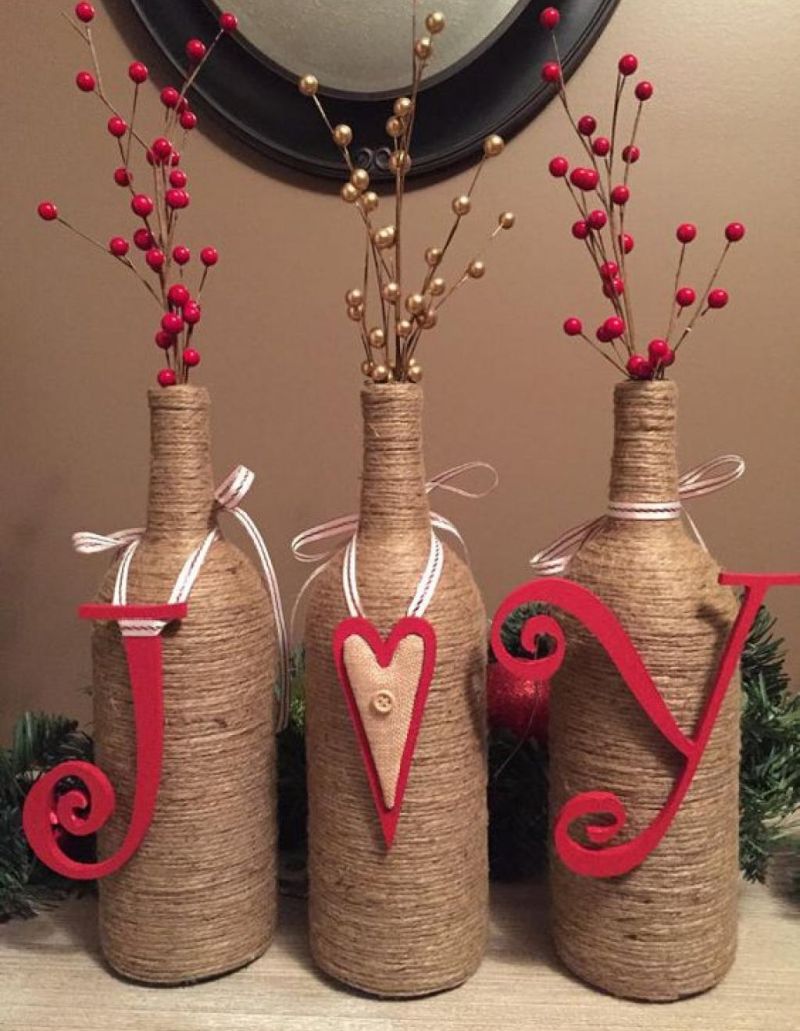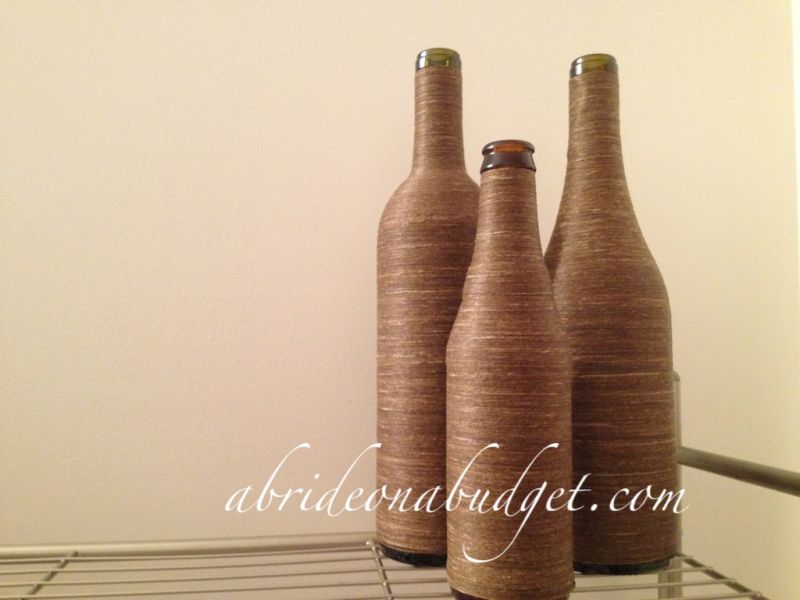 DIY Wine Bottle Light
Don't have a bent for DIY? Don't worry! This simple and quick idea is a good for you even if you carry absolutely no crafting experience or skills. You can't get it wrong no way. Simply remove the label and fill up an empty and dry wine bottle with a string of battery-powered fairy lights. Now comes the interesting step of sticking floral beads all around the bottle for a cool look. Making a DIY wine bottle light is super easy and it is an ideal centerpiece to be placed on your dining table.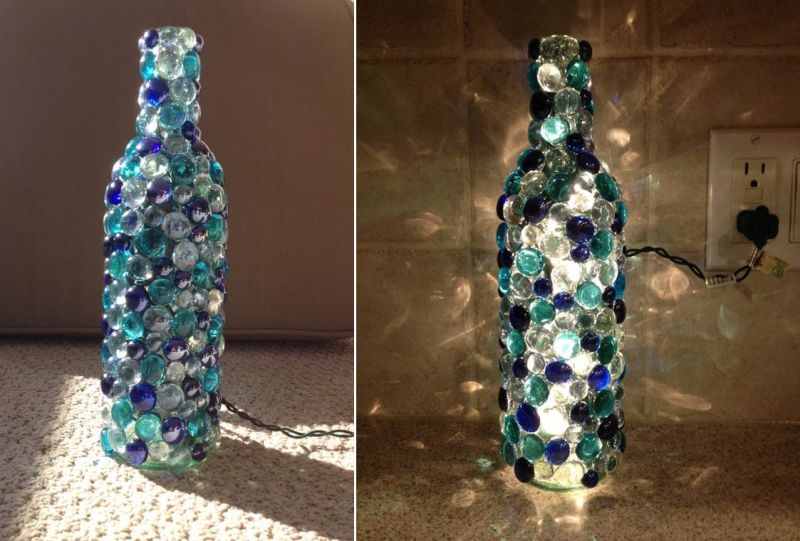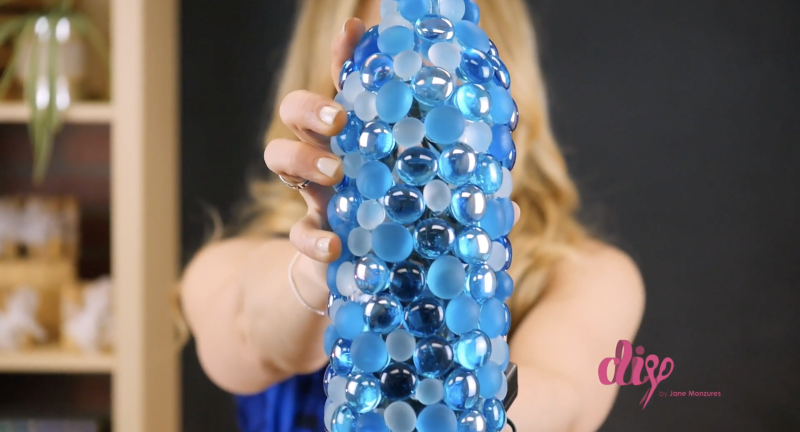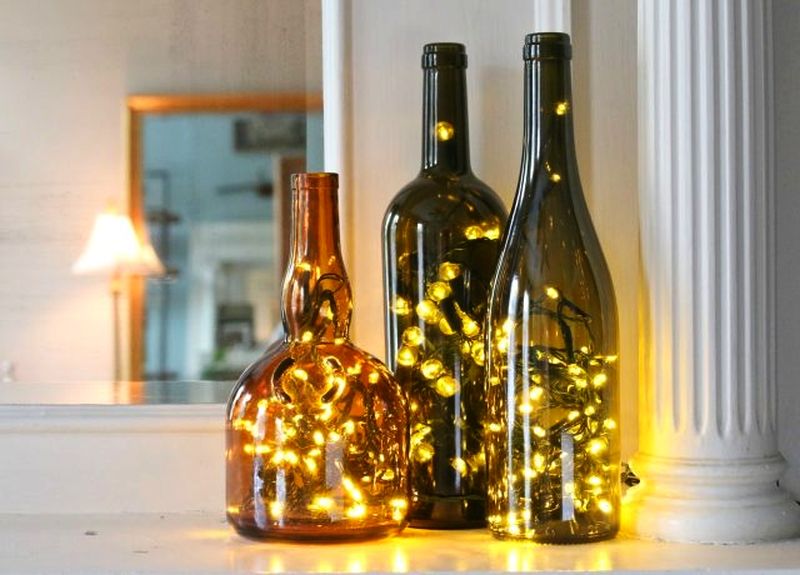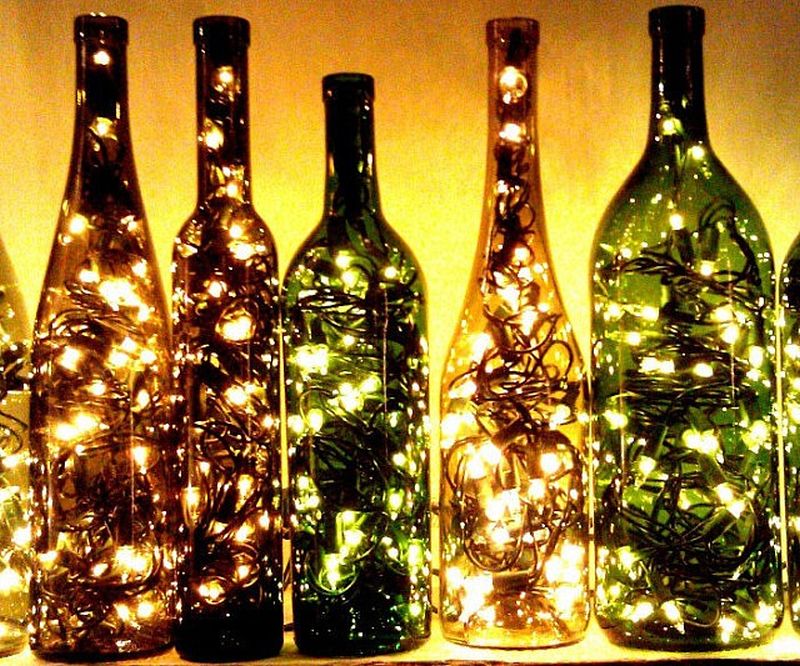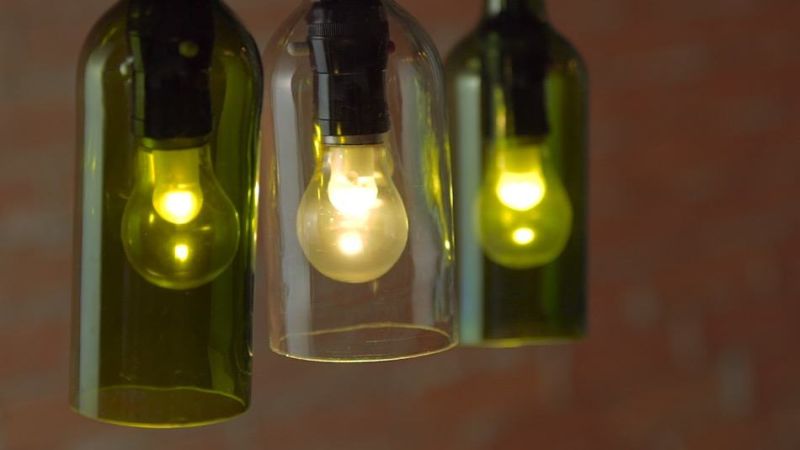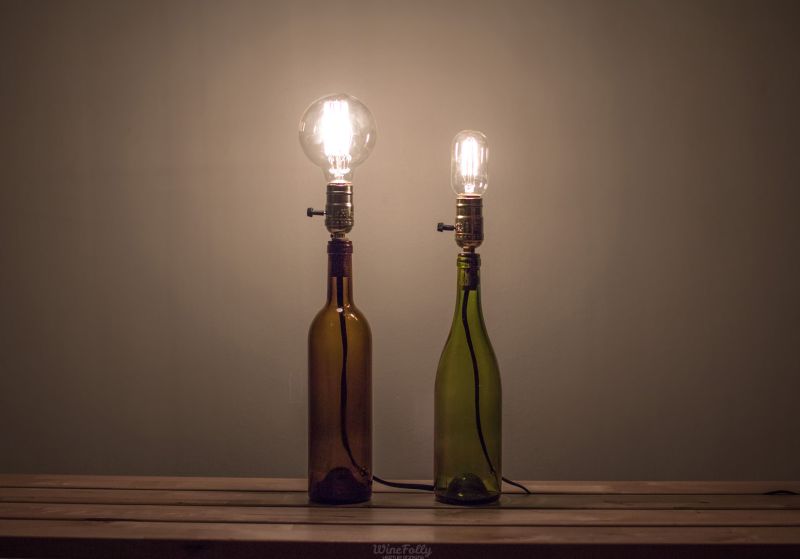 DIY Wine Bottle Chandelier
There are a variety of ways to use wine bottles in home décor. One interesting DIY project is to create a chandelier from unused wine bottles. You'll need to half-cut the bottles and then paint the upper parts in different colors. Wire up lights and your DIY wine bottle chandelier is ready to be hung to the ceiling.
Get the tutorial at saved by Love Creations.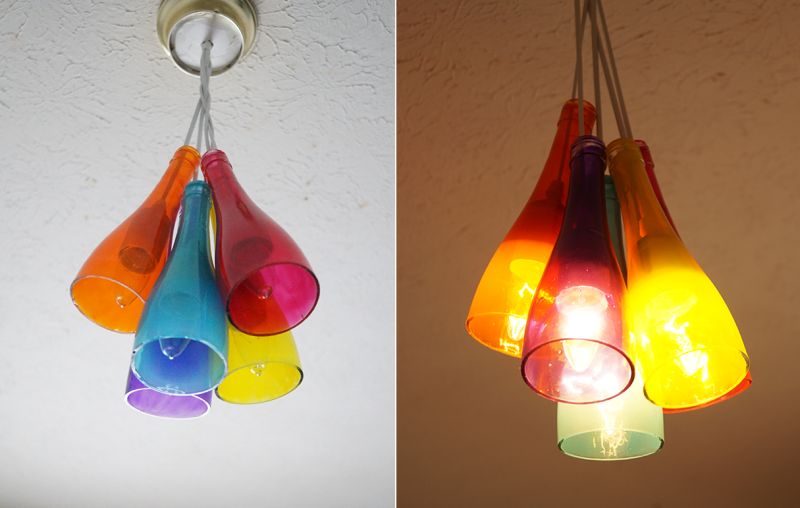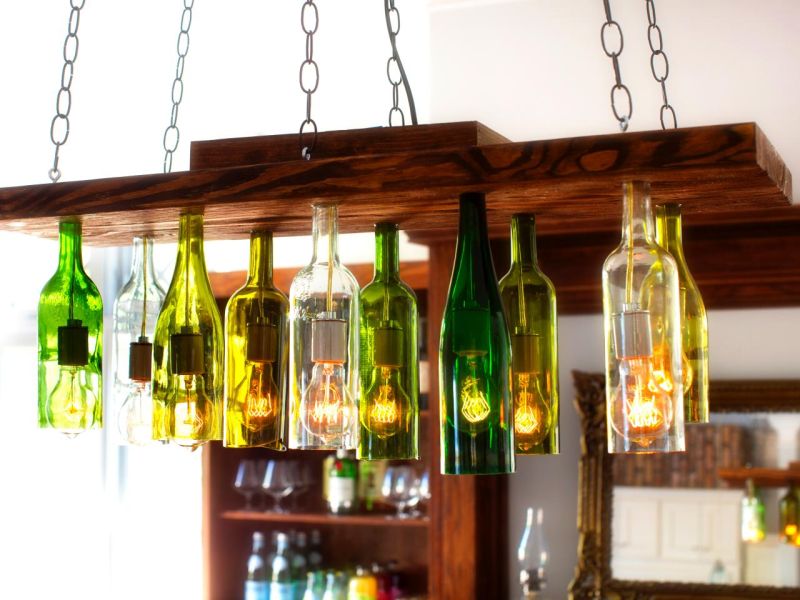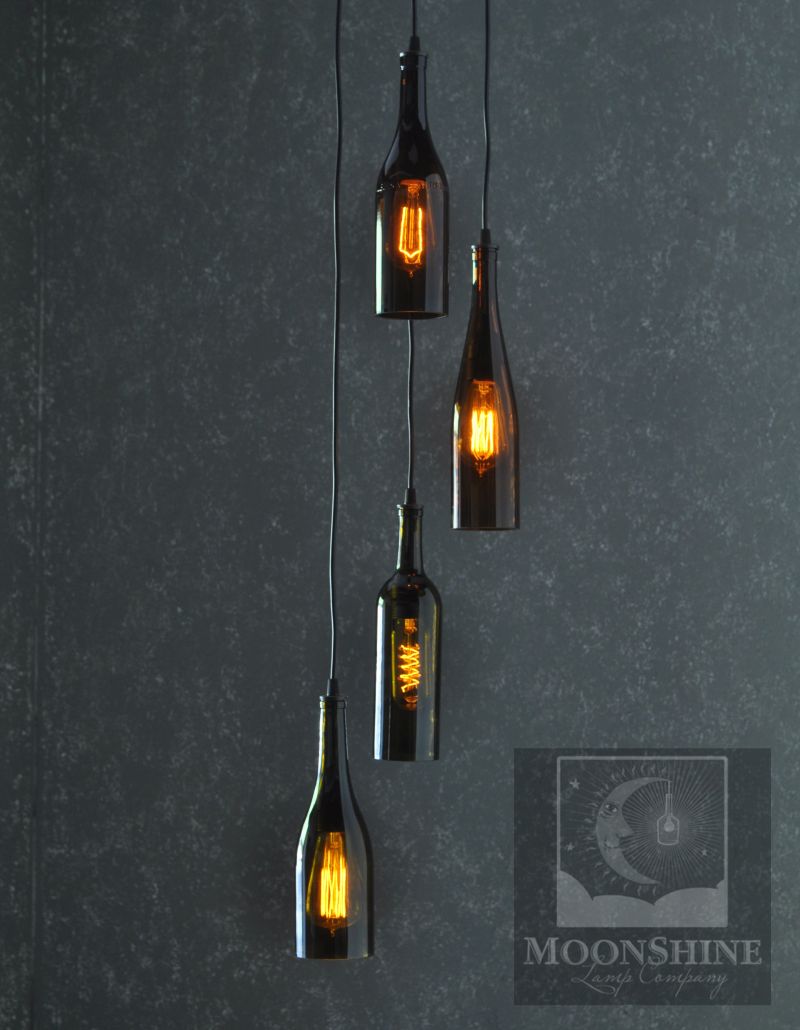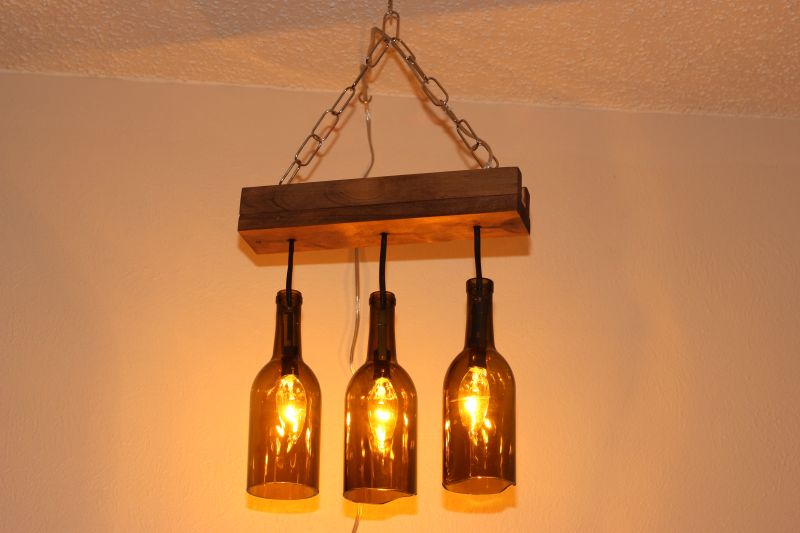 Self-Watering Wine Bottle Planter
There are a plenty of ways to recycle wine bottles but this one is great and easy DIY. If your busy schedule makes you forget to water your plants every day, try making a DIY self-watering planter from old wine bottles to keep them alive for longer.
For this DIY wine bottle project, you need to cut a wine bottle into two pieces and fill the upper part with soil and threads that serve as water carrier. The lower part works as a water container. The thread maintains the water supply to help plants grow faster.
See the full tutorial at Off Grid World.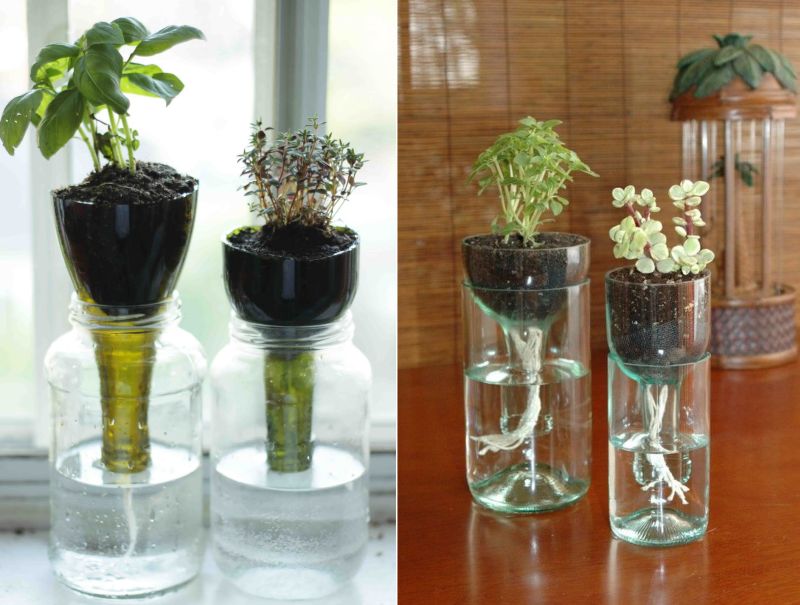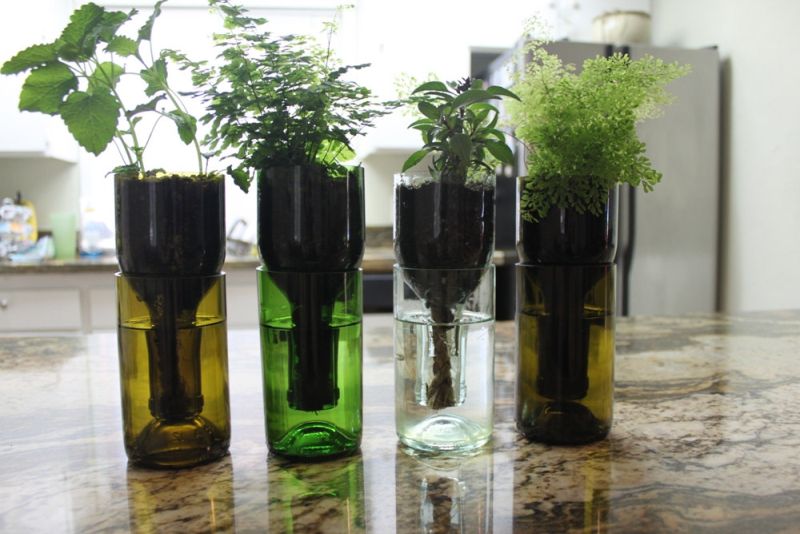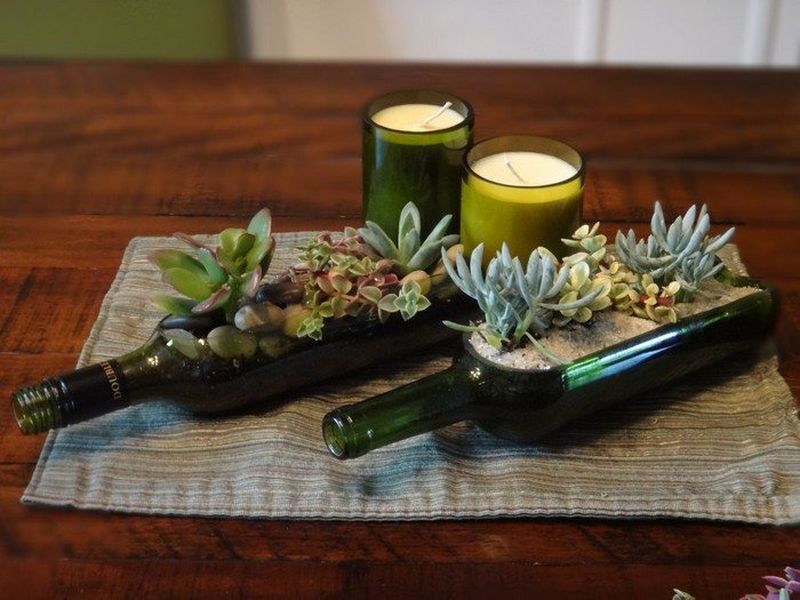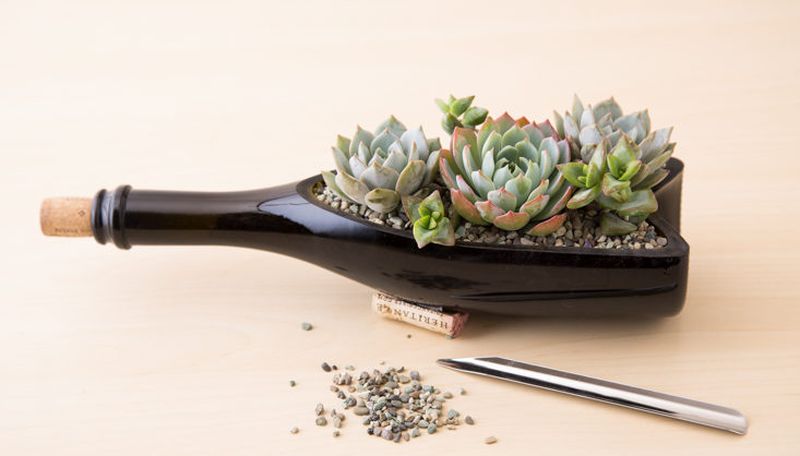 Wine Bottle Bird Feeder
Don't worry; we aren't asking you to get birds drunk. You'll be using an empty wine bottle for this DIY craft. All you need to do is to drill a hole in the lower part of the wine bottle but don't forget to employ safety measures.
Next glue up an old saucer to the bottom of the bottle and wind a metal wire around the bottle neck to hang it in your balcony or on a tree. This DIY project asks for some crafting skills.
Catch up with the original tutorial at The Garden Roof Coop.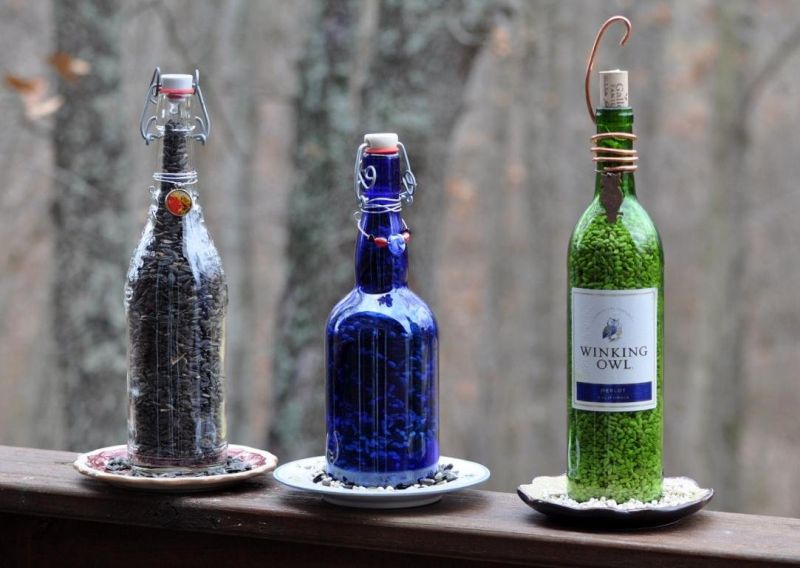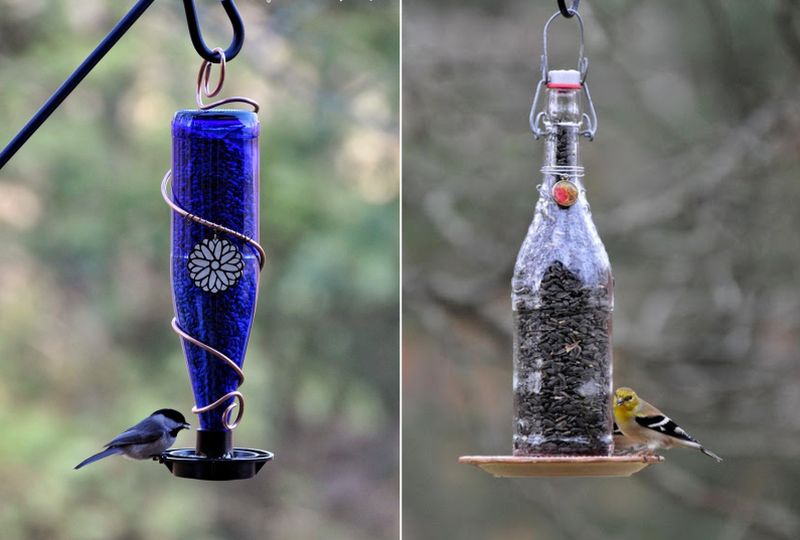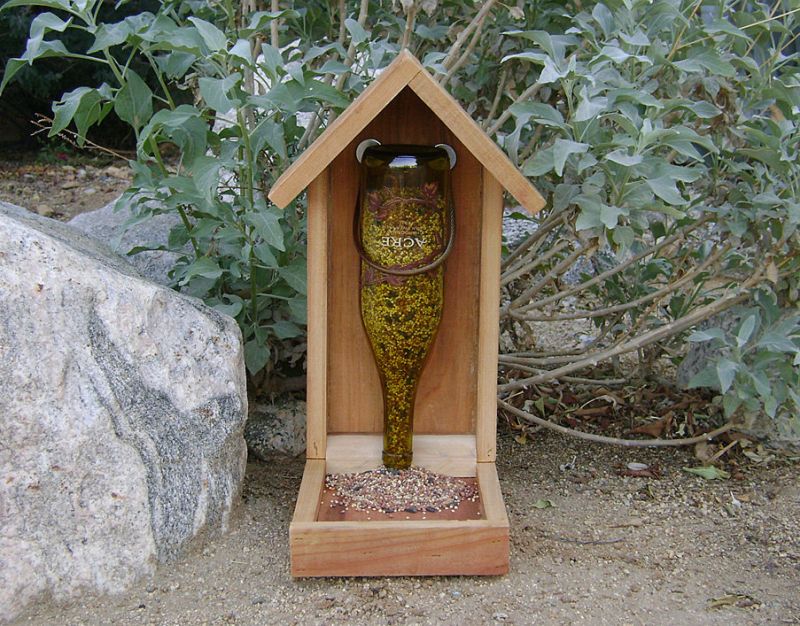 DIY Wine Bottle Coffee Table
As an eco-conscious wine lover, you can repurpose emptied wine bottles into a low table. You can use bottles as legs and a wooden board as the tabletop. All you need is a few bottles of same size and shape and a board.
You need to drill holes of bottle neck size on the board and attach them as legs to the table. Table legs can also work as flower vase if you want to beautify your project. This way you'll be making use of recycled materials in your home décor, and will make a great centerpiece for your next cocktail party.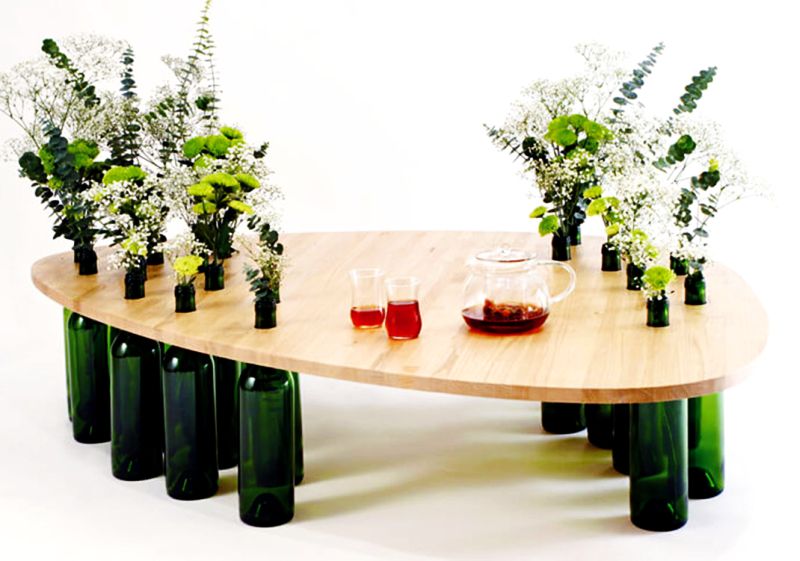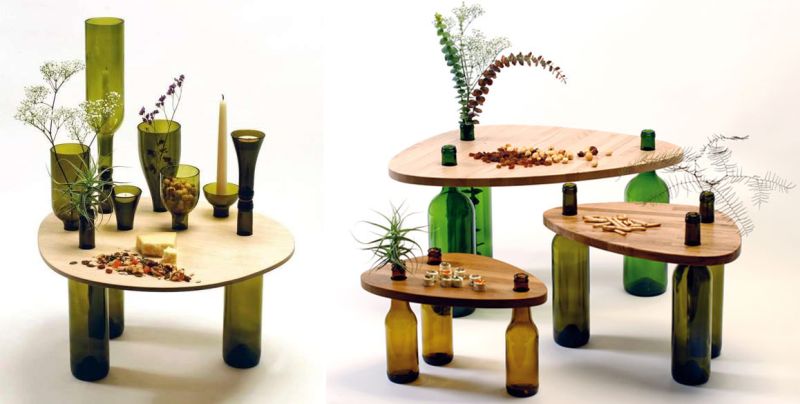 Wind Chime from Old Wine Bottle
If you love soft and twinkling sounds of wind chimes, it's time to get one for your patio area. Instead of buying, you can make one yourself using old wine bottles. Wine bottles of different shapes, sizes, and colors make beautiful wind chimes. To DIY a wine bottle wine chime, you'll need to cut the bottom of a wine bottle with a slight angle.
Next interweave four-five threads with some colorful gems and glass pieces as sails. Now, insert a metal coil in the chopped bottle, tie chimes to the coil and align in a circle, and your wine bottle wind chime is ready to swing across your window or patio. See this tutorial for help.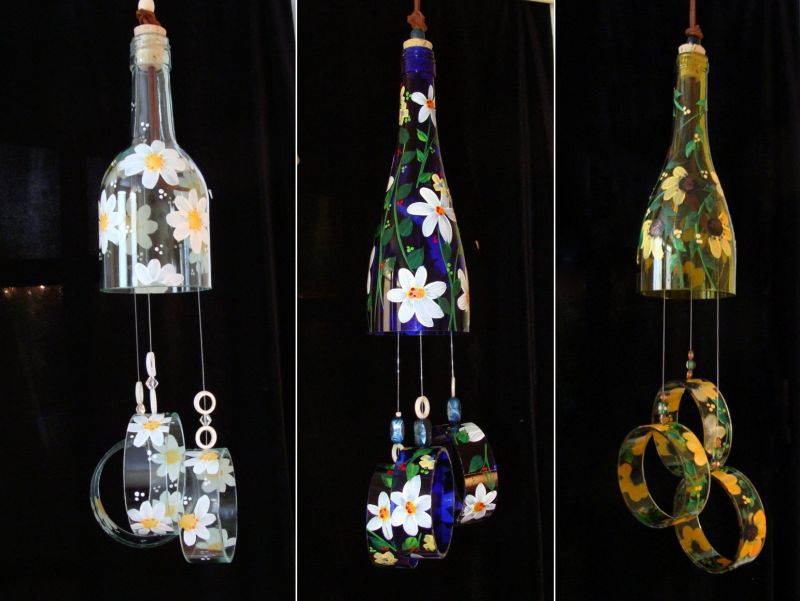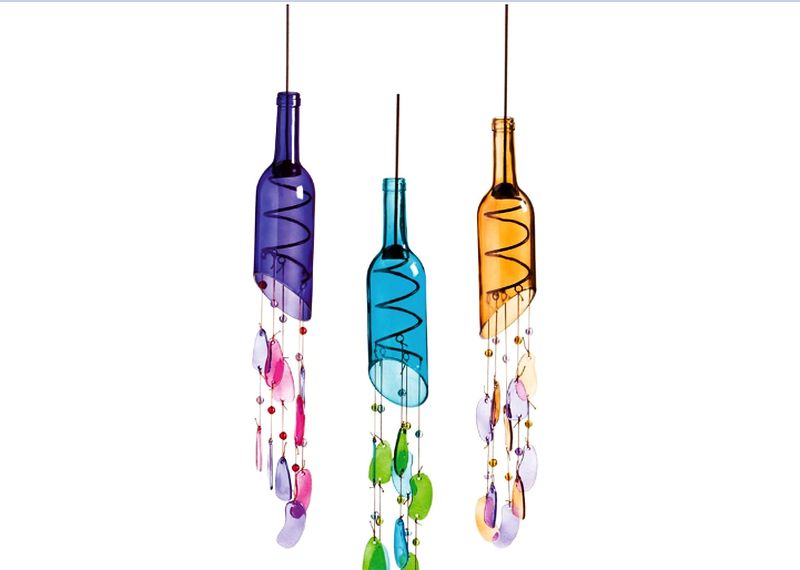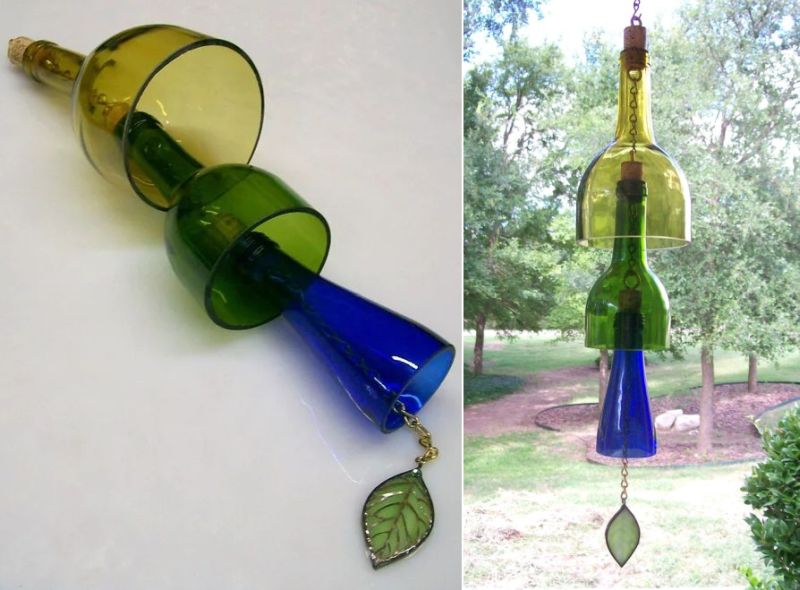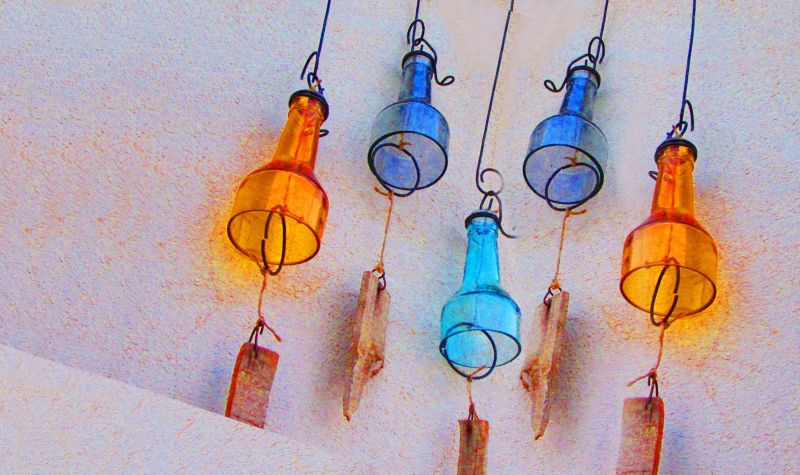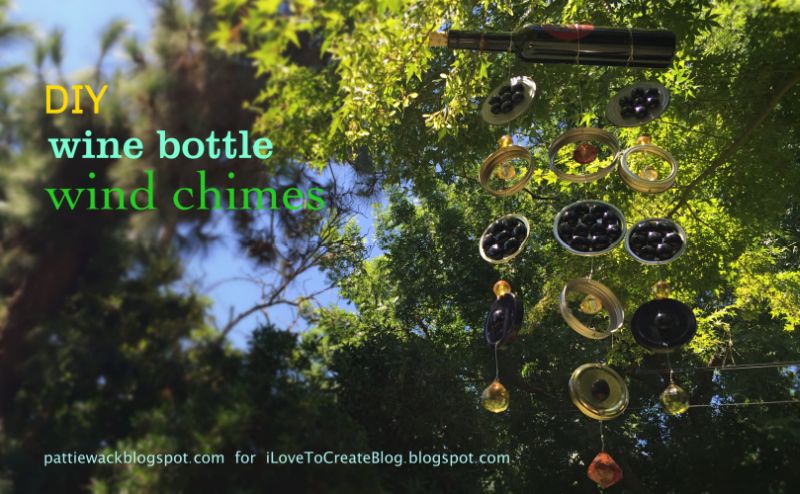 Wine Bottle Christmas Tree
If you have a big collection of wine bottles and want to repurpose them, try making a Christmas tree to give function to your collection. This time of the year is absolutely right to reuse your collected wine bottles purposefully. Just insert some colorful LED light strips into bottles and stack them on top of another to make them look like a Christmas tree. Just make sure bottles don't fall off. This will add a warm appeal to your Christmas party when lit up.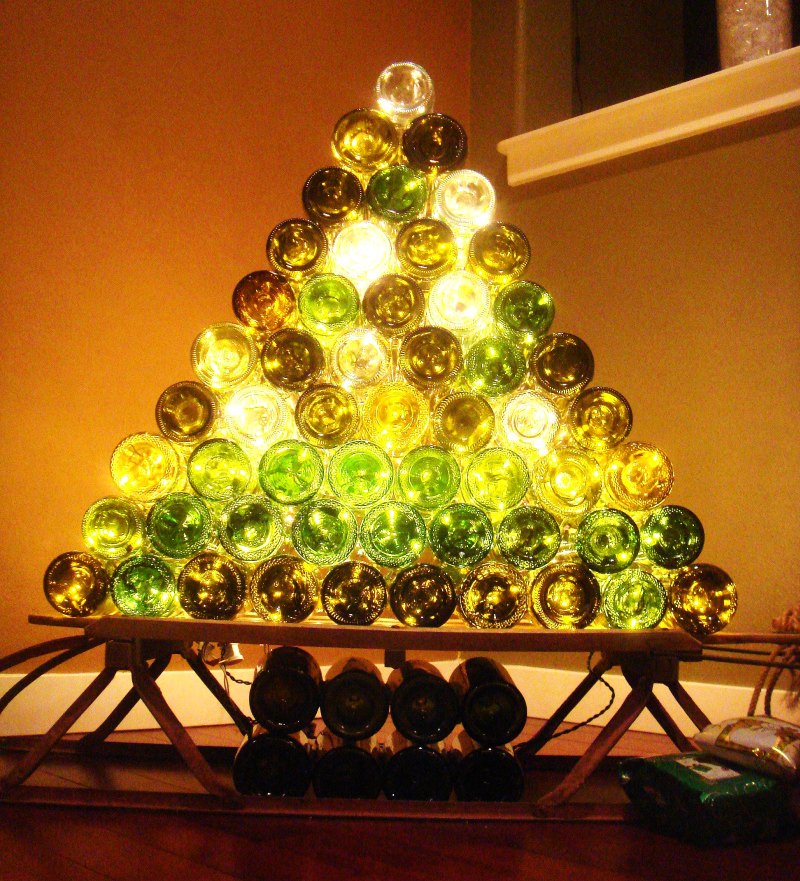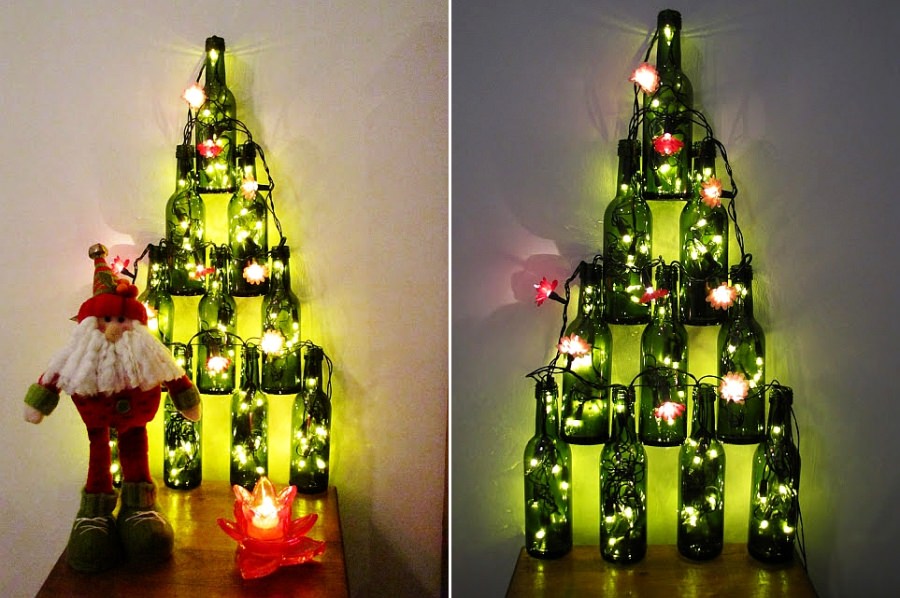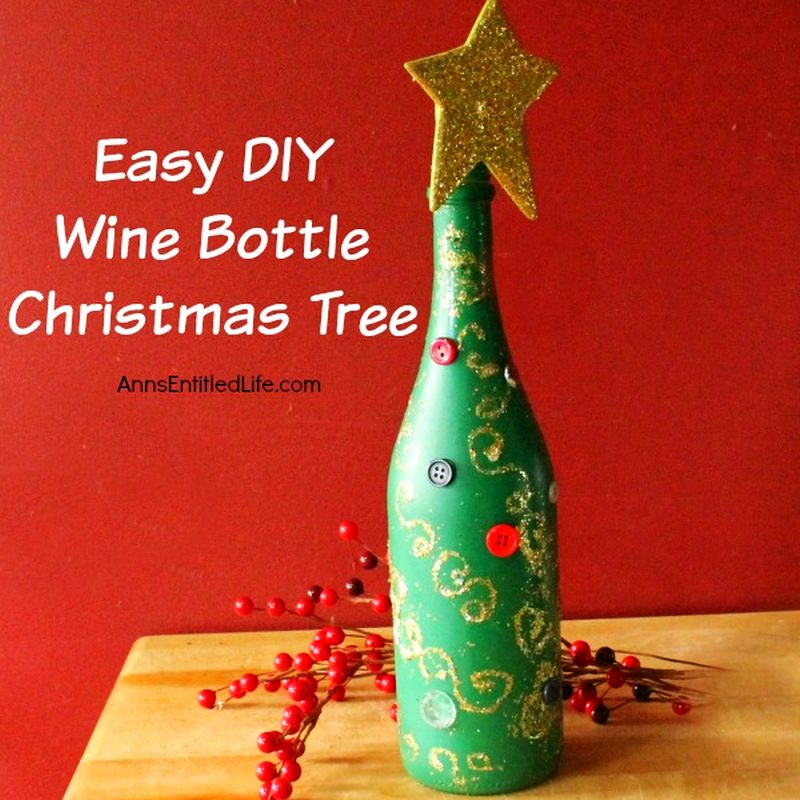 Wine Bottle Shelving
If you want a DIY idea for old wine bottles, create a shelving unit from wine bottles and wood panels. All you need is four-five wooden boards and a few wine bottles of the same size. The DIY process is almost similar to creating a wine bottle table – drill holes on the wooden boards to insert necks of wine bottles.
If you want to make two-floor shelving, make sure to drill holes upward so that bottles fit aptly. Repeat the process until you haven't added the desired number of floors to the shelving. This shelving project will add a unique charm to your wine bar.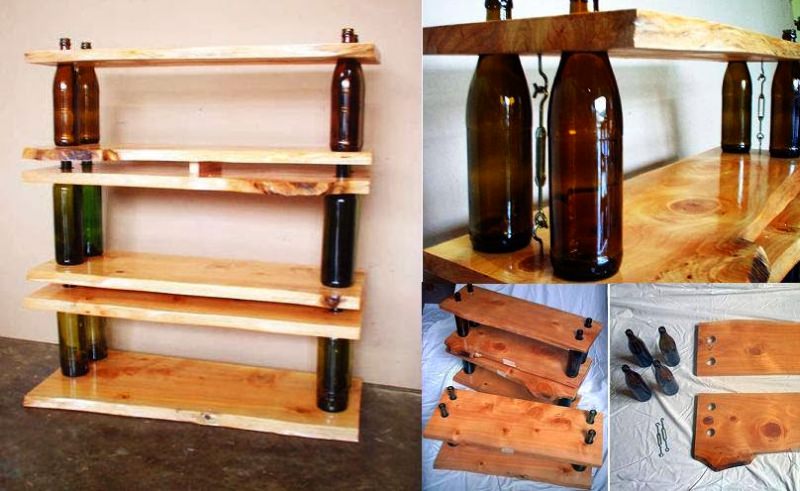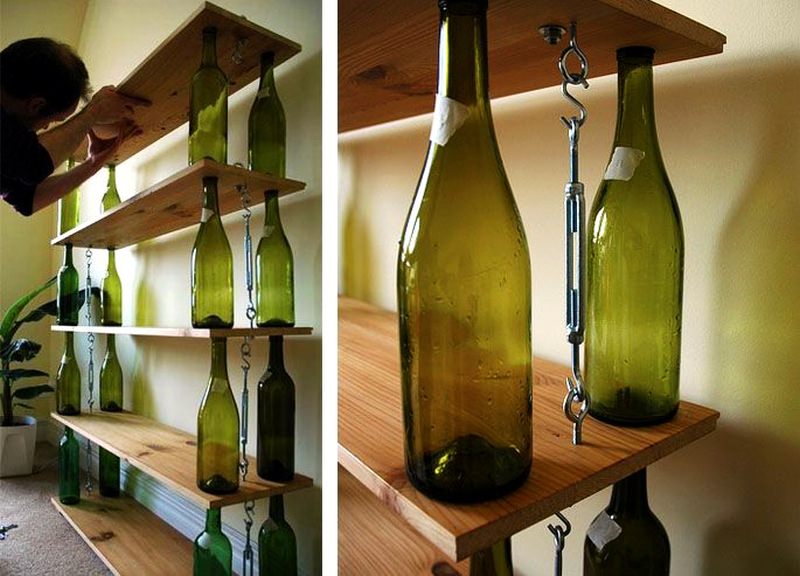 Wine Bottle Serving Tray
If looking for a bizarre way to serve your guests, these serving trays made of old wine bottle are a good option. You need to cut a wine bottle vertically into two halves and finish the cut by sanding edges carefully.
This idea is totally unique and not every second person will go with the idea of serving snacks in a wine bottle tray.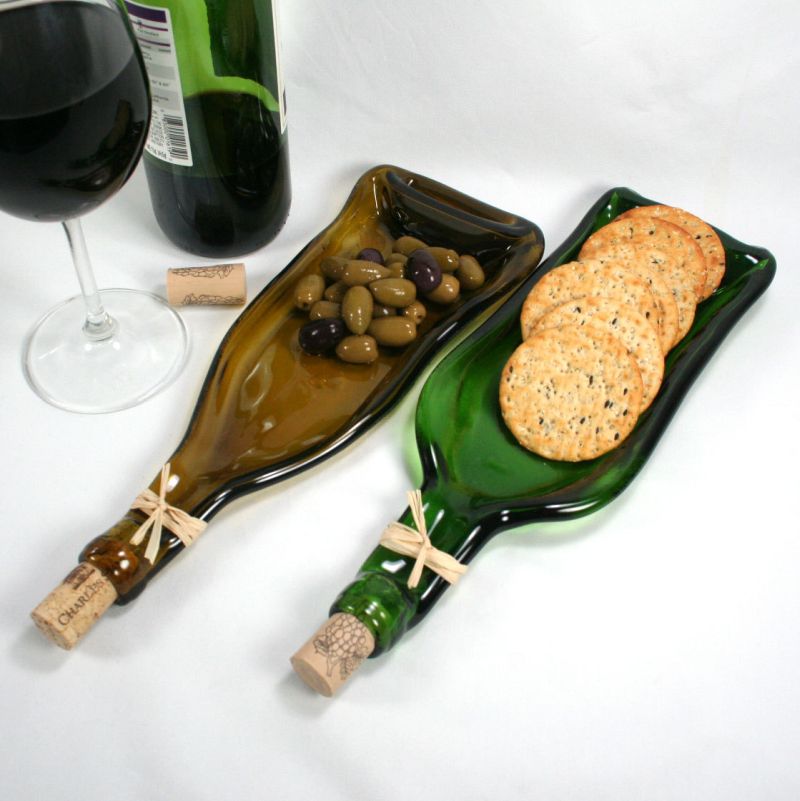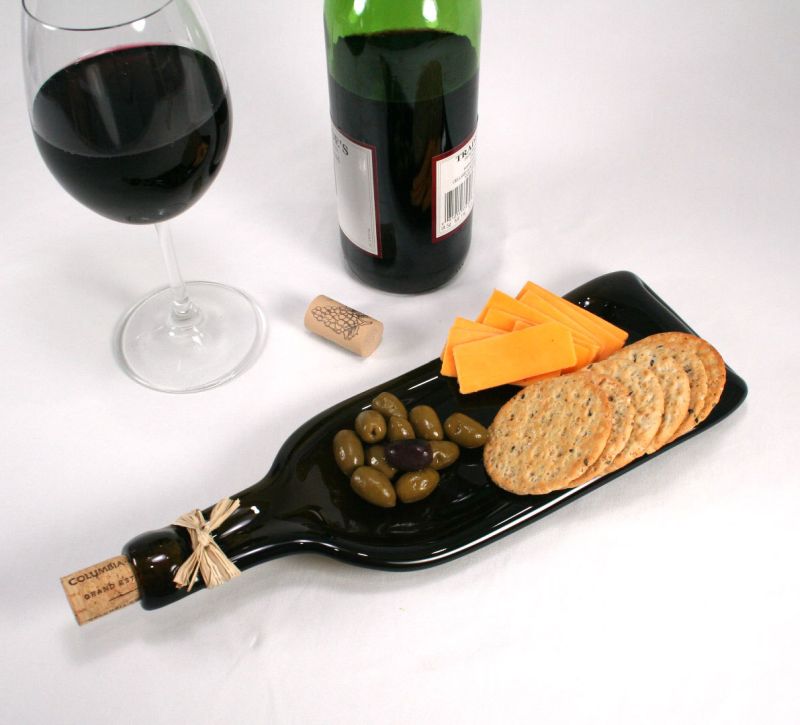 Turn Wine Bottles into Tumblers
Those familiar with the technique of glass cutting can turn old wine bottles into tumblers that will look cool sitting on your dining table. Don't waste your time and money looking for some classy glasses. Instead, create a set using leftover wine bottles.
Wine bottles are available in different hues, therefore, are perfect to create your own set of colorful DIY glasses. You just need to cut a wine bottle into two halves horizontally and smoothen up edges for safety.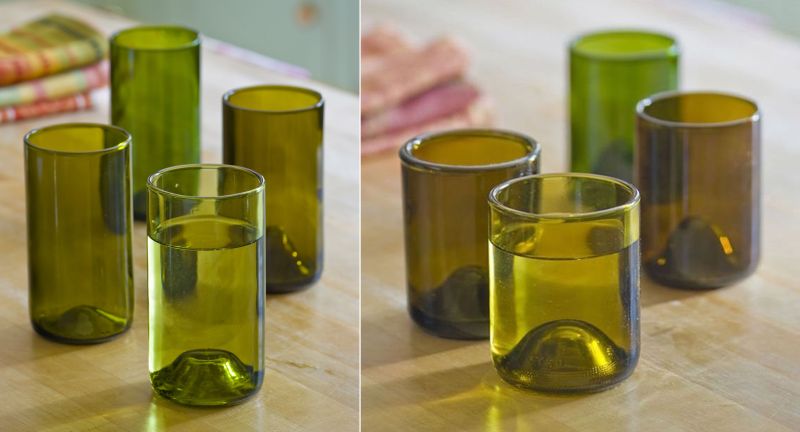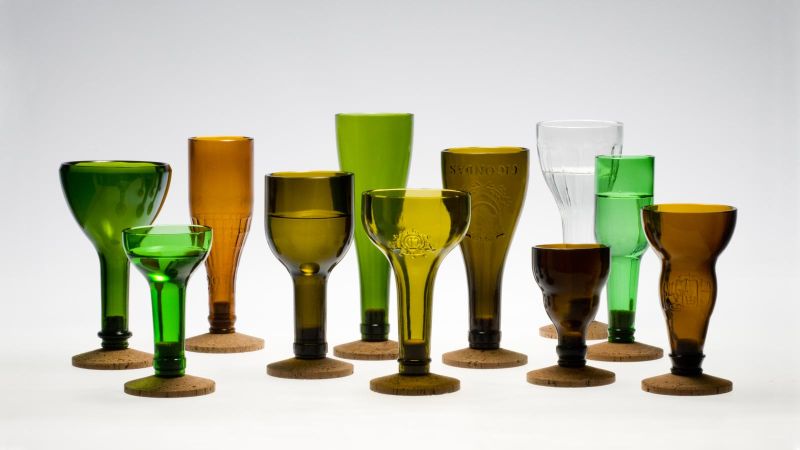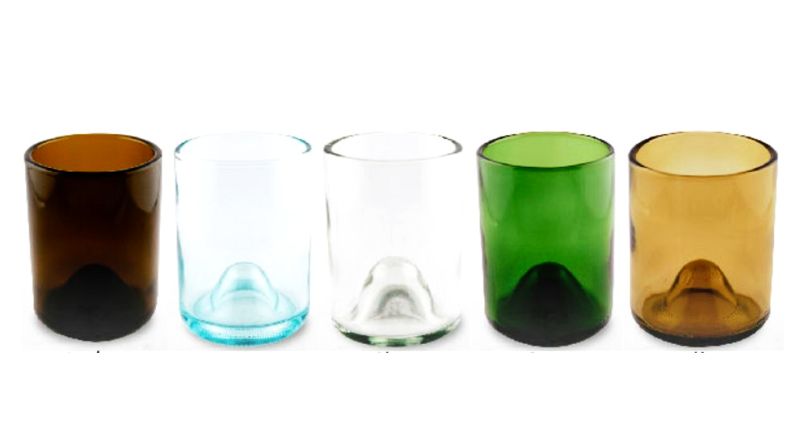 Recycled Wine Bottle Soap Dispenser
How about recycling old wine bottle into a soap dispenser that can be refilled over and over again? You'll need an empty wine bottle and a pour spout. Just remove the label. Attach the pourer to the bottle mouth. It is the most engaging task in this DIY craft. You can also use an old cork to top the bottle with pourer perfectly.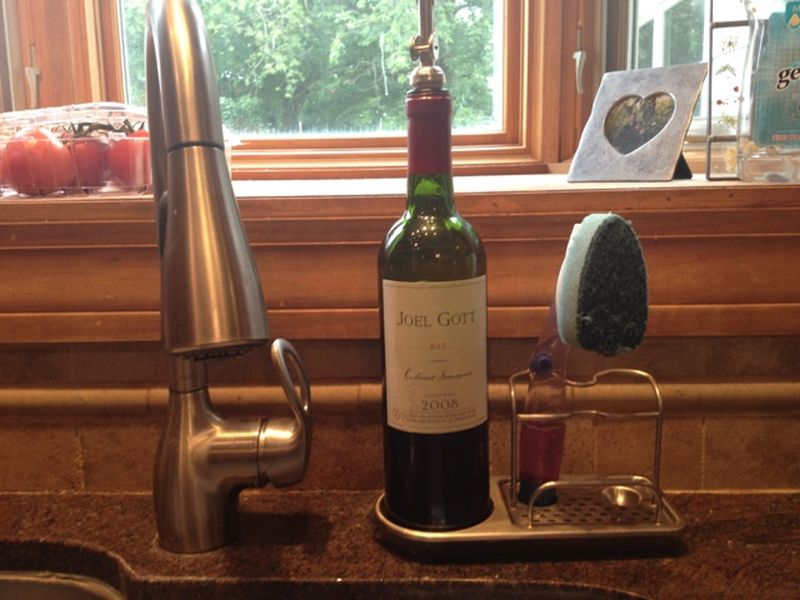 Wine Bottle Wall Hook
Turning a wine bottle into a wall hook to hang your hat or coat is another awesome idea. The wine bottle wall hook looks unique as well as functional. You can install it around your closet or dressing area.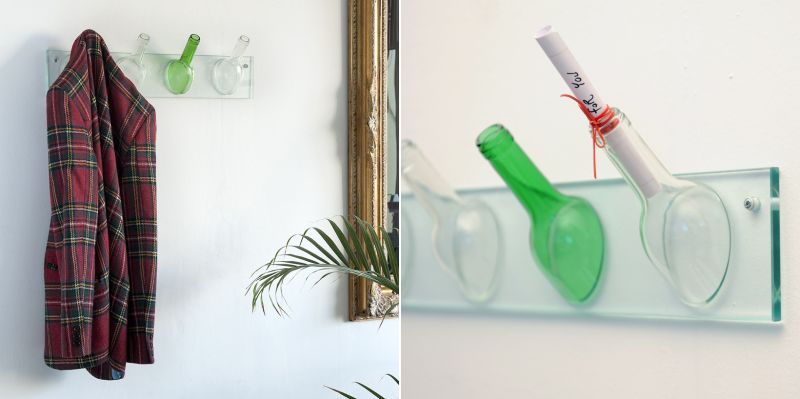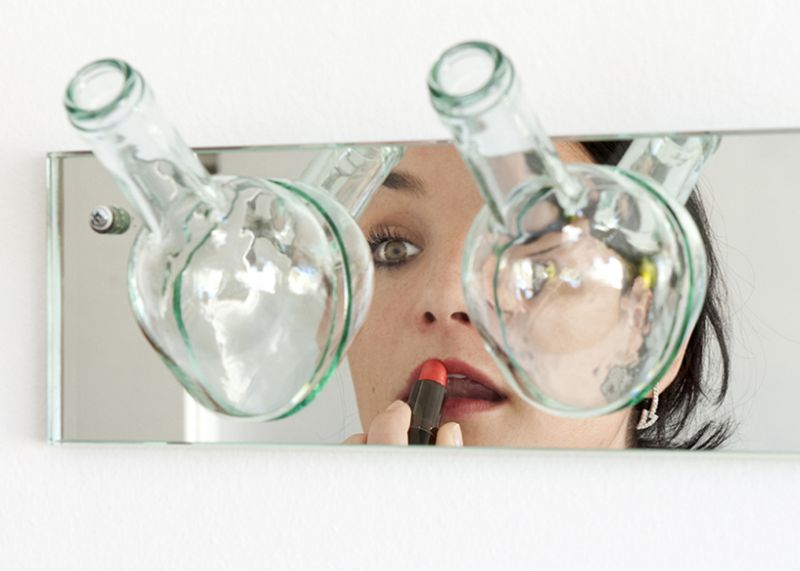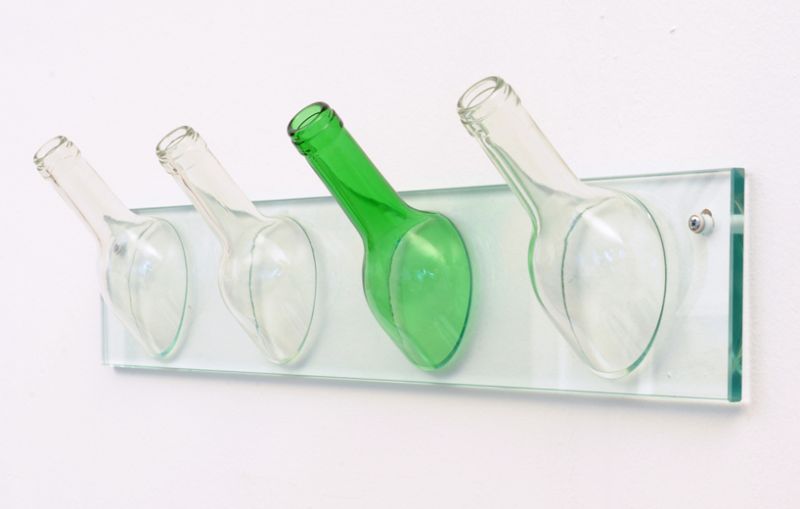 Recycle Wine Bottles into Serving Spoon
For an impressive addition to your dinnerware, DIY a serving spoon from empty wine bottles. The wine bottle spoons with a wooden handle are great for serving ice cream or cubes. You can also use them to serve dishes.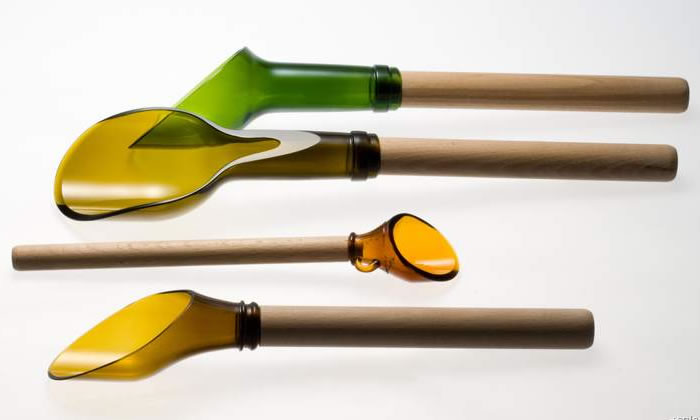 DIY Wine Bottle Candle Holder
All wine bottles that go into your recycle bin can be put into use! They make for a great candle holder. All you need is an easy and quick glass cutting technique. The angle at which you want to cut the bottle gives you the opportunity to add some unique essence to your DIY candle holder. You can either cut a wine bottle into two halves and use the lower half as a candle holder or completely chop off the bottom and neck and place it on a candle to create a warm ambiance.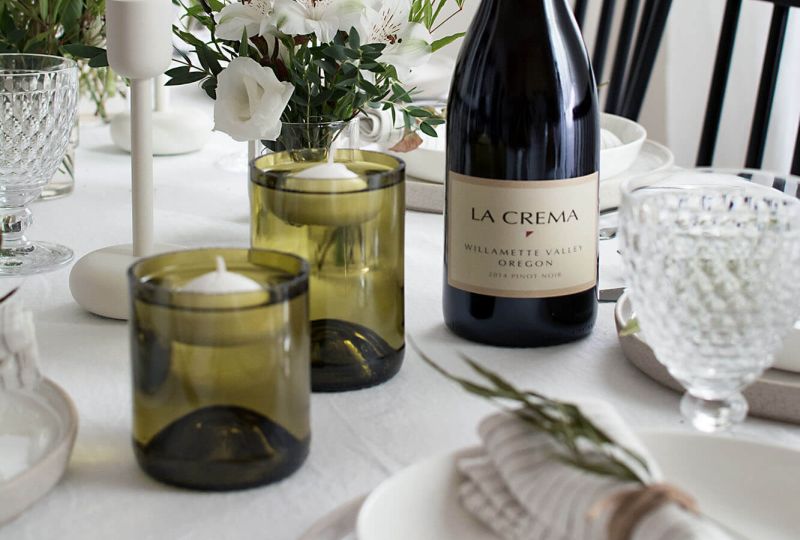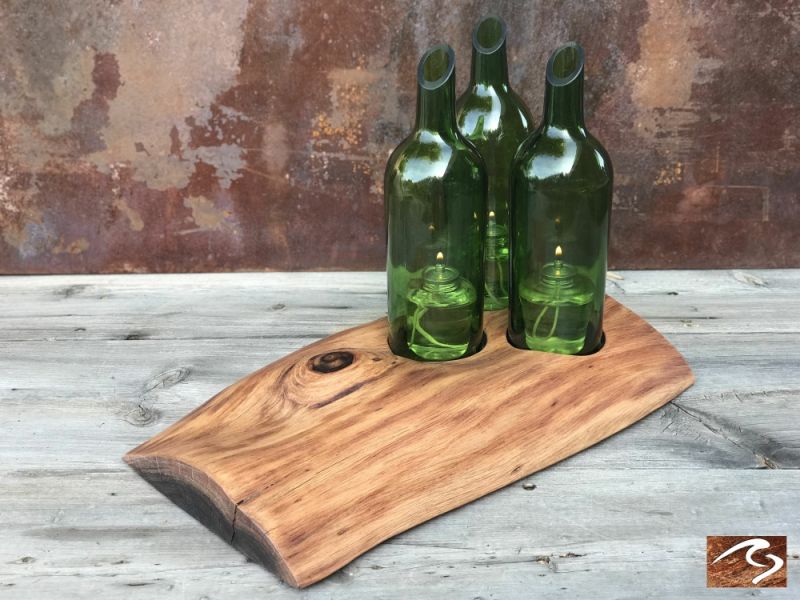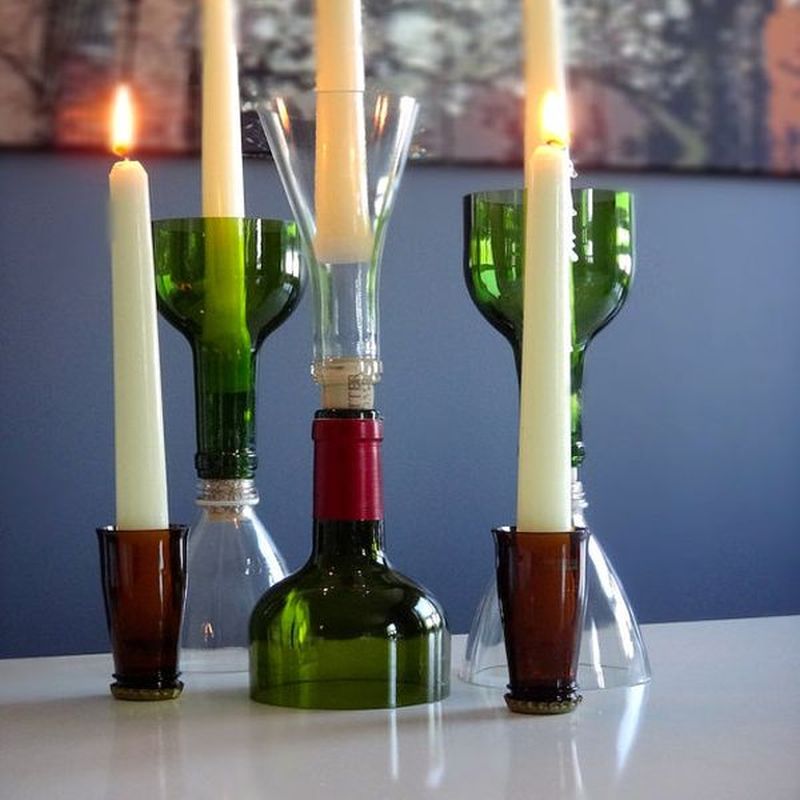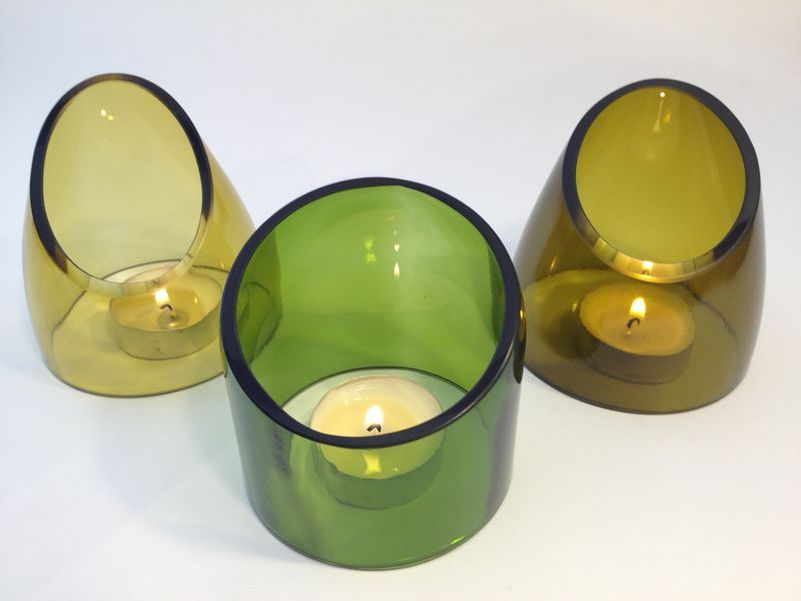 House Made of Wine Bottles
As wine bottles come in different pleasing hues, you can use them to build a home, just like Tom Kelly's botle house. His bottle house in Rhyolite, Nevada features walls made from wine bottles. Promoting eco-friendly lifestyle, the wine bottle house is a functional artwork.
You can also get inspired by Tom Kelly's work and make one for yourself, provided you are a pro DIYer.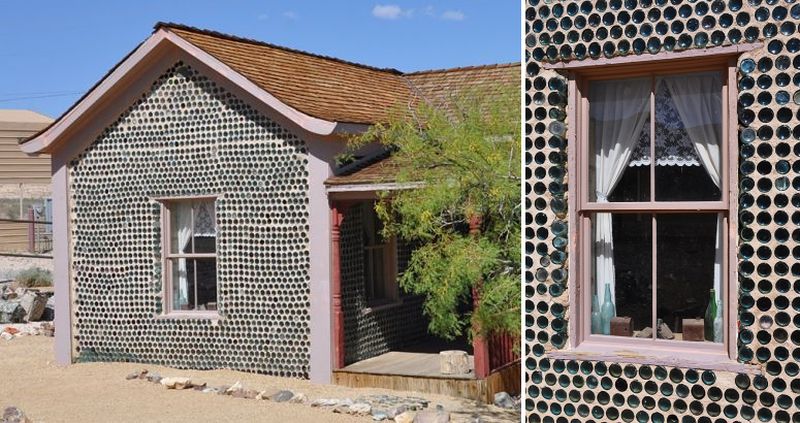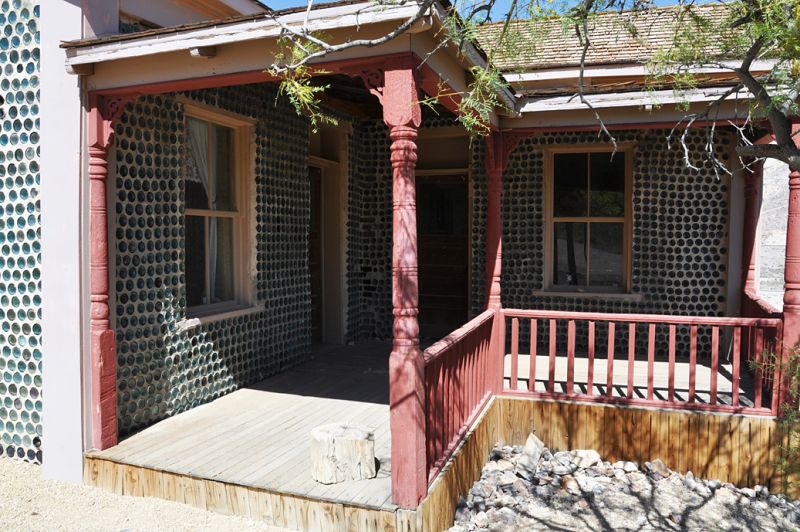 Glass house from Wine Bottles
There is something special about sitting inside a glass house, but what if your glass house is made entirely of wine bottles? Made out of old wine bottles and hardwood panels, it will look like a sculptural art piece.
If you have collected hundreds of wine bottles, you can go for this idea and make a distinctive glass housein your backyard.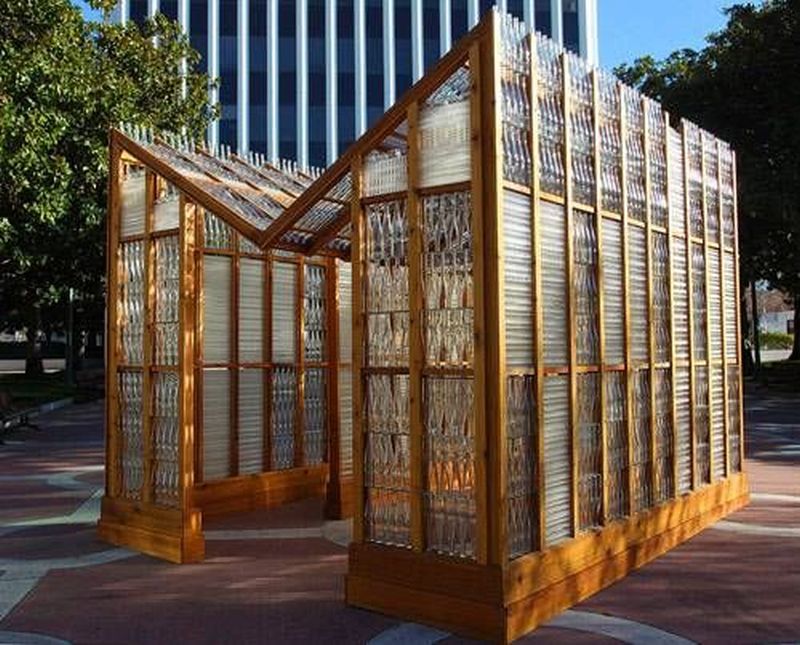 Wine Bottles Garden Edging
If you're looking for ways to reuse and recycle empty wine bottles, try using them into your garden decor. Repurposing wine bottles as garden edging sounds like a cool idea that anyone can try at home. Just dig in the wine bottles in a way that half of the length remains above the ground. The way you position the wine bottles decides the overall look and feel of the wine bottle craft.
Head over to Vert Austin Blog to check out the tutorial.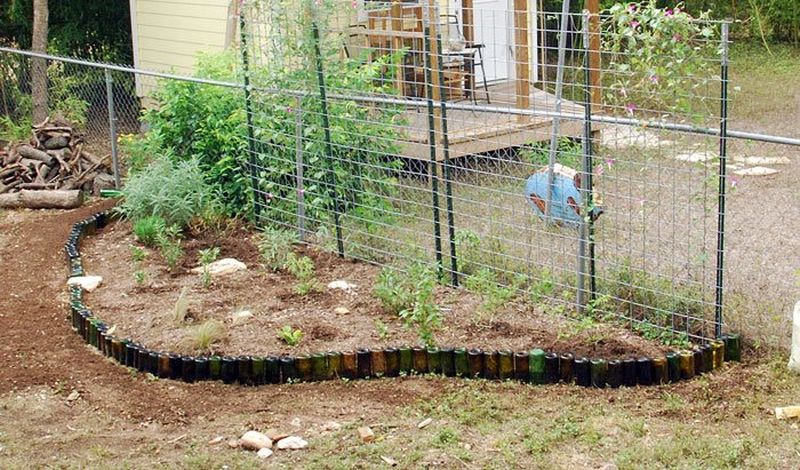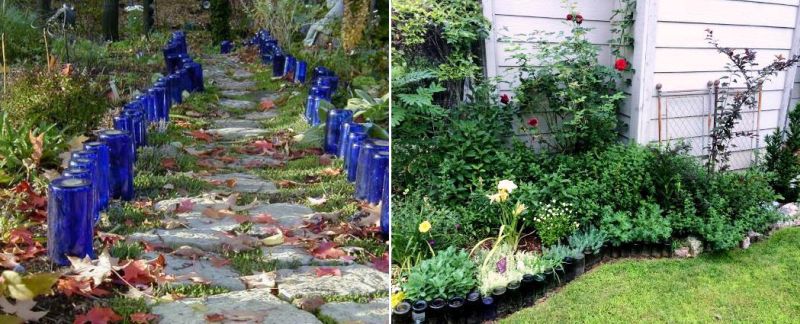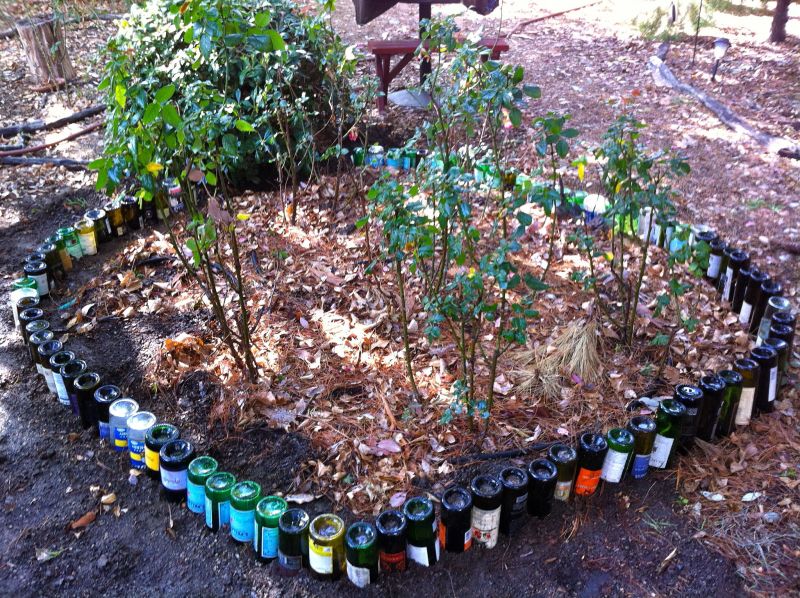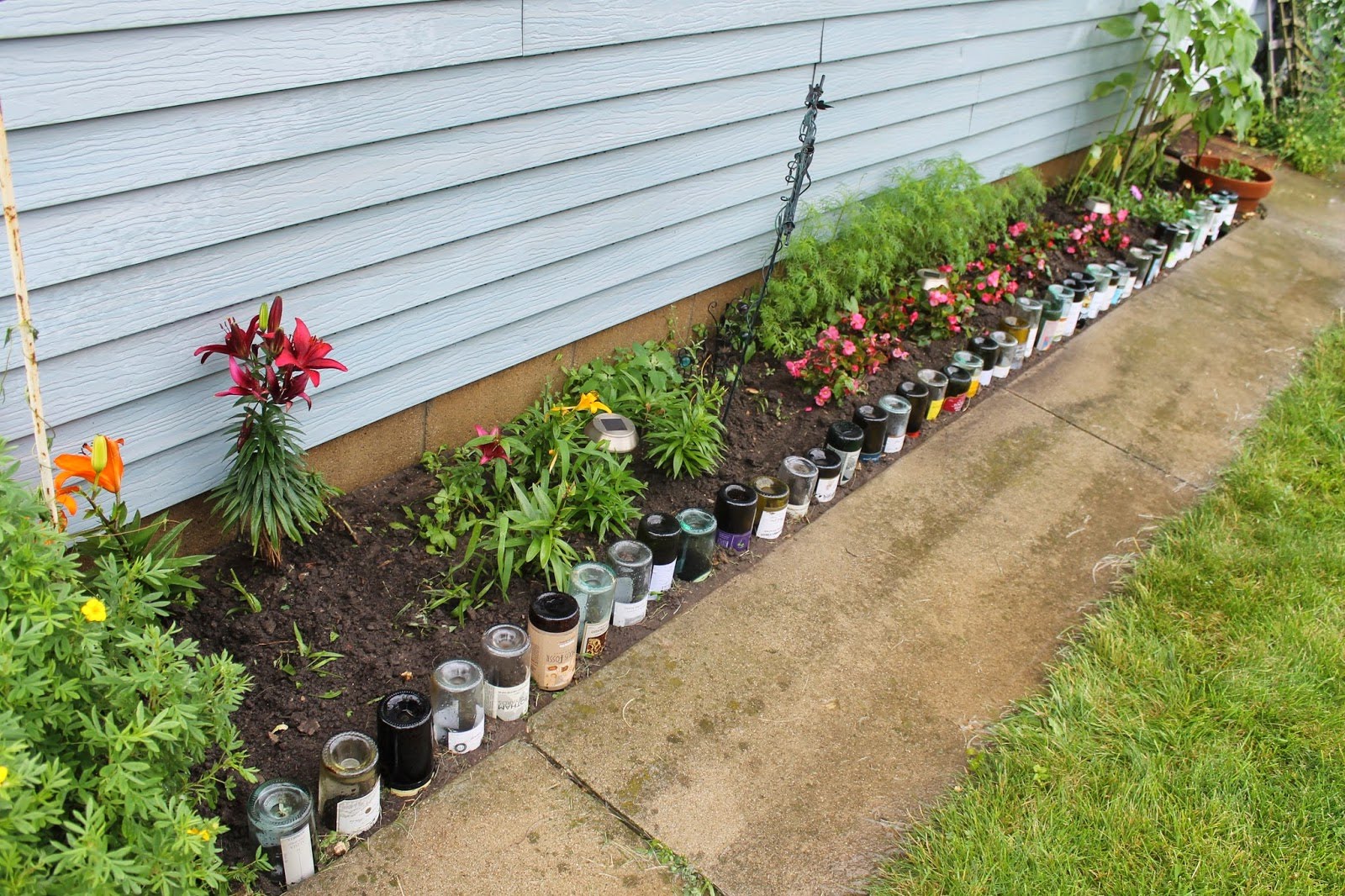 Empty Wine Bottle Pathway
When thinking to decorate yard or garden, you can possibly use empty wine bottles. They can be buried under the ground so that their bottom is partially visible while you walk over. This way, wine bottles can be presented like a piece of artwork in outdoors.