Have you started decorating the kitchen and dining area for Halloween? You can't add a hauntingly cool charm without Halloween-themed kitchenware and tableware. Whether you're planning a full-course meal or just going to serve snacks to your guests, such devilishly created kitchen utensils and accessories can turn all your food and beverages into frightful delights.
From a bloody chopping board and skeleton beer glass to tablecloth and dish towels, there are many things you can use to accentuate your Halloween party. These kitchen items are spooky and practical at the same time, without being too gruesome.
You'd surely love to put eerie Halloween kitchenware on display during the darkest hour of the creepy night of October 31.
# Pumpkin-Shaped Soup Tureen
It is obvious to decorate your outdoors and interior space with conventional pumpkins. In the kitchen, you can make use of this pumpkin-shaped soup tureen instead. It is perfect to add a festive essence to your dining table.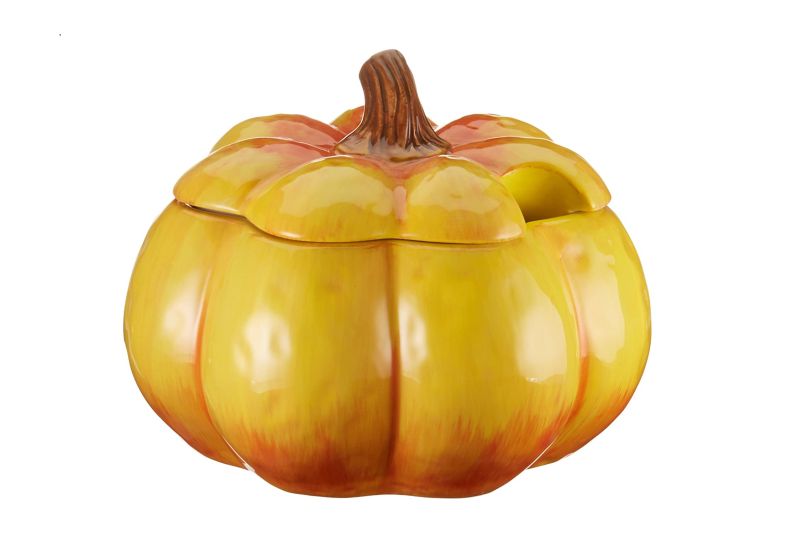 # Witch Cauldron Bowls
These cauldron-shaped and glazed iron black, ceramic stoneware bowls are ideal to serve Halloween punch, cookies, soups, and magic.
# Spider Web Bowl
Scare trick-or-treaters and share candies in this spooky spider web bowl. You can even place it on a dining table to serve fruits. It measures 10.5-inches across and 3.5-inches deep.
Price:

$7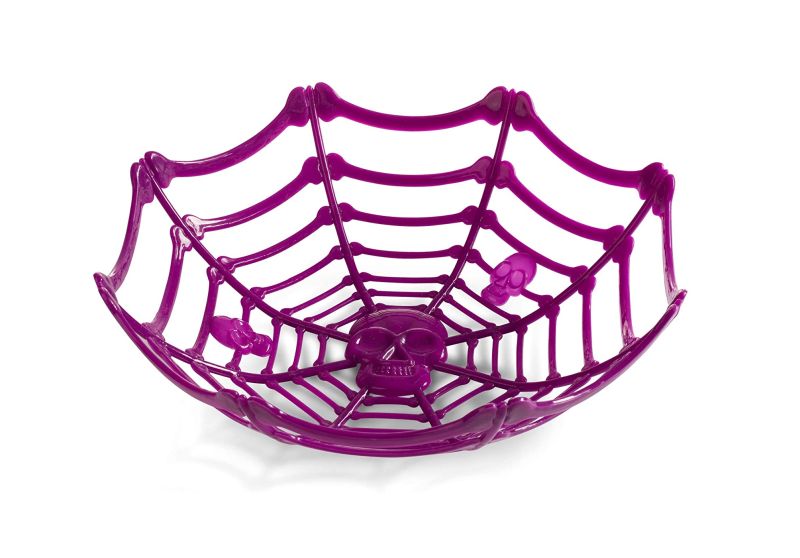 # Zombie Head Cookie Jar
It is a ceramic jar in the shape of a zombie's head, perfect to keep cookies and Halloween candy. Ask the guest to lift off the lid to reach in for the cookies – if they dare!
Buy:
$65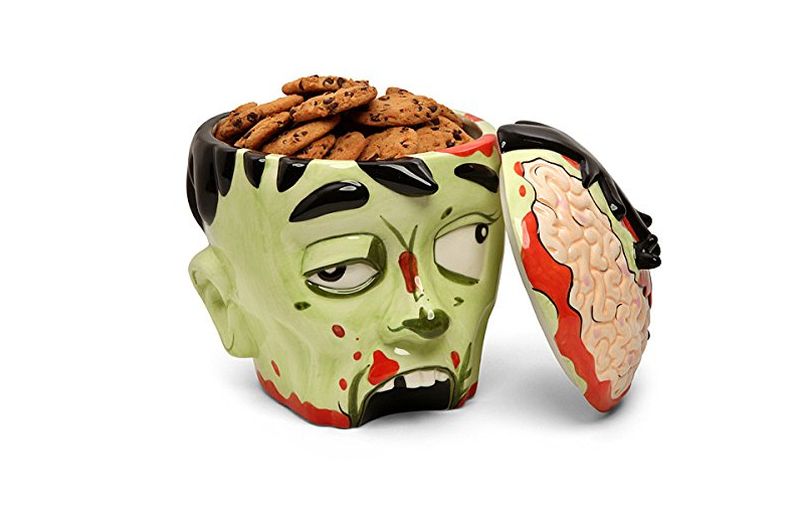 # Inflatable Pumpkin Beverage Cooler
This fun beverage cooler boasts jovial pumpkin art and serves as an elegant holder to keep your drinks cool. It really inflates to look cute than scary. But who said, cuteness is not Halloween ready.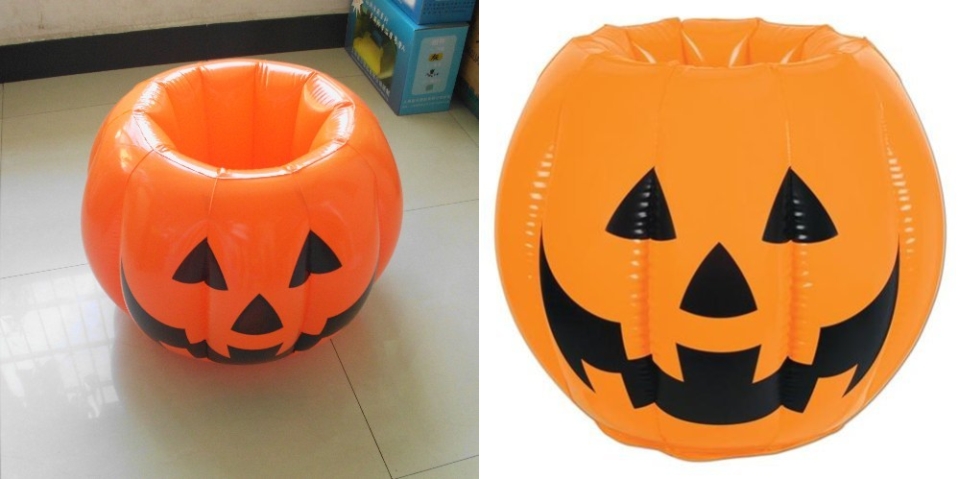 # Zombie Brain Gelatin Mold
This plastic mold shapes a delicious gelatin treat into a zombie's brain. Are you ready to try the jello mold and freak the kids out?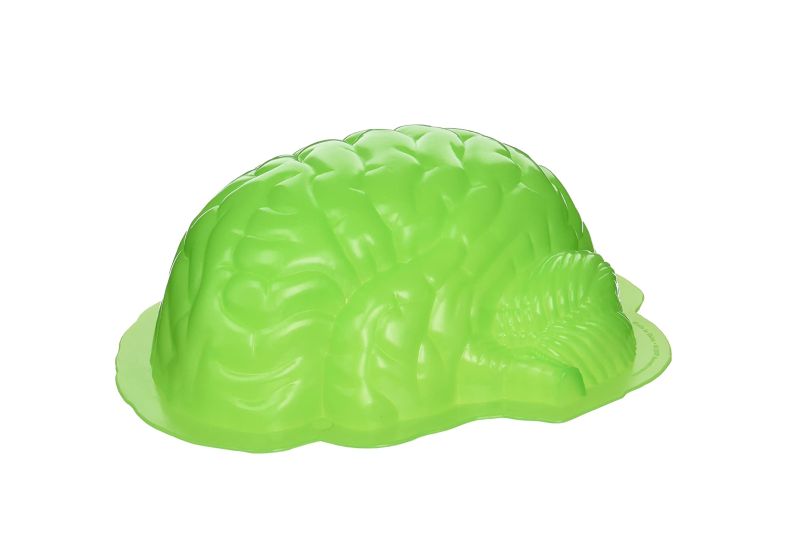 # Skull Embossing Rolling Pin
Embossing rolling pins are a necessary kitchen tool for Halloween. If you're a baking fan, these will help you create embossed skull cookies for your kids – scary fun, right!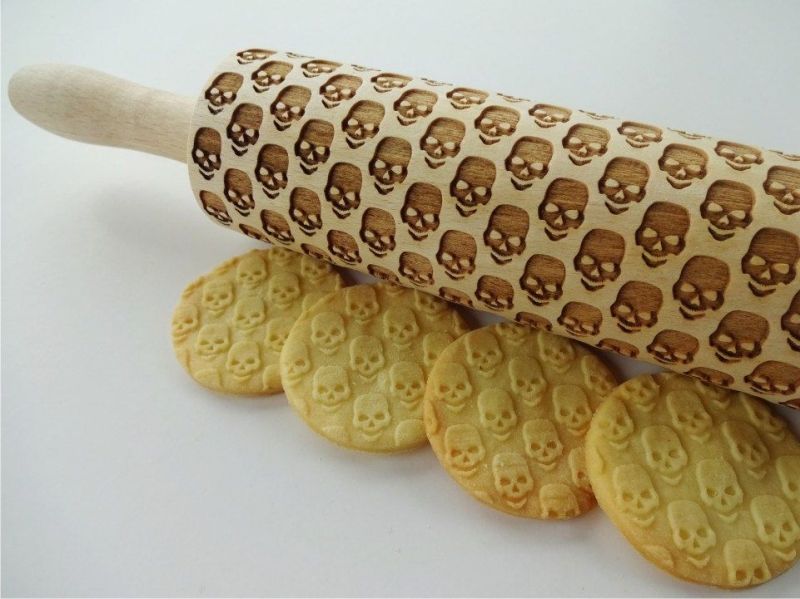 # Jack Skellington Cookie Cutter
Surprise those kids with cookies in the shape of Jack Skellington's face. These cookie cutters are 3D printed using food safe PLA plastic.
Price:

$2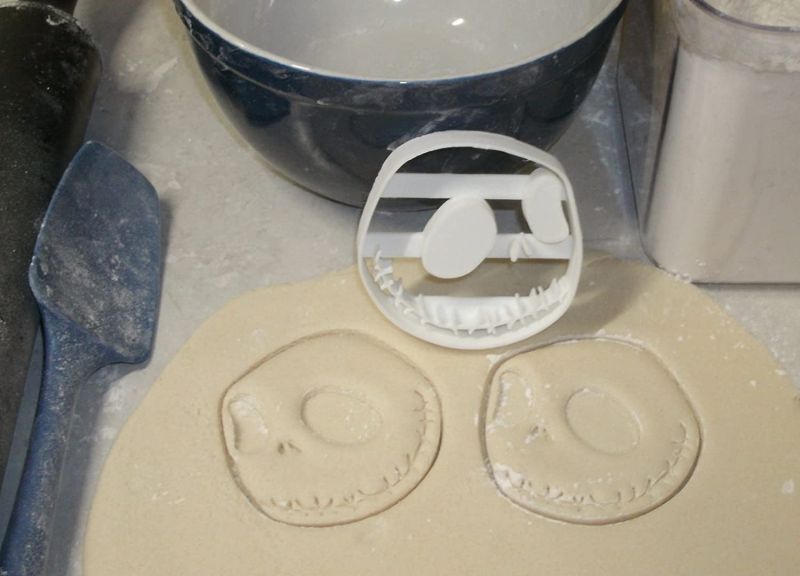 # Halloween Oven Mitts
Add a whimsical touch to your kitchen with these Halloween-themed oven mitts. They'll keep your hands safe and enhance your kitchen décor. Don't walk into the living room wearing them else you'd freak the kids out.
Buy:
$18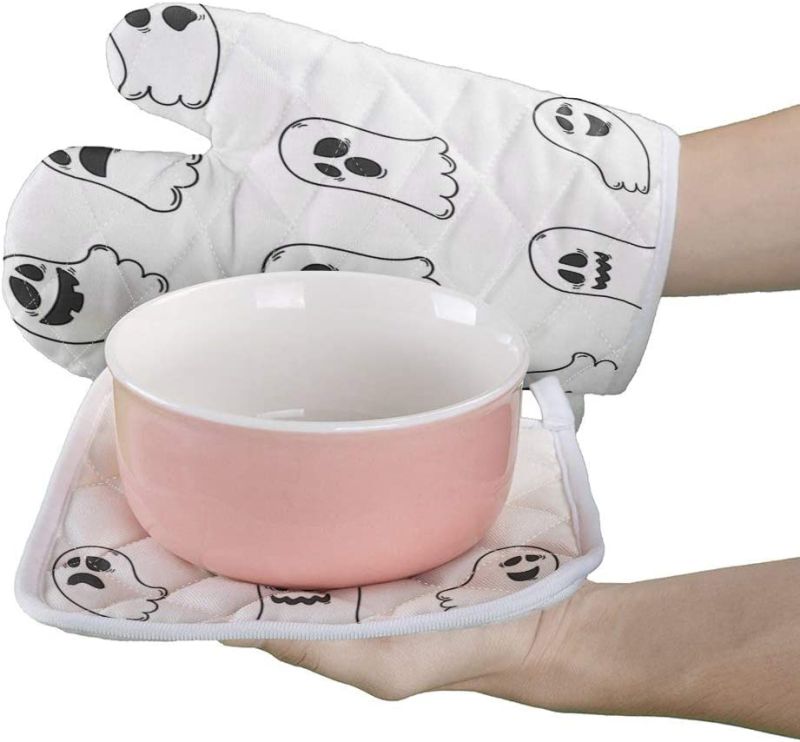 # Halloween Spider Web Tablecloth
Looking for a spooky black lace decor accessory? This spider web themed tablecloth is ideal to increase the mysterious ambiance.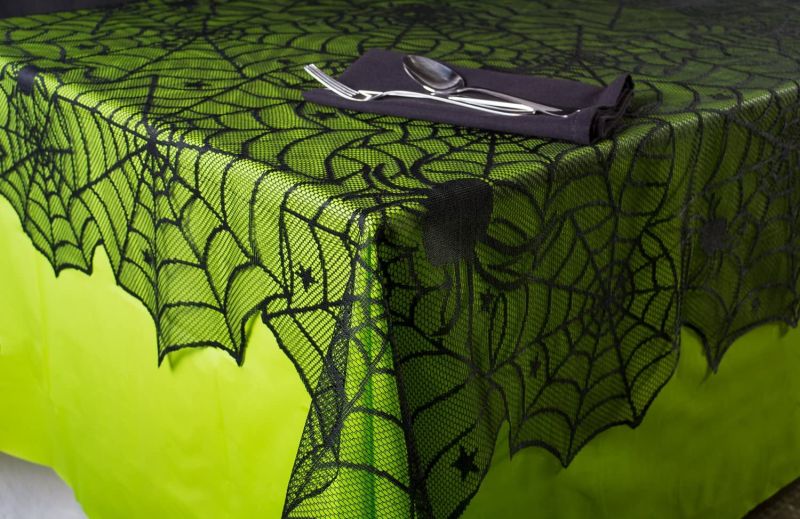 # Halloween-Themed Kitchen Dish Towels
Add up festive touch to your kitchen decor with Halloween-themed dish towels. They will be perfect to clean up the spooky spills.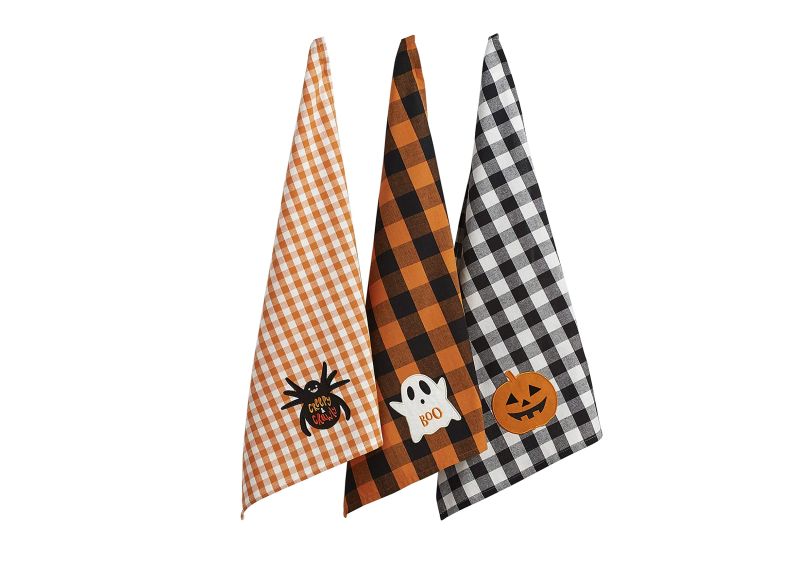 # Coffin Knife Holder
Handcrafted from hardwood, this coffin-shaped knife block will look great in any kitchen. It can accommodate five stainless steel knives and kitchen scissors.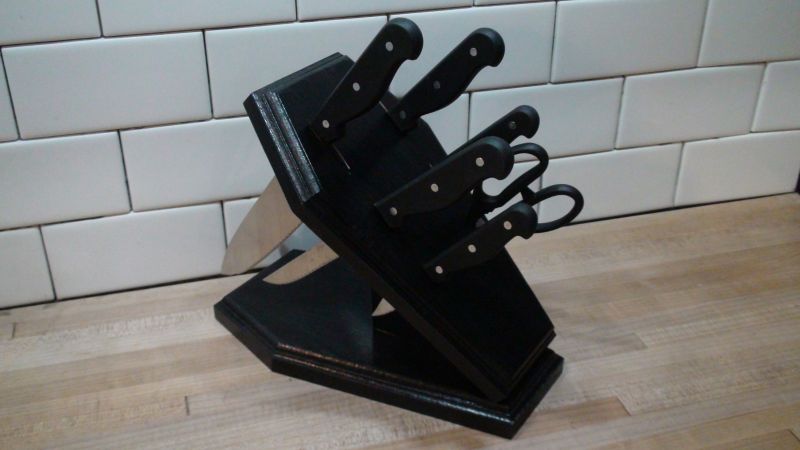 # Skull Sponge Holder
Add Halloween touch to the kitchen sink with this skull-shaped sponge holder. With two suction cups at the back, it can be applied to any clean and smooth surface. It drains and dries all types of sponges.
Price:
$8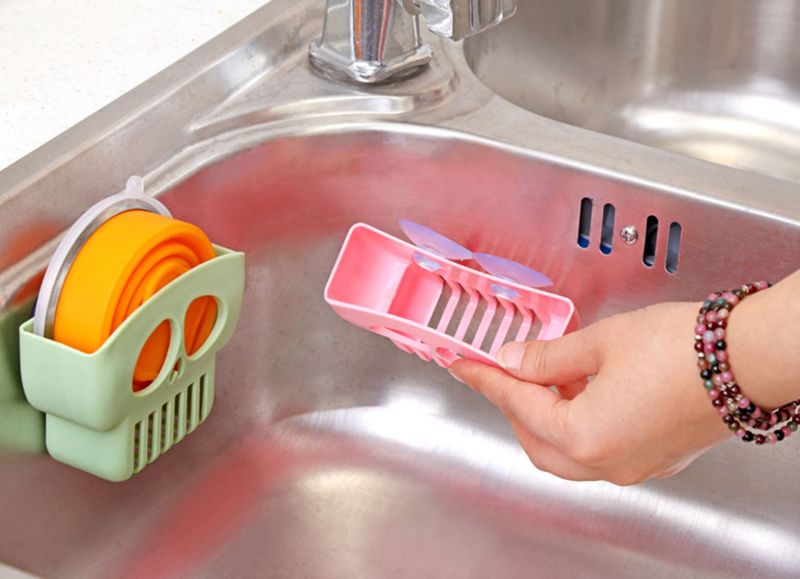 # Skull Bowl and Bone Spoon
This spooky bowl and spoon combo that would look ghoulish on your table is made from ceramic with decorative sutures. If you may, you can use it to serve sugar.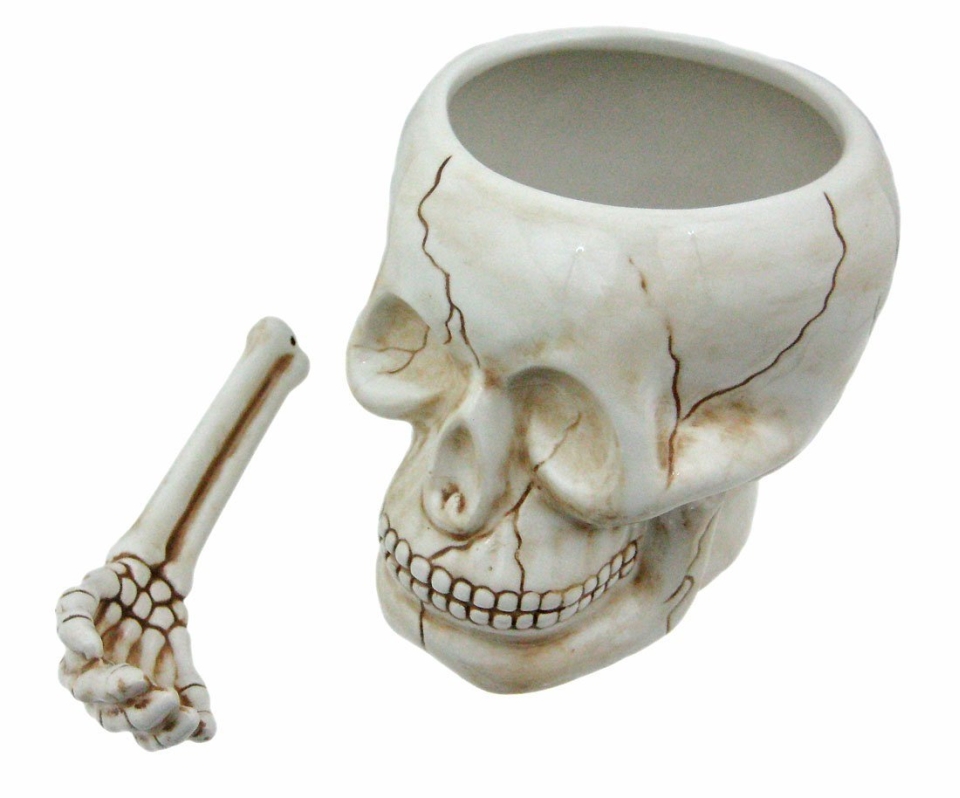 # Skull Cup
This hyper-realistic human skull is cast in ceramic and has a capacity of 12 fluid ounces. It's good for a scare and also safe for the microwave and dishwasher.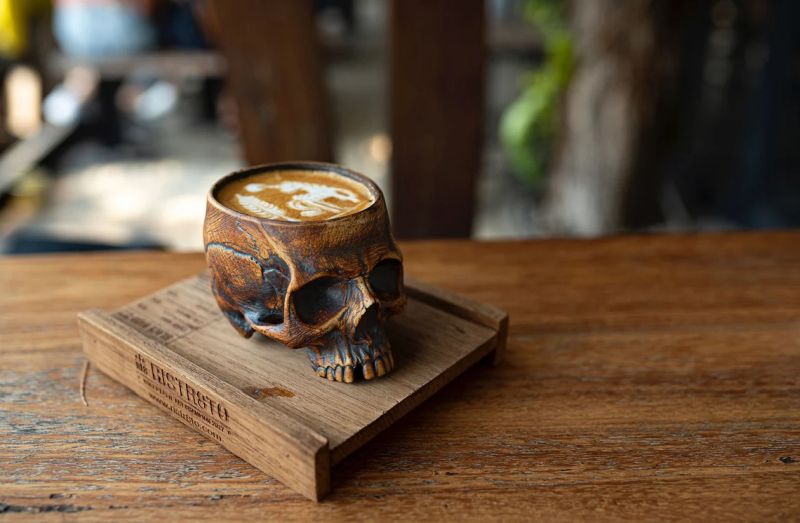 # Large Skull Coffee Mug
Scare the party with the hand-painted skeleton head-shaped mug. Serve piping hot coffee in this eerie mug and get an instant reaction for your guests.
Price:

$15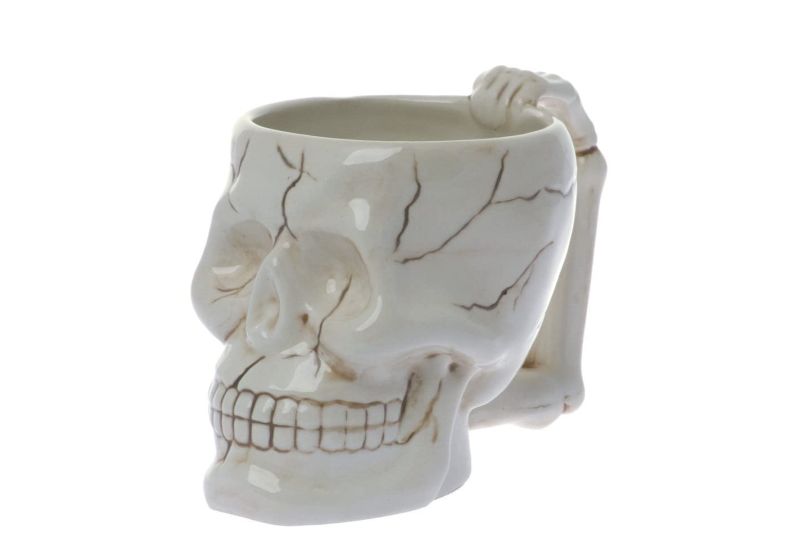 # Jack Skellington Mug
This ceramic mug in the shape of Jack Skellington's face will add a haunting flair to the kitchen. Perfect gift for a Nightmare Before Christmas fan, it can hold 11 ounces of drink.
Price:

$15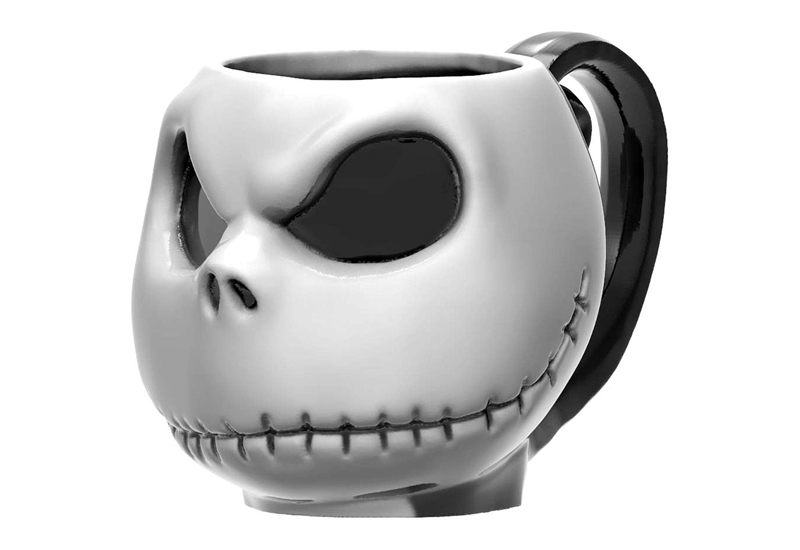 Also Read: Easy Tips and Ideas to Spook Up Your Kitchen This Halloween
# Skull Tea Infuser
This spooky skull-shaped tea infuser will give you the creeps while it steeps. It brews up a perfect cup of tea and is molded from pure, food-safe silicone.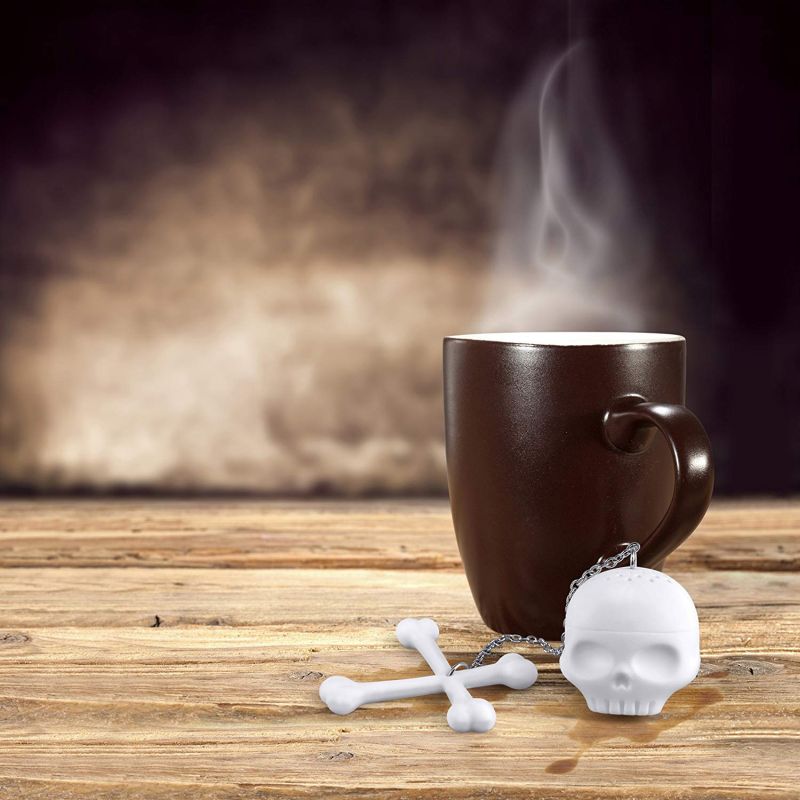 # Skull Inspired Wine Goblet
This wine goblet is hand-painted in black and features scary claw and a skull. The golden base makes it attractive.
# Skull-shaped Beer Glass
Made of thick handblown glass with beveled glass rim, this skull-shaped mug is perfect for beer lovers. It can hold 17.6 ounces of beer.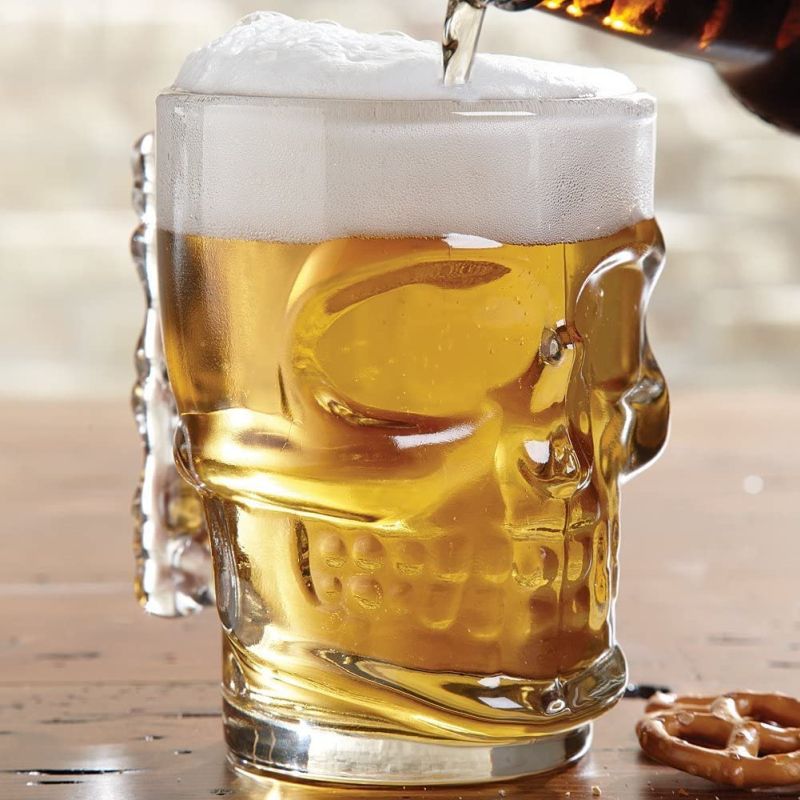 # Zombie Baby Cup
Fill this uniquely shaped cup with a party drink to serve your guests a dose of creepiness or just let it sit on the table. It'll look horrific whether on the dining table or on a shelf.
Buy:
$27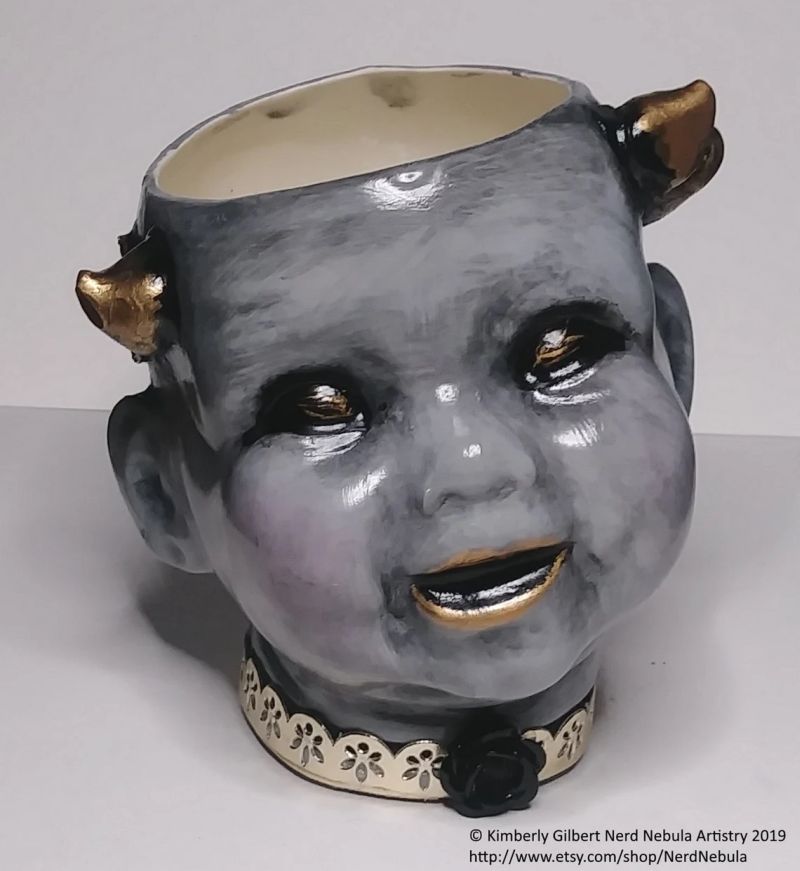 # Ceramic Skeleton Plate
The scary ceramic plates will be a great addition to the dining table. They're perfect to serve mouthwatering dishes and scare off the trick-or-treaters.
# Sugar Skull Teaspoon
Add two teaspoons of horror to your cup of coffee with this skull-shaped teaspoon. It's made from high-quality stainless steel.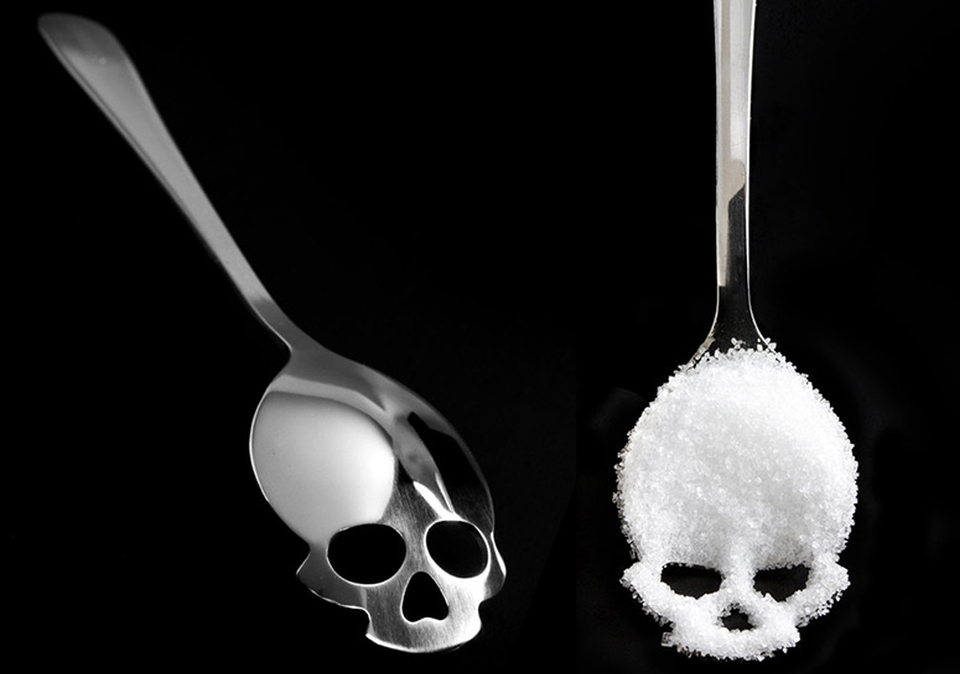 # Ghost Spoon Rest
Add wicked Halloween fun with this spooky ceramic spoon rest in your Halloween dinner party. Each of these is hand-painted for the scare.
# Skeleton Hand Salad Server
Toss and serve horror-filled salad to your guests with these creepy metal skeleton hands. BUT! Do not poke them.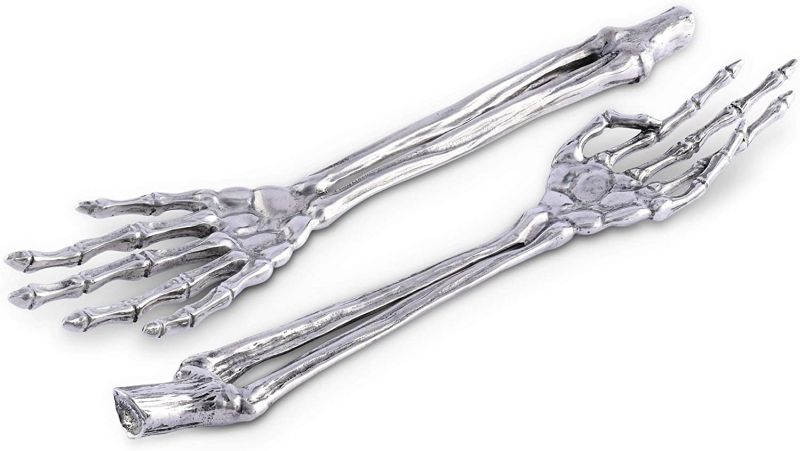 # Skeleton Hand Bottle Opener
This spine-chilling bottle opener with a clenched claw is always ready to flip the top of your chilled beer.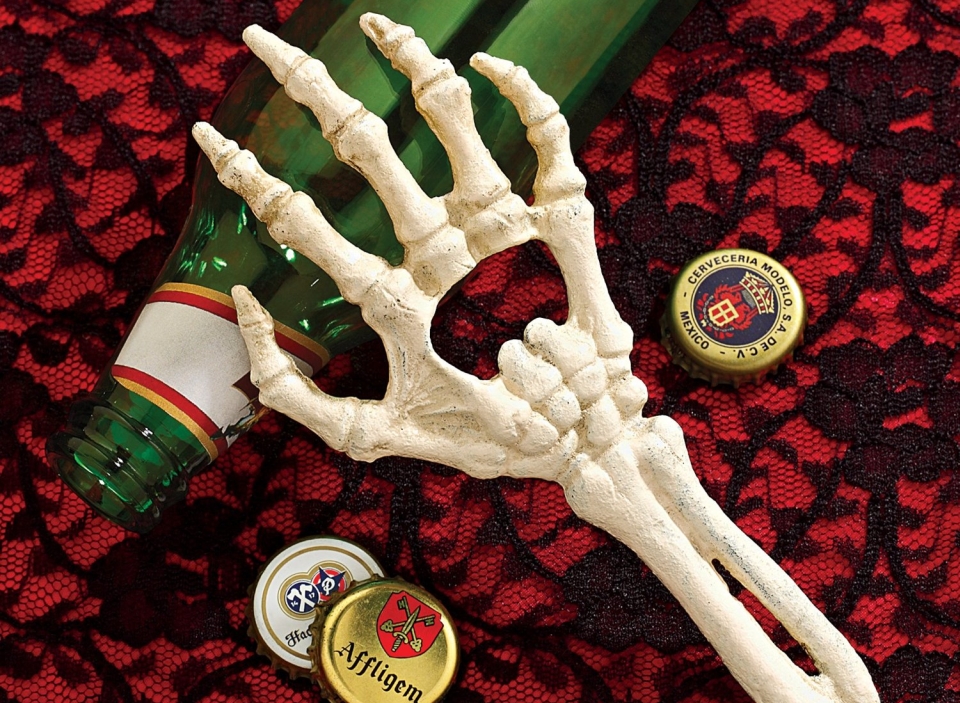 # Zombie Head Bottle Opener
With a 2D relief design of Walker's head from hit AMC TV show, this opener is ready to crack open your favorite beverage. It is a perfect takeaway for The Walking Dead fans.
Buy:
$16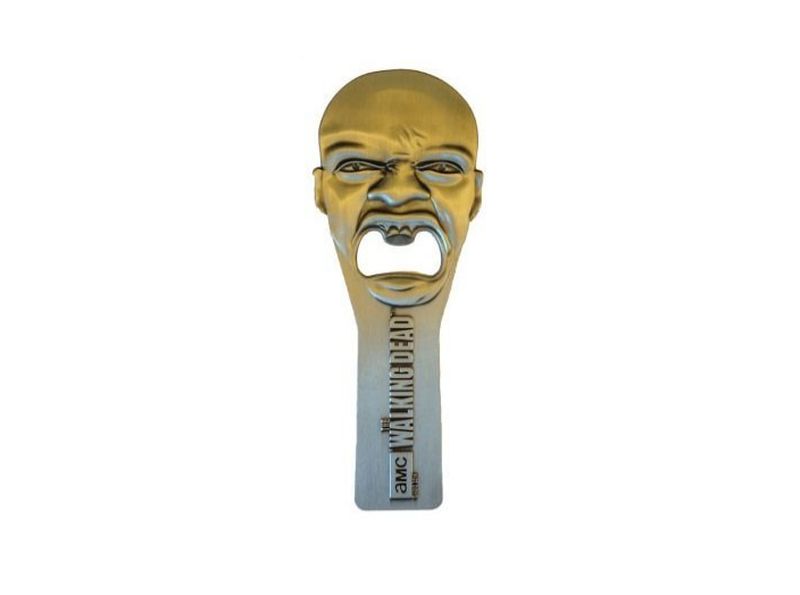 # Wall-Mounted Skull Bottle Opener
Made from cast iron with a rustic brown finish, this wall-mounted skull bottle opener is a perfect addition to the kitchen this Halloween.
Buy:

$9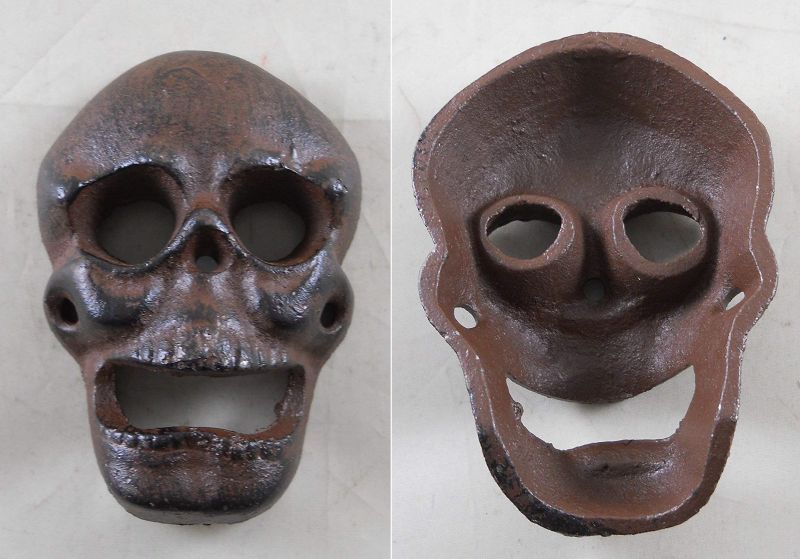 # Skull-Shaped Salt and Pepper Shakers
Cast that sinister shadow over your Halloween party with this skull-shaped salt and pepper shakers.
Buy:

$8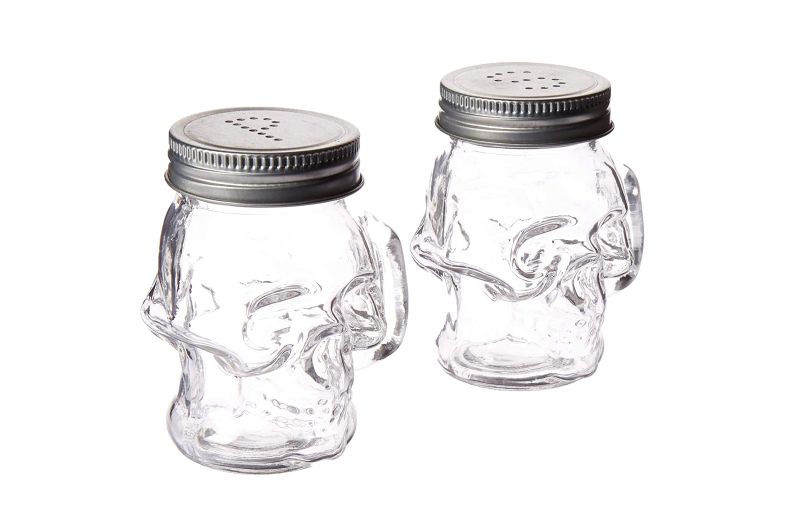 # Skeleton Salt Shakers
Enhance your table decor with this pair of Halloween-themed salt and pepper shakers. If you can't have enough of skulls and skeletons, this ghoulish shaker set is yours to be.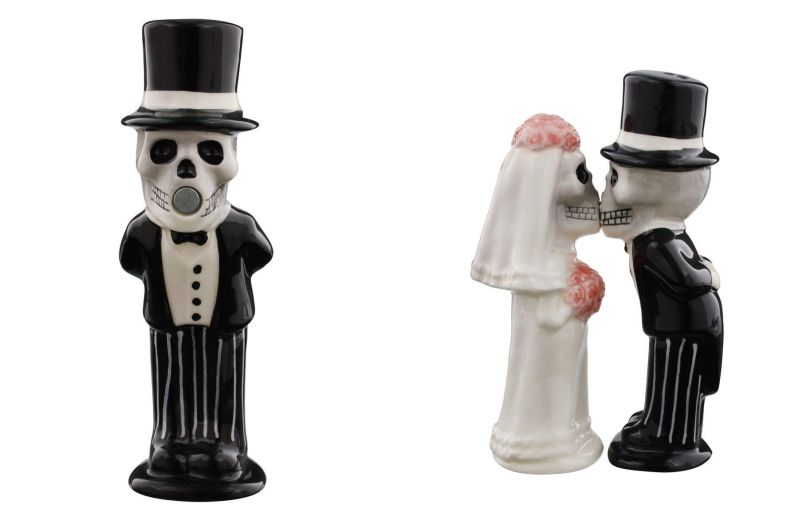 Also Read: 100+ Cute and Creepy Halloween Cake Ideas
# Skull-Inspired Napkin Holder
This handy Halloween tableware will creepily climb to the dining table and hold napkins for you.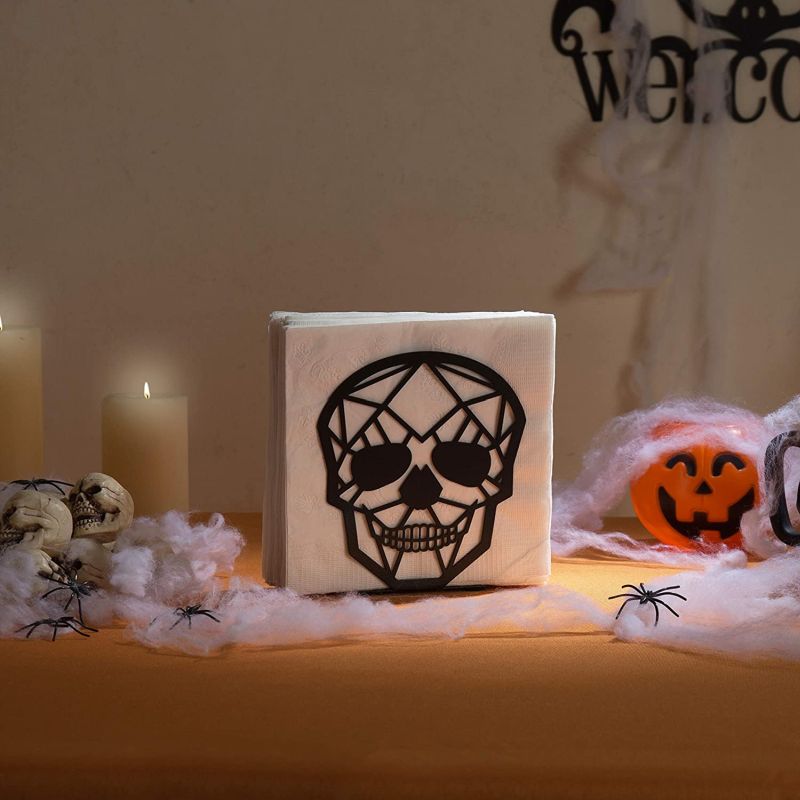 # Skull Napkin Rings
Inspired by the British reality television series Four Weddings, this is a set of four handcrafted skull rings for napkins.