Tiny homes have given a whole new meaning to outdoor living, letting you soak in nature and the wilderness around like never before. Modern tiny homes come in all shapes and sizes, thereby giving you enough ideas to make one for yourself in the least possible budget. Whether a tiny home is your backyard or in a secluded place, the charm of living in a small space with all the basic amenities is completely different. You'll be amazed to learn how creative people have crafted tiny homes for themselves which seem more of a weekend retreat for the unassuming minds. So let's take a look at some of the best tiny homes around the globe which boast picturesque view and amazing interiors well organized in a small space.
# France Tiny House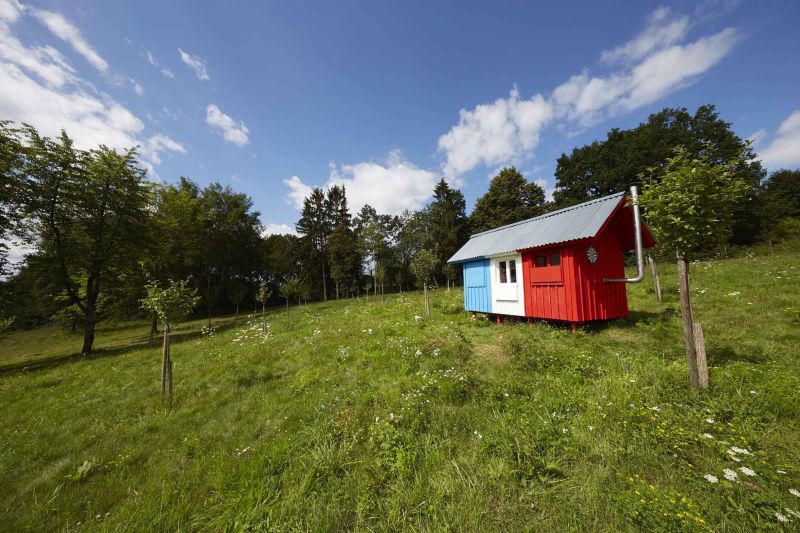 This prefab tiny house by Joshua Woodsman is called 'France' owing to its exterior color scheme, and it can be put together in a day's time. The small house has three separate sections including a living room, sleeping area and kitchen. It is made from 21 prefabricated insulated panels, and multi-functional seats and table are also added to maintain comfort. This house with smaller living sections can also be used a playhouse for kids, as it will make them feel like they are playing in a real house. A witty minded person can use this tiny house as perfect guest room for his/her in-laws.
Price: $1,200
# Britespace Tiny House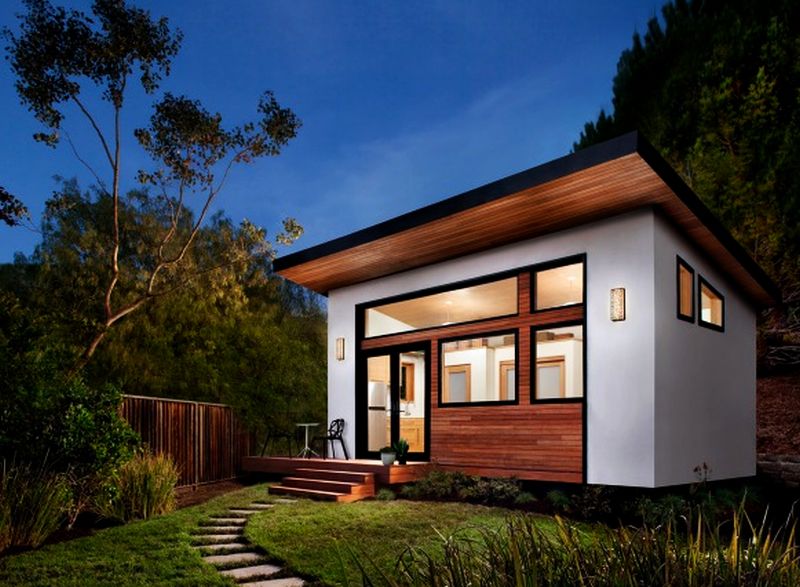 San Francisco-based startup Avava Systems has come up with a line of prefabricated tiny houses called Britespace. The micro dwellings come in flat-packed boxes for easy transportation and assembly anytime, anywhere. These tiny houses are available in three sizes, with different names — Model 264, Model 352 and Model 480. They encompass only a few sqare feet of area, along with boasting all facilities that are present in any conventional home. Likewise, other models are also installed with similar equipment and facilities. All of these tiny house models are fully customizable from the window color to the cabinets. Even solar panel installation on the rooftop is also possible.
Price: $117,000 – $223,000
# Basecamp Tiny House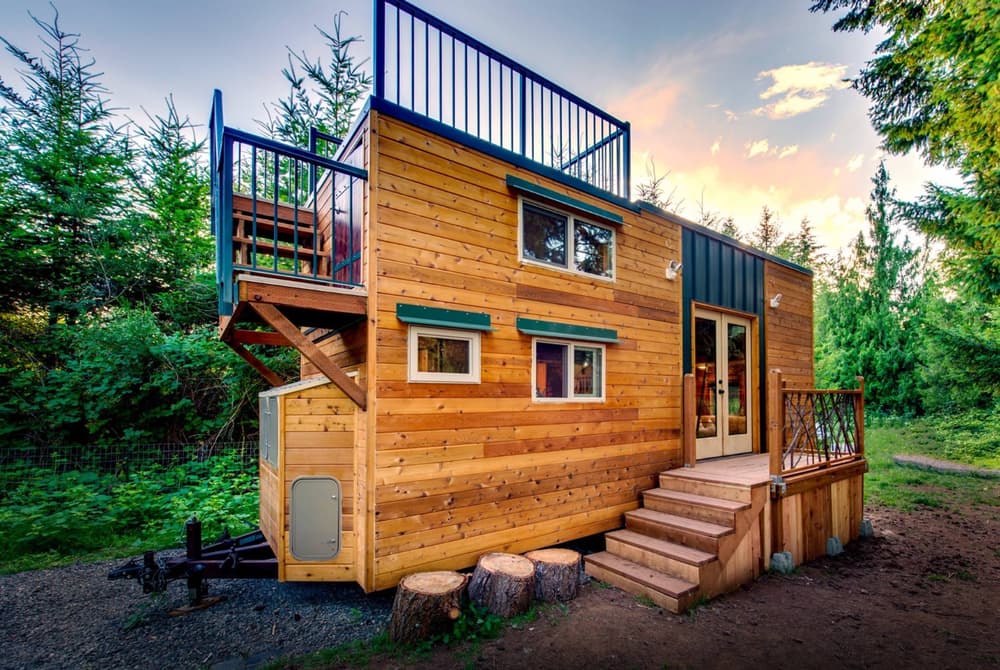 Tina and Luke Orlando, a couple from Beaverton, Oregon, decided to make their own compact home with enough space for their three dogs as well. Having no prior knowledge of architecture or home design, they still managed to come up with a tiny home that caught everyone by surprise. They call it Basecamp Tiny House, and it is constructed on top of a three-axle trailer. This modern house on top of a trailer axle is made from tongue-and-groove cedar wood and covered with a rooftop deck which can be reached via the staircase.
Price: On request
# 359 Tiny House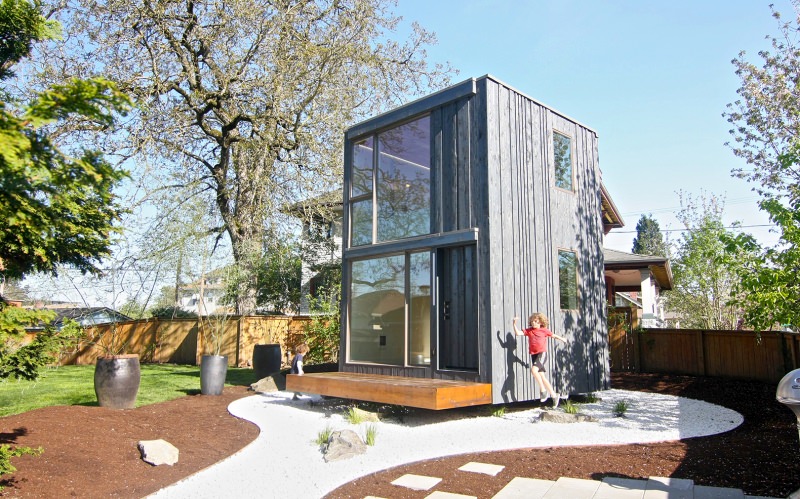 Somewhat similar to George Bernard Shaw's spinning writer hut, PATH Architecture has imagined 359, a manually rotating house nestled in the Boise neighborhood. The 144-square-foot tiny house that can revolve 359 degrees on it axis can be easily rotated around even by kids. To avoid entanglement of water and electric connections, according to Ben Kaiser, owner of PATH, the current design can rotate only 359 degrees, but they wish to go further with their next design. Making an efficient use of space, the current house supports an off-grid design and has a living area, kitchen, bathroom, and staircase that leads to the bedroom.
Price: N/A
# Getaway Tiny Home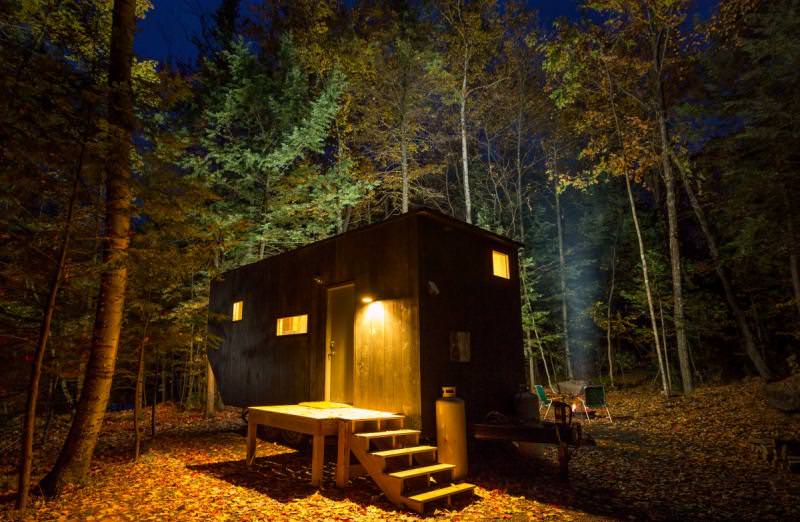 With the aim to promote Tiny house Movement, hospitality startup Getaway has come up with an innovative idea of helping people to take break from their regular routine and enjoy the taste of outdoors and nature. Currently offering three 160-square-feet tiny houses in Massachusetts woods, people who are looking for a calm and tranquil experience can book the cabins. Each tiny and cozy cabin is designed to provide people a chance to reconnect with the family and nature. So next time, while planning to unwind yourself, plan a visit to get away and have a taste of tiny and simpler living surrounded by nature.
Price: $99 per night
# Movable Tiny House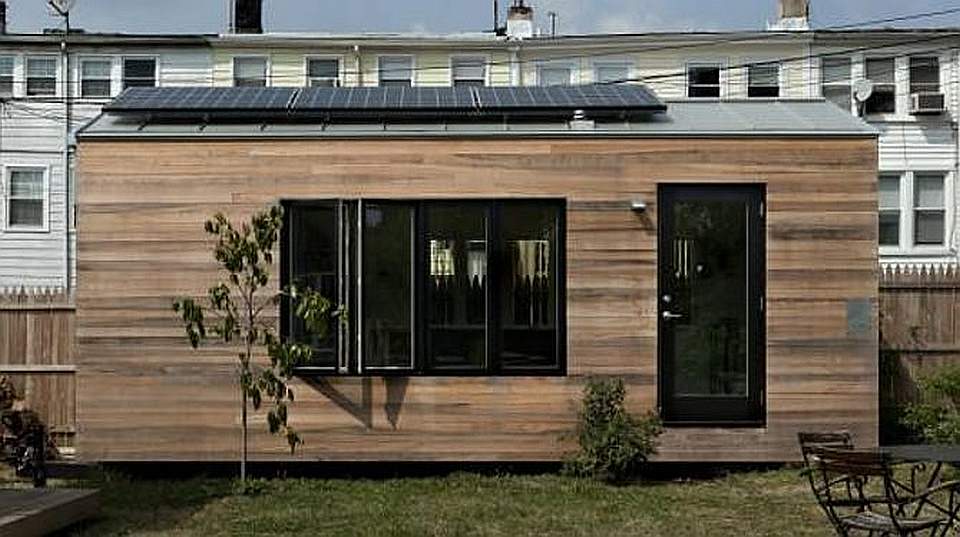 The movable tiny house can be easily parked anywhere and requires only 1030 square feet area. According to the advertisement, the house neither looks like a trailer or an RV. It is a beautiful house, which is completely off-grid and does not require any external electrical, water or sewage connections. The student-cum-teacher is open for negotiation and is ready to share work like cleaning the lawn area, mowing the grass or any other task related to maintenance.
Price: Negotiable
# Esk'et Tiny House
With an avid liking for tiny homes, Robert and Betinna Johnson from Alkali Lake situated in British Columbia, Canada, came up with their own luxury version. Spanning across an area of 280 sq ft, the house interiors are quite upbeat with a touch of local art and tradition. Robert who is a carpenter by profession has created a very unique roof design for this compact home. It is built on top of a 20 ft trailer, and the floorspace is extended by 6-inches on two sides and 20-inches on one side. There is a façade which is made from pine wood in Shou Sugi Ban style (Traditional Japanese method), and also boasts an air exchange unit for proper ventilation. There is an integrated living, dining and kitchen section which is dominated by a propane fireplace. On the top, there is a loft for sleeping or enjoying the beautiful landscape.
Price: N/A
# Caban Crwn Tiny Home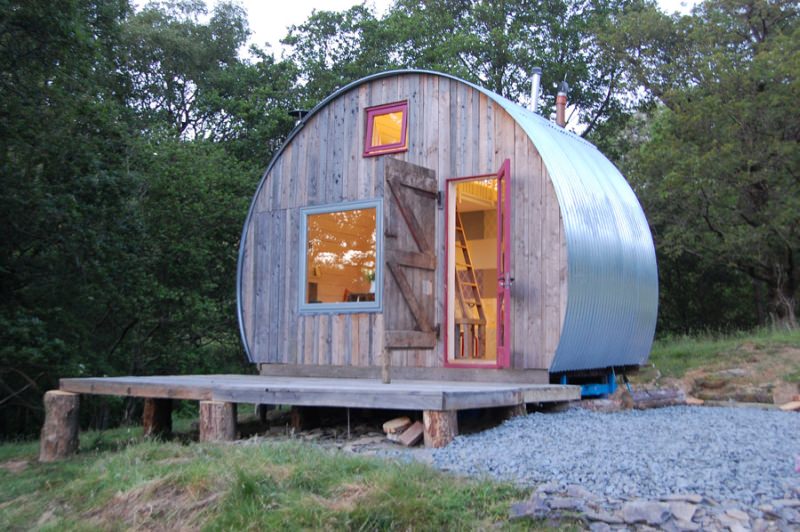 This barrel-shaped tiny home in Machynlleth, Wales may look ordinary from the outside, but on the inside, it is completely different. Don't underestimate its tiny size, as the house has a lounge area with a small daybed. To maintain a well-brightened look inside, the interior décor is also done in bright colors. There is a compact loo with a showering unit in this tiny house to maintain comfort inside. On the outside, there is a deck where you can have a rocking time lighting up a fire pit on a star-studded night.
Price: N/A
# Ecuador's Tiny House
Have a look at this tiny home built in a forest in Ecuador by architects Luis Velasco Roldan and Ángel Hevia Antuña. The house has been constructed using Ecuador's traditional construction techniques using locally sourced materials. For example, pumice stone has been added to the house's frame for insulation to keep it cozy. The main frame of this house is made from low-cost eucalyptus wood which is well known for its structural strength. The house is completely dismantled, transported in parts and then assembled at the next desired location with ease. And not to forget, the house has a green roof which goes very well with the surrounding wilderness.
Price: N/A
# Upcycled Tiny House
This tiny home is made from salvaged material. Although it might not be an extraordinary tiny home, still it stands out for the sheer effort put in by the makers Liam Culberston and Rachel Newby. They made it from recycled material to keep the price down and make it affordable in case any of you also want to follow suite. The house spans across a small area of 67 sq ft and includes common space for socializing.
Price: $420
# Bunkie Tiny House
Bunkie is a prefabricated tiny home which can be put together in around two days' time to make yourself a backyard office, guest house or getaway retreat nestled in the lap of nature. Bunkie is made from plywood and 15 structural components which act as its basic structure. Then you add a retracting bed (that pulls down from the wall), lighting and other multifunctional components to create an abode anywhere you want to. It spans across 106 sq ft area which is well under the 110 sq ft area which requires a building permit in America. So, you can use this prefabricated home anywhere without much hassle.
Price: On request
# Mini House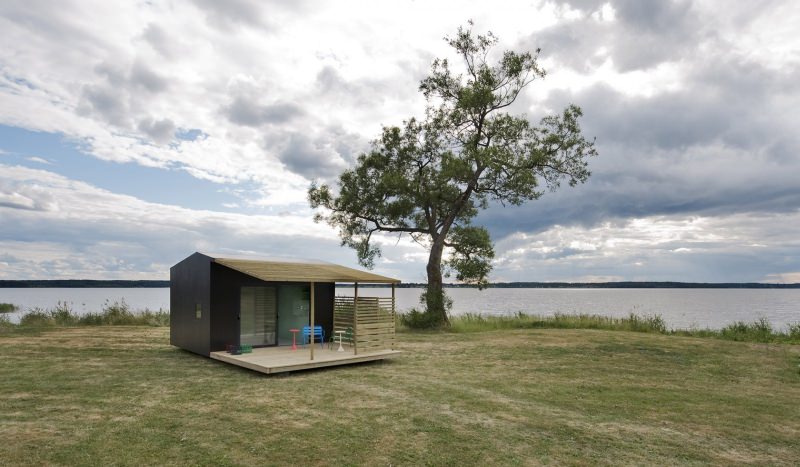 This prefabricated tiny house really pays justice to its name 'Mini house' as it occupies just 15 square meters of area. The Swedish designer, Jonas Wagell started working on its design way back in 2007, and finally came up with this prefabricated cabin which functions as a guest house and weekend resort. Although the main area of the Mini House is small, it has an outdoor pergola to enjoy the naturescape that's all around. The house has a bathroom, kitchen, bedroom and beautiful porch which makes it an ideal place to relive your senses. The designer gives you the option to buy Mini House in Long and Wide configurations too, wherein, two of these houses can be combined to make one. That means around 30-45 sq m of the area in total with the additional porch space.
Price: € 24 ($26.77) per sq m
# The Lucky House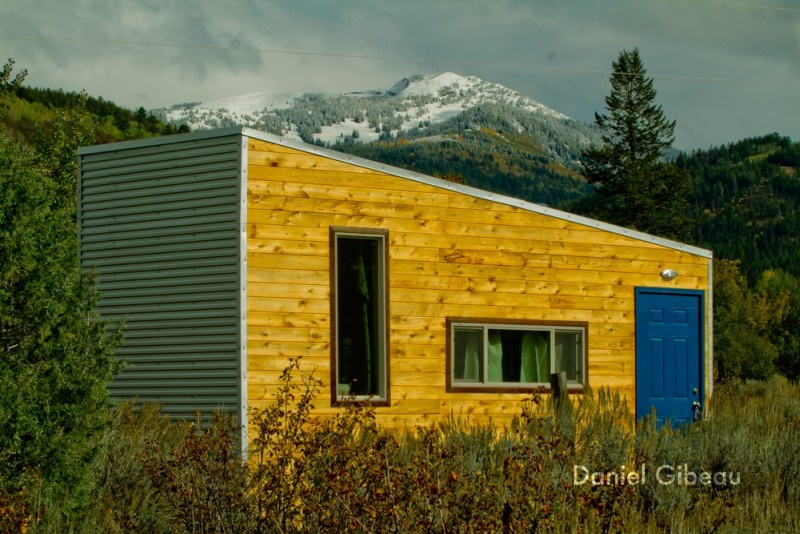 Yet another tiny house that invites you inside. The Lucky House is a tiny abode which is set on top of a PJ car Hauler. This tiny house spans across an area of 200 square foot with dimensions of 8'6″ wide by 20′ long, and 13'6″ tall. It has a slightly sloped roof on one side and on the outside, it looks like any other house. It's on the inside that this house really scores the points. It has a well-equipped bathroom, kitchen. Dining area, queen sized loft and well-organized storage spaces.
Price: On request
# The Crib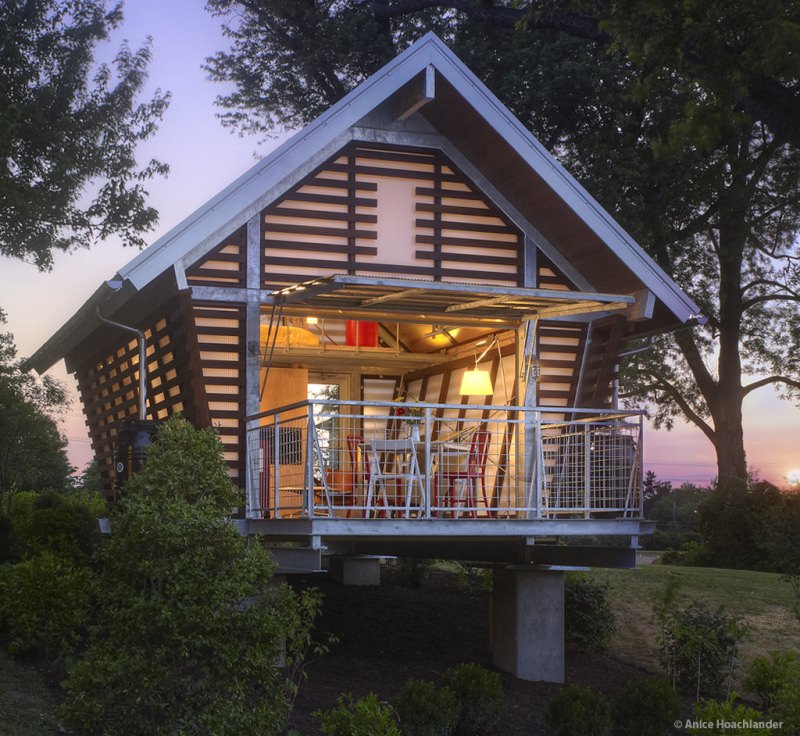 This is a future-forward tiny house design which combines the concept of traditional wood timber framing with the age old scaffolding systems put together in a galvanized steel bent structure. It is located in Upper Tract, West Virginia, and to keep the eco-friendly theme alive, it is made from recyclable materials which can be quickly assembled/disassembled when required. It has an insulated glass door which opens up to reveal the amazing view outside. On the opposite wall, there is a small office setup to work in complete seclusion.
Price: N/A
# Eagle Point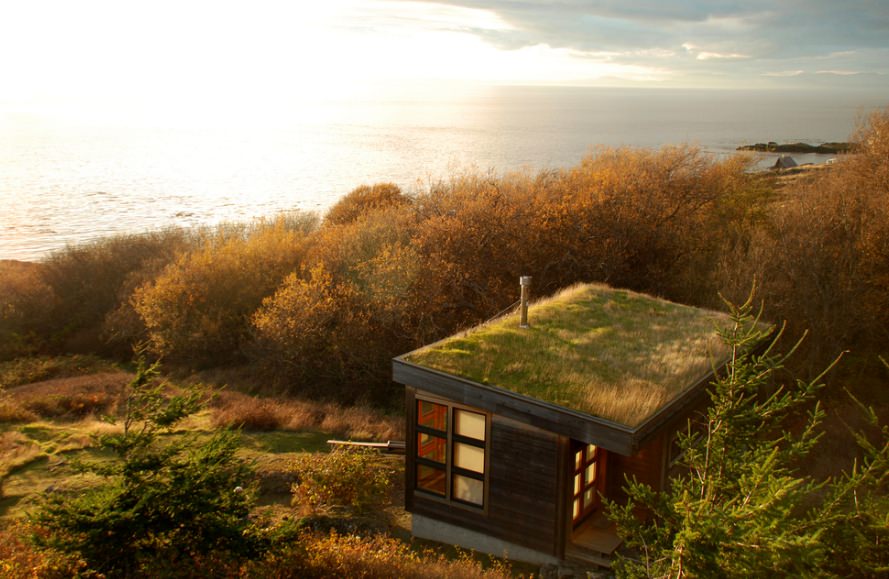 Just imagine getting up in the morning to the expansive view of the ocean and sky. This tiny house dubbed as 'Eagle Point' gives you that very feeling every moment of the stay in a beautiful place in the mountains of San Juan Island, WA, Pacific Northwest. This 598-square-foot hideaway is tailor-made for people seeking spiritual nirvana with its nostalgic lighthouses and everything that'll put you at calm. It is just 2 miles away from the San Juan Island National Historical Park which makes it even more lucrative. On the inside, it has a beautiful setup with living area, kitchen, bedroom and bathroom making your stay comfortable.
Price: $2,676/sq ft