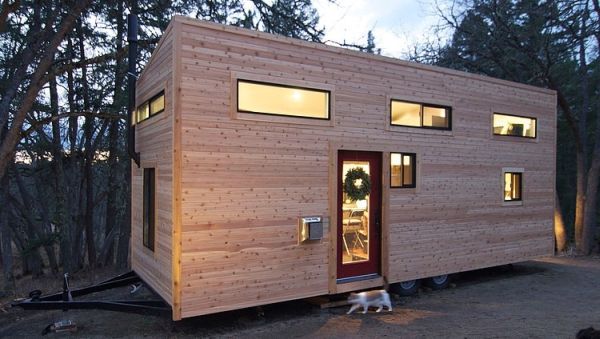 If you're asked to live out of a 221 sq. ft. home you'd call it a stupid idea. But if this tiny home is a house on wheels complete with two bedrooms, a kitchen with 12 feet counter space and 3/4 bath, most of us will be willing to shift in. Dubbed Morrisson's home built on a flat deck trailer by Andrew and Gabriella Morision, the house is one-and-a-half story tall with staircase to the bedroom loft and clerestory windows to allow natural sunlight into the home without compromising on privacy.
The home features kitchen on one end and a small bathroom on the other. Right above the kitchen is a master bedroom, whereas the second bedroom is stained above the bathroom. The area between the bedrooms is used as the dining space. Kitchen is pretty spacious in the mobile home and it comes complete with full-size gas stove and fridge, it also accommodates wine rack and ample cabinets. There is enough space for storage in the house, the underside of the stairs, small cupboards and shelf in the bedrooms, and storage in the wrapping window all help in keeping the house neat and clean. The loft bedrooms have a TV and fireplace and the bathroom features a composting toilet.
Living from the Morrision's home is really exciting, you can simple pack your bag and ride out into the woods in your house its. Almost a recreation vehicle, this house on wheels has be built for a total cost of $33,000, furniture and appliances all inclusive.
Via: HomeAdore