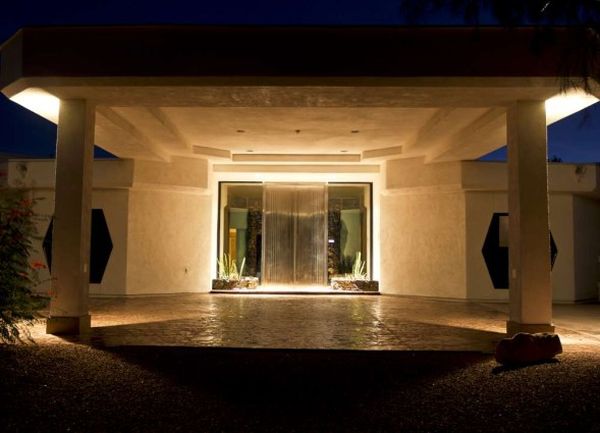 The glitzy quotient of Las Vegas have always enticed people for their wild weekend outings. The owners of the above pictured residence has upheld this wild streak of the Sin City and combined it with their own version of unique architecture. The end result is the $1,990,000 'resort house', a home incorporating a circular patterned plan, with spatial zones radiating like the spokes of a wheel. The center of this pattern comprises of an indoor pool and a 20 ft tall stone waterfall. The volumetric novelty is also carried forth by the ceilings with vibrant blue-tiled frames and a massive 15 ft wide skylight for gorgeous views of the Vegas sky.
The avant garde nature of the 3,966 sq ft resort house doesn't really sacrifice on the comfort factor. In this regard, the surrounding spaces include 8 rooms, each with their own circulation and purpose. These zones include regular spaces like a master suite, two 'auxiliary' bedrooms and a contemporary kitchen. They are accompanied by unconventional rooms, like a movie room, an entertainment room and an office; while the 2.1 acre compound also contains interesting utility spaces, including – garage (for 7 cars), a horse stable and even a helipad.
The unique structural pattern of the resort house is complemented by some snazzy technological features, like automated sliding doors that welcome you to the master suite and knob-less entrance doors that are controlled by advanced security systems.
And, the best part is – the resort house is just located 3 miles from the famous Las Vegas Strip. So, you can get the party rolling on the inside of the spherical mansion or just blitz your way through the 'neighborhood' for some weekend fun.
Via: Zillow