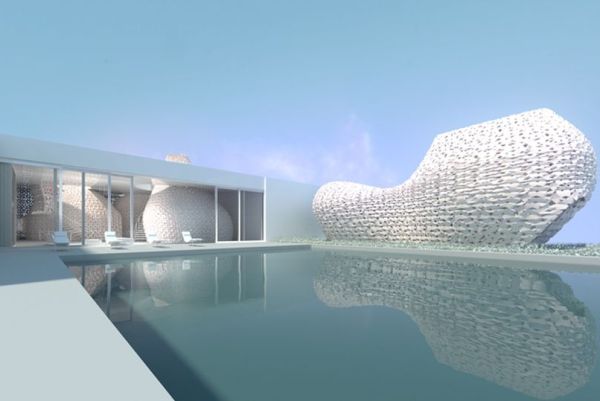 We all consume salt regularly in our diet but have you ever thought of constructing a building from salt? Well, Oakland-based 3D Architecture and Design Company, Emerging Objects has made that possible by constructing the 3D Printed House 1.0, made from salt polymer called Saltygloo. The Saltygloo is a combination of salt harvested from the San Francisco Bay and a 'salty glue', which resulted in an ideal renewable 3D printing material which is waterproof, lightweight, robust, translucent and most importantly inexpensive. The renewable material is considered to have less impact on environment and therefore, this structure will be featured in Jin Hai Lake Resort Beijing, in China.
The other material used in forming this unique structure is a cement polymer which makes it stronger than cement and also has a natural glossy finishing which looks like paint. The firm has mainly used both these materials together for 3D construction of interior rooms. The material also has an additional property of letting in natural light through its origami-like shape.
Inside this building, small igloo-like interior rooms are constructed which includes bedrooms, bathrooms and dining room, and one room is made outside by the side of pool. These igloo shaped rooms look like a white lampshade from outside and can be used like a normal room after keeping necessary furniture inside. To maintain privacy of each room architects have avoided windows in the rooms. Moreover, two white staircases are also made within the building which leads to a beautiful terrace view on top.
Another good thing about constructing these 3D printed rooms is that its components like bricks and tiles can be made using 3D printed farm rather than a huge 3D printer. It will be quite interesting to see the functioning of 3D printed house 1.0 with minimum impact on environment. As for now, we can presume it to be the future of home construction which combines both traditional and contemporary ways of building an apartment.
Via: 3DPrint