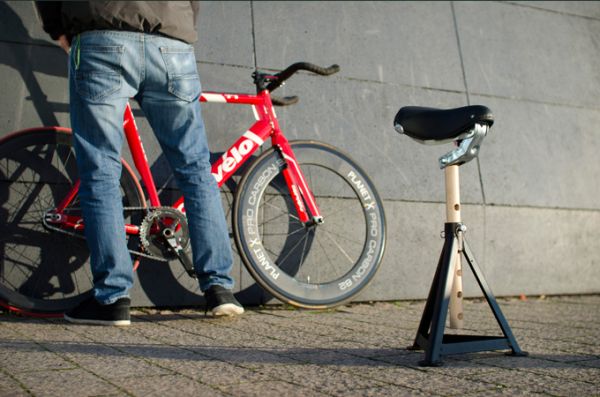 Stools are although the most common and even boring household objects for some. But, the designer duo Maciej Puzon and Caspar Schmitz of the cologne design agency Dreikant, has created a very unique stool taking away the boredom of this seating object. Dubbed as 3T3 stool, it is an immensely stable stool providing you a seating option to comfortably rest your bums on. With a bicycle seat attached to it, this innovative design will undoubtedly be loved by all especially the bike aficionados.
This novel contraption can be called as a hybrid of a camera tripod stand and a bicycle seat. The rod is constructed out of high-quality wood ensuring the strength and stability of the stool. The wooden rod has multiple perforations along its axis that allow the users to adjust the height of the 3T3 stool according to their requirements. They just need to pull up or down the silver metallic pillar at the desired height, align it with the hole in the rod and fit in the screw to get the stool ready to sit on. The saddle above the stand is created by the German company Wittkop. Made out of high-quality black leather stuffed with soft cushion, the saddle provides an utmost comfort to the user. The black tripod is though not too large but it covers a wide surface to hold the saddle or bike seat in place.
The foremost advantage of the stool is that it can support any height or weight. Another advantage of the stool is the portability. Therefore, it is perfect for homes and outdoor usage. So, grab one for yourself by ordering it here and get the thrill of riding a hardtail mountain bike at your home.
Via: Heldth