4K laser projectors are gaining popularity by the day and big consumer electronics brands like Sony, LG, and even Samsung have introduced their own models. It's not been long since laser projectors sneaked into the home entertainment market, especially, the UST (Ultra Short Throw) projectors, which tout very short projection distance.
These are becoming increasingly popular for their space-saving design, which allows them to be mounted right above or below the surface where you want your content projected. In addition to space-saving antics, people are adopting modern projectors for their quality, brightness, and longevity.
What is an Ultra-Short Throw Projector?
An ultra-short throw projector also known as Laser TV is an electrical and optical device that uses special wide-angle lenses and mirrors to "throw" an image onto a flat-screen from a very short distance. Usually, they can create a 100-inch plus image from a few feet away from the projection area.
UST projectors can sit up close to the projection screen which makes them super space savvy. They are ideal for people wanting to enjoy the big picture in smaller rooms. These projectors are priced higher in comparison to short-throw projectors.
Things to Look for in the Best 4K UST Projector
Throw distance and screen size: Consider the distance at which the projector can be placed and the size of the image it can project. 
Brightness/Lumens: When it comes to buying a UST 4K projector, the most important thing you need to consider is light output or brightness it can produce. It is a key factor because it decides how it will show up in a well lit room. If your projector doesn't have enough lumens, the picture quality will not be very crisp in a room with plenty of natural light.    
Smart features: These days when most of us enjoy streaming online shows and movies, we need a projector that comes built-in with all the streaming services like Netflix, Hulu, Disney, Amazon Prime Video, etc. Keep eye out for what Android version the projector is running and the RAM or internal storage capacity it offers.
Connectivity: If you will be connecting your projector with other appliances, you need to see inputs and outputs available on your projector. Make sure the projector has Bluetooth, HDMI, USB ports and audio ports to connect speakers.
Built-in speakers: If your projector has built-in speakers, it is going to be better for you as it will minimize clutter.
Budget: Do not forget your budget and choose the projector accordingly.   
Comparing the Best 4K UST Projectors
| | | | | |
| --- | --- | --- | --- | --- |
| Projector name | Brightness/Lumens | Throw Distance/ Image Size | Connectivity | Throw Distance/ Image Size |
| Samsung – The Premiere | 2,200 lumens | 11 inches/150 inches | 3 HDMI, 1 USB, Video In, Audio Out, RJ1 | $3,497 |
| Vava VA-LT002 | 1800 lumens | 11 inches/150 inches | 3 HDMI, 1 USB, Video In, Audio Out, RJ1 | $2,799 |
| Optoma P2 | 3,000 lumens | 14.5 inches/120 inches | 3 HDMI, 2 USB, 2 Audio Out, LAN | $2,299 |
| Hisense 100L5G | 2,700 lumens | 11 inches/100 inches | 4 HDMI, 2 USB, 2 Audio Out, LAN | $2,799 |
| LG CineBeam HU85L | 2,500 lumens | 7.2 inches/120 inches | 2 HDMI, 2 USB, Audio Out, LAN, Cable In | $4,996 |
List of Best Ultra-Short Throw 4K Projectors 
1. Samsung – The Premiere
Samsung recently launched The Premiere 4K laser projector with ultra-short throw technology. It is touted as the world's first HDR10+ projector by the company. It features a classy fabric design to blend into modern home settings. The LSP9T model offers a brightness of up to 2,200 ANSI lumens. It can be controlled with Bixby or Amazon Alexa voice assistants. Other highlighting features are smart TV by TIZEN, Game Enhancer, 30W 2.2 channel sound system, easy smartphone screen mirroring, etc. Looking at these features, It would not be wrong to say it is the best ultra-short throw 4K projector to buy in 2022.  
Price: $3,499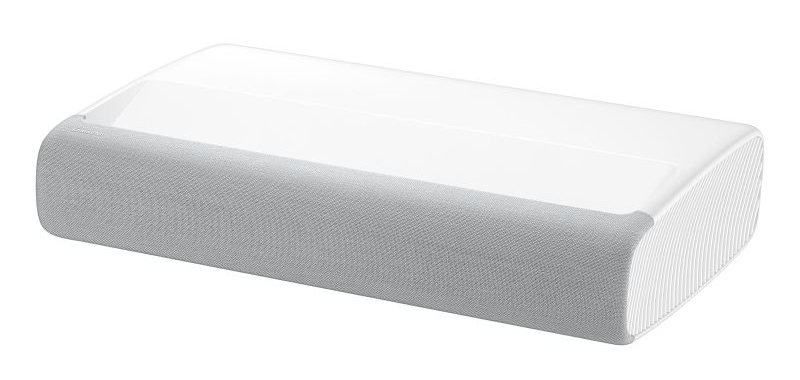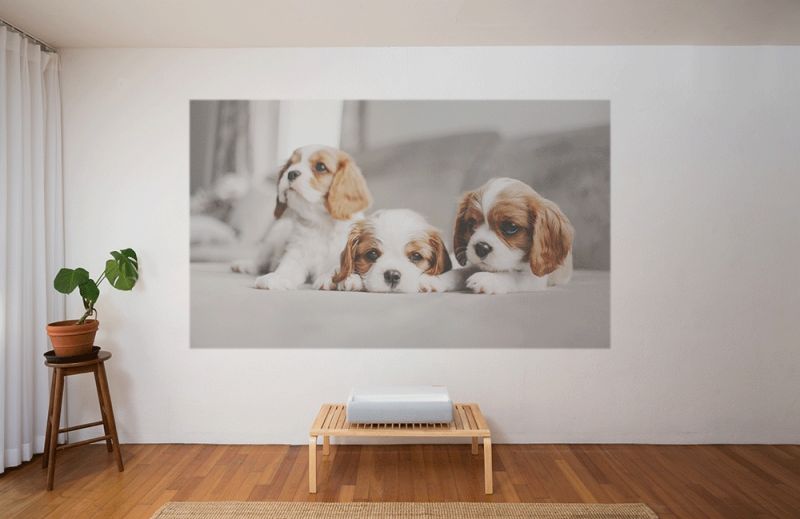 2. Vava Ultra-Short Throw 4K Projector 
The speaker and headphone startup Vava also offers a 4K laser projector that offers 6,000 lumens of brightness and can cast up to a 150-inch image. It can offer a 100-inch screen from only 7.2-inches away.  The VAVA 4k projector projects at 6000 lumens and up to 2500 ANSI lumens depending on the screen.
With a built-in 60W Harman Kardon Soundbar and an Android 7.1 OS, the projector is one solution for home cinema. The companion mobile app can be used to cast music, photos, and videos to the projector. There's an interesting feature that it automatically dims brightness for safety when someone is approaching near. It is available in two basic colors: white and black.
Price: $2,799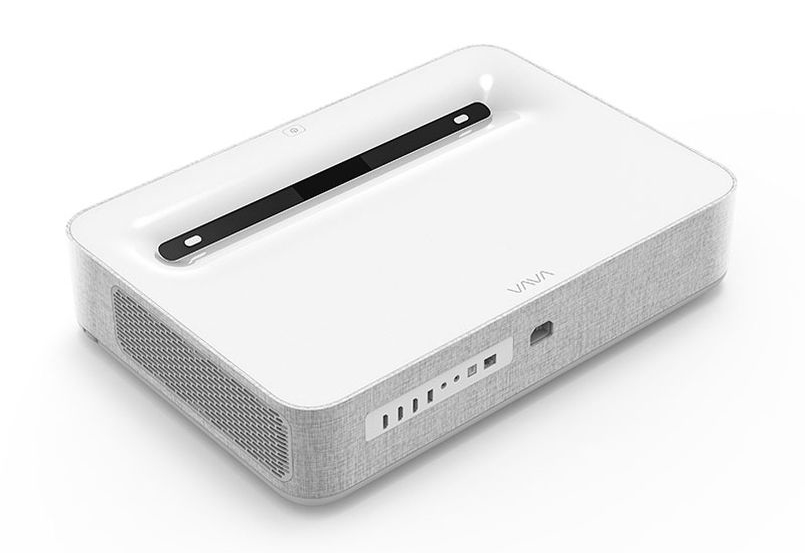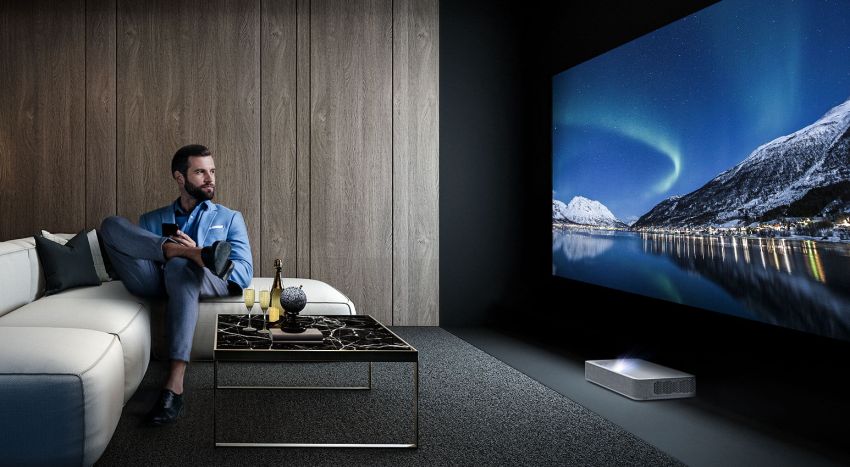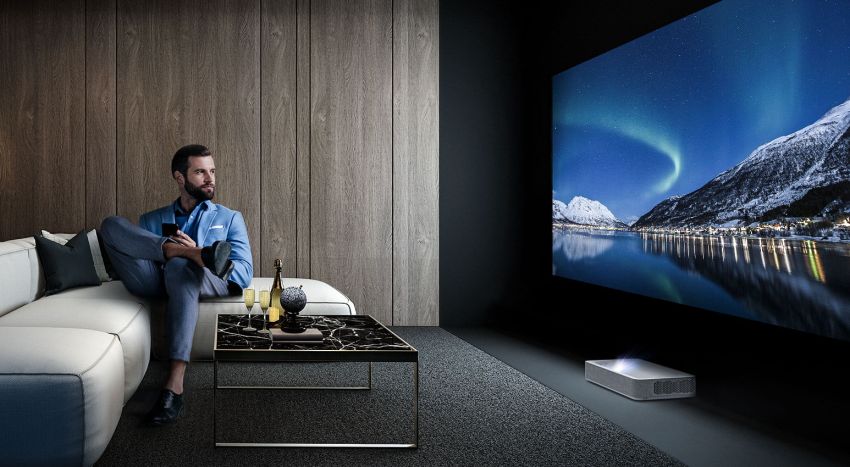 3. Optoma P2 UST 4K Projector
Optoma's latest CinemaX P2 4K home theater projector offers 3,000 lumens of brightness and projects a 120-inch image from about 14.5 inches away. Integrated with a 40W soundbar, it can enhance the viewing experience. The projector also supports Amazon Alexa, Google Assistant, and IFTTT. Easily control it with the companion mobile app. The projected screen can also be tuned into a digital art canvas. It is a multiple award-winning projector.
Price: $2,299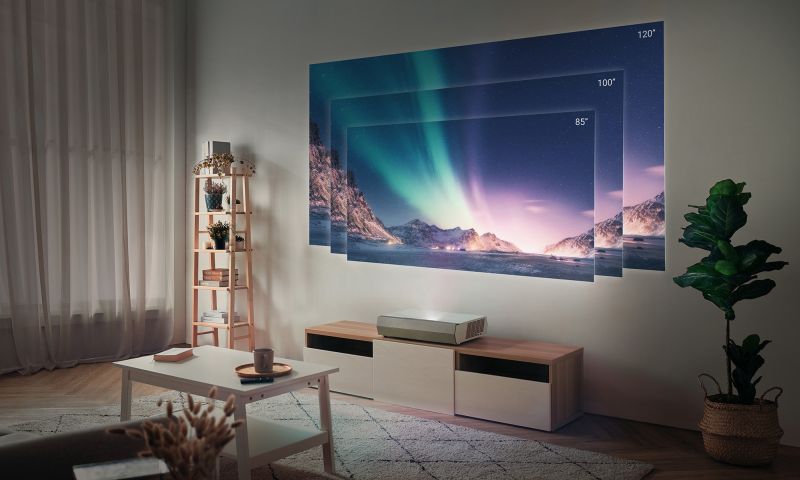 4. Hisense UST 4K Laser Projector
Hisense's latest L5 Series Smart Laser TV is a UST 4K laser projector that displays a colorful and bright image onto a thin and lightweight 100-inch screen that hangs on a wall effortlessly sans wires or installation. Interestingly, the projector can be placed only at a distance of 11.4-inches from the screen and it delivers its best quality.
The Hisense L5 4K projector comes with DLP display technology powered by Texas Instruments and X-Fusion Laser Light Source to offer a natural viewing experience. It offers 2,700 ANSI lumens of brightness that will deliver great picture quality, even in daylight. Users are also benefitted with the integrated Android TV OS and dbx-tv cinematic sound.
Price: $2,999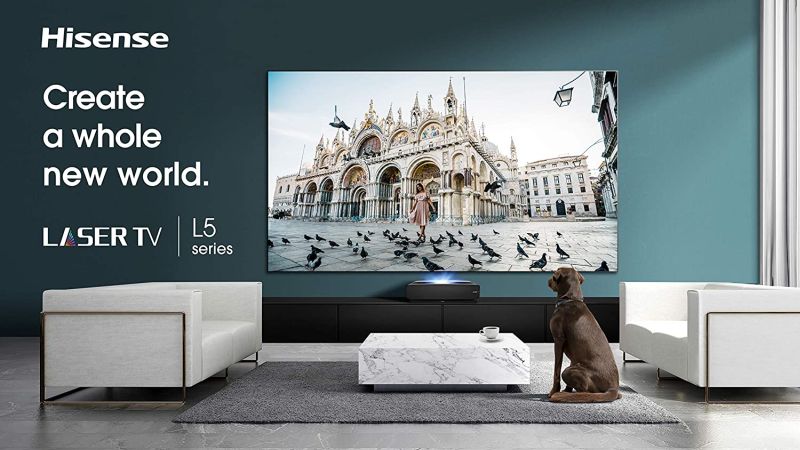 5. LG CineBeam 4K UST Laser Projector
LG has an Ultra Short Throw (UST) HU85L CineBeam 4K laser projector on the market. The distance from which it can project a screen is its highlighting feature, which makes the projector ideal for small rooms. The CineBeam can project a 90-inch screen from only 2-inches from the wall and a massive 120-inch picture when placed 18-cm away. It delivers 2,500 ANSI lumens of brightness and 4K UHD resolution.
Powered by LG's ThinQ AI, the HU85L CineBeam 4K UST laser projector can be controlled using voice commands to the included Magic Remote. There are multiple connectivity options, including USB, Ethernet, and HDMI.
Price: $4,108