There's nothing worse than a long flight without having even a minute's sleep. To make your flight more comfortable, various designers are coming up with practical travel pillows like Nodpod head hammock, Face-plant, etc. Although such pillows are amazing to let you enjoy a comfy sleep en route your destination, the problem is that they cannot adapt to people's different sleeping habits. To combat the issue, Australian designers have come up with one-of-a-kind FaceCradle Travel pillow that can be used in five modes for different airline seating.
After years of struggling to rest on long distance economy-class flights, designers, David Scrimshaw and Roz Ruwhiu, have teamed up to create the FaceCradle to help travelers from all around the world to get quality sleep while traveling. It is designed with five different comfort modes: dozing mode, snoozing mode, table nap mode, deep sleep (front), deep sleep (side) and breath easy. So, you can easily adjust the travel pillow depending on your preferred style of sleeping.
It consists of a hinged internal support frame that further splits into two sections. These different sections allow travelers to lock the angle of the desired pillow setting for supporting the neck, face, and head. To set up the pillow, travelers need to anchor its harness around a seat-back. Airline passengers can adjust it to several different configurations while making use of the available space in front of their seat. Not only an airplane, but the FaceCradle can also be used in buses, trains or even in cars.
It is one of the most popular and successful crowdfunding projects on Kickstarter. It has already surpassed its initial goal of AUD $20,000 with 38 more days to go.
UPDATE: You can preorder this five-in-one travel pillow for yourself in three different variants for $40 – $45.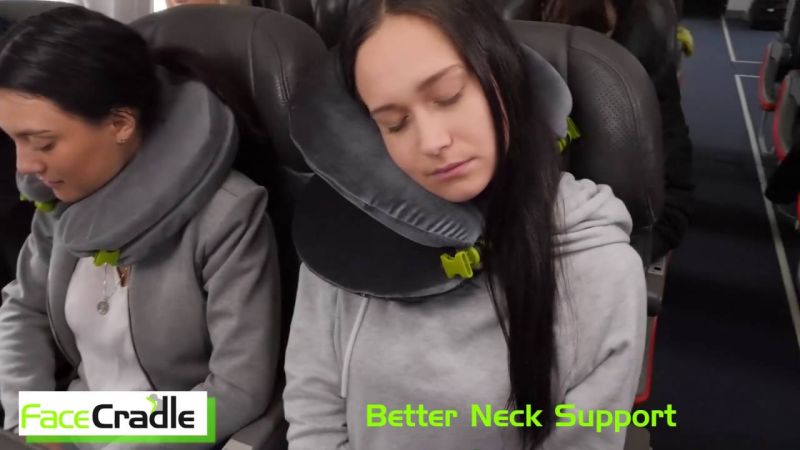 Via: KTVN