In recent years, you may have seen various accessories and practical furniture pieces influenced from the past. Retro-inspired novelty items never fail to impress the consumers due to their nostalgic appeal and practical layout. One of the most intriguing devices from traditional era is a cassette tape.
Although these sound-infused devices are no longer in use, but homeowners' demand for cassette-shaped coffee tables has increased over the years. These fun and musical furniture pieces keep reminding the users about the forgotten musical technology, paying homage to old tech times.
We've complied a list of six retro-inspired cassette coffee tables that will certainly strike your nostalgic cord, bringing back the memories of the golden era of '90s.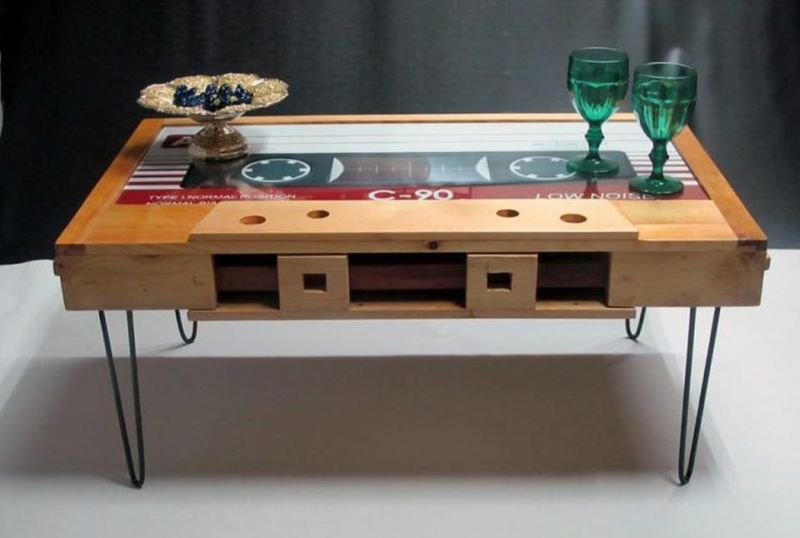 Reminiscing homeowners about the days of vintage audio tapes, the cassette tape coffee table is made from pinewood. It also features a hidden stow-away area behind the fake exposed tape on the front of the table. Even four cup holders are carved on the tabletop.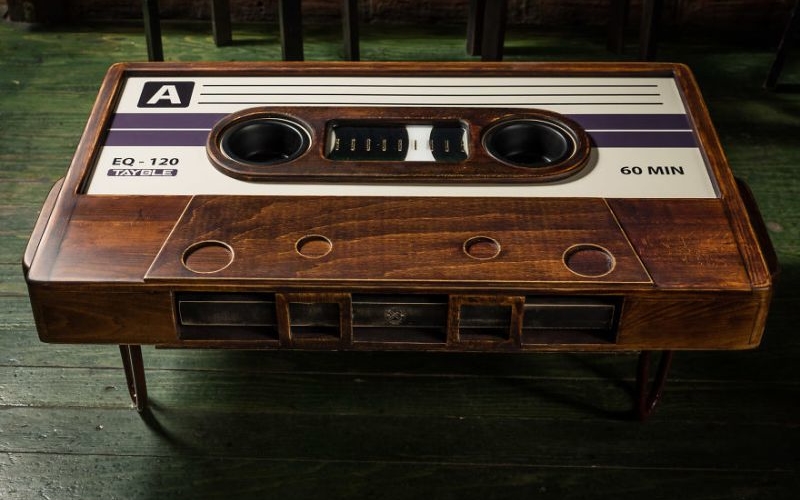 Cassette Tayble by PAX Carved Wood is handcrafted from birchwood and protected with epoxy coating. Resting in metal pin-shaped legs, the coffee table also boasts a tape-run that can fold down to serve as a practical storage unit for magazines and other accessories.
3. Taybles coffee table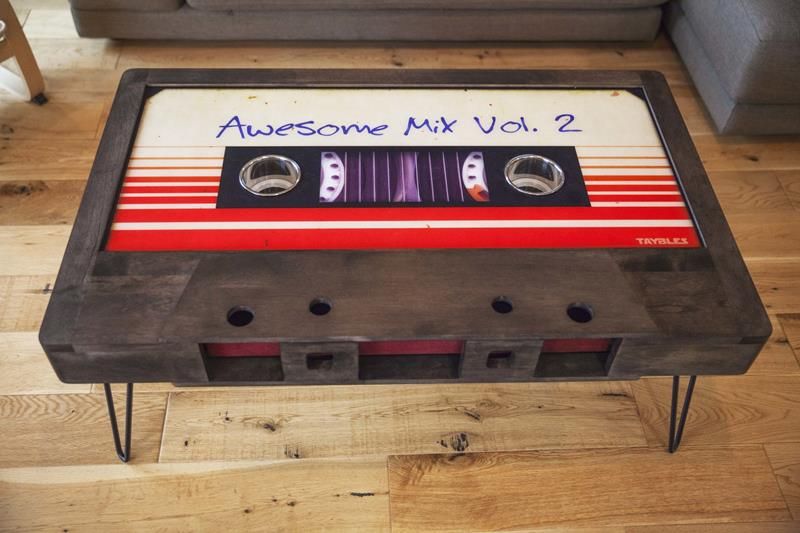 Jazz up your living space with this cassette-shaped coffee table. Made up of dark wood for strength and durability, the table features a colored vinyl label for a striking contrast. Plus, realistic tape-like design is also created underneath the tabletop.
4. Mixtape cassette table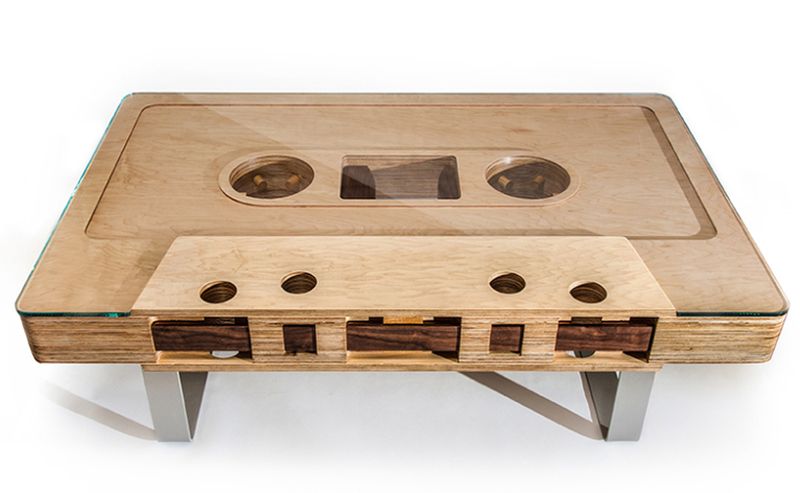 To celebrate the 50th anniversary of the audio cassette, American designer Jeff Skierka has created this stylish Mixtape cassette table. It is a 12:1 scale replica of the device and made from high-grade baltic birch plywood with maple veneer. The tabletop rests on a custom-platform with hand-bent steel powder coated legs.
5. Wireless Bluetooth cassette table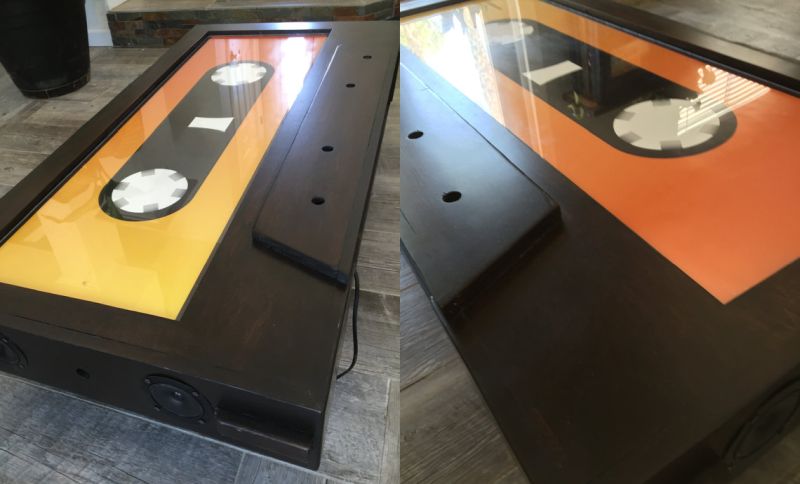 The Wireless Bluetooth coffee table is also influenced from a vintage cassette tape. Built with reclaimed hard maple, aspen, purple heart and finished in expresso kona brown with a satin clear coat, the coffee table comes with a tape ribbon storage shelf. The highlight of the table is its ability to connect with Bluetooth 4.0 smartphones to play music.
6. 10:1 cassette tape table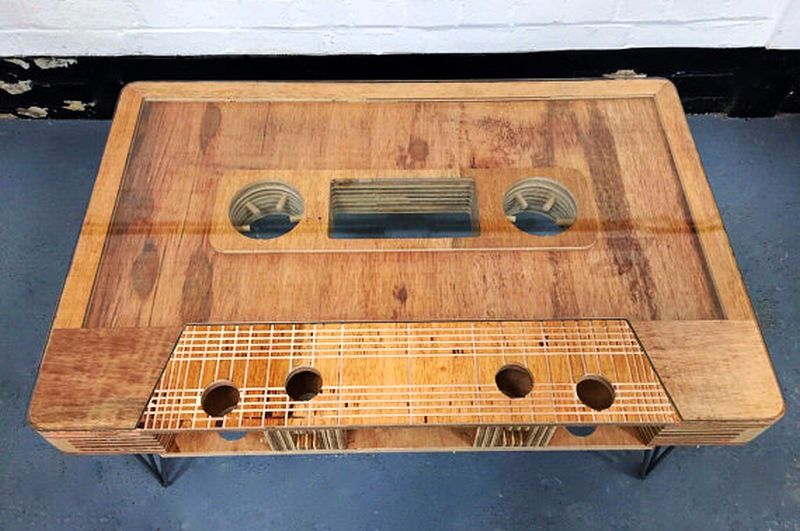 This coffee table is 10:1 scale replica of traditional cassette tape. It is handmade from birch plywood. To highlight sturdy appeal of wood, surfaces of the coffee table are designed to look like a regular wooden furniture.